Baked Chicken Parmesan, often referred to as Chicken Parm or Parmigiana, is a mouthwatering Italian-American dish known for its healthier preparation compared to the traditional fried version.
In this recipe, chicken breasts are coated with a Parmesan-laden breadcrumb mixture, then baked to achieve a crisp exterior without the need for frying. Topped with a flavorful marinara sauce and melted mozzarella cheese, the dish is finished in the oven, creating a delectable combination of textures and flavors.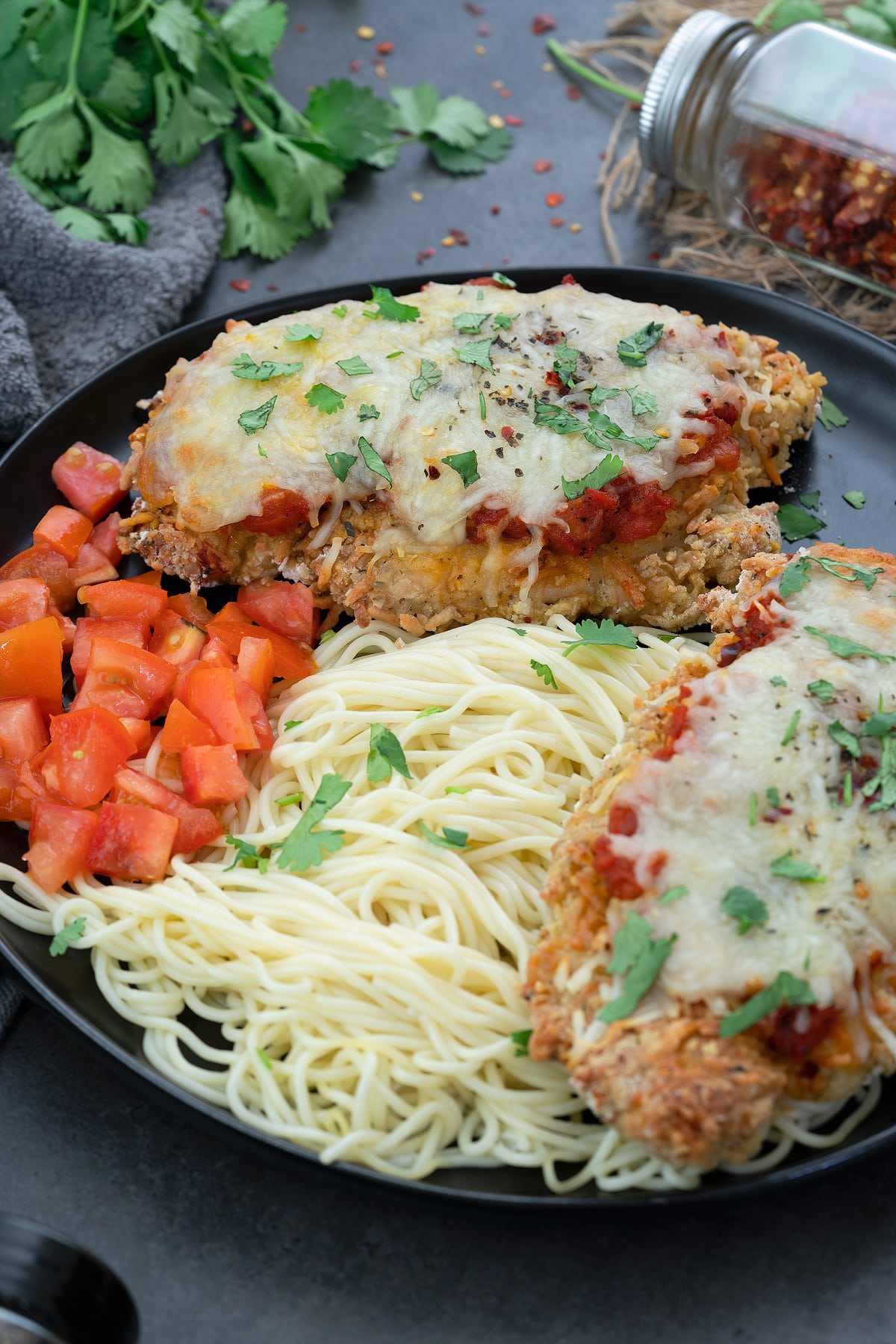 Jump to:
This dish pairs excellently with pasta, salads, or roasted vegetables, offering a versatile option for lunch or dinner.
Although it has Italian roots, Baked Chicken Parmesan is a distinctly Italian-American creation, inspired by the classic Italian Eggplant Parmesan. This chicken variation is predominantly found in Italian-American eateries and isn't considered authentic Italian cuisine.
However, its irresistible combination of crispy chicken, tangy tomato sauce, and melted cheese is universally appealing. This dish exemplifies how cooking evolves through creativity, blending flavors and techniques to create something uniquely delicious.
Discover the world of Chicken Breast Recipes:
Ingredients Overview
Prepare to craft Baked Chicken Parmesan with a blend of simple, yet flavorful ingredients. From the rich, aromatic sauce to the crispy, cheese-infused breading, each component is readily available and essential for creating this Italian-American classic.
For the Sauce: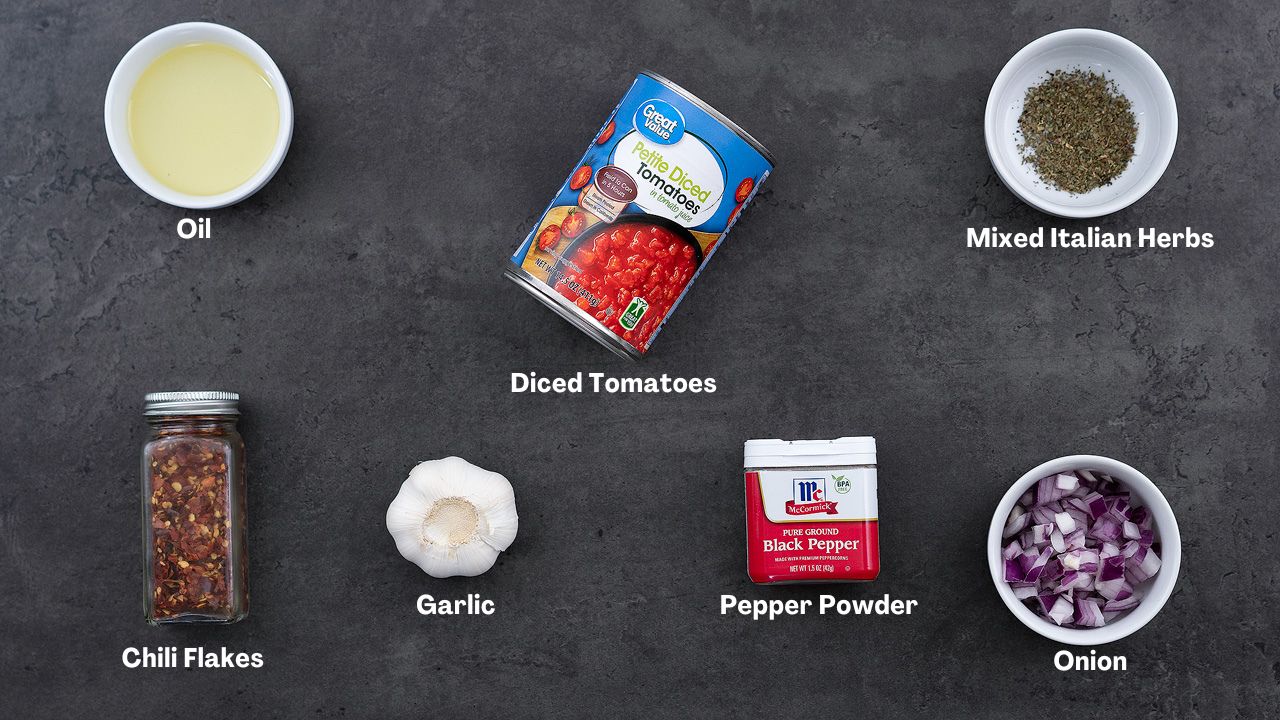 Tomatoes: Choose between tomato puree, sauce, or diced tomatoes. For a more flavor-intense sauce, diced tomatoes are recommended.
Onion and Garlic: These add a fresh aroma and enhance the overall taste and flavor of the sauce.
Dried Italian Herbs: Options include using either dried basil leaves or a mix of various dried Italian herbs. Fresh herbs can also be used as an alternative.
Basic Seasonings: Incorporate chili flakes and black pepper to introduce a slight heat to the sauce.
Oil: Options include olive oil, canola oil, or vegetable oil. For a more authentic flavor, extra virgin light-tasting olive oil is the preferred choice.
For Breading the Chicken: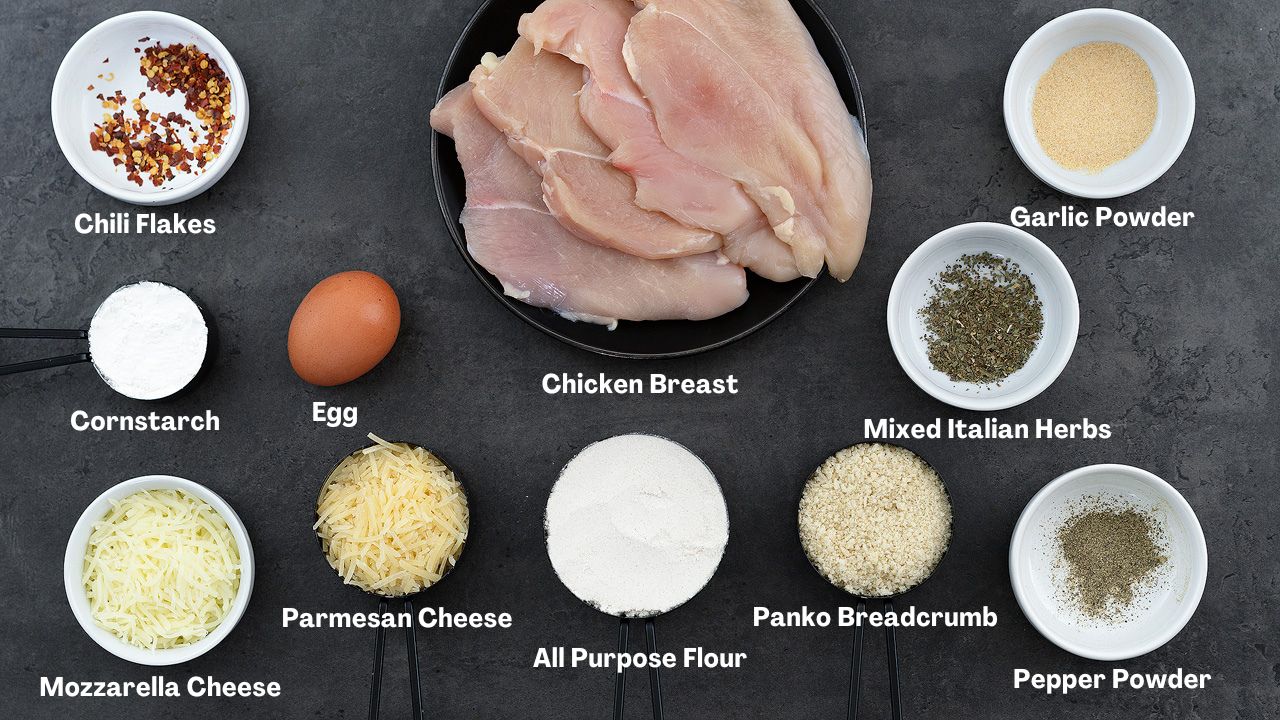 Chicken Breast: Utilize two medium-sized, skinless, and boneless chicken breasts, thinly sliced for easy cooking and even breading.
Flour: A combination of all-purpose flour and cornstarch is used for the initial flour coating, providing the perfect base for the breading to adhere to.
Panko Bread Crumbs: These add a delightful crunch to the outer layer of the chicken.
Parmesan Cheese: Mixed into the breadcrumb coating, it offers a cheesy and crispy texture to the exterior.
Basic Seasonings: A blend of oregano, chili flakes, and black pepper is used to infuse the breading with flavor.
Mozzarella Cheese: This cheese is reserved for the topping, adding a gooey, melty texture.
Eggs: Essential for binding the flour and breadcrumb coatings to the chicken, ensuring a well-adhered and even crust.
Explore More Baked Chicken Delights:
How to make Baked Chicken Parmesan in Oven?
Follow along with our step-by-step guide, complete with photos and a video, to master this Baked Chicken Parmesan recipe. You'll learn how to craft a flavorful sauce, perfectly bread the chicken, and bake it to golden perfection. Let's get started!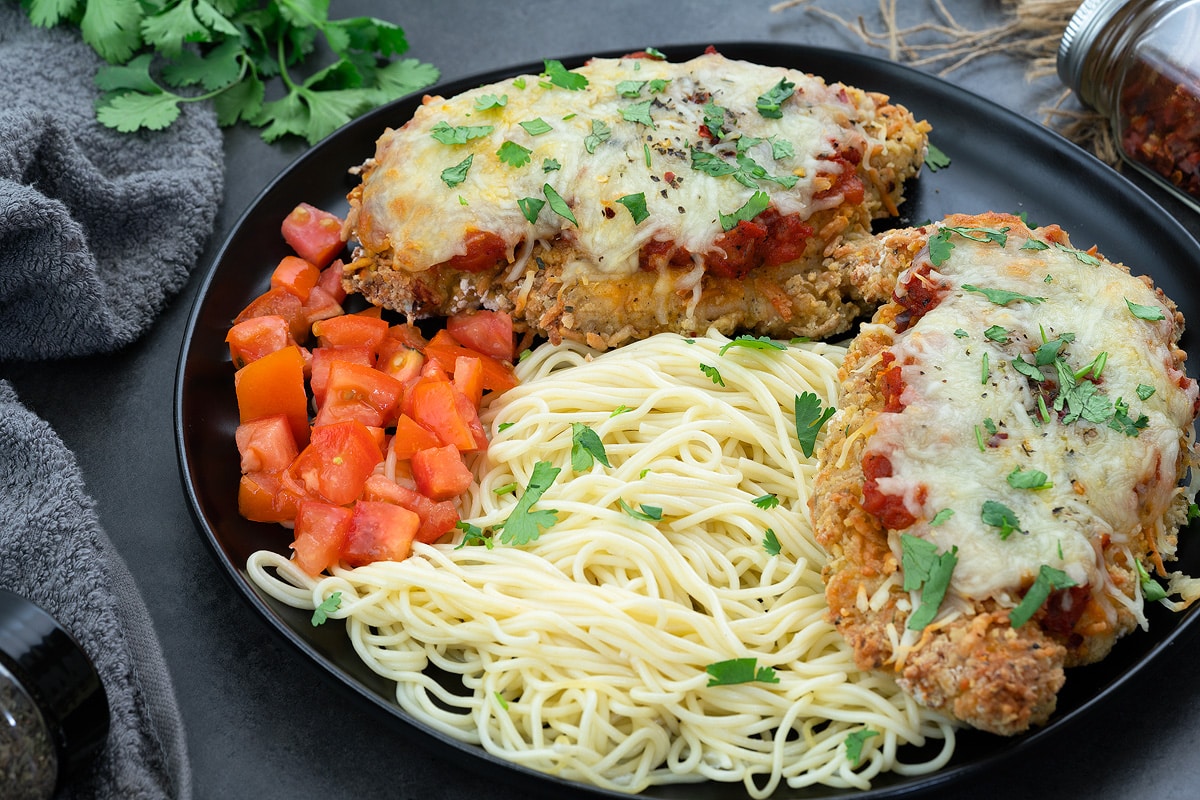 Enjoy Parmesan's irresistible taste in these delectable recipes.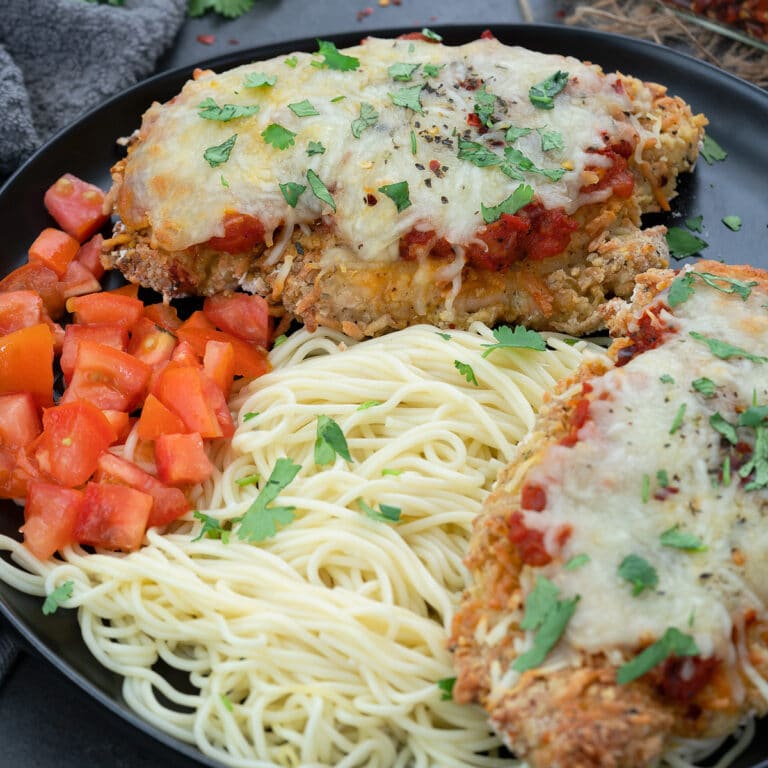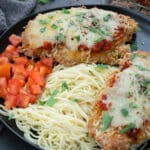 Baked Chicken Parmesan
Baked Chicken Parmesan, also known as Chicken Parm or Parmigiana, is a delicious and healthier twist on the classic Italian-American dish. It features crispy, Parmesan-crusted chicken breast, topped with marinara sauce, Parmesan and mozzarella cheese, and a mix of herbs and seasonings. Perfect with pasta, salads, or roasted vegetables, it's a versatile choice for any lunch or dinner.
Subscribe
print (text-only)
email
pin
review
save
saved!
Ingredients
For Sauce
1

tbsp

Olive Oil

3

tbsp

Onion

,

chopped, white, purple or yellow onion

2

tbsp

Garlic

,

finely chopped

14

oz

Diced Tomato

½

tsp

Chili Flakes

½

tsp

Pepper Powder

,

black

½

tsp

Basil Leaves

Salt

,

as needed
For Breading
1

cup

All Purpose flour

¼

cup

Cornstarch

1

cup

Panko Breadcrumb

1

cup

Parmesan Cheese

½

tsp

Onion Powder

½

tsp

Pepper Powder

,

black

½

tsp

Oregano

½

tsp

Chili Flakes
Other Ingredients
1

lb

Boneless Chicken Breast

,

2 breast thinly sliced to make 4 pieces

½

tsp

Garlic Powder

½

tsp

Pepper Powder

,

black

1

tsp

Salt

Mozzarella Cheese

,

for topping

Cilantro or Basil Leaves

,

for garnishing
More on Unit Conversions »
Instructions
To make Sauce
Warm some oil in a skillet over medium heat, then toss in the onions and garlic, sautéing them until they're fragrant and golden.

Stir in diced tomatoes and cook for 5 to 7 minutes, until the tomatoes soften.

Mash the tomatoes with a potato masher until they reach a soft, mushy consistency.

Season with chili flakes, black pepper, and basil leaves, and simmer for another 2 to 3 minutes to blend the flavors.

Take the sauce off the heat and set aside for use in your dish.
To Bread the Chicken
Season each chicken breast slice with garlic powder, salt, and pepper, then set them aside to marinate.

In a bowl, whisk together the eggs and a pinch of salt until the mixture is nice and frothy.

Mix all-purpose flour, cornstarch, panko breadcrumbs, Parmesan cheese, onion powder, pepper powder, oregano, and salt in a shallow tray.

Dip each seasoned chicken breast into the egg mixture, ensuring it's well-coated, then dredge the egg-coated chicken breast in the breading mixture, covering it completely. Repeat with all the chicken slices.
To make Baked Chicken Parmesan
Start by placing the breaded chicken breasts on an oil-greased baking tray. If you prefer, you can give the chicken a light oil spray to prevent a chalky flour layer, although this step is optional.

Slide the tray into a preheated oven set at 425°F and bake for approximately 25 to 30 minutes or until the chicken turns a beautiful golden hue.

Once the chicken is delightfully crispy, remove it from the oven and generously coat it with the marinara sauce prepared earlier.

Add a generous layer of mozzarella cheese and some fragrant basil leaves to the top of the sauce.

Return the chicken to the oven and bake for an additional 5 to 10 minutes, or until the cheese is perfectly melted.

Finally, take out your Crispy Baked Chicken Parmesan, and for a fresh finishing touch, garnish it with either cilantro or basil leaves.
To Serve
Serve this Baked Chicken Parmesan over pasta or enjoy it as is, accompanied by your favorite salads, roasted vegetables such as green beans, broccoli, asparagus, or any other sides of your choice.
Chef's Notes and Tips
Tips for Perfect Baked Chicken Parmesan:
Breading: For a crispy exterior, bread the chicken breast with all-purpose flour, cornstarch, panko, and Parmesan cheese. Dip the seasoned chicken in beaten eggs or buttermilk for better breading adherence.
Baking Temperature: Bake the chicken at 425°F for 25 to 30 minutes until golden and crisp. After adding cheese, bake for an additional 5 to 10 minutes until the cheese melts. Adjust temperature between 400°F to 450°F as needed, considering the size and thickness of the chicken.
Avoiding Chalky Flour: To prevent a chalky appearance, lightly spray the breaded chicken with cooking oil before baking.
Seasoning: Use the recommended spices and seasonings for the chicken and breading mixture to enhance flavor.
Resting the Breaded Chicken: Let the breaded chicken rest for 5-10 minutes before baking to help the coating stick better.
Cheese Quality: Opt for freshly grated mozzarella and Parmesan for better melt and flavor.
Sauce Consistency: For a thicker sauce, simmer it longer before applying to the chicken.
Internal Temperature Check: Ensure the chicken's internal temperature reaches 165°F for safe consumption.
Broiling for Crispiness: Briefly broil the chicken after baking for extra crispiness on the cheese.
Resting Before Serving: Let the baked chicken rest for a few minutes before serving to redistribute the juices.
Nutrition Info
Serving:
1
serving
|
Calories:
544
kcal
|
Carbohydrates:
51
g
|
Protein:
44
g
|
Fat:
18
g
|
Saturated Fat:
7
g
|
Polyunsaturated Fat:
2
g
|
Monounsaturated Fat:
7
g
|
Trans Fat:
0.03
g
|
Cholesterol:
212
mg
|
Sodium:
1569
mg
|
Potassium:
812
mg
|
Fiber:
3
g
|
Sugar:
4
g
|
Vitamin A:
1093
IU
|
Vitamin C:
13
mg
|
Calcium:
402
mg
|
Iron:
5
mg
Disclaimer: We're not nutrition experts. Nutritional info is estimated and should be used as a guide. For precise details, consult a professional.
Explore our enticing collection of chicken breast, fried chicken, and baked dinner recipes, each offering a delightful blend of flavors and a satisfying crunch. Perfect for casual meals or special occasions.
How long to Bake Chicken Parm in the Oven?
Baking Chicken Parmesan in the oven typically takes 25 to 30 minutes when using thinly sliced chicken breasts, especially in a preheated oven set at 425°F. However, if you're working with a full-sized chicken breast, the cooking time may vary depending on its size and thickness.
It's crucial to note that regardless of the temperature setting or chicken size, it's always recommended to ensure that the internal temperature of the chicken reaches 165°F, as suggested by the FDA. This ensures that the chicken is cooked safely and thoroughly.
Storage Suggestions
Enjoy the Baked Chicken Parmesan fresh and warm for the best taste. However, for advanced preparation, you can bake the breaded chicken breasts ahead of time and freeze them for up to a month.
When ready to serve, simply top them with sauce and cheese, then bake in a preheated oven at 425°F for about 20 to 25 minutes, or until the cheese bubbles and turns golden brown. This method ensures that you can savor a delicious meal with the convenience of pre-preparation.
Serving Suggestions
The Healthy Baked Chicken Parmesan is a versatile dish that pairs wonderfully with a variety of sides. It's especially delicious when served over pasta or alongside fresh salads. For a heartier meal, consider roasted vegetables such as broccoli, potatoes, asparagus, cauliflower, carrots, or green beans.
These roasted sides not only complement the flavors of the chicken but also add a delightful variety of textures and nutrients to your meal. Whether you're looking for a light lunch or a satisfying dinner, these serving options make the Baked Chicken Parmesan a perfect choice for any occasion.