Whip up your own General Tso's Sauce in under 10 minutes! This all-purpose Chinese sauce brings a perfect balance of sweet, spicy, and tangy flavors to your dishes. Crafted with ingredients like sesame oil, ginger, and hoisin, it's great for dipping, drizzling over your favorite General Tso's Chicken, shrimp, or tofu, and adds a bold taste to stir-fries. Quick, easy, and deliciously authentic!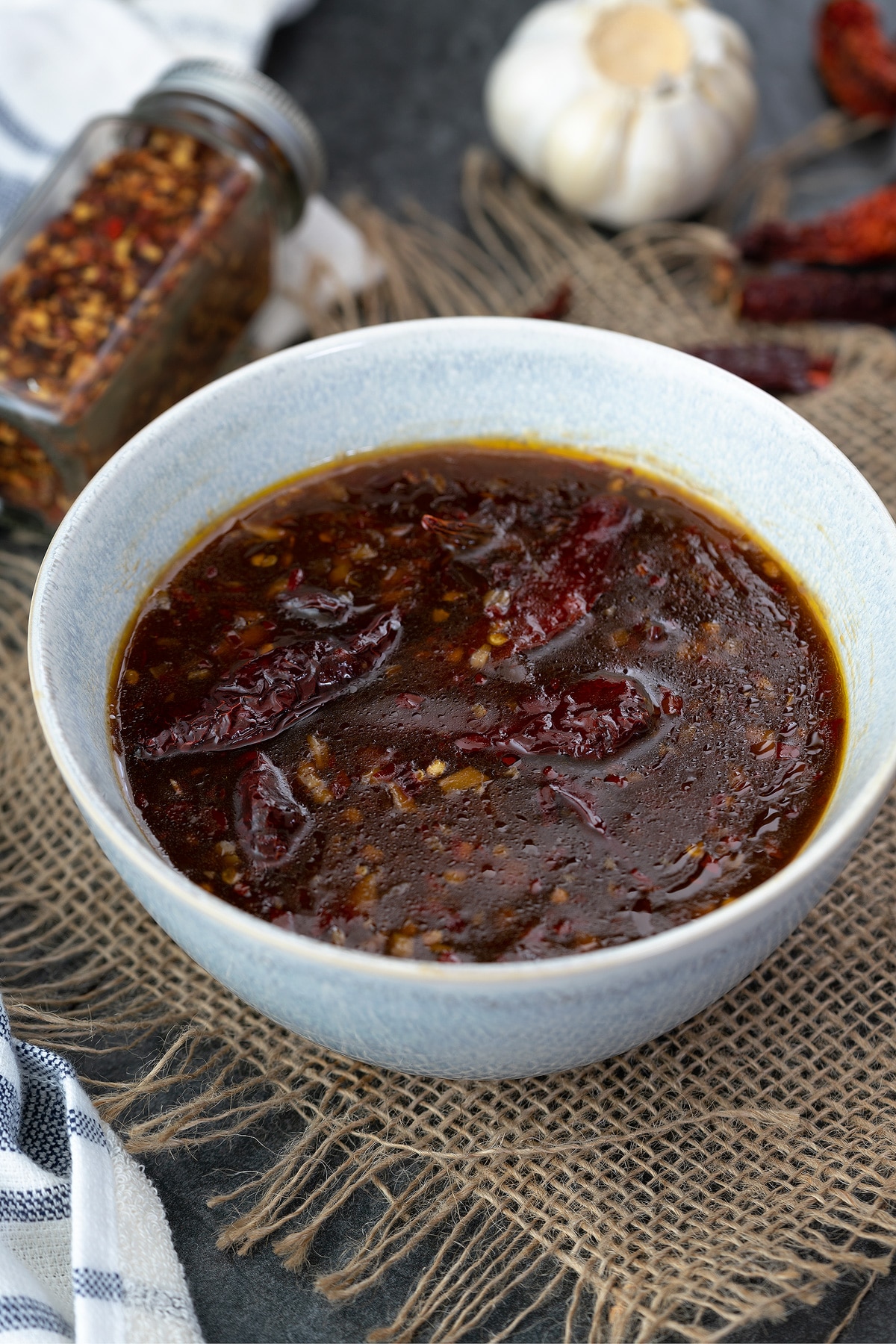 Jump to:
Ingredients & Substitutions Overview
To make this flavorful General Tso's Sauce, you might need to visit an Asian grocery store for a few special ingredients, though many are available at your local supermarket. Here's what you'll need: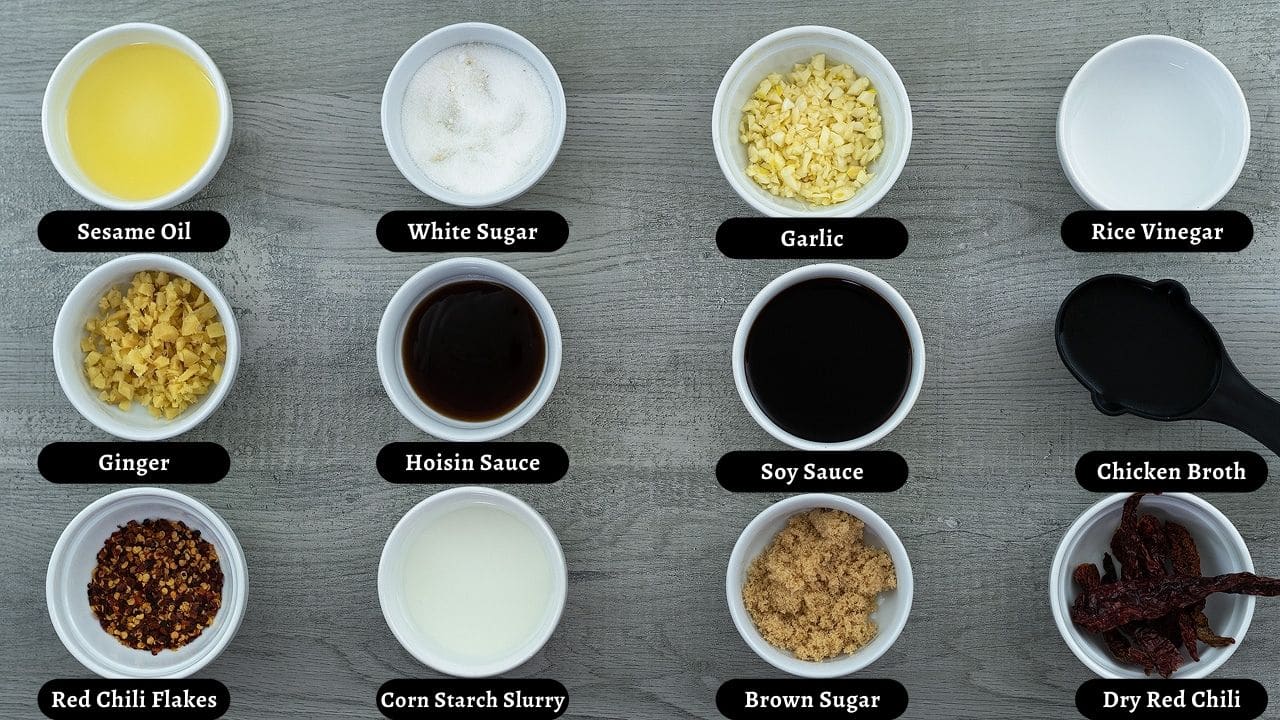 Sesame Oil: This adds a nutty, earthy flavor to your sauce.
Ginger and Garlic: Freshly minced for a vibrant aroma and taste. Powdered versions are a fine substitute if fresh isn't available.
Soy and Hoisin Sauce: Soy sauce is often in local grocery stores, but Hoisin may require a trip to an Asian market.
Red Pepper Flakes: Used for heat, you can adjust the amount to suit your spice preference.
Shaoxing Wine or Rice Vinegar: The original recipe may call for wine, but rice vinegar works well, especially if served to children or those who prefer it non-alcoholic.
Chicken Broth: Adds depth of flavor, but vegetable stock can be used for a vegan version.
Brown and White Sugar: For sweetness and depth of flavor.
Dry Red Chilies: These provide a spicy kick to the sauce. Adjust the quantity based on your heat preference.
Cornstarch Slurry: Used to thicken the sauce to your desired consistency.
How to make General Tso's Sauce?
Ready to craft a delicious General Tso's Sauce that'll elevate your meals with its sweet, spicy, and tangy profile? Follow along with our easy video tutorial and step-by-step images below to create this classic Chinese condiment right in your kitchen.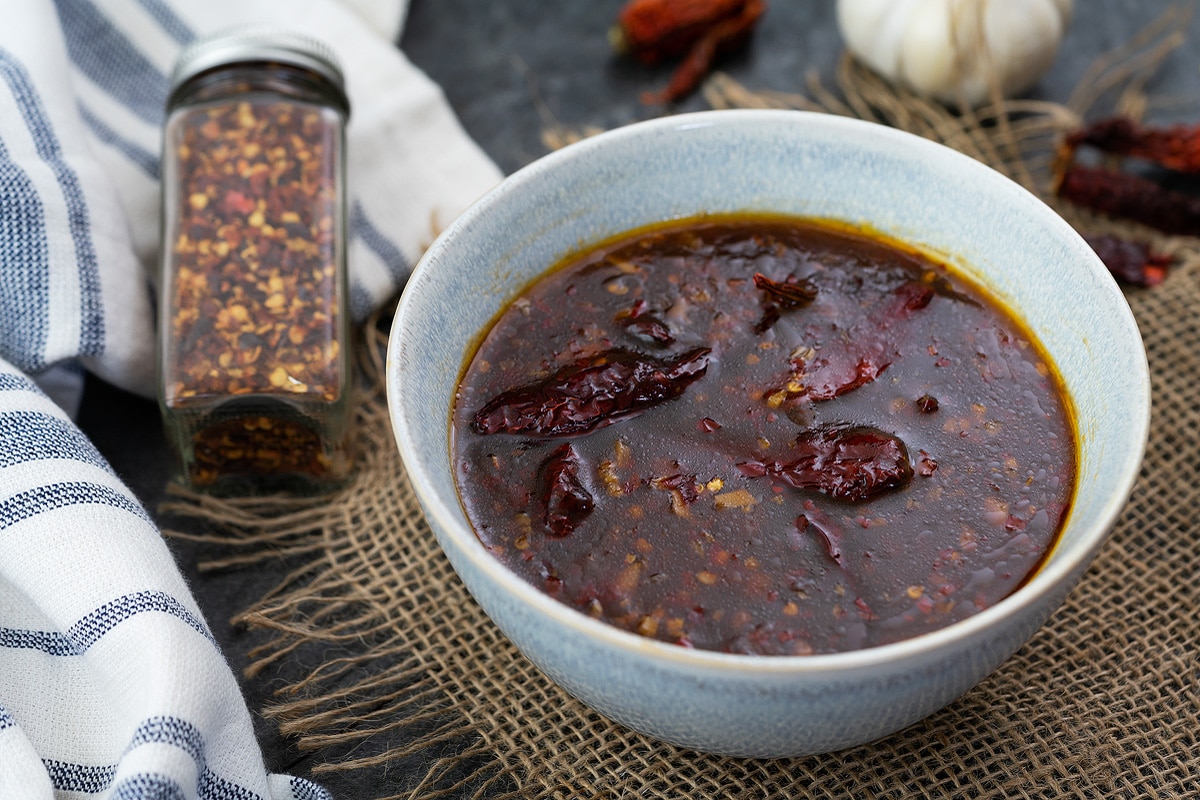 Discover a World of Flavorful Sauce Recipes: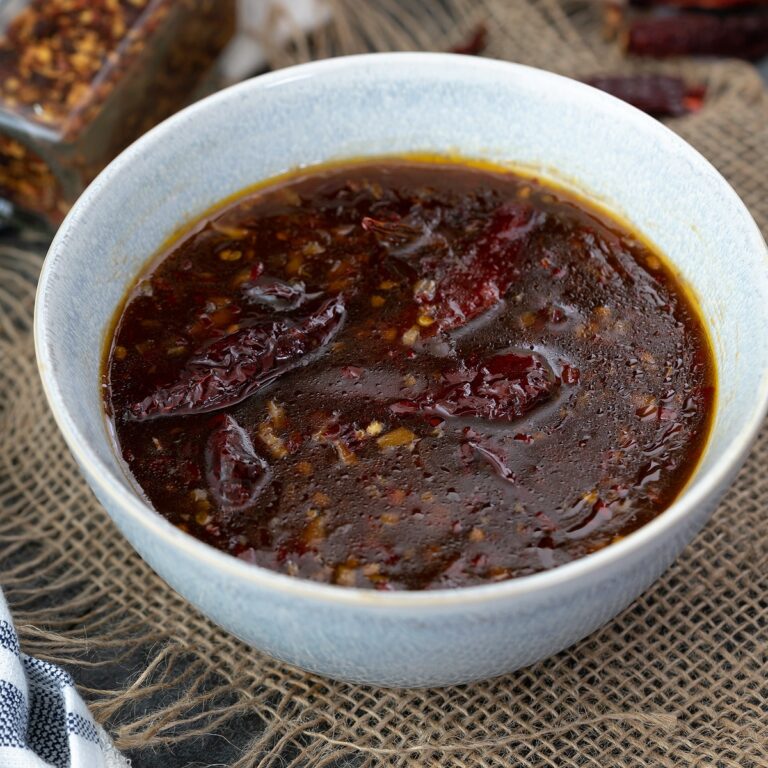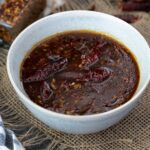 General Tso's Sauce
General Tso's sauce - a Chinese condiment combines the warmth of sesame oil, the punch of ginger and garlic, and the richness of hoisin and soy sauce for that perfect sweet, spicy, and tangy kick. Ideal as a dip or for livening up dishes like General Tso's Chicken, Shrimp, or Tofu, it's a surefire way to add some excitement to your mealtime.
Subscribe
print (text-only)
email
pin
review
save
saved!
Ingredients
1

tsp

Ginger

,

minced

2

tsp

Garlic

,

minced

2

tsp

Brown Sugar

2

tsp

White Sugar

2

tsp

Rice Vinegar

1

tsp

Red Pepper Flakes

4

Dry Red Chili

½

cup

Chicken Broth

¼

cup

Soy Sauce

,

low sodium

2

tsp

Hoisin Sauce

2

tbsp

Sesame Oil

1

tsp

Cornstarch

,

1 tsp cornstarch diluted in 3 tsp water
More on Unit Conversions »
Instructions
To Make General Tso Sauce
In a pan over medium heat, add oil along with ginger, garlic, and dry red chili. Sauté until they release their aroma.

Stir in the white and brown sugar until they blend and caramelize.

Add soy sauce, hoisin sauce, red pepper flakes, and rice vinegar, combining them thoroughly.

Pour in the chicken broth, stir briefly, and let it come to a boil for 1 to 2 minutes.

Mix in the cornstarch slurry and continue stirring until the sauce thickens. Once it reaches the desired consistency, take the pan off the heat. Your homemade General Tso's Sauce is now ready.
To Serve
Enjoy this Homemade General Tso Sauce as a vibrant dip for appetizers or a flavorful condiment for chicken, seafood, or vegetable dishes.
Chef's Notes and Tips
Here are some expert tips to perfect your General Tso's Sauce:
Flavor Balance: Achieve the signature sweet and spicy taste by using a mix of chili flakes, white, and brown sugar. Stick with these for the most authentic flavor profile.
Sauce Substitutions: Hoisin sauce adds sweetness and depth, but if it's out of reach, try chili bean sauce as a substitute. It will still lend that savory kick.
Shaoxing Wine Alternative: If you don't have this traditional Chinese wine, rice vinegar can provide a pleasant tanginess to your sauce. Don't hesitate to use it instead.
Vegan Adaptation: Opt for vegetable stock and a vegan-friendly soy sauce to make a delicious vegan version of this sauce.
Versatile Use: Whether you use it as a dipping sauce for snacks or to jazz up your main dishes with chicken, seafood, vegetables, or tofu, this General Tso's Sauce is guaranteed to enhance your meal with its robust flavor.
Nutrition Info
Serving:
1
serving
|
Calories:
103
kcal
|
Carbohydrates:
8
g
|
Protein:
2
g
|
Fat:
7
g
|
Saturated Fat:
1
g
|
Polyunsaturated Fat:
3
g
|
Monounsaturated Fat:
3
g
|
Cholesterol:
1
mg
|
Sodium:
985
mg
|
Potassium:
88
mg
|
Fiber:
1
g
|
Sugar:
5
g
|
Vitamin A:
594
IU
|
Vitamin C:
1
mg
|
Calcium:
16
mg
|
Iron:
1
mg
Disclaimer: We're not nutrition experts. Nutritional info is estimated and should be used as a guide. For precise details, consult a professional.
Storage Suggestions
To keep your General Tso's Sauce fresh, refrigerate it in an airtight container for up to two weeks. When you're ready to savor it, simply reheat the necessary amount and mix it with your favorite proteins or vegetables for a delicious meal.
Serving Suggestions
Dip, drizzle, or douse your favorite dishes with this versatile General Tso's Sauce. It's perfect for jazzing up appetizers like popcorn chicken or samosas. Or use it to add a zesty twist to your chicken, seafood, veg, or tofu recipes. The possibilities are deliciously endless!