Samosa is a tasty, flaky, and crispy potato(aloo), meat, or vegetable stuffed fried Indian snack dish. It is one of the most popular snack dishes across India and is also called sambosa, in Middle Eastern countries, Asia and Africa. Even though the Samosa recipe I have shared here is aloo(potato) samosa, the making process is the same for vegetable samosa as well.
This classical Indian vegetable samosa made with special pastry dough is perfect for tea time, lunch buffet, iftar party with Samosa sauce, Mango Chutney or just to munch on a regular day. It can also be used to make Samosa Chaat, an another popular Indian snack.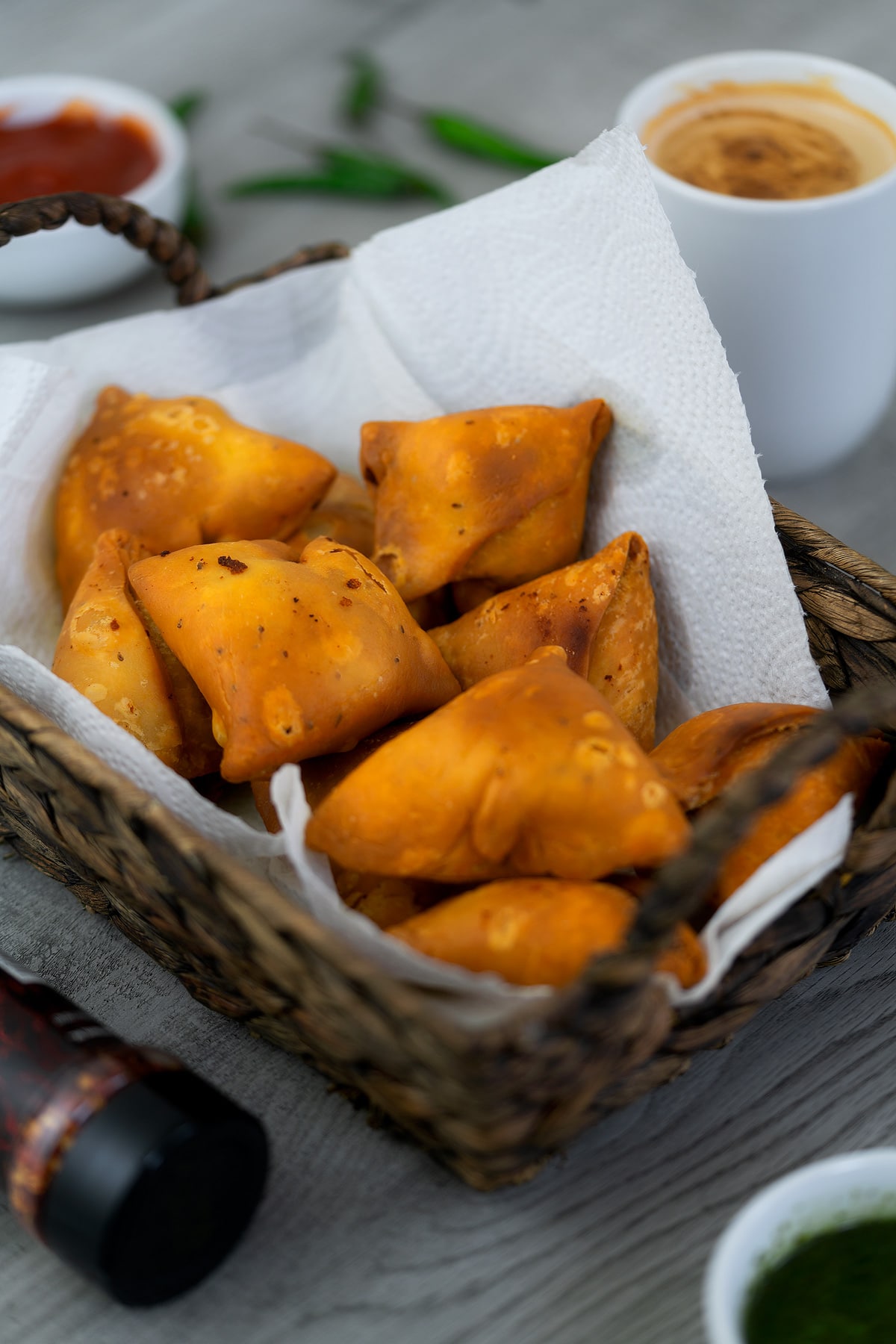 Jump to:
What is Samosa?
Samosa is a flaky, crispy, and delicious deep-fried savory snack that is popular across the Indian subcontinent, Middle Eastern countries, Asia and Africa. The name samosa has been derived from the Persian term Sanbosag which means triangular pastry(source wiki). And the triangular pastry is filled with potatoes, beef, lamb, chicken, or vegetables and fried to make perfectly delicious samosas.
This samosa has an origin from Central Asia, which spread across South Asia during the Delhi Sultanate rule. And the similar snack is called Sambosa or Sambusa in Middle Eastern and African countries. Even though samosas have been brought into India by middle east chefs, traders and merchants, this snack dish occupied a special place in Indian Cuisine for its unique taste and flavor.
Samosas are one of the favorite street-style snack dishes that one could find in most tea stalls, coffee shops, lunch buffets, office party and what not! It is also one of the famous snacks served during Ramadan season as a starter for Iftar meals.
Ingredients
The ingredients required for making samosas are easily available in most Indian stores around and If not I also got some substitutes if the ingredients are not really handy for you! The recipe here is customized from the traditional Indian samosa and I have used vegan-friendly ingredients that are dairy-free and meat-free. So let's check out what you will need to prepare this Indian party favorite snack dish!
Spices and Herbs
Cumin seeds - It is one of the common Indian spices used in most Indian dishes that gives a nice flavor and aroma to your dish. It also helps in good digestion. You can also add cumin powder along with other masalas if seeds are not handy
Carom/Ajwain seeds - It looks similar to cumin or fennel seeds that have a strong aroma similar to thyme, oregano, and star anise. It is usually used as a whole in most Indian recipes and helps good digestion and reduce or avoid flatulence due to the potatoes in the recipe. You can also substitute with thyme or oregano for a similar taste and flavor
Chili, turmeric and coriander powder - These are common masala widely used in Indian cuisine that makes the dish flavorful and appetizing
Kasoori Methi - It is nothing but dried fenugreek leaves that gives a special aroma, taste, and flavor to your potato filling. Seasoning the fillings with these crushed leaves at the end takes the dish to the next level. You can also substitute it with fresh celery leaves or watercress for similar results
Coriander leaves - Make sure to add some at the end which gives a fresh taste to the samosas.
Other Ingredients
All-purpose flour - Plain flour/maida that gives the best Street-style samosa. But you can also use wheat flour for the recipe that gives pretty good samosas but not flaky and crispy like one made with plain flour.
Oil - I have used canola oil for kneading and frying and you could use most cooking oil like canola, vegetable, corn, or peanut oil. But make sure not to add strong-flavored oils like coconut, mustard, or similar others. You can also use ghee or butter while kneading the dough if you are not looking for a vegan-friendly recipe.
Potatoes - I have used Atlantic Potatoes for this recipe and you can also Russet, Yukon Gold, and similar other variants.
Ginger Garlic Paste - It gives a nice flavor and taste to the snack and also helps in easy digestion.
Green Chili - It gives nice heat to the potato filling. But if you want your filling to be less spicy then you can totally feel free to skip them.
How to make a perfect Samosa?
The recipe I have shared here is a samosa with potato filling which is a vegan-friendly Indian version with homemade dough. And the quantity makes 12 medium size samosas. So let us see how to make/prepare this snack dish easily at home and I believe the detailed step-by-step instruction will help you to master the dish like a pro.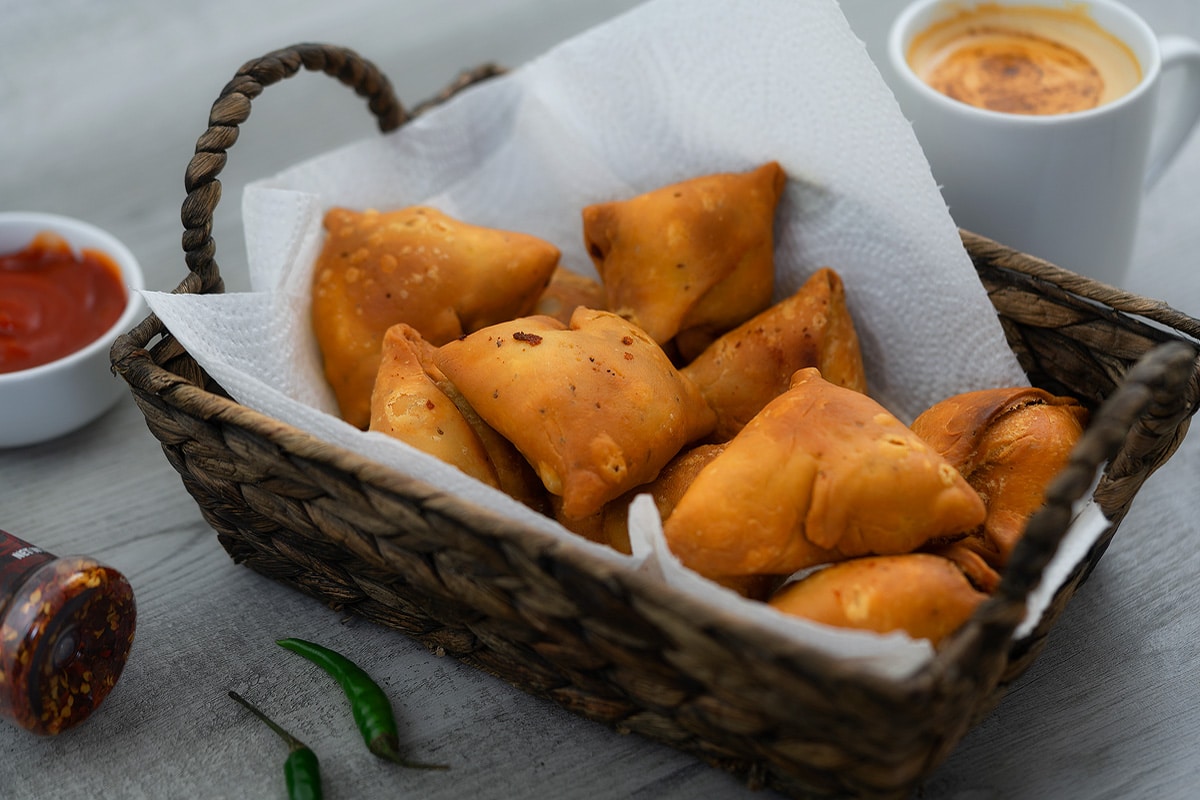 The process involves 4 parts and each of them is important to make the best Indian samosa.
Making Samosa Dough
Preparation of filling
Folding the Samosa
Frying the Samosa
1. Making samosa dough
Preparation of dough is one of the important steps to make a perfect street style samosa that usually one can find in coffee shops and tea stalls by vendors. To make the dough, in a bowl add the flour, salt, ajwain seeds and mix well. Then add the oil, crumble and mix until oil is coated evenly on the flour. The flour should hold the shape when you press between your palms. I have attached the picture in the recipe card that may help you to make the dish.
After mixing the flour with oil, pour water gradually and knead it into a firm dough. Then close the bowl with a lid and allow it to rest for 30 minutes. Resting the dough makes the best crispier and flaky samosa. So make sure not to skip this step and meanwhile, you can prepare the filling for the samosa.
2. Preparation of filling
To make the filling, first, boil the potatoes in a pan or pressure cooker. I have cooked the potatoes in a microwave oven to speed up the process. But you can always feel free to choose yours as per your preference. Peel the potatoes and mash them nicely. Then in a pan with medium heat, season the cumin seeds, green chili, and onions. Wait until the onion turns soft. Once they are soft, stir in the ginger-garlic paste, salt, chili, turmeric, and coriander powder. Once they are well incorporated, stir in the potatoes.
Following that, add the Kasoori methi leaves and give a quick saute. Finally include some coriander leaves and give a good mix. Now the potato stuffing is ready to make samosas. You can also use leftover roasted potatoes to make the stuffing and it gives a similar taste and flavor to your Samosas.
3. Folding the samosa
Folding the samosas perfectly gives a good shape and helps to seal the filling tightly during the frying process. You can always make your preferred shapes when it comes to samosas. Here I have made my favorite cone or triangle shape, but feel free to make squares, half-moons, or any shapes you like.
Here I will tell you how to make a perfect cone shape with the dough. So, to make that take a small ball from the resting dough and roll it into a 5 to 6-inch diameter disc. Cut the rolled dough into two equal parts. Now smear some water on all the edges of the dough and bring the straight end parts together to make a cone(attached picture in the recipe card below). After that fill 2 tsp of the potato masala and seal the open end tightly. Repeat the same process for the rest of the dough. That's it! now the potato samosas are ready for frying.
4. Frying the samosa
To fry the samosas, let the oil heat in medium-low settings. Once the oil is warm enough(not hot) add the filled samosas one by one without overcrowding. Fry them until it turns golden brown and make sure to flip them on and off for even cooking. This might take approximately 13 to 15 minutes and yeah patience is the key. Drain them and follow the same for the remaining samosas as well. And trust me, you will feel really accomplished when you taste the very first bite of the samosa that you made. And the bonus is, it stays crispy for hours at room temperature.
Viola! now delicious vegan-friendly Indian samosa is ready for you to taste and enjoy. I enjoyed mine with ketchup and tamarind chutney and I literally felt refreshed while relishing this flaky samosa after long cooking.
How to make Vegetable samosa?
Vegetable or veg samosas are one of the top-selling snacks in India and across the country and it is also loved by all age groups. The process is the same as the aloo(potato) samosa that I have shared in this post but with the only difference in the filling. To make the vegetable samosa, after seasoning all the masala feel free to add cauliflower, beets, peas, and carrots along with the potatoes. Adding a lot of veggies makes the dish not only healthy but also the perfect treat for your craving taste buds. And it makes the best vegan-friendly starter for parties, get-togethers, or as a simple snack.
Other Variations
Samosas have tons of variations based on the place, country, region, and tradition of the people. For instance in India, especially in Punjabi style samosa people don't prefer to use onion and garlic in their fillings. While in other parts people like to include them in their fillings. These simple potato samosa can be easily customized based on your taste preferences and I have added some ideas to recreate this snack to enjoy with your family and friends.
Based on Filling
Chicken - Make a stuffing with boneless chicken pieces, onions, masalas, and jalapeno pepper, and chicken empanadas are one such dish that is already in the blog that you may definitely love
Lamb or Beef - Adding minced meat or kheema makes a perfect non-veg samosa as a starter for any party
Egg - Adding scrambled egg with onions and spices gives a twist from regular potato samosa
Paneer - Some people also prefer to make filling with Indian cottage cheese
Dry Fruits - There is also a variation where people like to add dry fruits in veg and nonveg filling to enjoy a crunchiness in every bite
Onion - Samosa are also made using onions alone as the main stuffing ingredient
Sweet - Most of us enjoyed the spicy versions of this snack but surprisingly there is also sweet samosa where people prefer to use khoya(milk solids), sugar, and cardamom powder for the stuffing. And it is one of the festival favorites in Indian cuisine.
How to Bake Samosas in the oven?
To bake samosa, preheat the oven at 360 degrees Fahrenheit and line a parchment paper in a tray. Now place the shaped samosa in a single layer on the tray and bake them for about 5 to 8 minutes. Then open the oven door and flip the samosas and bake again for 5 to 6 minutes or until it turns golden in color. And the samosa-baked version is ready for you to savor.
How to make Samosas in an air fryer?
To make in an air fryer, brush the filled samosa with some oil and fry them in the preheated air fryer at 300 degrees Fahrenheit for 12 to 15 minutes or until golden brown. Make sure to place the samosas in a single layer while adding them to the basket.
Sheets/wrappers that can be used for samosa
Indian style dough - Typical firm samosa dough made with all-purpose flour
Taco or tortilla - we can also fill the stuffing in taco or tortilla wraps
Puff Pastry wrapper - puff pastry wrapper works well for Indian samosa but baking them gives the best results. An important fact is those samosas are not vegan since the puff sheets are usually prepared with butter and ghee.
Spring roll and Phyllo dough sheets - Gives a nice crisper and flaky snack but the taste slightly varies from the traditional street-style samosa.
Tips
Always make sure to use the correct measurements while making the dough. The samosas will not turn crispy if the measurements are missed. The dough should be always nice tight and firm for this particular recipe that gives the best results. And you could feel free to use oil while rolling the dough and make sure not to dust with flour.
More importantly, frying in low heat gives the ultimate flaky samosas that you ever want. So again patience is the key! If the oil is too hot, the samosa will get bubbles and blisters on the crust and it turns soggy within a few minutes. And I hope you will try and enjoy this samosa with your family and loved ones.
Storage Suggestions
This samosa tastes great when served immediately. The recipe that I have shared here makes a perfect flaky samosa that stays crispy for 4 to 5 hours at room temperature. And you can also refrigerate it in an airtight container and it stays good for 2 to 3 days. To reheat, preheat the oven at 350-degree Fahrenheit for about 7 to 10 minutes or until it turns warm.
Guess what? This samosa is a super freezer-friendly dish. Yes, we can freeze the filled samosa before frying them. We all have to do is line the parchment sheet in a tray and place the samosa without touching each other. Then place them in a freezer for 2 to 3 hours. And then transfer the samosa to zip lock bags and store it in the freezer for up to 3 months. Make sure to thaw the frozen samosas to room temperature when you plan to fry them.
Serving Suggestions
Samosas tastes great on their own but you can also serve them with ketchup, tamarind sauce, mango chutney and similar other Samosa Sauces. You can also serve this crispy snack along with tea, coffee, or any hot beverages for an evening snack.
Having leftover samosas? then you can make Samosa Chaat with chole, tamarind sauce, and few other chaat toppings.
You could also find similar recipes below and more at Street food, Snack Recipes and potato recipes.
Are you looking for more vegan recipes to surprise your friends and family for a get-together or party? Then you may like the collection of Indian Vegan Recipes that covers breakfast, lunch, dinner, and starter that I hope will make your next meal special.
Samosa recipe video
I have also shared a detailed video of this Indian samosa recipe that I hope will help you make a crispy and flaky snack at home. For a quick reference, you could also find this recipe in story format.
📖 Recipe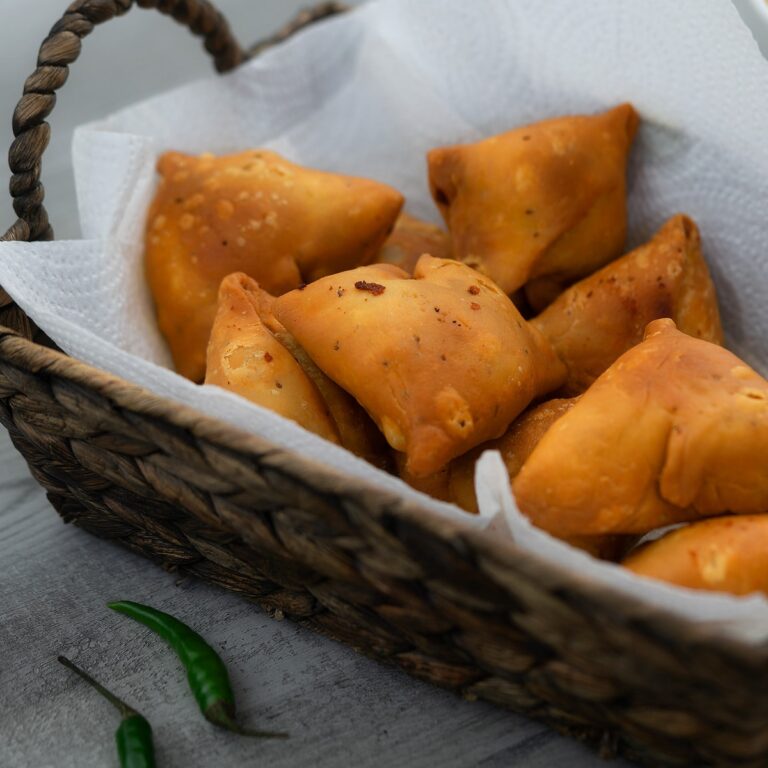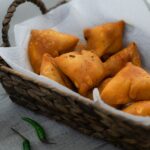 Samosa Recipe
Samosa is a tasty, flaky, and crispy street-style fried snack dish popular across India, Central Asia, and Middle Eastern countries. It is typically made with potato, vegetables, or meat. This samosa recipe shared here is a vegan-friendly snack dish that is served as a starter for parties, lunch buffets, or as a tea-time snack.
Subscribe
print
email
pin
comment
Save
Saved!
Ingredients
For Making Samosa Dough
2

cup

All-Purpose Flour

½

tsp

Ajwain

,

carom seeds

½

tsp

Salt

½

cup

Water

¼

cup

Oil
For Samosa Filling
4

Potatoes

,

boiled and mashed

¼

cup

Oil

1

tsp

Cumin Seeds

3

Green Chili

,

chopped

¼

cup

Onion

,

sliced

1

tbsp

Ginger Garlic Paste

½

tsp

Turmeric Powder

1

tsp

Chili Powder

1

tsp

Coriander Powder

Salt

,

as needed

1

tsp

Kasoori Methi Leaves

¼

cup

Coriander Leaves

Oil

,

for frying
More on Measurements & Conversions »
Instructions
To make Samosa dough
In a bowl, add all-purpose flour, ajwain seeds, salt, and mix well

Add oil to the dough mixture and mix well until the oil is well incorporated(it should look like a crumble) and the dough should hold shape when it is pressed between palms

Now add the water and knead the dough until it forms a tight dough

Now close the bowl with the lid and allow the dough to rest for 30 minutes
To make Samosa filling
In a pan with medium heat, pour oil and add cumin seeds, green chili. onion and saute until noon turns soft

Now add the boiled potatoes and give a good mix until all the masala is well coated on the potatoes

Add kasoori methi and give a nice stir

Now add the coriander leaves and give a final mix. The potato(aloo) filling is ready for us to make the samosas
To fold or shape the Samosa
Open the lid and take a small ball size portion of dough from the bowl(which is been resting for 30 minutes) and make into a ball with your hands

Roll the dough into a circular disc or oval-like shape that is approximately 5 to 6 inches in diameter and cut into 2 parts using a knife or pizza cutter

Bring the two straight ends of the dough together to make a cone (I have applied some water to all the sides that help to glue properly)

Now take and fill the cone with 2 tsp of potato filling (make sure not to overfill the cones)

Apply some water again on the open ends and seal them tightly and now the samosa is ready to be fried. Repeat the same process for the rest of the dough and make sure to cover the filled samosa with a damp cotton cloth while working on other doughs
To Fry Samosa
Heat oil in Kadai/pan in low heat. Once the oil is warm enough, add in the filled samosa one by one. Make sure not to overcrowd the pan. If the oil is too hot then the samosa will form bubbles and blisters

Fry the samosa in low heat on both sides until it turns golden brown in color( it will take approximately 15 minutes to reach this stage)

Drain them from oil and repeat the same process for remaining samosas. Now the samosa is ready for us to taste and enjoy
To Serve
Serve this delicious Indian street style samosa with ketchup, tamarind chutney, or green chutney
Notes
The important key to getting a crispy and flaky samosa is to make the firm dough with accurate ingredients. Especially change in oil or water quantity will change the end product
It is also important to roll the dough evenly neither too thick nor too thin to get the best samosa
Frying the samosas in low heat delivers perfectly fried, blister-free, flaky, and crispy samosa
This samosa is a vegan-friendly snack dish that can be served for tea time, party, lunch buffets, or as a starter for any meals
Nutrition
Serving:
1
serving
|
Calories:
221
kcal
|
Carbohydrates:
30
g
|
Protein:
4
g
|
Fat:
10
g
|
Saturated Fat:
1
g
|
Polyunsaturated Fat:
3
g
|
Monounsaturated Fat:
6
g
|
Trans Fat:
0.04
g
|
Sodium:
143
mg
|
Potassium:
338
mg
|
Fiber:
3
g
|
Sugar:
1
g
|
Vitamin A:
76
IU
|
Vitamin C:
16
mg
|
Calcium:
16
mg
|
Iron:
2
mg
FAQ
What is samosa?
Samosa is a flaky, crispy, and delicious deep-fried savory snack that is popular across the Indian subcontinent, Middle Eastern countries, Asia and Africa. It is usually filled with spicy potatoes, meat, egg, or vegetables. It is typically served as a snack, or starter for tea time, parties, weddings, lunch buffets, and during Ramadan seasons. And one could find this snack dish in most tea/coffee stalls, bakeries, and street food stalls.
Why my samosa is not crispy?
Samosa will not turn crispy, if the samosa dough is soft or if it is fried in very hot oil. These two things make them turn soggy and soft. So it is important to knead a tight dough and also to fry the samosas in low medium heat.
How to store samosa?
This potato samosa tastes great when served immediately. The recipe that I have shared here makes a perfect crispy samosa that stays crispy for up to 4 to 5 hours even at room temperature. And you can also refrigerate it in an airtight container and it stays good for 2 to 3 days.
Can we bake samosa?
Yes, you can bake the samosa and it turns out pretty good too. But the baked samosa will not be crispy and flaky like the traditional fried ones.
Are samosas a vegan dish?
No, not all samosas are vegan friendly, there are variations where people use meat, and egg for fillings, and even vegetarian variants also sometimes have ghee in their recipe list. So it is better to check for the ingredients before enjoying this lip-smacking dish.
I really hope you enjoyed the recipe that I have shared here and I would love to hear from you on how it turned out for you. Please let me know.
If you have any other questions, feel free to post them in the comment section below and I will try to get back to you as soon as possible.
Happy Cooking!
More street food recipes: