Samosas are a classic Indian snack, renowned for their flaky pastry and savory filling. This versatile dish, originating from Punjabi cuisine, is not just popular in India but has also won hearts globally. The fillings can vary, typically featuring potatoes, meat, or vegetables. The art of making samosas involves wrapping this filling in a special pastry dough, then deep frying it to achieve that signature crispy texture.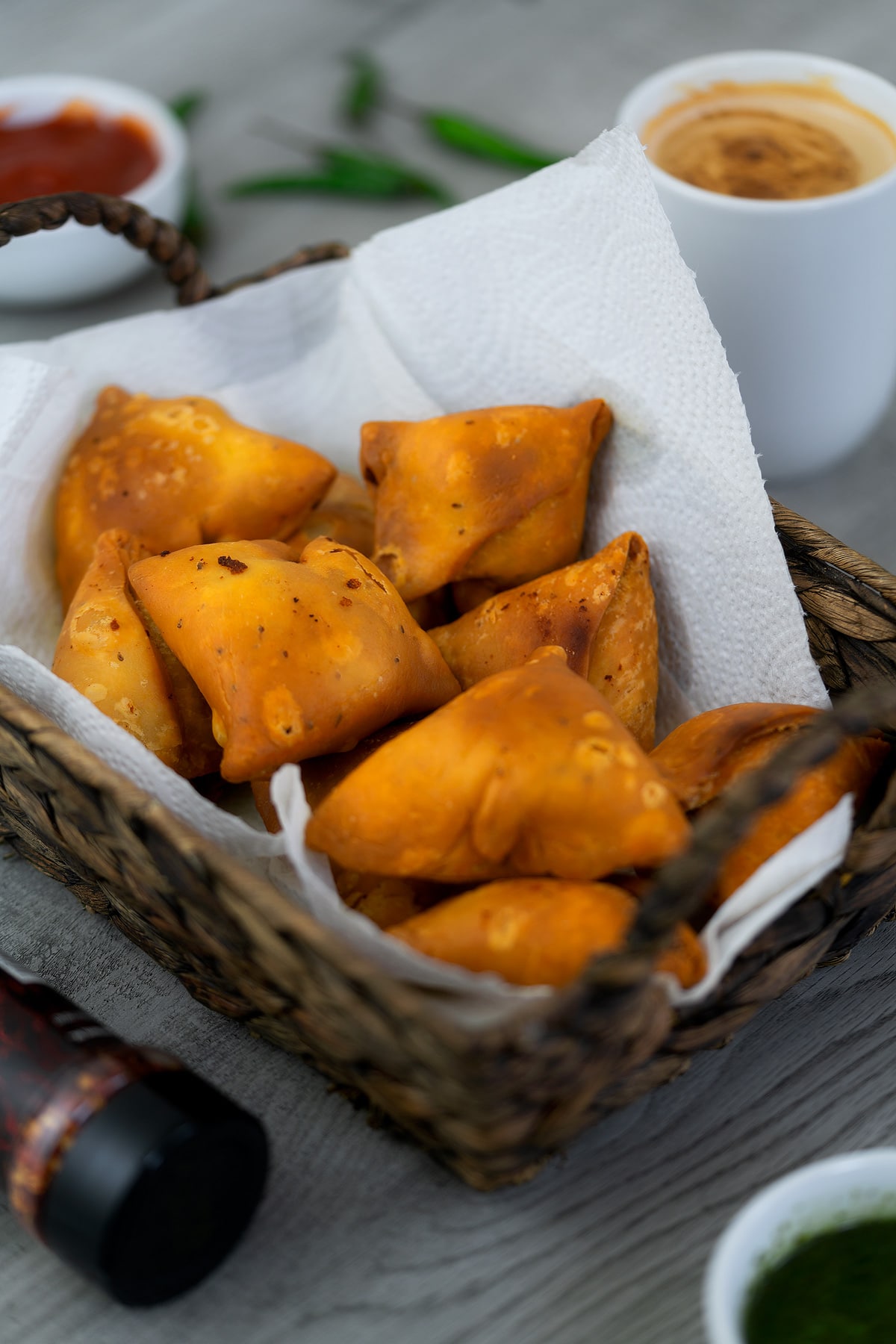 Jump to:
Beyond being a standalone snack, samosas are often a key component in samosa chaat, a dish beloved for its combination of flavors and textures. Accompanied by flavorful samosa sauces like tamarind and mango chutney, samosas are a hit at parties and gatherings or as a cozy treat with a cup of masala chai.
Originating from the Persian "Sanbosag," samosas have a storied journey, spreading across South Asia during the Delhi Sultanate and evolving into similar forms like Sambosa in the Middle East and Africa. A staple in Indian cuisine, they're loved for their distinctive flavor.
Commonly found at street stalls, cafes, and social events like Ramadan Iftar, samosas are also a rewarding homemade treat. Perfect as a starter for Indian menus or as a fresh, homemade snack, they pair wonderfully with various sauces and dips.
Ingredients and Substitutions Overview
Start your journey to making delicious Samosas with readily available ingredients, many of which are staples in Indian pantries. For any challenging-to-find items, I've included practical substitutions.
Spices and Herbs:
Cumin Seeds: Essential in Indian cooking, cumin seeds add a distinct flavor and aroma to dishes. They also aid in digestion. If unavailable, cumin powder is a suitable substitute.
Carom (Ajwain) Seeds: These seeds, resembling cumin or fennel, impart a flavor akin to thyme, oregano, and star anise. They are often used whole in Indian recipes, aiding digestion and reducing flatulence from potatoes. Substitute with thyme or oregano for a similar taste.
Chili, Turmeric, and Coriander Powder: These spices are staples in Indian cuisine, adding depth and appetizing flavors to the dish.
Kasoori Methi: Dried fenugreek leaves, known as Kasoori Methi, bring a unique aroma and flavor to the potato filling. For a similar effect, fresh celery leaves or watercress can be used.
Coriander Leaves: Adding coriander leaves at the end enhances the freshness of the samosas.
Other Ingredients:
All-Purpose Flour: The key to achieving that classic street-style samosa texture. While all-purpose flour (maida) is preferred for its flakiness and crispiness, whole wheat flour can be used as a healthier alternative, though the texture will differ slightly.
Oil: Canola oil is my choice for both kneading the dough and frying. You can also use other neutral oils like vegetable, corn, or peanut oil. Avoid strongly flavored oils such as coconut or mustard. For non-vegan versions, ghee or butter can be used in the dough.
Potatoes: Atlantic Potatoes are ideal, but you can also use other varieties like Russet or Yukon Gold, which work well in this recipe.
Ginger Garlic Paste: This adds a robust flavor and aids in digestion, enhancing the overall taste of the samosa filling.
Green Chili: For a spicy kick in the potato filling. If you prefer a milder taste, feel free to reduce the amount or omit it altogether.
How to make Samosa at home?
Learn to make delightful Samosas with our step-by-step recipe, featuring photos and a video guide. This vegan-friendly recipe covers Dough Preparation, Filling, Folding, and Frying - all you need for perfect Samosas at home!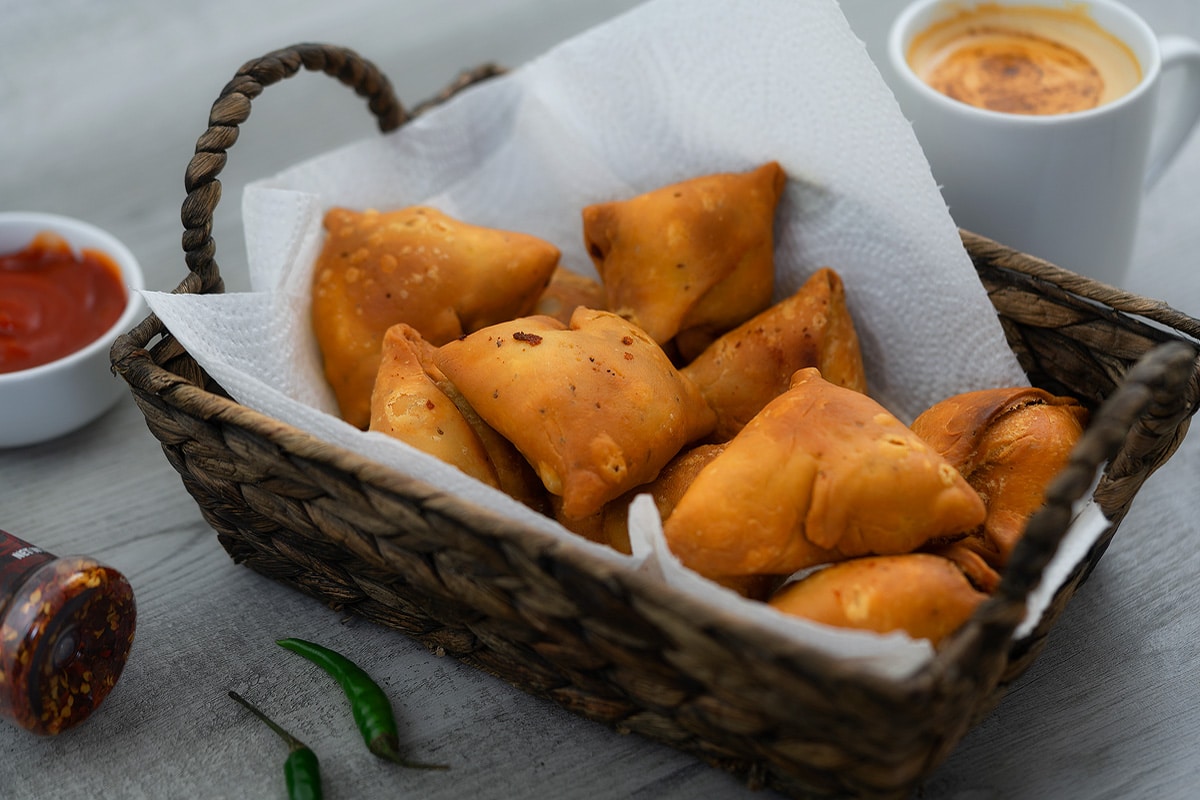 Explore a diverse range of street food and snack recipes!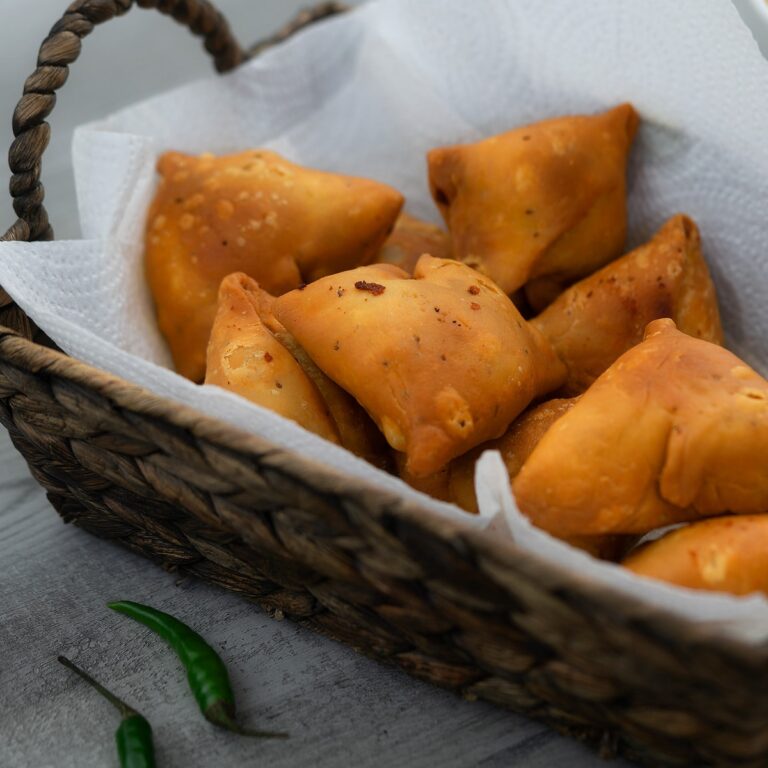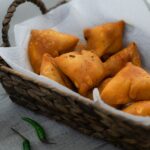 Samosa Recipe
Samosas, a flaky and crispy snack from Punjabi cuisine, are filled with potatoes, meat, or vegetables and fried. Popular across India, they're great with tamarind sauce or mango chutney and pair well with masala chai. They're also used in making samosa chaat, another beloved Indian snack.
Subscribe
print (text-only)
email
pin
review
save
saved!
Ingredients
For Making Samosa Dough
2

cup

All-Purpose Flour

½

tsp

Ajwain

,

carom seeds

½

tsp

Salt

½

cup

Water

¼

cup

Oil
For Samosa Filling
4

Boiled Potatoes,

mashed

¼

cup

Oil

1

tsp

Cumin Seeds

3

Green Chili

,

chopped

¼

cup

Onion

,

sliced

1

tbsp

Ginger Garlic Paste

½

tsp

Turmeric Powder

1

tsp

Chili Powder

1

tsp

Coriander Powder

Salt

,

as needed

1

tsp

Kasoori Methi Leaves

¼

cup

Coriander Leaves

Oil

,

for frying
More on Unit Conversions »
Instructions
Making Samosa Dough
In a bowl, mix all-purpose flour, ajwain seeds, and salt.

Add oil to the mixture. Mix until it resembles coarse crumbs and the dough holds its shape when pressed.

Gradually add water and knead until you have a firm dough.

Cover the bowl and let the dough rest for 30 minutes to allow gluten development.
Making Samosa Filling
In a medium-heated pan, pour oil, add cumin seeds, green chili, and onion. Sauté until the onion softens.

Stir in ginger-garlic paste, turmeric, chili, coriander powder, and salt.

Add boiled potatoes, mixing well to coat them evenly with the masala.

Stir in kasoori methi for added flavor.

Add coriander leaves and mix well. Your potato filling is now ready for the samosas.
Folding and Shaping Samosas
Open the lid of the bowl. Take a small, ball-sized portion of the rested dough and roll it into a ball.

Roll the dough into a circular or oval disc about 5 to 6 inches in diameter. Use a knife or pizza cutter to cut it into two halves.

Moisten the straight edges of the cut dough with water. Bring these edges together to form a cone shape.

Fill each cone with 2 teaspoons of the potato mixture, ensuring not to overfill.

Apply water to the open edges and press them together to seal the samosa securely. Continue this process with the remaining dough. Keep the filled samosas under a damp cloth to prevent them from drying out while working on others.
Frying Samosas
In a Kadai or pan, heat oil on low heat. Ensure the oil is warm but not too hot to avoid forming bubbles and blisters on the samosas. Add the filled samosas one at a time, being careful not to overcrowd the pan.

Fry them on low heat until they turn golden brown, which takes about 15 minutes.

Once golden brown, remove the samosas from the oil. Repeat the frying process with the remaining samosas.
Serving
Enjoy these scrumptious Indian street-style Samosas with ketchup, tamarind chutney, or green chutney. Check below for additional serving ideas!
Chef's Notes and Tips
Enhance your Samosa-making experience with these expert tips, ensuring every bite is perfectly crisp and flavorful:
Dough Preparation and Consistency:
Precise Measurements: Ensure accurate measurements for the dough to avoid it being too hard or too soft, which affects the texture of the samosas.
Dough Consistency: Knead the dough for at least 5-7 minutes to achieve a tight, smooth consistency that results in crispy samosas.
Oil in Dough Rolling: Use oil while rolling the dough to prevent sticking and enhance texture.
Resting the Dough: Allow the dough to rest for at least 30 minutes post-kneading. This helps in developing gluten, ensuring a flaky texture.
Filling and Folding:
Proper Filling Preparation: Prepare the filling in advance and cool it to room temperature. It should be well-spiced, seasoned, and not too moist to prevent soggy samosas.
Folding Technique: Fold the samosas correctly to contain the filling during frying. Using a step-by-step guide or video for folding can be very helpful.
Variety in Fillings: Feel free to experiment with different fillings, such as potato, meats, paneer, onion, eggs, or sweet variants like khoya and cardamom.
Leftover Hack: Utilize leftover roasted potatoes for stuffing, adding flavor and reducing waste.
Sauteing for Flavor: Saute spices and onions properly for a flavorful filling.
Cooking and Final Touches:
Frying Temperature: Fry samosas on low to medium heat for the best flaky texture. Patience is key as frying slowly avoids blisters and soggy crusts.
Even Frying: Fry evenly on medium-low heat, turning occasionally for a uniform golden brown color.
Crispiness Preservation: Samosas remain crispy at room temperature for hours, perfect for advance preparation.
Baking Option: For a healthier alternative, bake the samosas. Brush them with oil or egg wash for a golden, crispy finish.
Nutrition Info
Serving:
1
serving
|
Calories:
221
kcal
|
Carbohydrates:
30
g
|
Protein:
4
g
|
Fat:
10
g
|
Saturated Fat:
1
g
|
Polyunsaturated Fat:
3
g
|
Monounsaturated Fat:
6
g
|
Trans Fat:
0.04
g
|
Sodium:
143
mg
|
Potassium:
338
mg
|
Fiber:
3
g
|
Sugar:
1
g
|
Vitamin A:
76
IU
|
Vitamin C:
16
mg
|
Calcium:
16
mg
|
Iron:
2
mg
Disclaimer: We're not nutrition experts. Nutritional info is estimated and should be used as a guide. For precise details, consult a professional.
Sheets/Wrappers for Making Samosas
Indian Style Dough: The traditional choice, this firm dough is typically made with all-purpose flour, perfect for creating authentic samosas.
Taco or Tortilla Wraps: A creative twist, using taco or tortilla wraps as a substitute for samosa dough.
Puff Pastry Wrapper: Ideal for baking samosas, puff pastry offers a flaky texture. Note that most puff pastry sheets contain butter or ghee, making them non-vegan.
Spring Roll and Phyllo Dough Sheets: These provide a crisp and flaky texture but will slightly alter the taste from the classic street-style samosa.
Storage Suggestions
Best Served Fresh: Ideally, enjoy the samosas immediately after frying to savor their crispy texture.
Room Temperature Storage: The recipe ensures samosas stay flaky for 4 to 5 hours at room temperature.
Refrigeration: Store leftover Samosas in an airtight container in the fridge for 2 to 3 days.
Reheating Instructions: Reheat in an oven preheated to 350 degrees Fahrenheit for 7 to 10 minutes.
Freezer-Friendly Option: Freeze uncooked, filled Samosas on a parchment-lined tray, ensuring they don't touch each other. After 2 to 3 hours, transfer them to a zip lock bag and freeze for up to 3 months.
Thawing Before Frying: Thaw frozen Samosas to room temperature prior to frying.
Serving Suggestions
Samosas taste great on their own or with various accompaniments to enhance their flavor. Here are some popular options to serve with Samosas:
Chutneys: Tamarind chutney, mint chutney, mango chutney, and coriander chutney are the most common accompaniments served with Samosas
Sauces: Sauces like tamarind sauce and other classic samosa sauces adds a burst of flavor to the snack
Yogurt: You can serve plain yogurt or raita (yogurt mixed with vegetables) with Samosas to balance out the spices and heat
Salad: A simple salad made with cucumber, onion, and tomatoes can be a refreshing side dish with Samosas
Tea: Samosas are a perfect tea-time snack and can be paired with a hot cup of masala chai
Rice Dishes: If you are serving samosas as a main course, you can also serve them with plain rice or flavored rice like pulao or biryani dishes. You can also complete it with mango lassi for a perfect party meal
Having leftover samosas? then you can make samosa chaat with chole, tamarind sauce, and a few other chaat toppings.
How to Make Vegetable Samosas?
To make Vegetable Samosas, a beloved snack across India, you start with the basic procedure outlined in this Samosas recippe. The key variation lies in the filling.
Vegetable Filling: Enhance the potato base by adding a mix of vegetables like cauliflower, beets, peas, and carrots. This not only boosts the health quotient but also enriches the flavor profile, creating a delightful treat for your taste buds.
Seasoning and Spices: Incorporate your favorite spices and seasonings into the vegetable mix, just as you would with the potato filling.
Customization and Variations: Samosas offer immense versatility. In some Indian regions, particularly in Punjabi-style samosas, onions and garlic are traditionally omitted. However, other variations include these ingredients. Feel free to adjust the recipe to suit your taste preferences.
Serving Suggestions: These vegan-friendly Vegetable Samosas are perfect as a starter for parties, gatherings, or simply as a wholesome snack.
The beauty of Samosas lies in their adaptability, allowing you to experiment and create a version that resonates with your personal taste and dietary choices. Enjoy crafting this popular Indian delicacy with a vegetable twist!
How to Bake Samosas in the Oven?
Explore a healthier way to enjoy Samosas by baking them in the oven, following these simple steps for a delicious result.
Preheat Oven: Set your oven to 360 degrees Fahrenheit.
Prepare Baking Tray: Line a baking tray with parchment paper.
Arrange Samosas: Place the shaped samosas on the tray in a single layer.
Bake: Bake for 35 to 40 minutes. Remember to flip the samosas halfway through to ensure they brown evenly.
Check for Doneness: The samosas are ready when they turn a golden color.
Note: Baked Samosas offer a healthier alternative to the traditional deep-fried method. They are ideal for those looking for a lighter option or for those with dietary restrictions. While they lack the flaky exterior of fried samosas, they are still a tasty and satisfying treat.
How to Make Samosas in an Air Fryer?
Discover the convenience and crispiness of air-fried Samosas with this easy-to-follow guide.
Brush with Oil: Lightly brush the filled samosas with oil.
Preheat Air Fryer: Preheat the air fryer to 300 degrees Fahrenheit.
Arrange Samosas: Place the samosas in a single layer in the air fryer basket. Avoid overcrowding for even cooking.
Air Fry: Cook for 12 to 15 minutes. Flip the samosas halfway through to ensure they brown evenly on both sides.
Check for Doneness: Samosas are done when they have a golden brown color.