Chicken 65 or Indian fried chicken is one of the soft and crispy starter recipes. This Chicken 65 is prepared with chicken breast or bone-in pieces, Indian spices, egg, and flour, making this dish soft and crispy. The recipe that I have shared here explains to you how to make a perfect Chicken 65 easily at home with easy step-by-step instructions with video. Chicken 65 is an excellent dish that can be served as a perfect starter or side dish for a party, get-together, or a regular day snack.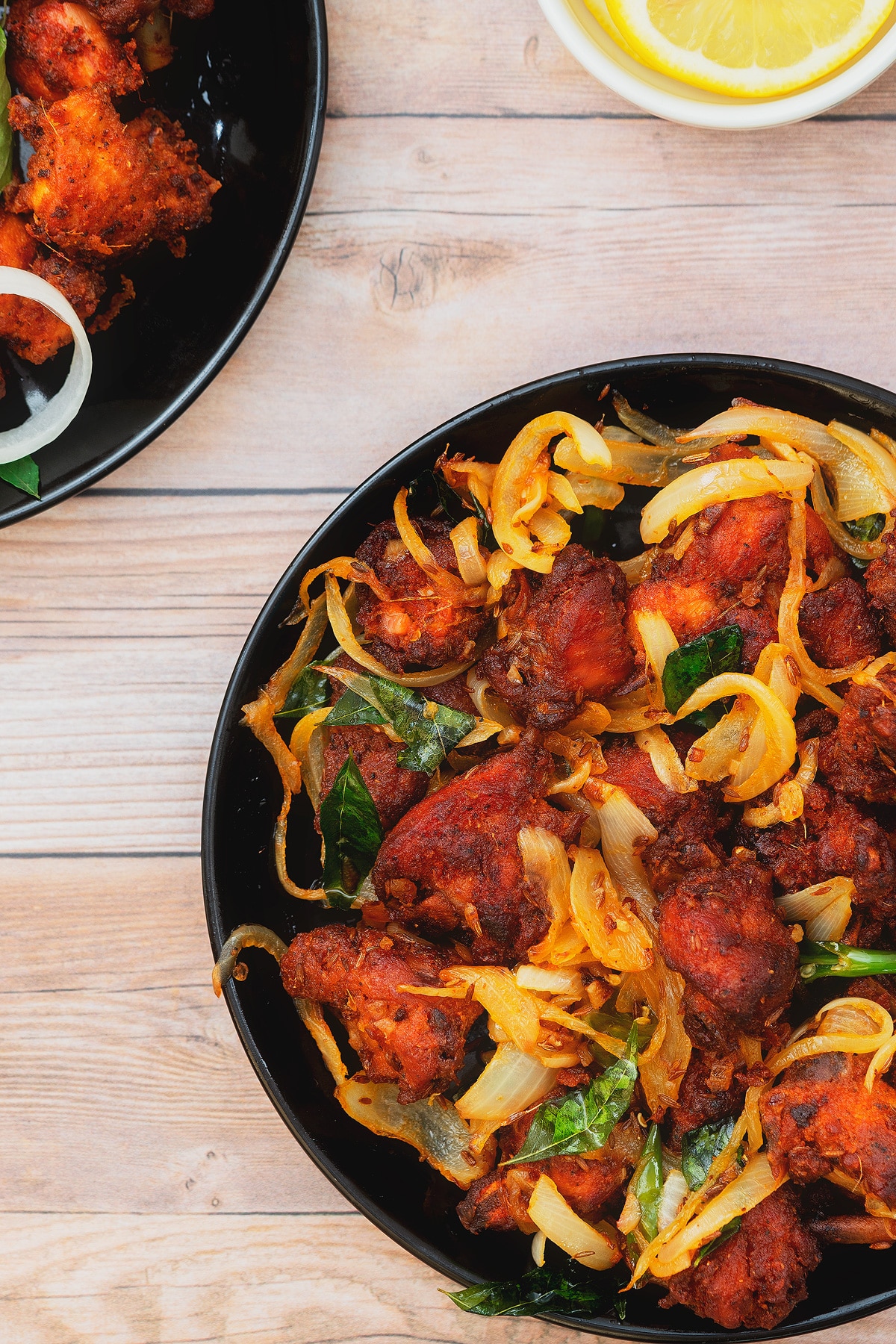 Jump to:
What is Chicken 65?
Chicken 65 is famous non-vegetarian street food or appetizer with its origin from Hotel Buhari, Chennai, Tamilnadu, India. There is a lot of curiosity about how this chicken recipe got 65 in its name and there are several theories around the topic.
Some sources say that this fried Chicken 65 was first prepared in 1965 on new Year's eve, and hence it got the name. Some others say it is prepared with 65 varieties of peppers as their ingredients along with chicken so as the name. And there are many more theories you could find across the internet.
Even though there are a lot of stories about the name of this Indian fried chicken recipe, the unique flavor and taste of this dish made it popular in the southern states of India. Each state has its own version adapted from the original chicken 65 recipe.
Ingredients
The ingredients you will need for this chicken 65 are basic ones and are usually available in most Indian grocery stores. The ingredients added for this dish complement each other and I recommend adding the same to achieve the great taste and flavor. I also suggested some substitutes that deliver a similar taste.
Chicken - Bite size bone-in or boneless chicken pieces
Indian spice powders - Kashmiri chili powder for bright red color. You can also use regular chili powder. Additionally we also use coriander, pepper, turmeric powder, and garam masala powder
Ginger-Garlic paste- Helps to remove the raw smell from the meat
Egg, curd, and Baking powder - Helps the chicken to stay soft and juicy after it is fried. You can also skip egg if it is not on your preferred list
Flour for coating- Rice, all-purpose, and cornflour for crispier chicken pieces
Onion, cumin seeds, green chili, and chili sauce for tempering the chicken
How to make Chicken 65?
The recipe I have shared here is a perfect Chicken 65 that is popular in restaurants and street food stalls of Tamilnadu. So let us see how to make this delicious dish easily at home.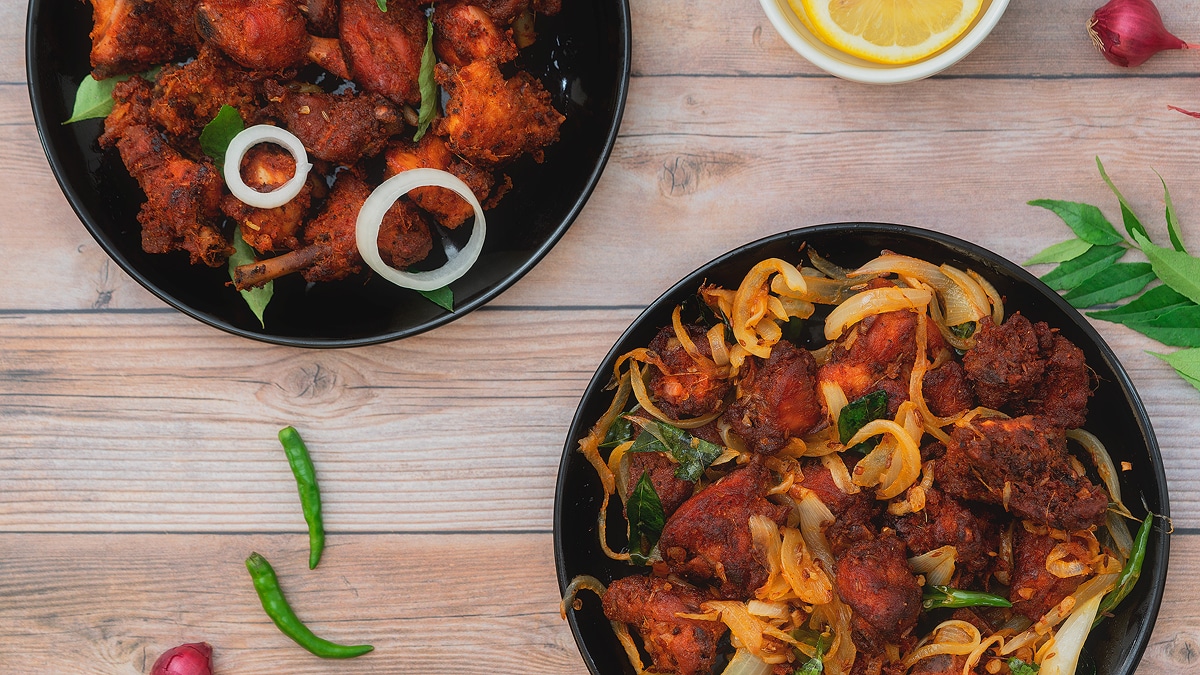 First Marination - Start the process by marinating the chicken pieces in masalas, egg, and baking powder as mentioned in the recipe card below. Allow the mixture to rest for 30 minutes. The egg and baking powder helps the chicken to stay soft after it is fried.
Second Marination - After 30 minutes, add corn flour, rice flour, and all-purpose flour as the second marination. This step makes the chicken stay crispy and crunchy. I would recommend not skipping these steps to achieve the best soft and crispy chicken 65.
Frying Chicken - Once after the second marination, deep-fry the chicken in oil by flipping it on and off until both sides turn reddish-brown in color. I have used canola oil for frying, you can also use coconut oil that gives a nice flavor to this snack dish
Tempering Fried Chicken - Then saute fried chicken with onion, garlic, cumin seeds, green chili, curry leaves, and a dash of chili sauce(you can also sub with Szechuan Sauce) as shown in the recipe video below as a final touch
Serving - This soft and crispy fried chicken dish can be served as a starter, side dish, or snack. And this dish tastes heavenly when served with onion and lemon wedges
Though this recipe involves deep-frying the chicken in oil similar to our Chicken Pakora, you can also reduce the oil and pan-fry it. And the chicken should still be soft and crispy. So feel free to adjust oil or spice levels according to your family's needs.
But if you are interested in an oil-free version, then you could grill the chicken pieces in the oven to make it healthier like Harissa Chicken Fry and I am sure you wouldn't see much difference in the taste.
Variations
Chicken 65 is a common starter or quick snack dish that has a lot of variations. Usually, marinated chicken pieces are deep-fried and served with lemon wedges and onion slices.
To enhance the taste some restaurants and even street food vendors season the fried chicken with onion, green chili, chili, soy sauce, and other Indian herbs.
I have used canola oil for frying and you can also use coconut oil which gives a unique aroma and flavor to the dish
You can also garnish the chicken 65 with shredded coconuts which adds crunchiness to the dish.
Not to mention, people also make chicken 65 biryani that is popular across South India. It is usually he fried chicken is served upside down with Biryani Rice or plain biryani.
Garlic Chilli Chicken is one of the other varieties that I have tried and I feel you would definitely love it. For the vegetarian version of the recipe, you could replace the chicken with cauliflower for Gobi 65. Overall this Indian fried chicken is a lip-smacking snack that is a perfect keeper, and a crowd-pleaser.
How to make chicken 65 in an air fryer?
To make chicken 65 in an air fryer, preheat the air fryer at 400 degrees Fahrenheit for 3 minutes. Now place the marinated chicken pieces in the basket as a single layer. And make sure not to overcrowd them. The quantity used here requires three batches of cooking. Now allow the chicken pieces to cook for 7 minutes.
Once the cycle is done, open and flip the chicken pieces and cook for another 7 minutes. Repeat the same process for the remaining chicken pieces. Finally, temper the fried chicken as shown in the recipe video or card below.
Serving Suggestions
This Chicken 65 is one of the crowd-pleasing dishes that can be served as a starter for a party, festival, get-together, or just as a snack to satisfy your craving. You could also make it as a combo meal with Biryani and Vegetarian rice as well.
Related Recipes
You could find similar recipes below and more under Chicken Recipes.
More Fried Chicken Recipes.
Looking for different chicken recipes to cook for your next meal or a party? Then you could also check this collection of Indian Chicken Dry and Semi Gravy Recipes to enjoy with your family and loved ones.
Chicken 65 Recipe video
I have also shared video instructions for the Chicken 65 recipe below and I believe it will guide you through the process. For a quick reference, you could also find this recipe in story format.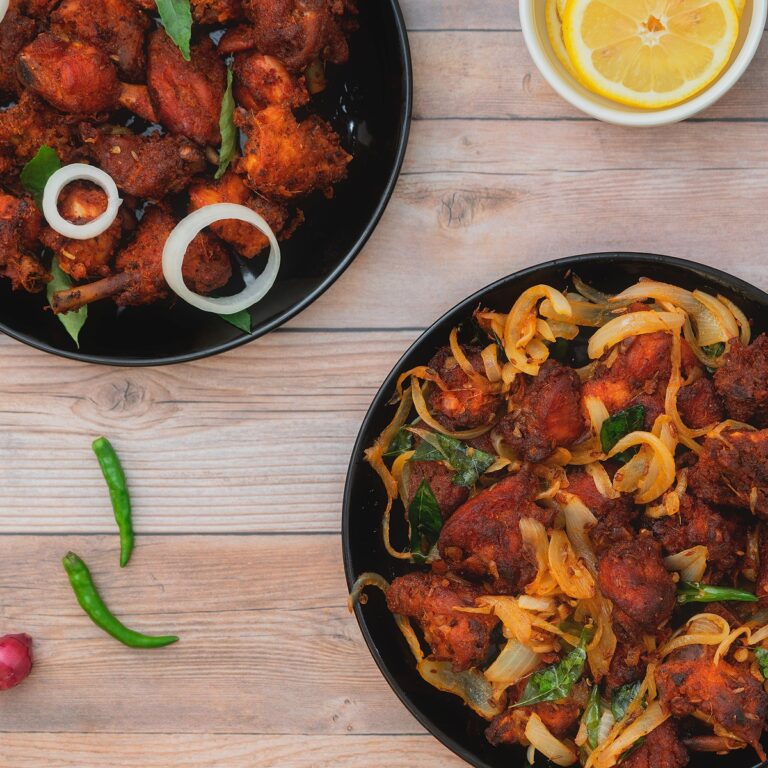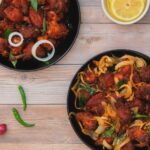 Chicken 65
Chicken 65 is a flavorful, soft and crispy savory dish that is made of chicken and Indian spices and was first introduced by Hotel Buhari in Chennai, Tamilnadu. This tasty and crunchy dish is usually served as a snack or starter or side dish to any main course meal.
Subscribe
print (text-only)
email
pin
review
save
saved!
Ingredients
2.25

lb

Chicken

,

bite-size pieces

3

tsp

Kashmiri Chili Powder

2

tsp

Coriander Powder

1

tsp

Garam Masala Powder

½

tsp

Turmeric Powder

1

tsp

Pepper Powder

½

tsp

Baking Powder

2

tbsp

Ginger Garlic Paste

2

tbsp

Curd

1

Egg

,

beaten

Salt

,

as needed

2

tbsp

Lemon Juice

2

tbsp

Corn Flour

2

tbsp

Rice Flour

1

tbsp

All-Purpose Flour

1

Onion

,

sliced

4

Green Chili

,

slit

1

sprig

Curry Leaves

1

tsp

Cumin Seeds

1

tsp

Garlic

,

minced

1

tbsp

Chili Sauce

Oil

,

for frying & sauteing
More on Unit Conversions »
Instructions
To Marinate
Cut the chicken into bite-sized pieces and clean well

Add turmeric, chili, coriander, pepper, garam masala powder, ginger-garlic paste, lemon juice, curd, baking powder, salt, and mix well until all the masala coat thoroughly on the chicken pieces

Rest the marinated chicken pieces for at least 30 minutes

Now add corn flour, all-purpose flour, and rice flour to the marinated chicken and mix well until all the flour gets nicely incorporated
To Prepare Chicken 65
In a deep bottom pan, add oil and allow it to reach high heat. Now add the marinated chicken pieces one by one

Reduce the heat to medium and deep fry the chicken pieces until it turns reddish brown on both sides. Make sure to flip the chicken pieces on and off

Drain the chicken pieces from the oil, reserve them for later use or you could also serve the chicken as it is

Now in a pan with medium heat, add cumin seeds, minced garlic, green chili, curry leaves and saute until it turns aromatic

Add the sliced onions and saute until it turns soft

Add the fried chicken pieces, chili sauce and mix everything well

Now the chicken 65 is ready for you to taste and enjoy
To Serve
Serve the Soft and Crispy Chicken 65 with lemon wedges and onion slice as a starter or combine with any main course meal
Chef's Notes and Tips
Marinating the chicken pieces for at least 30 minutes will allow the chicken to absorb all the masala well. I suggest you not to miss this step to achieve nice flavored Chicken 65
Adding baking powder in the recipe helps us to achieve soft and juicy restaurant-style Chicken 65
I haven't used any food colors here. Instead, I used Kashmiri red chili powder which gives a nice color and texture
Cornflour, all-purpose flour, and rice flour are used as the secondary marination to keep all masala coated nicely while frying the chicken
Adding flours make the chicken crispy and egg makes the chicken soft. As a result, you get soft and crispy chicken 65
Always keep the heat high to warm up the oil and then reduce it to medium heat while frying chicken. This helps the chicken to cook evenly from inside out
I have seasoned the fried chicken with cumin seeds, onion, green chili, chili sauce to achieve restaurant-style 65. But you could skip this step and enjoy the fried chicken as it is with lemon and onion slices
Nutrition Info
Serving:
1
serving
|
Calories:
290
kcal
|
Carbohydrates:
13
g
|
Protein:
21
g
|
Fat:
16
g
|
Saturated Fat:
5
g
|
Polyunsaturated Fat:
4
g
|
Monounsaturated Fat:
7
g
|
Trans Fat:
0.1
g
|
Cholesterol:
106
mg
|
Sodium:
288
mg
|
Potassium:
284
mg
|
Fiber:
2
g
|
Sugar:
3
g
|
Vitamin A:
377
IU
|
Vitamin C:
11
mg
|
Calcium:
65
mg
|
Iron:
2
mg
Disclaimer: We're not nutrition experts. Nutritional info is estimated and should be used as a guide. For precise details, consult a professional.
FAQ
What is chicken 65?
Chicken 65 is a famous starter or street food snack that was first prepared by Buhari Hotel in Chennai, Tamilnadu. The dish is prepared with chicken pieces marinated with various Indian masalas and deep-fried to reddish-brown in oil.

The fried chicken is served as it is with lemon and onion slices or seasoned with onion, green chili, curry leaves, and garlic.
What does 65 in chicken 65 recipe mean?
There are different theories around the name. Some sources say that the Chicken 65 recipe was first prepared on new year's eve in the year 1965, and hence it got the name. Some others say the recipe was marinated with 65 spices so as the name. And there are many more stories you could find across the internet.
Can I make Chicken 65 without eggs?
Yes, you can skip the eggs while marinating the chicken pieces.
Are chili chicken and chicken 65 the same?
Chicken 65 is referred to as chili chicken by street food vendors in South India, especially in Tamilnadu and Kerala. But when it comes to Indo-Chinese chili chicken the recipe is entirely different from chicken 65, where the recipe uses soy sauce, capsicum, cornflour slurry, and vinegar.
Is Chicken 65 is healthy?
No. Anything deep-fried is not healthy so is the traditional Chicken 65. But if you go with oven grilled, or air fryer version of the recipe, it should be fine. So, suggest you consume chicken 65 in moderate quantity.
I really hope you enjoyed the recipe and I would love to hear from you on how it turned out for you. Please let me know.
If you have any other questions, feel free to post them in the comment section below and I will try to get back to you as soon as possible.

Happy Cooking!