Transform your steak with our straightforward and effective Steak Marinade. Made with ingredients you likely have in your kitchen, like olive oil, soy sauce, Worcestershire sauce, garlic, lemon juice, and Italian seasoning, this marinade adds a delicious, tangy touch to your steak's flavor. It's perfect for any cooking method, be it grilling, air frying, or pan-searing.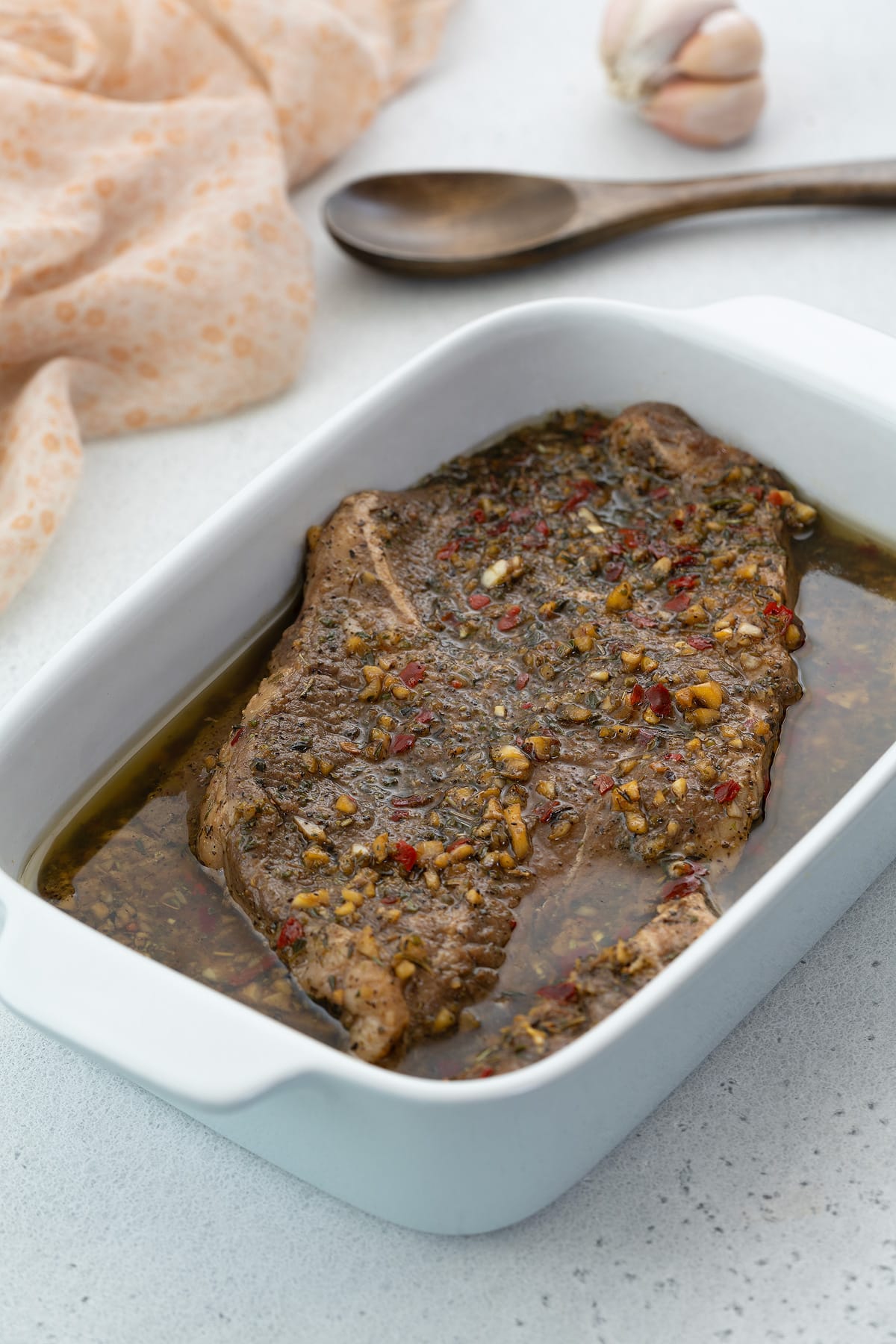 Jump to:
Using fresh ingredients, this recipe is adaptable to your taste, ensuring your steak dinner is not only tasty but also personalized. It's suitable for all types of steak, enhancing the flavor without overpowering it. Let's start making your next steak meal more enjoyable with this easy marinade!
Ingredients and Substitutions Overview
Our Steak Marinade recipe calls for simple, everyday ingredients that are probably already in your kitchen. Here's what you'll need: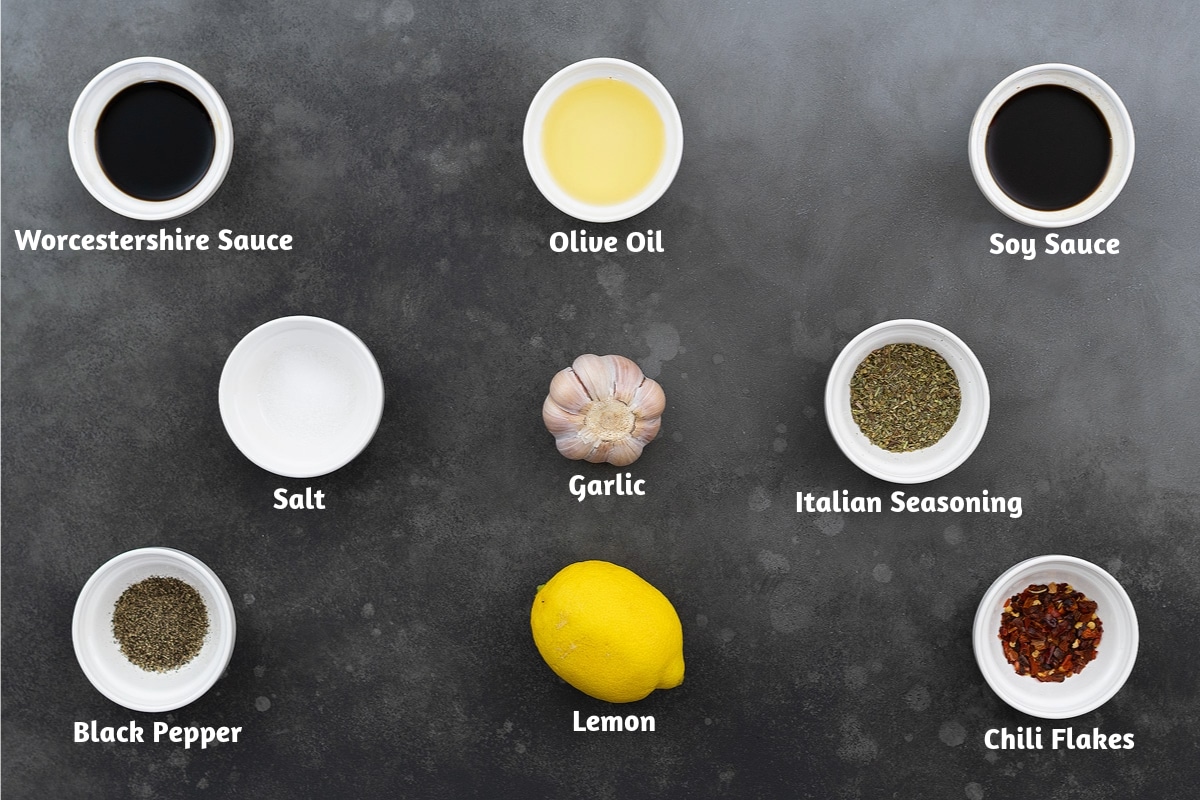 Olive Oil: Serves as the smooth, rich base of the marinade, aiding in flavor distribution and meat tenderization.
Worcestershire Sauce: Brings a unique savory touch with hints of anchovy, garlic, and tamarind, enriching the flavor profile.
Soy Sauce: Adds a balance of salty and savory notes, with a subtle sweetness, enhancing the marinade's depth.
Lemon Juice: Offers a bright, zesty twist, contributing to the marinade's freshness and helping in tenderizing the steak. Alternatively, white or red wine vinegar can be used for a similar acidic effect.
Garlic: Introduces a robust, aromatic quality with a mild spicy edge, adding complexity to the flavors.
Italian Seasoning: A mix of dried herbs like oregano, basil, thyme, and rosemary, providing a Mediterranean flair with herbaceous notes.
Chili Flakes: Add a mild heat and spiciness, enhancing the marinade's overall taste.
Black Pepper: Offers a sharp, earthy spice, complementing the other ingredients.
Salt: A crucial element for balancing and intensifying the flavors, while also aiding in meat tenderization.
How to Make Steak Marinade at Home?
Ready to take your steak game to the next level? Follow along with our photos and video guide as we dive into the steps of making this flavor-packed Steak Marinade. Let's get started!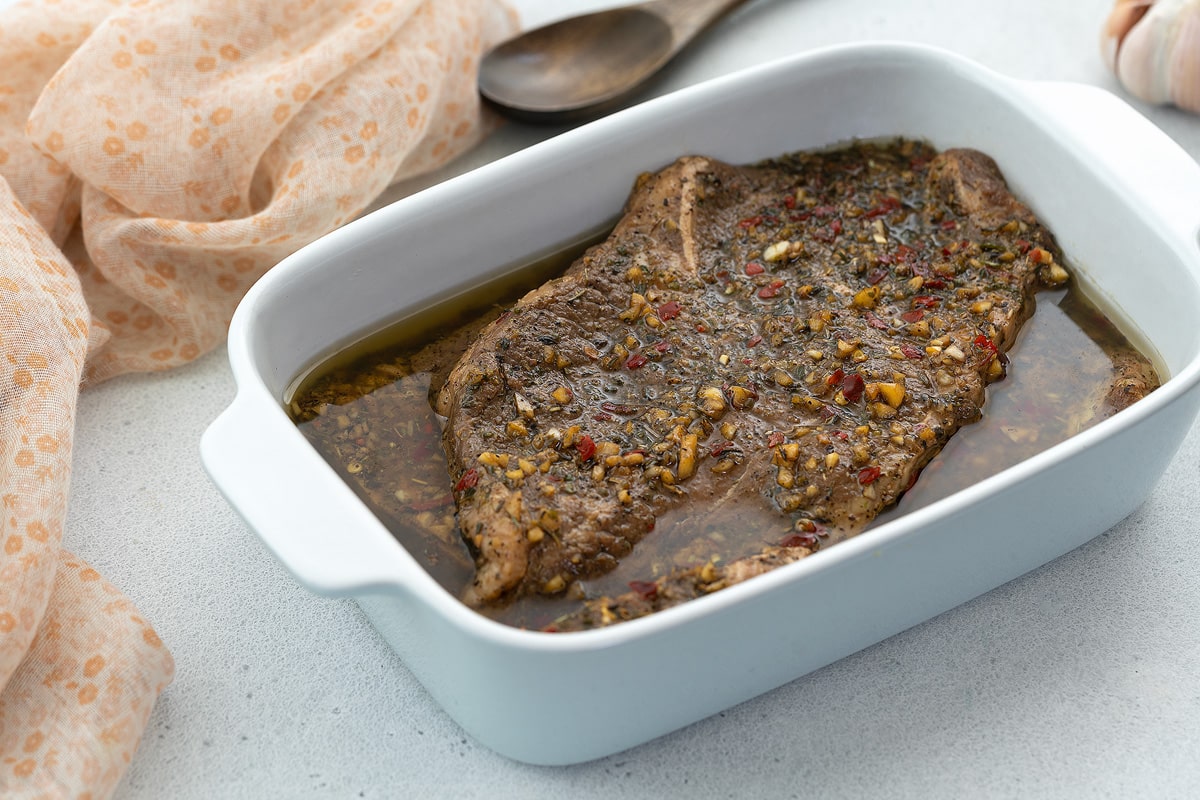 Explore a World of Seasoning and Marinade Ideas: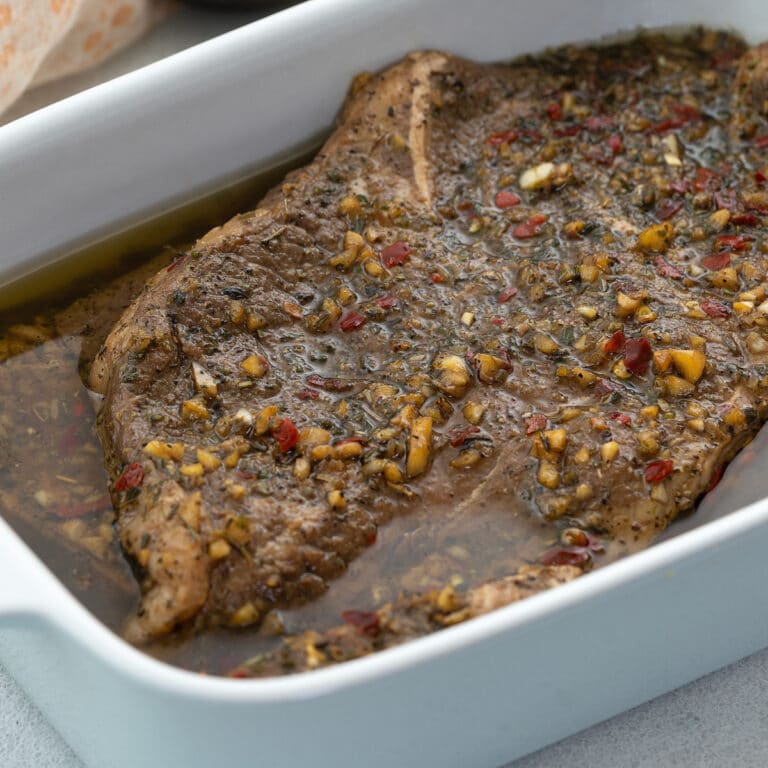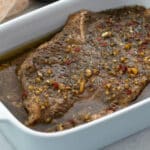 Steak Marinade
Elevate your steak experience with our zesty and dynamic Steak Marinade - a true flavor enhancer that takes your favorite cuts to the next level. Whether you're grilling, air frying, or pan-searing, this marinade is your secret weapon for steak perfection.
Subscribe
print (text-only)
email
pin
review
save
saved!
Ingredients
½

cup

Olive Oil

3

tbsp

Soy Sauce

2

tbsp

Worcestershire Sauce

1

tbsp

Italian Seasoning

4

cloves

Garlic

,

minced

2

tbsp

Lemon Juice

½

tsp

Chili Flakes

½

tsp

Black Pepper Powder

Salt

,

to taste
More on Unit Conversions »
Instructions
To Make Steak Marinade
Begin by grabbing a mixing bowl and assembling all the ingredients listed in the ingredients section.

Stir and blend all the ingredients together until they're well combined. Your steak marinade is now ready for use or can be stored for later.
To Use
Utilize this Steak Marinade to enhance your favorite steak cuts. You can opt for either a mixing bowl or a resealable ziplock bag for marination. Both methods are effective in ensuring an even distribution of the marinade.
Chef's Notes and Tips
Master your Steak Marinade experience with these essential tips, ensuring every bite is as flavorful and tender as possible:
Balance the Flavors: Aim for a balanced combination of flavors in your marinade. Consider factors like saltiness, acidity, sweetness, and umami to create a balanced mix
Fresh Ingredients: Use fresh, high-quality ingredients for your marinade. Fresh herbs, garlic, and spices will impart the best flavors
Proportions: Be mindful of the ratios of ingredients in your marinade. Ensure you don't overdo strong flavors like soy sauce or vinegar, as they can overpower the taste
Marinating Time: The duration of marinating depends on the thickness of the steak. Thicker cuts can benefit from longer marinating times, while thinner cuts may only need a brief marination
Refrigeration: Always marinate in the refrigerator to prevent bacterial growth. Do not leave the steak and marinade out at room temperature for extended periods
Reserve Some Marinade: If you plan to use the marinade as a sauce, set aside a portion before it comes into contact with the raw meat. This will prevent cross-contamination
Pierce the Meat: If you're marinating thicker cuts, consider making small incisions or using a meat tenderizer to allow the marinade to penetrate deeper
Use a Zip-Lock Bag: Marinating in a resealable plastic bag is convenient as it allows you to remove excess air and ensure an even coating of the marinade
Pat Dry: Before grilling or cooking, remove excess marinade from the steak to prevent it from steaming rather than searing
Rest After Cooking: Let the steak rest for a few minutes after cooking to allow the juices to redistribute and ensure a juicy and tender result
Yield: This recipe yields enough marinade to perfectly coat up to 1½ pounds of your preferred steak cuts, ensuring each piece is richly flavored and tender.
Nutrition Info
Serving:
1
serving
|
Calories:
263
kcal
|
Carbohydrates:
5
g
|
Protein:
2
g
|
Fat:
27
g
|
Saturated Fat:
4
g
|
Polyunsaturated Fat:
3
g
|
Monounsaturated Fat:
20
g
|
Sodium:
870
mg
|
Potassium:
137
mg
|
Fiber:
1
g
|
Sugar:
1
g
|
Vitamin A:
103
IU
|
Vitamin C:
5
mg
|
Calcium:
39
mg
|
Iron:
1
mg
Disclaimer: We're not nutrition experts. Nutritional info is estimated and should be used as a guide. For precise details, consult a professional.
Delve into our exclusive range of seasonings and marinades, perfectly suited for a variety of meats including steak. Ideal for grilling, baking, or pan-searing, our selection is crafted to amplify the flavors of your dishes.
How to Marinate Steak?
Marinating steak is an excellent method to enhance its flavor and tenderness. This marinade is perfect for up to 1½ pounds of any steak cut. Here's a simple, step-by-step approach:
Selecting the Steak: Choose a fresh, high-quality cut of steak. Consider what you like best - ribeye for richness, sirloin for a balance of flavor and leanness, flank for a lean option, or New York strip for a classic choice.
Marinating Method: Place the steak in a mixing bowl or a zip-lock bag. If using a bowl, coat the steak evenly with the marinade. For a zip-lock bag, pour the marinade over the steak, seal the bag while removing excess air, and gently massage to distribute the marinade evenly.
Marination Duration: Marinate for a minimum of 2 hours. Thin cuts like flank or skirt steak need about 30 minutes to 2 hours, while thicker cuts like ribeye or sirloin benefit from 2 to 8 hours or overnight in the refrigerator. The longer the steak marinates, the more flavorful it becomes.
Cooking Your Steak: Cook the steak using your preferred method, such as grilling, air frying, or pan-searing, to achieve the perfect flavor and desired doneness.
This simple process will ensure a delicious, flavorful steak every time. Enjoy your meal!
Serving Suggestions
Transform your marinated steak into a variety of delicious dishes with these ideas:
Grilled Steak: Grill your marinated steak to your preferred doneness. Complement it with sides like roasted vegetables, potatoes, green beans, baked potatoes, or a fresh salad for a classic meal.
Steak Tacos: Create flavorful tacos using thinly sliced, cooked marinated steak. Enhance them with toppings like pico de gallo, guacamole, and shredded cheese for an extra taste sensation.
Stir-Fry: Utilize your marinated steak in a stir-fry. Thinly slice the steak and mix it with vegetables and your chosen sauce for a quick, delicious meal.
Steak Sandwich: Make a delectable steak sandwich using grilled marinated steak. Place it on toasted baguette or ciabatta bread, topped with caramelized onions, cheese, and your favorite condiments.
Kebabs: Skewer the marinated steak with vegetables such as bell peppers, onions, and mushrooms. Grill them for a tasty and visually appealing dish.
Rice Bowl: Combine marinated steak with steamed rice and sautéed or roasted vegetables for a satisfying rice bowl.
Fajitas: Marinated steak is excellent in fajitas. Sauté it with bell peppers and onions, then serve with warm tortillas and a selection of toppings.
Steak and Eggs: For a filling breakfast or brunch, pair grilled marinated steak with sunny-side-up eggs, hash browns, and toast.
Storage Suggestions
To keep your Steak Marinade fresh, store it in an airtight jar in the refrigerator for 3-4 days. However, be cautious with marinade that has been in contact with raw steak.
It's not safe to reuse or refrigerate this marinade, as it may contain raw meat residues that could harbor harmful bacteria. For food safety, always discard any marinade that's been used with uncooked meat.