Elevate your chicken recipes with this simple yet robust Chicken Marinade. Ideal for chicken breasts, thighs, or wings, this marinade combines olive oil, soy sauce, Worcestershire sauce, vinegar, lemon juice, and classic seasonings to infuse your poultry with savory and bold flavors.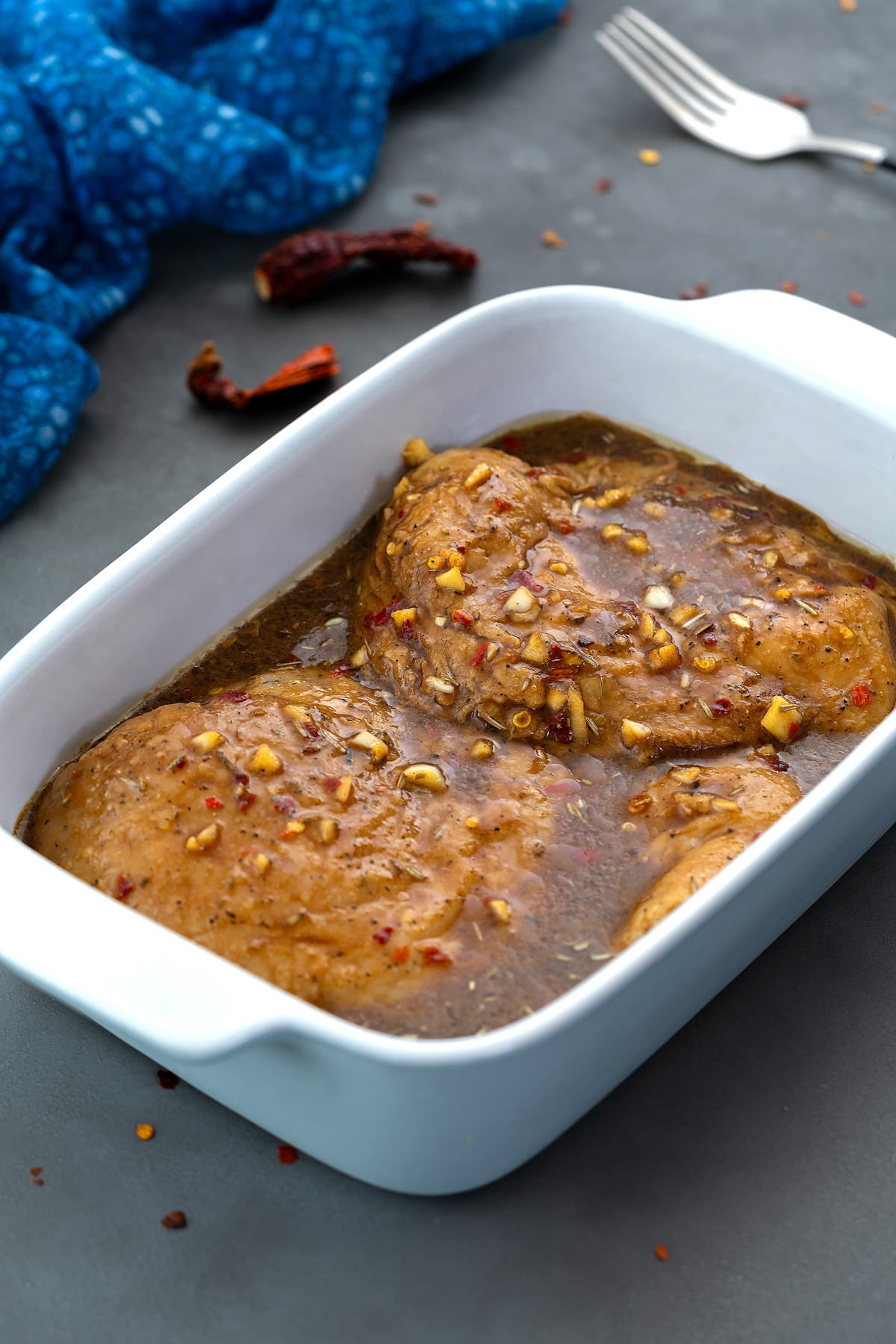 Jump to:
Perfect for grilling, baking, pan-frying, or air-frying, it transforms ordinary chicken into a succulent delight. Pair it with your favorite sides, from vegetables to salads, and make your weeknight dinners, gatherings, or BBQ parties extraordinary. Experience a noticeable difference in taste and juiciness with this easy-to-make marinade!
Explore a Variety of Chicken Delicacies:
Ingredients and Substitutions Overview
For this Chicken Marinade, you'll need common, easily accessible ingredients available in most grocery stores. Here's the list: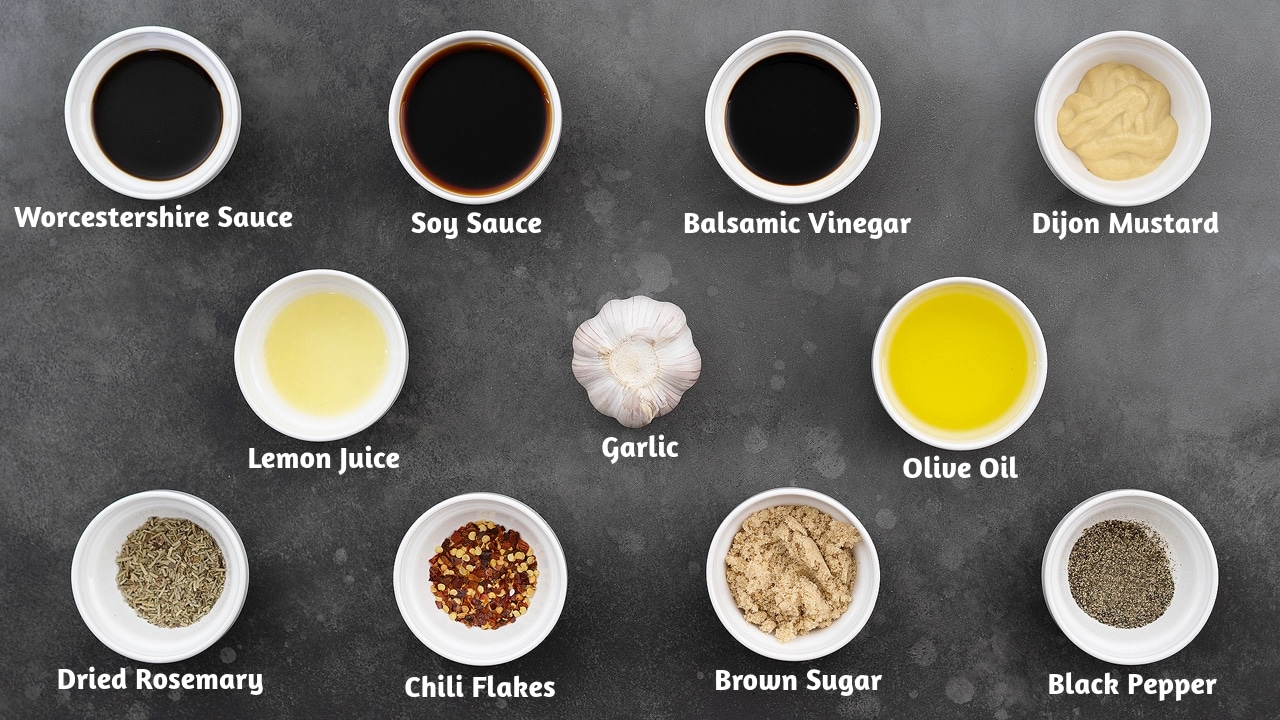 Olive oil: Brings a mild, fruity richness to the marinade, adding a smooth, subtle texture that binds all the flavors together
Soy sauce (low sodium): Soy sauce, especially the low-sodium variety, introduces a savory, umami note. It contributes depth and a gentle saltiness to the mix
Balsamic vinegar: Lends a delightful sweetness and a hint of tartness to the marinade. It provides a well-balanced acidity that complements the other flavors
Worcestershire sauce: Contributes a pleasant blend of savory, tangy, and slightly spicy notes
Lemon juice: Fresh lemon juice brings a zesty, bright citrus flavor, infusing a refreshing and slightly tangy element into the mixture
Brown Sugar: Adds a delightful touch of sweetness and depth of flavor. It helps to balance out the savory and acidic components. For an even glossier finish, you can also incorporate honey into the mix
Dijon mustard: Offers a combination of sharpness and a hint of heat, elevating the marinade's complexity with its bold, slightly spicy character
Dried rosemary: Brings a woody, aromatic quality to the marinade, infusing it with earthy, pine-like notes
Garlic: Fresh garlic adds a robust kick, while garlic powder offers a milder, consistent flavor. Choose based on desired intensity.
Basic Seasonings: Including black pepper, chili flakes, and salt, these seasonings add mild heat and enhance the overall flavor profile.
How to Make Chicken Marinade at Home?
Get ready to elevate your chicken dishes to a whole new level! Follow along with our photos and step-by-step video guide to master this flavorful Chicken Marinade. Let's dive into the recipe: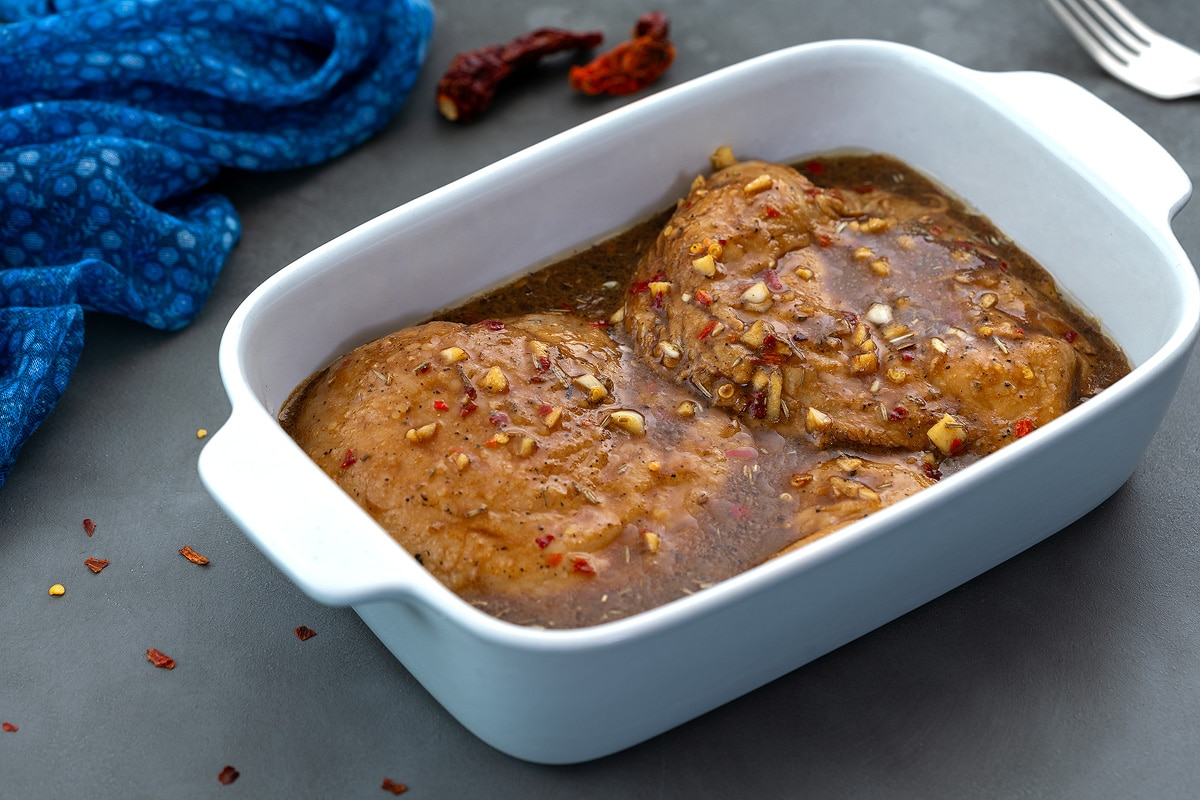 Discover a World of Seasoning and Marinade Ideas: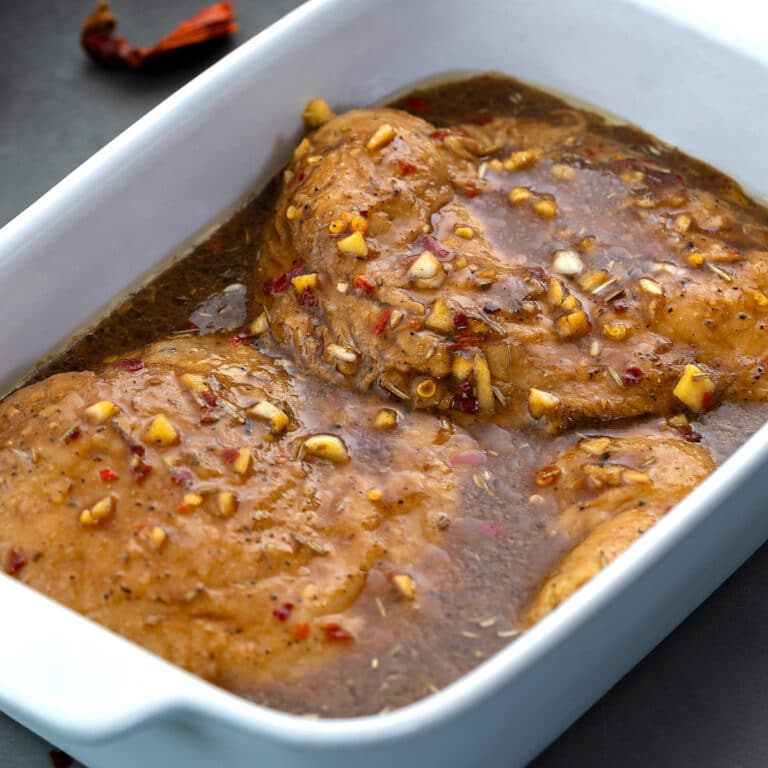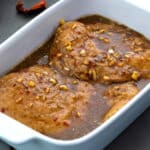 Chicken Marinade
Boost your chicken dishes with this savory Chicken Marinade, ideal for any cut and perfect for grilling, baking, or frying. It ensures deep flavor infusion and succulent results.
Subscribe
print (text-only)
email
pin
review
save
saved!
Ingredients
½

cup

Olive Oil

4

tbsp

Soy Sauce

,

low sodium

3

tbsp

Balsamic Vinegar

2

tbsp

Worcestershire sauce

2

tbsp

Lemon Juice

3

cloves

Garlic

,

minced

3

tbsp

Brown Sugar

1

tbsp

Dijon Mustard

1

tsp

Dried Rosemary

½

tsp

Black Pepper Powder

½

tsp

Chili Flakes

Salt

,

to taste
More on Unit Conversions »
Instructions
To Make Chicken Marinade
Gather all the listed ingredients and place them in a mixing bowl.

Whisk or mix the ingredients thoroughly until well combined. Your flavorful Chicken Marinade is now ready for use.
To Use
To utilize the Chicken Marinade, apply it evenly to your choice of chicken cuts, like thighs, breasts, wings, or drumsticks. Once marinated, you can cook the chicken in various ways, including baking, grilling, air frying, or pan frying, to suit your preference.
Chef's Notes and Tips
Master the art of perfect chicken marination with these expert tips:
Freshness Counts: Using fresh herbs, spices, and condiments is crucial for the best flavor. They bring a vibrant and authentic taste to your marinade.
Balance is Key: Pay attention to the proportions of your ingredients. A well-balanced marinade avoids overpowering any single flavor, creating a harmonious taste profile.
Personalize Your Flavors: Don't hesitate to adjust the marinade to your liking. Whether you enjoy more tang, sweetness, or spice, tweak the ingredients to make the marinade your own.
Marinating Time Matters: For optimal flavor, marinate the chicken for at least 30 minutes. If time allows, an overnight marinate in the fridge can significantly enhance the taste and tenderness.
Safety First: Never reuse marinade that has been in contact with raw chicken. This is important to prevent cross-contamination and ensure food safety.
Convenient Marinating: Use a zip-lock bag for an easy and even marination process. This method ensures that every part of the chicken is evenly coated with the marinade.
Nutrition Info
Serving:
1
serving
|
Calories:
245
kcal
|
Carbohydrates:
12
g
|
Protein:
1
g
|
Fat:
22
g
|
Saturated Fat:
3
g
|
Polyunsaturated Fat:
2
g
|
Monounsaturated Fat:
16
g
|
Sodium:
733
mg
|
Potassium:
120
mg
|
Fiber:
0.3
g
|
Sugar:
10
g
|
Vitamin A:
68
IU
|
Vitamin C:
4
mg
|
Calcium:
25
mg
|
Iron:
1
mg
Disclaimer: We're not nutrition experts. Nutritional info is estimated and should be used as a guide. For precise details, consult a professional.
Discover our curated collection of seasonings and marinades, thoughtfully designed for chicken recipes. Ideal for breasts, thighs, and wings, these blends for well-balanced flavors. Elevate your chicken meals into unforgettable culinary delights.
How to Marinate Chicken?
Prepare your chicken cuts, such as thighs, breasts, wings, or drumsticks. Ensure they are ready to absorb the flavors.
Coat the chicken evenly with the marinade. For an easy and effective method, place the chicken in a zip-lock bag or a bowl and pour in the marinade. Seal the bag and gently massage it to ensure the marinade covers all parts of the chicken evenly.
Let the chicken marinate. The duration can vary depending on your preference, but a minimum of 30 minutes is recommended for optimal flavor infusion. For a deeper flavor, you can marinate it for several hours or even overnight in the refrigerator.
Once marinated, cook the chicken as desired. Whether you choose to bake, grill, air fry, or pan fry, your chicken is now ready to be transformed into a delicious meal. Enjoy the enhanced flavors and succulent texture that this marinade brings to your dish.
How Long to Marinate Chicken?
The ideal marinating time for chicken largely depends on your flavor preferences and schedule. A minimum of 30 minutes is recommended to allow the marinade to start infusing the chicken with flavor and improving its tenderness.
For a richer, more profound taste and tender texture, marinating for several hours or overnight in the refrigerator is ideal. This extended marination time ensures the flavors deeply penetrate the meat, creating a more noticeable and full-bodied flavor profile.
Adjust the marinating time according to your taste and convenience for the best results.
How to Use this Marinade?
This Chicken Marinade is not only easy to make but also incredibly versatile, suitable for various chicken dishes. Here are some ideas on how to use it:
Grilled Chicken: Marinate chicken breasts, thighs, or drumsticks and grill them to perfection.
Baked Chicken: Use it for baking chicken pieces like thighs, breasts, or leg quarters for a caramelized glaze.
Air Fryer Chicken: Ideal for making quick and healthy chicken breast, thighs, or drumsticks in an air fryer.
Pan-Seared Chicken: Perfect for seasoning chicken breasts or thighs before pan-searing.
Chicken Stir-Fry: Enhance your stir-fry dishes by marinating the chicken first.
Chicken Skewers/Kebabs: Great for chicken pieces on skewers, combined with your favorite vegetables.
Chicken Salad: Add grilled or baked marinated chicken to salads for extra flavor.
Sandwiches and Wraps: Use the marinated and cooked chicken in sandwiches, wraps, or pita pockets.
Rice or Grain Bowls: Top rice or quinoa bowls with cooked marinated chicken for a fulfilling meal.
Pasta Dishes: Incorporate the marinated chicken into pasta dishes such as chicken Alfredo for added taste.
Each method brings out different aspects of the marinade's flavor, making your chicken dishes more exciting and delicious.
Storage Suggestions
Keep your Chicken Marinade fresh by storing it in an airtight container in the refrigerator for up to 3-4 days. For longer shelf life, consider using garlic powder instead of fresh garlic.