Discover the secret to mouthwatering chicken dishes with our Chicken Seasoning Recipe, a perfect Chicken Dry Rub blend. This homemade recipe is a harmonious mix of paprika, garlic, onion, and cumin powders, sweetened slightly with brown sugar. It's an ideal seasoning for chicken breast, thighs, wings, and even fried chicken dishes, enhancing the flavor to new heights.
Jump to:
Versatile enough for seafood as well, this Chicken Dry Rub is a must-have in your culinary arsenal. Whether you're grilling, baking, or frying, this seasoning guarantees to elevate your dishes with its rich and aromatic flavor.
Ingredients and Substitutions Overview
Crafting our Chicken Seasoning is a breeze with these common pantry staples, likely already in your kitchen. Here's what you'll need for this flavorful blend: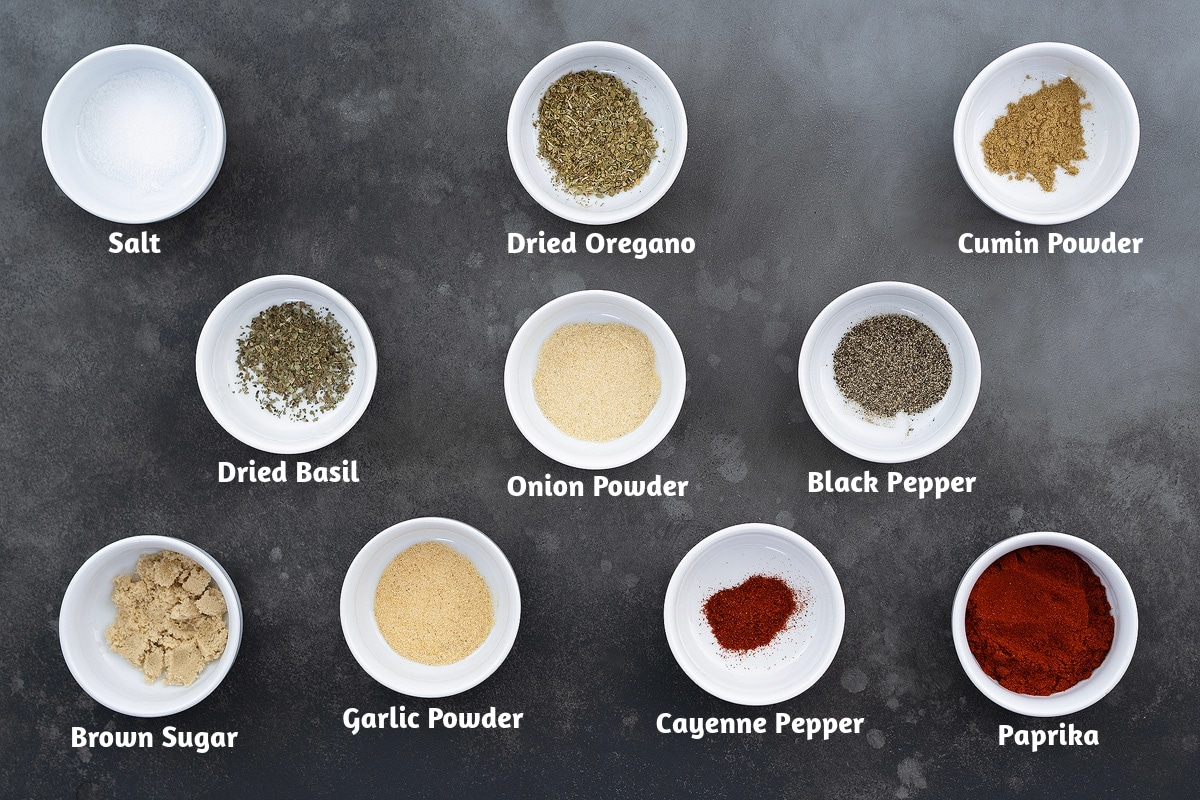 Paprika (Plain): Adds a mild, slightly sweet, and earthy flavor with a vibrant red hue, perfect for enhancing dishes without overwhelming them.
Cayenne Pepper: Introduces a spicy, heat-packed punch. For those sensitive to spice, consider reducing the quantity or omitting it.
Onion Powder: Offers a savory, sweet onion flavor that boosts the chicken's overall taste.
Garlic Powder: Provides a strong, aromatic garlic essence, enhancing the seasoning's depth.
Black Pepper Powder: Contributes a warm, sharp, and pungent flavor for an extra peppery kick.
Dried Oregano: Adds a robust, earthy, and slightly minty note, complementing the chicken's flavor.
Dried Basil: Brings a sweet, herbaceous, and subtly peppery taste, enriching the herbal profile.
Cumin Powder: Delivers a warm, nutty, earthy flavor with citrus undertones, adding complexity.
Brown Sugar: Offers a touch of sweetness and caramel flavor, balancing the spices' heat.
Salt (Adjust to Taste): Essential for flavor enhancement, adjust the amount based on your preference.
How to Make Chicken Seasoning or Dry Rub at Home?
Get ready to elevate your cooking with our easy-to-follow Chicken Seasoning recipe. With accompanying photos and a step-by-step video, you'll master this flavorful blend in no time. Let's dive into the process: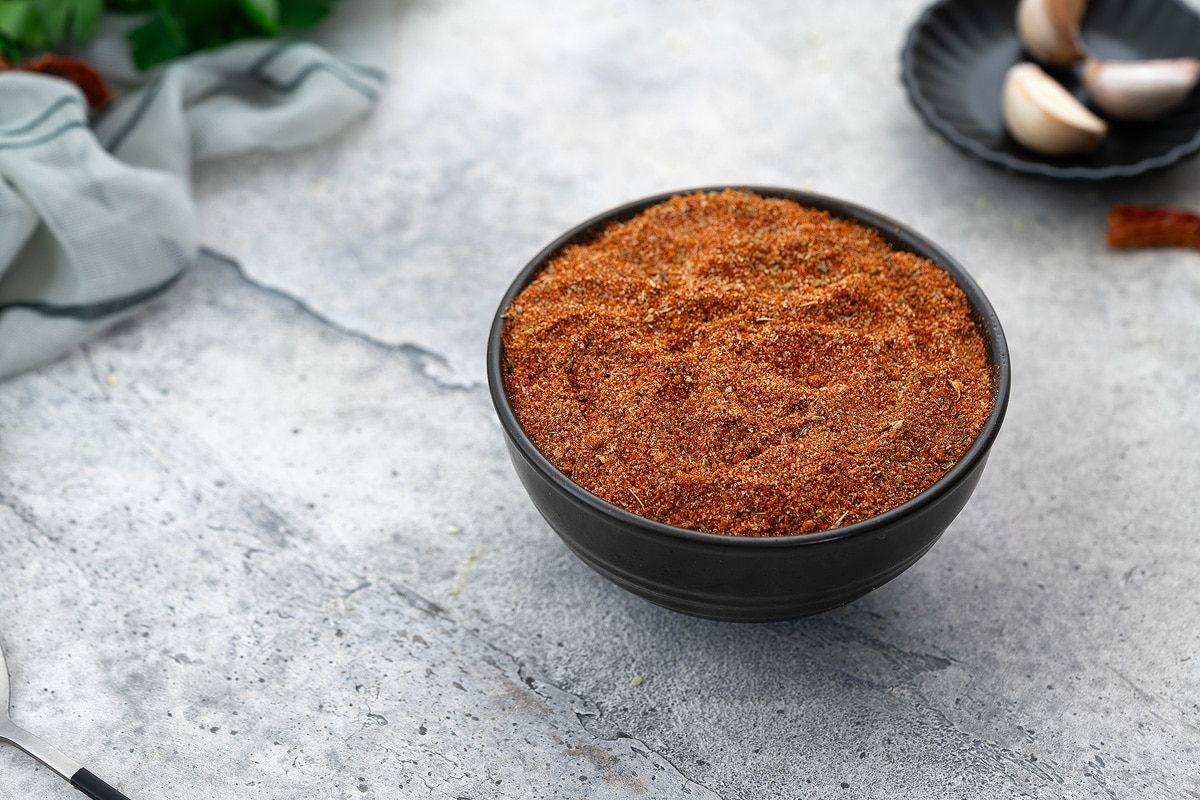 Explore a World of Seasoning Ideas: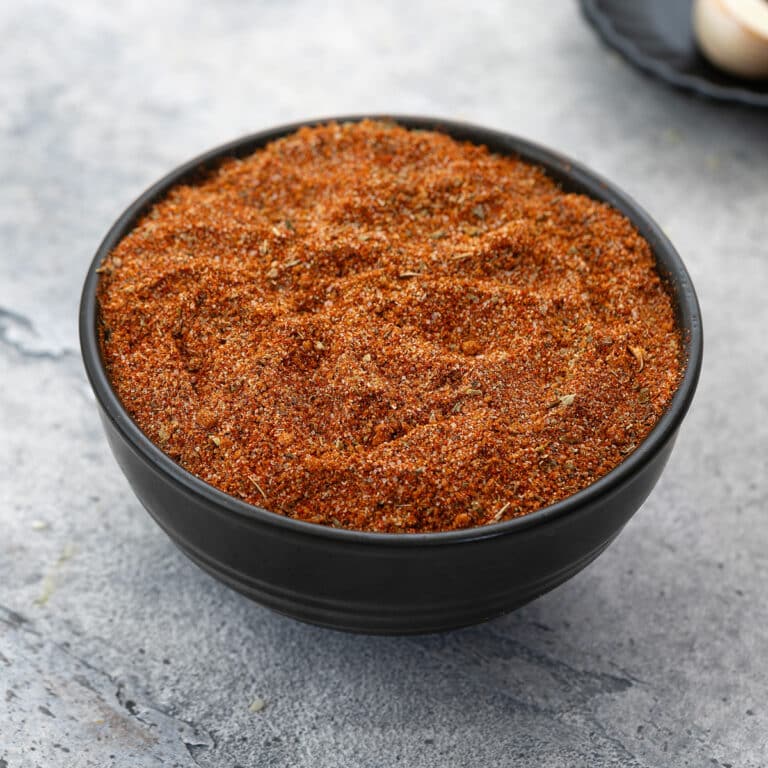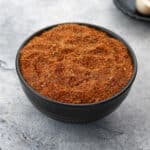 Chicken Seasoning (Dry Rub)
Transform your chicken dishes with this simple yet aromatic Chicken Seasoning. Made with everyday ingredients like paprika, onion powder, and a mix of dried herbs, this homemade spice rub is perfect for adding depth to chicken breasts, thighs, wings, and more. Ideal for baking, grilling, or frying, it's a versatile must-have in your culinary repertoire.
Subscribe
print (text-only)
email
pin
review
save
saved!
Ingredients
4

tbsp

Paprika

,

plain

1

tsp

Cayenne Pepper

,

adjust according to preferred heat level

1

tsp

Onion Powder

1

tsp

Garlic Powder

½

tsp

Black Pepper Powder

¾

tsp

Dried Oregano

,

reduce the quantity for less herbal profile

½

tsp

Dried Basil

1

tsp

Cumin Powder

1

tbsp

Brown Sugar

1

tsp

Salt

,

or adjust to taste
More on Unit Conversions »
Instructions
To Make Chicken Seasoning
In a mixing bowl, blend together all the ingredients listed in the ingredients section above.

Thoroughly blend the mixture until it forms a well-combined, flavorful chicken seasoning, ready to enhance your chicken recipes.
To Use
Use this chicken seasoning as a flavorful rub for chicken breast, thighs, wings, or even in your meat and seafood recipes.
Chef's Notes and Tips
Essential tips for perfect Chicken Seasoning:
Spice Adjustment: Personalize the seasoning's heat and herbiness. Reduce paprika and cayenne for milder flavors, or increase them for a spicier, more herbaceous taste.
Quality Ingredients: Opt for fresh, high-quality spices and herbs for the most flavorful blend.
Taste Test: Sample the dry rub before applying it to your chicken to ensure it aligns with your taste preferences.
Experiment: Try the seasoning in various recipes to explore new and exciting flavor combinations.
Avoid Contamination: Prevent cross-contamination by using separate utensils for the seasoning and raw chicken.
Nutrition Info
Serving:
1
tbsp
|
Calories:
12
kcal
|
Carbohydrates:
3
g
|
Protein:
0.3
g
|
Fat:
0.1
g
|
Saturated Fat:
0.02
g
|
Polyunsaturated Fat:
0.05
g
|
Monounsaturated Fat:
0.05
g
|
Sodium:
334
mg
|
Potassium:
34
mg
|
Fiber:
0.3
g
|
Sugar:
2
g
|
Vitamin A:
289
IU
|
Vitamin C:
7
mg
|
Calcium:
8
mg
|
Iron:
0.4
mg
Disclaimer: We're not nutrition experts. Nutritional info is estimated and should be used as a guide. For precise details, consult a professional.
Explore our curated selection of seasonings and marinades, expertly designed to elevate your chicken breast, thighs, and wings recipes. Crafted to perfection, our collection enhances your favorite dishes with a harmonious blend of flavors, ensuring a delightful dining experience every time.
How to Use this Seasoning?
Unlock the full potential of your chicken dishes with our versatile all-purpose seasoning. Begin with just 1 tbsp of seasoning for each medium-sized piece, whether it's chicken breast, thighs, drumsticks, or legs. Here's your guide to making the most of it:
Storage Suggestions
Store your Chicken Seasoning effectively to maintain its freshness and flavor. Keep it in an airtight container, away from direct sunlight, ideally in a cool, dark place like a refrigerator. This method can preserve the seasoning for up to 6 months. Don't forget to label the container with the date you made the blend, helping you monitor its shelf life for optimal use.