Everything Bagel Seasoning, a cherished spice mix, is renowned for its crunchy, nutty flavor. Comprising white and black sesame seeds, poppy seeds, dried garlic, dried onion, and salt, this homemade blend transforms everyday dishes. It adds a delightful texture and savory punch to bagels, sandwiches, eggs, salads, and even roasted veggies.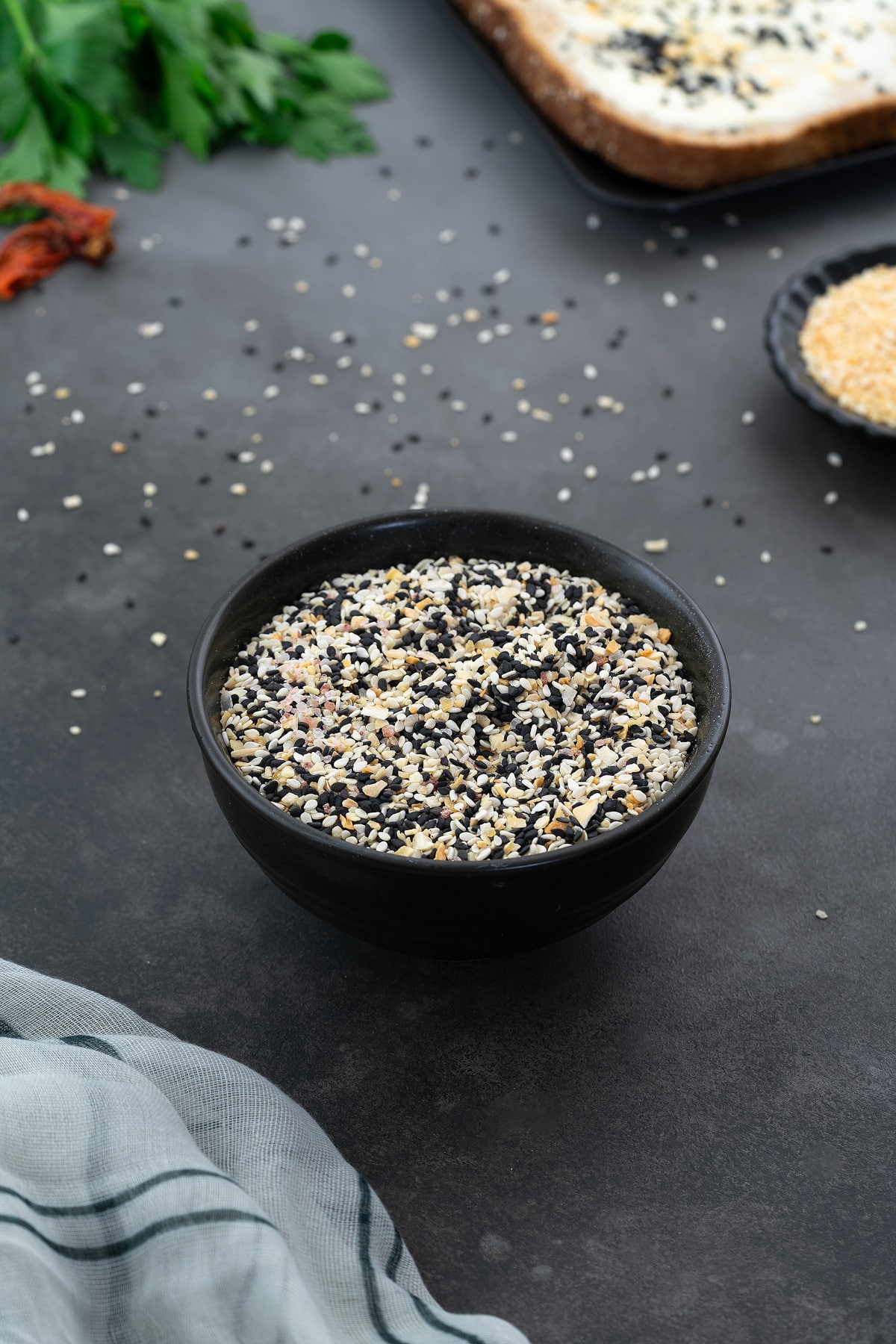 Jump to:
Originating from typical bagel toppings, Everything Bagel Seasoning gained fame through Trader Joe's "Everything but the Bagel Sesame Seasoning Blend." This move made it a household name in the U.S.
Creating your own Everything Bagel Seasoning at home lets you control freshness and flavor, personalizing it to your taste. Incorporate this seasoning into your meals for an instant upgrade in flavor and texture. Get ready to elevate your cooking with this simple yet impactful blend!
Ingredients and Substitutions Overview
Everything Bagel Seasoning is made with simple, widely-available ingredients, often found in your pantry or easily sourced from the spice and condiments section of any grocery store. Let's dive into these key components.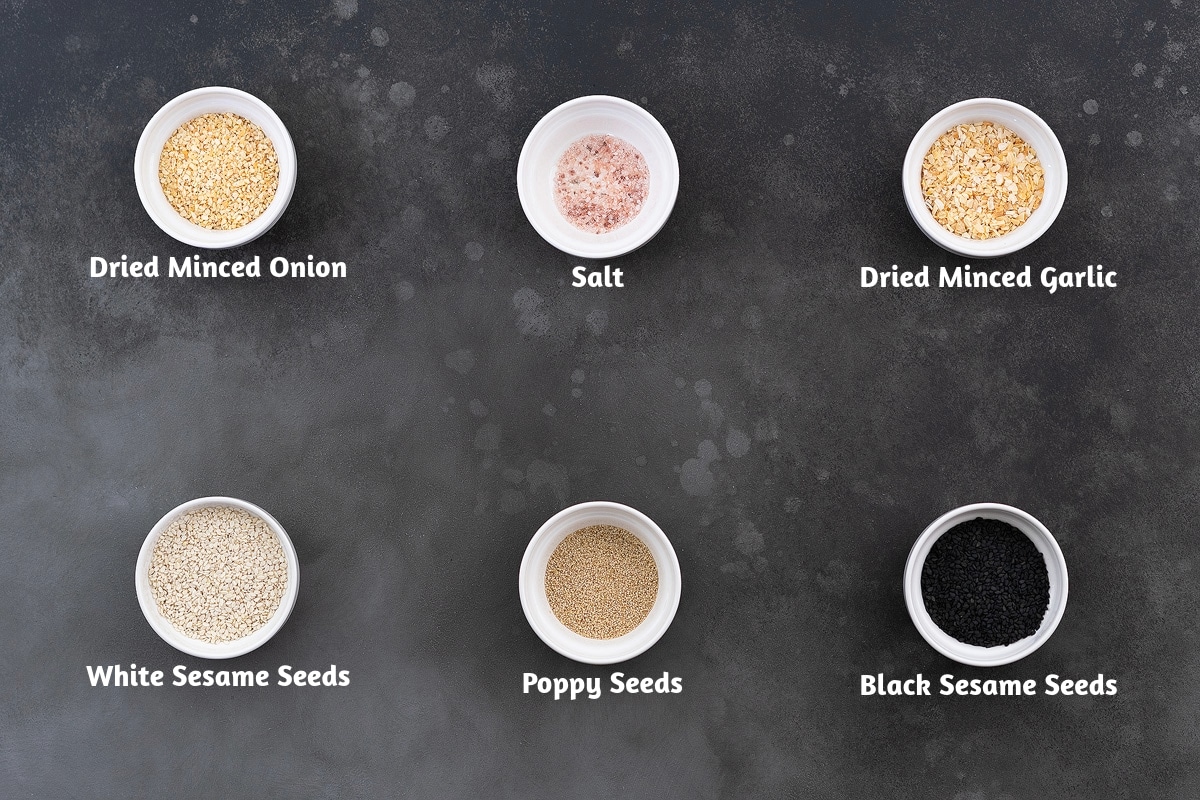 Poppy Seeds: Known for their subtle, nutty flavor with sweet and earthy undertones, poppy seeds add a delicate crunch to the seasoning, enhancing its texture.
White Sesame Seeds: These seeds bring a mild, nutty taste with a sweet hint, contributing a soft, toasty element to the mix.
Black Sesame Seeds: Offering a more pronounced nuttiness than their white counterparts, black sesame seeds also add a striking visual contrast to the blend.
Minced Dried Garlic: This ingredient delivers a bold garlic punch - savory, pungent, and slightly sweet when dried, adding aromatic depth.
Minced Dried Onion: Providing a savory, mildly sweet onion flavor, dried onion lends a subtle, oniony aroma to the seasoning.
Salt (Himalayan or Regular): Salt is crucial for balancing and enhancing the flavors. Himalayan salt introduces a minor mineral note, while regular salt provides a straightforward salty taste.
How to Make Everything Bagel Seasoning at Home?
Get ready to elevate your meals with our Everything Bagel Seasoning recipe. Follow along with our photos and video to seamlessly integrate this delightful blend into your cooking.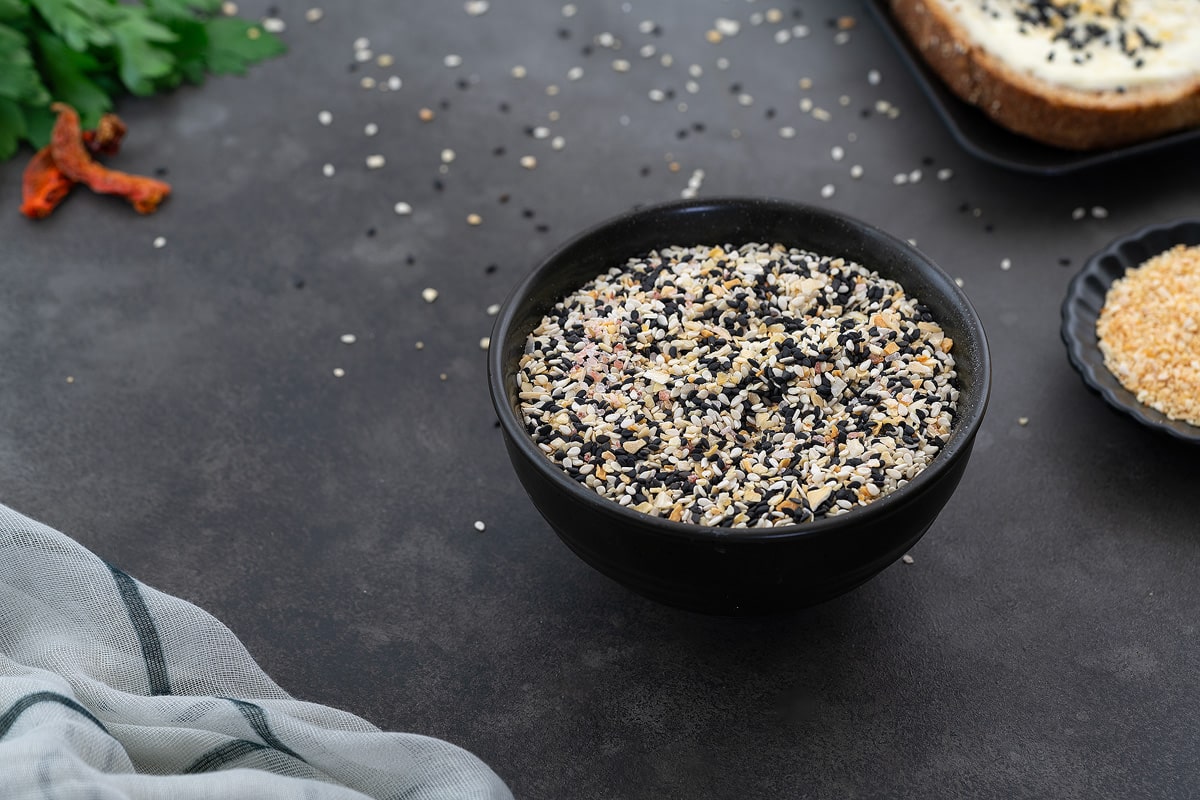 Explore a Variety of Seasoning Delights: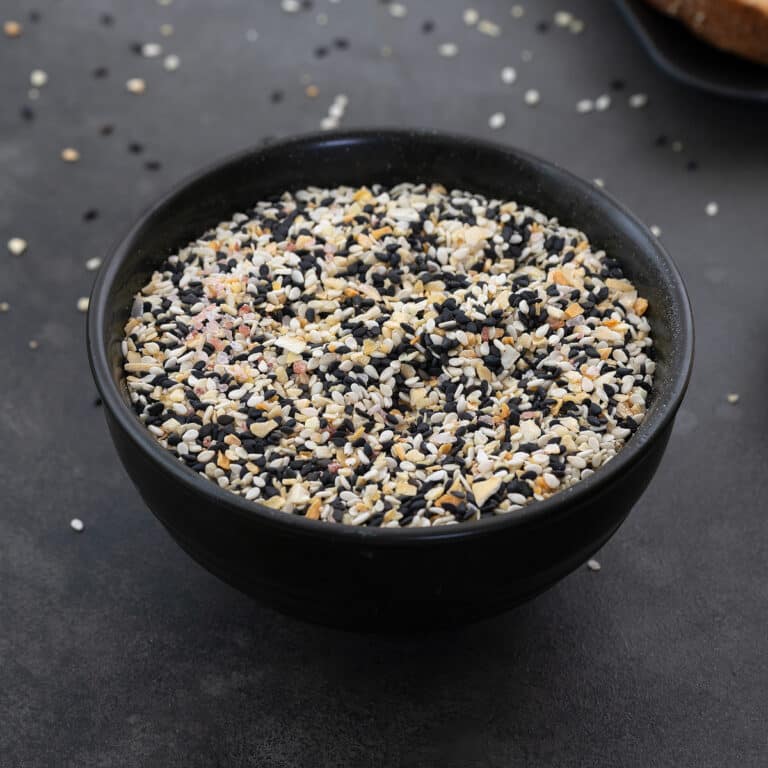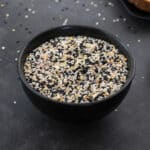 Everything Bagel Seasoning
Experience the rich flavors and crunchy texture of Everything Bagel Seasoning. This easy-to-make blend of sesame seeds, poppy seeds, dried garlic, onion, and salt elevates a variety of dishes.
Subscribe
print (text-only)
email
pin
review
save
saved!
Ingredients
2

tbsp

Black Sesame Seeds

3

tbsp

White Sesame Seeds

1

tbsp

Poppy Seeds

2

tbsp

Dried Minced Garlic

2

tbsp

Dried Minced Onion

2

tsp

Himalayan Salt

,

or flaked salt
More on Unit Conversions »
Instructions
To Make Everything Bagel Seasoning
In a bowl, add all the ingredients - poppy seeds, both black and white sesame seeds, minced dried garlic and onion, and your chosen salt

Mix thoroughly to ensure an even blend. Your delicious, savory bagel seasoning is now ready for use!
To Use
You can sprinkle this Everything Bagel seasoning on breakfast bagels, toast, and sandwiches. It also adds flavor to boiled eggs, sunny-side-ups, omelette, or your favorite roasted vegetables.
Chef's Notes and Tips
Master the art of homemade Everything Bagel Seasoning with these essential:
Start with Quality Ingredients: The key to a great Everything Bagel Seasoning is using fresh, high-quality ingredients. This forms the base of your flavorful blend.
Balance is Key: Ensure the perfect taste by paying close attention to the ratios of each ingredient, aiming for a well-balanced mix.
Mix Well: To avoid clumps and ensure even flavor distribution, thoroughly mix all the ingredients.
Toasting for Extra Flavor (Optional): Lightly toasting the sesame seeds can enhance their nuttiness, adding another layer of flavor to your seasoning.
Get Creative: Feel free to experiment by adding ingredients like dried herbs, red pepper flakes, or citrus zest for a personal twist.
Use with Care: Since Everything Bagel Seasoning is potent, start with a small amount and adjust to taste.
Adjust as Needed: If the flavors mellow over time, don't hesitate to rebalance the blend with a bit more of any ingredient to suit your preference.
Nutrition Info
Serving:
2
tsp
|
Calories:
17
kcal
|
Carbohydrates:
1
g
|
Protein:
1
g
|
Fat:
1
g
|
Saturated Fat:
0.2
g
|
Polyunsaturated Fat:
1
g
|
Monounsaturated Fat:
1
g
|
Sodium:
291
mg
|
Potassium:
16
mg
|
Fiber:
0.4
g
|
Sugar:
0.02
g
|
Vitamin A:
0.2
IU
|
Vitamin C:
0.01
mg
|
Calcium:
33
mg
|
Iron:
0.4
mg
Disclaimer: We're not nutrition experts. Nutritional info is estimated and should be used as a guide. For precise details, consult a professional.
Discover the richness of our carefully selected range of seasonings and marinades, each skillfully crafted to bring out the best in your chicken, shrimp, or salmon. These blends are designed to complement and elevate the natural flavors of your favorite proteins, ensuring a culinary experience that delights with every bite.
How to Use this Seasoning?
For the best use of Everything Bagel Seasoning, consider these ideal pairings:
Bagels and Breads: Enhance bagels, toast, and sandwiches with a flavorful sprinkle.
Egg Dishes: Add a savory touch to scrambled, fried, or boiled eggs, and omelets.
Salads: Sprinkle on salads for added flavor and crunch.
Roasted Vegetables: Toss veggies like broccoli, cauliflower, or potatoes with the seasoning before roasting.
Grilled Cheese: Sprinkle inside the sandwich for an extra flavor layer.
Protein Seasoning: Use on chicken, fish, or even tofu before grilling or baking.
Popcorn and Snacks: Add a savory kick to popcorn, nuts, or homemade snack mixes.
Baked Potatoes: Enhance baked potatoes with a sprinkle for a tasty crust.
Storage Suggestions
Choose the Right Container: Pick a clean, dry airtight container to keep your seasoning fresh. Make sure it's sealed tightly to protect against moisture and air.
Label and Store Wisely: Don't forget to label your container with the seasoning's name and the date you made it. Find a cool, dry spot in your pantry or cupboard, away from heat, for storage.
Enjoy for Months: When stored correctly, your Everything Bagel Seasoning will stay fresh and flavorful for 3-4 months.