Blackened Seasoning is a vibrant and flavorful spice blend, deeply rooted in the heart of Cajun cuisine. This homemade mix combines the warmth of paprika with the zest of garlic and onion, the heat of cayenne and black pepper, and the aromatic touch of oregano and thyme. It's the perfect ingredient for transforming salmon, chicken, or any fish into a deliciously blackened dish using the traditional blackening cooking technique.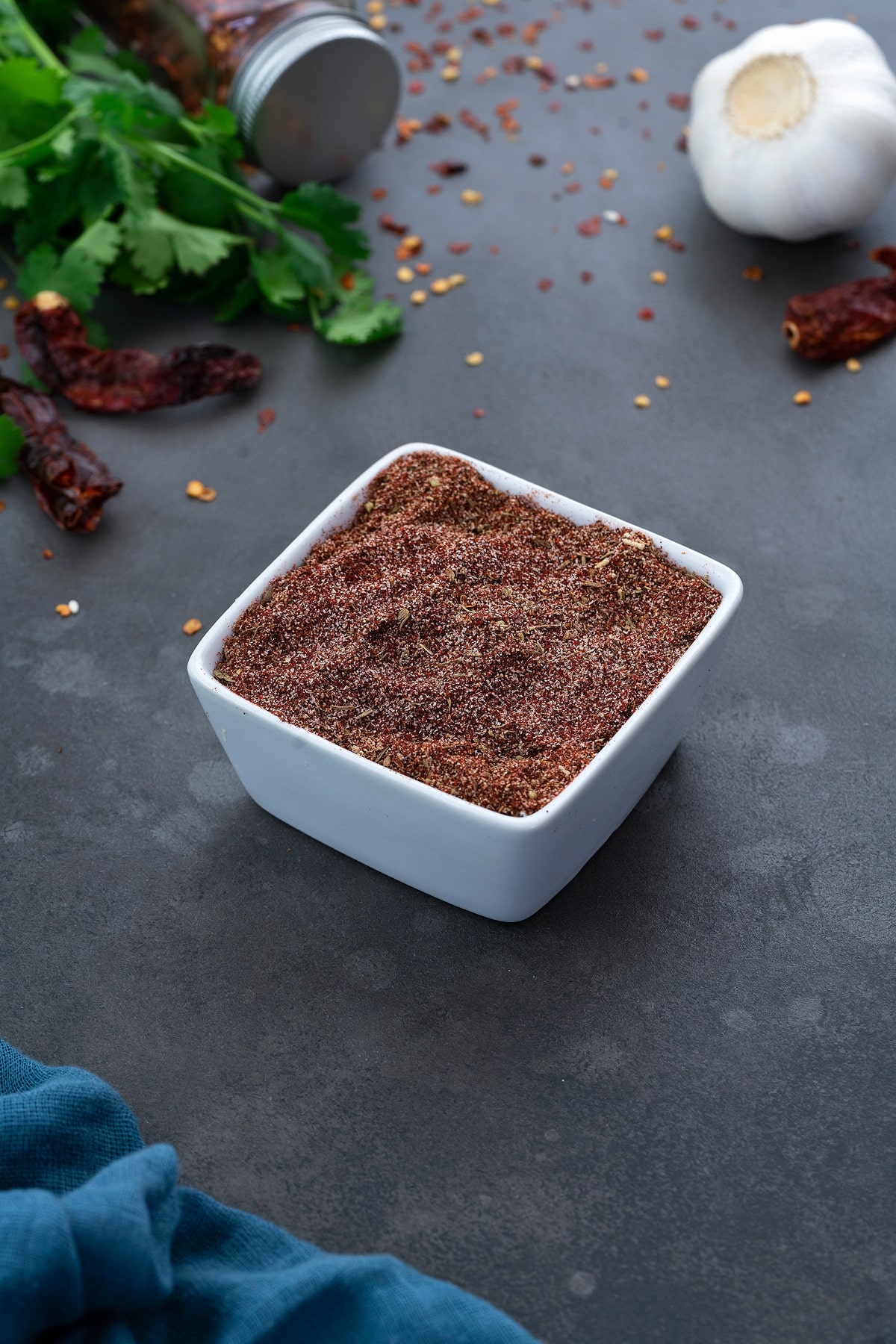 Jump to:
Originating from Louisiana's Cajun cooking, Blackened Seasoning brings together a medley of spices that deliver a robust, spicy, and smoky taste. It's not just for meats like chicken, seafood, or steak; this seasoning also elevates the flavors of vegetables and grains.
Ever wondered about blackening? It's a culinary method where meat or fish is seared in a blazing hot skillet, producing a charred, crispy crust – a hallmark of Cajun dishes like blackened catfish or redfish.
By making your own Blackened Seasoning, you gain the freedom to tailor it to your taste preferences, ensuring each meal is not just flavorful but also uniquely yours. Whether you're a fan of Cajun and Creole cuisines or simply looking to infuse a spicy, smoky essence into your cooking, this seasoning is a must-have in your spice arsenal.
Ingredients and Substitutions Overview
To craft your own Blackening Seasoning, you'll likely find that you already have these essential ingredients in your pantry. Here's what you'll need: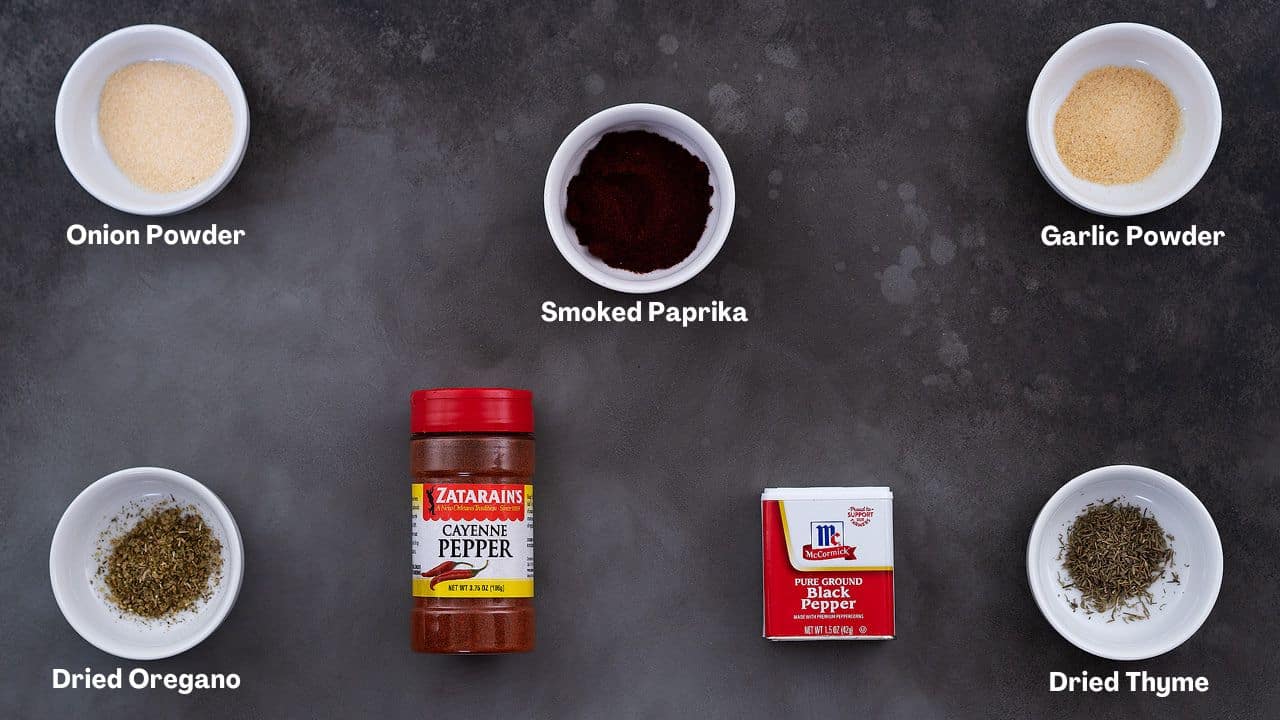 Paprika (Smoked or Regular): Paprika imparts a sweet, mildly smoky flavor. Opt for smoked paprika for a stronger smoky essence. No paprika? Chili powder is a fine substitute.
Onion Powder: This adds savory sweetness, offering the flavor of onions without the texture. If unavailable, dried minced onions are a good alternative.
Garlic Powder: It brings a sharp, subtly sweet taste, a perfect stand-in for fresh garlic without the texture. Granulated garlic can replace it if needed.
Black Pepper Powder: Known for its pungent, slightly floral taste, black pepper is a staple in many recipes, contributing a robust flavor.
Dried Herbs (Oregano and Thyme): Oregano offers a potent, somewhat bitter taste, while thyme contributes a savory, faintly minty flavor. These herbs enhance the seasoning's complexity. No oregano or thyme? Try dried basil or marjoram.
Cayenne Pepper: This adds a fiery, slightly bitter edge, essential in many Cajun and Creole recipes for its heat. If cayenne is missing, red pepper flakes or hot paprika are effective alternatives.
How to Make Blackened Seasoning at Home?
Get ready to elevate your dishes with the bold flavors of homemade Blackening Seasoning. Follow our step-by-step guide with photos and video for a smoky and spicy flavor boost.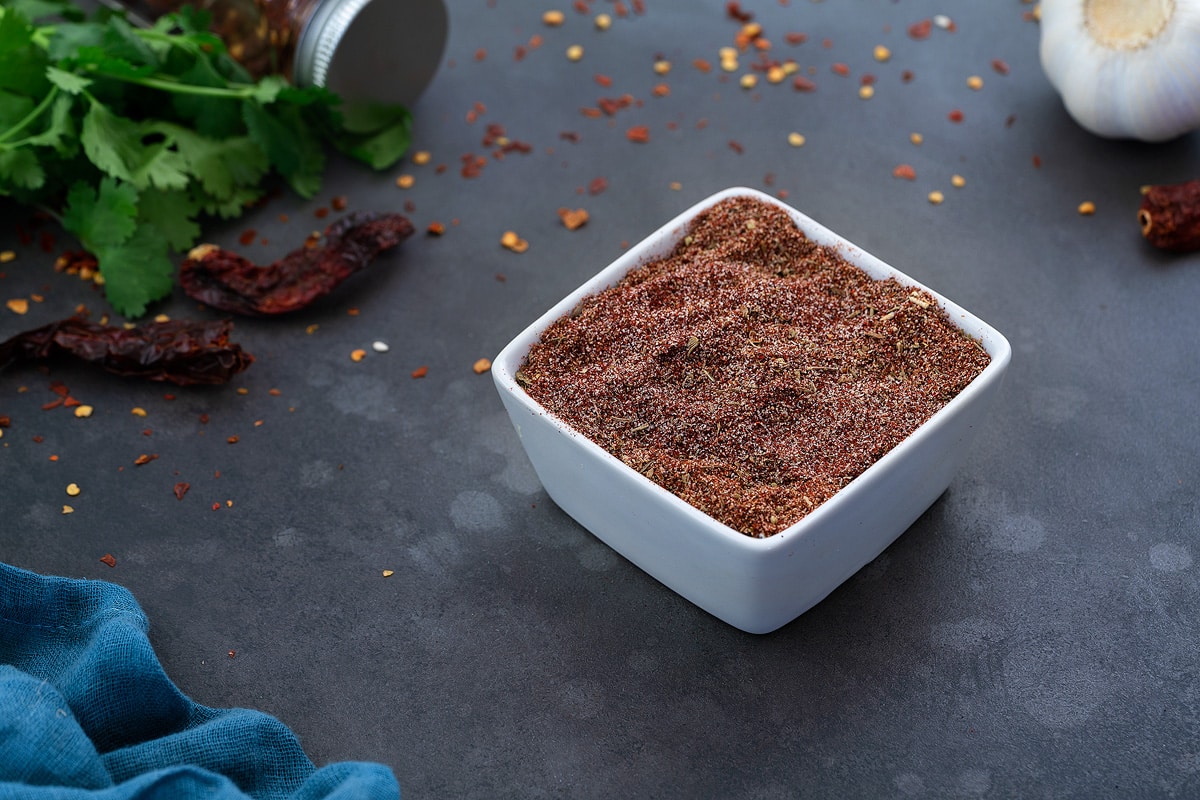 Explore a World of Seasoning Delights: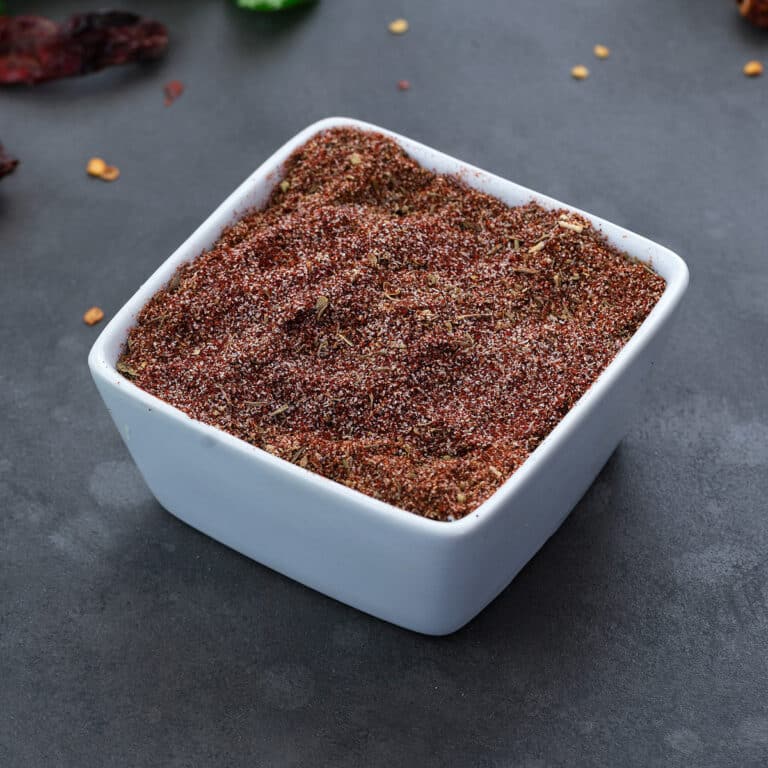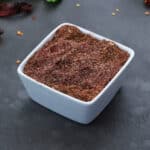 Blackened Seasoning
Explore Blackened Seasoning: A bold Cajun spice blend that enhances your dishes with its origins in Cajun cuisine. Elevate your meals with this versatile seasoning, perfect for blackened salmon, fish, or chicken using the blackening cooking technique.
Subscribe
print (text-only)
email
pin
review
save
saved!
Ingredients
2

tbsp

Paprika

,

smoked or regular

1

tsp

Garlic Powder

1

tsp

Onion Powder

1

tsp

Black Pepper Powder

½

tsp

Cayenne Pepper

1

tsp

Dried Oregano

1

tsp

Dried Thyme
More on Unit Conversions »
Instructions
To Make Homemade Blackened Seasoning
Begin by blending paprika, onion powder, garlic powder, cayenne pepper, black pepper, dried oregano, and dried thyme in a bowl. Opt for smoked paprika if you love a smoky edge. Remember, cayenne pepper adds spiciness; adjust its quantity to suit your taste.

Stir the spices until they're evenly mixed. And there you have it, your very own homemade blackening seasoning, ready to add a burst of flavor to your dishes!
To Use
This seasoning is ideal for imparting rich, savory flavors to salmon, chicken, or shrimp. The amount in this recipe perfectly seasons 4 to 5 salmon fillets, 1 pound of shrimp, or chicken.
Chef's Notes and Tips
Here are some handy tips for making and using your Blackening Seasoning:
Fresh Spices: For the best flavor, opt for fresh, high-quality spices when crafting your Blackening Seasoning.
Adjust Spiciness: Tailor the spiciness to your liking by gradually varying the amount of cayenne pepper. To intensify the smoky flavor, consider using smoked paprika instead of regular paprika.
Thorough Mixing: Ensure an even distribution of flavors by thoroughly mixing all the spices.
Get Creative: Feel free to experiment with different spices to create a custom blend that perfectly suits your taste preferences.
Customize Herbs: While oregano and thyme are used in this Blackening Seasoning, don't hesitate to incorporate other dried herbs for a personalized touch.
Nutrition Info
Serving:
1
serving
|
Calories:
7
kcal
|
Carbohydrates:
2
g
|
Protein:
0.3
g
|
Fat:
0.1
g
|
Saturated Fat:
0.02
g
|
Polyunsaturated Fat:
0.04
g
|
Monounsaturated Fat:
0.01
g
|
Sodium:
1
mg
|
Potassium:
31
mg
|
Fiber:
0.4
g
|
Sugar:
0.3
g
|
Vitamin A:
259
IU
|
Vitamin C:
6
mg
|
Calcium:
8
mg
|
Iron:
0.4
mg
Disclaimer: We're not nutrition experts. Nutritional info is estimated and should be used as a guide. For precise details, consult a professional.
Explore our diverse range of seasonings and marinades, specially curated for chicken breast, shrimp, and salmon. Our collection is designed to elevate your dishes, providing a harmonious blend of flavors that perfectly accentuate your beloved recipes.
How to Use this Seasoning?
This homemade blackening seasoning is perfect for adding a burst of flavor to salmon, chicken, or shrimp. The provided recipe quantity is just right for seasoning 4 to 5 salmon fillets, 1 pound of shrimp, or chicken. Here's how to incorporate it into your cooking:
Fish: Perfect for fish like salmon or catfish. Coat the fish with seasoning, then pan-sear or grill for a crispy, blackened exterior.
Chicken: Transform chicken breasts or thighs by seasoning them and cooking until they are deliciously blackened, either grilled or pan-seared.
Shrimp: Give shrimp a flavorful twist. Toss in the seasoning and cook by sautéing or grilling until they're perfectly blackened.
Vegetables: Amp up the taste of grilled or roasted veggies, like zucchini, cauliflower, eggplant, or bell peppers, with this savory seasoning.
Sandwiches/Wraps: Add a spicy kick to your sandwiches or wraps with blackened chicken or shrimp.
Potatoes: Make your potatoes irresistible. Toss diced potatoes with the spice mix, then roast or fry until crispy and blackened.
Storage Suggestions
To maintain the freshness of your Blackening Seasoning, store it in an airtight container in a cool, dry place. This method preserves the seasoning's potency for up to 6 months. However, if you have a larger batch that won't be used within this timeframe, consider freezing it.
For freezing, transfer the seasoning to an airtight container or a sealable plastic bag and store it in the freezer for up to a year. When you're ready to use it, ensure that the seasoning reaches room temperature before adding it to your dishes. This storage approach allows you to enjoy the full flavor of your Blackening Seasoning, even for an extended period.