Elevate your cooking with the ultimate Homemade Taco Seasoning. This vibrant blend of chili powder, paprika, garlic, onion, black pepper, cumin, and oregano is your secret weapon in Mexican cuisine. Versatile and full of flavor, it's perfect for spicing up tacos, soups, and rice dishes, as well as a variety of meats like chicken, beef, and seafood.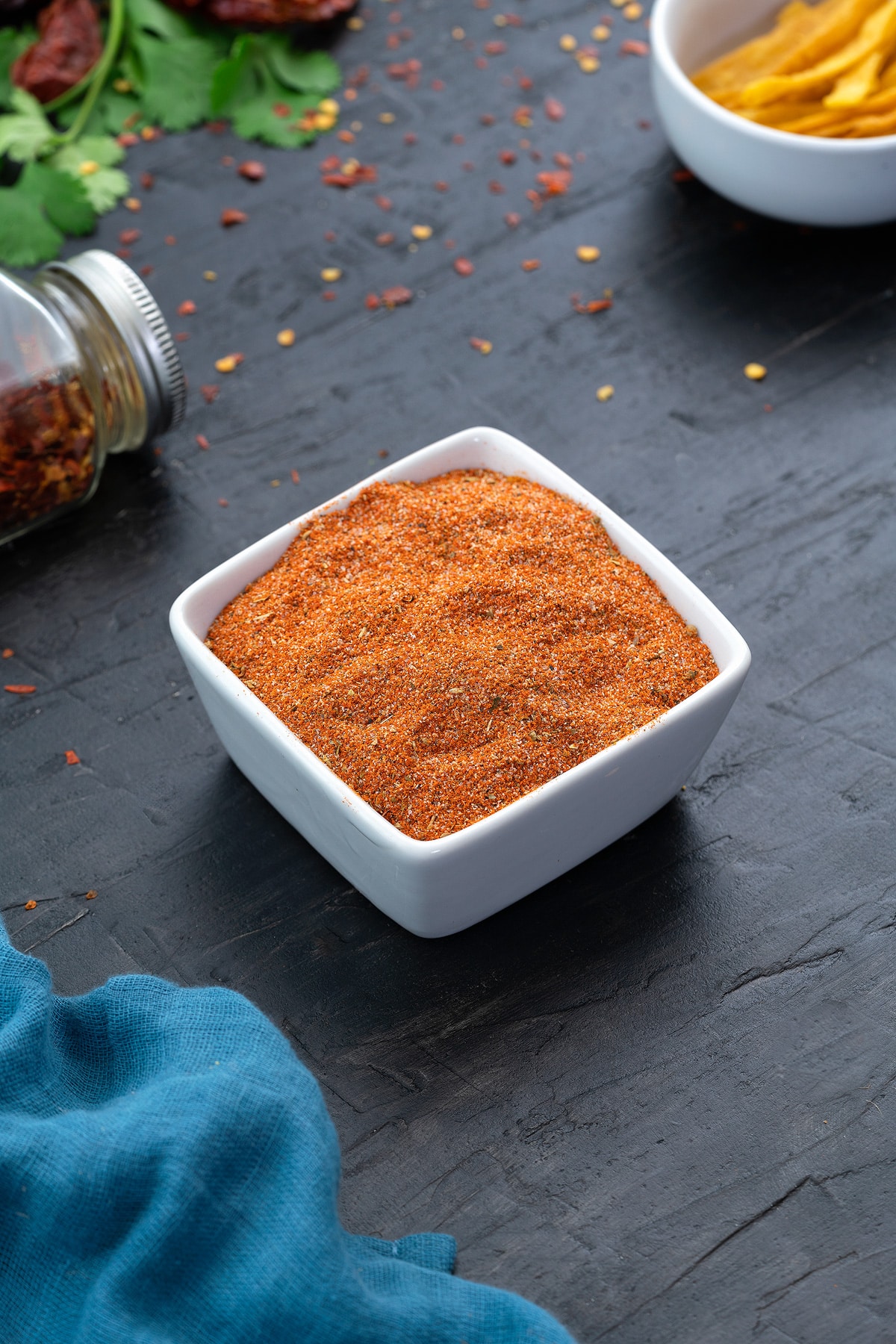 Jump to:
Dive into this easy DIY Taco Seasoning recipe that's not only cost-effective but also stays fresh for months. Whether you're a seasoned chef or a kitchen newbie, this warm, spicy mix is sure to bring your dishes to life and make every meal memorable. Let's get cooking!
Explore Variety of Mexican Delights:
Ingredients and Substitutions Overview
To prepare your own Taco Seasoning, gather these readily available kitchen staples. Chances are, you might already have them on hand. Here's what you'll need: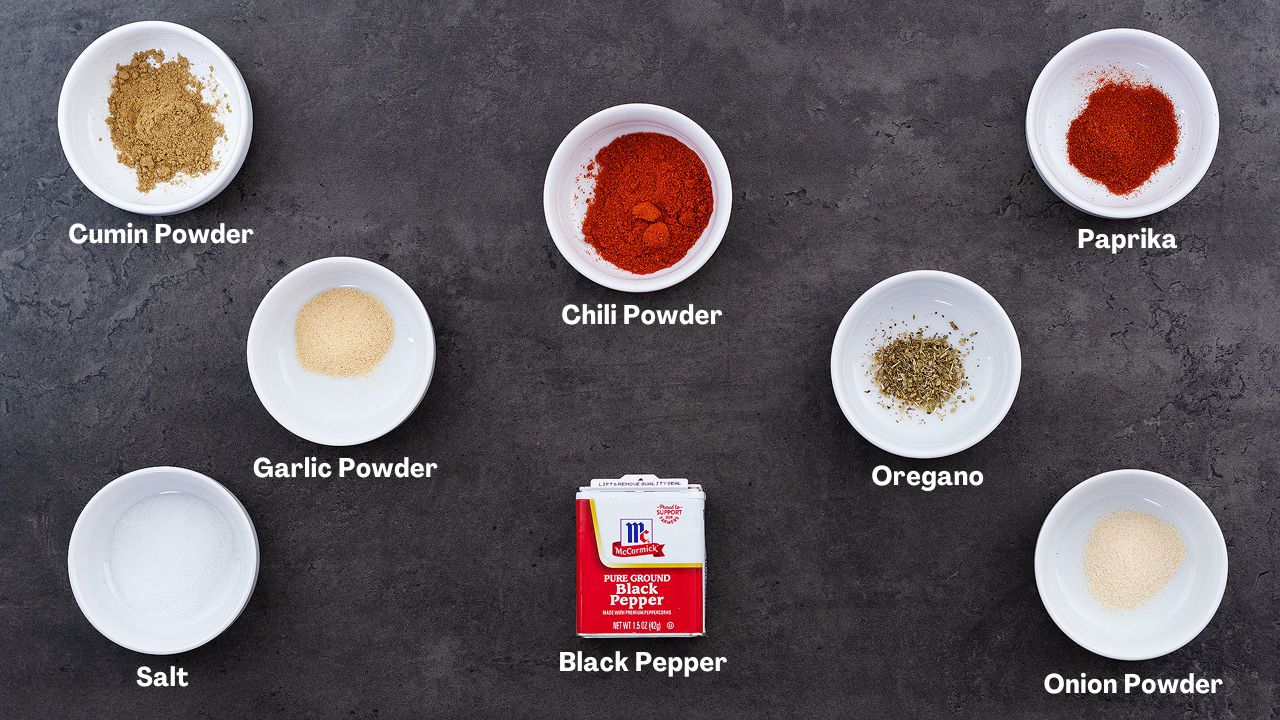 Chili Powder: Brings a spicy kick to your dishes, adding both heat and depth.
Paprika: Offers a red hue and a sweet to mildly hot flavor, depending on the variety.
Onion and Garlic Powder: Provide a combination of warm, sweet, and distinctly garlicky tastes.
Cumin Powder: Delivers a savory, nutty flavor, enhancing the earthiness and aroma of the mix.
Black Pepper: Contributes a woody aroma with a hint of pine, adding complexity.
Oregano: Imparts an earthy, minty flavor, boosting the overall taste when blended with other spices.
Salt: Optional. You can add it to the seasoning or adjust it in your tacos, soups, or other dishes as needed.
How to Make Taco Seasoning at Home?
Start your culinary adventure with our Homemade Taco Seasoning recipe, showcased in detailed photos and a helpful video. Prepare to enrich your dishes with this flavorful spice blend. Here's the recipe: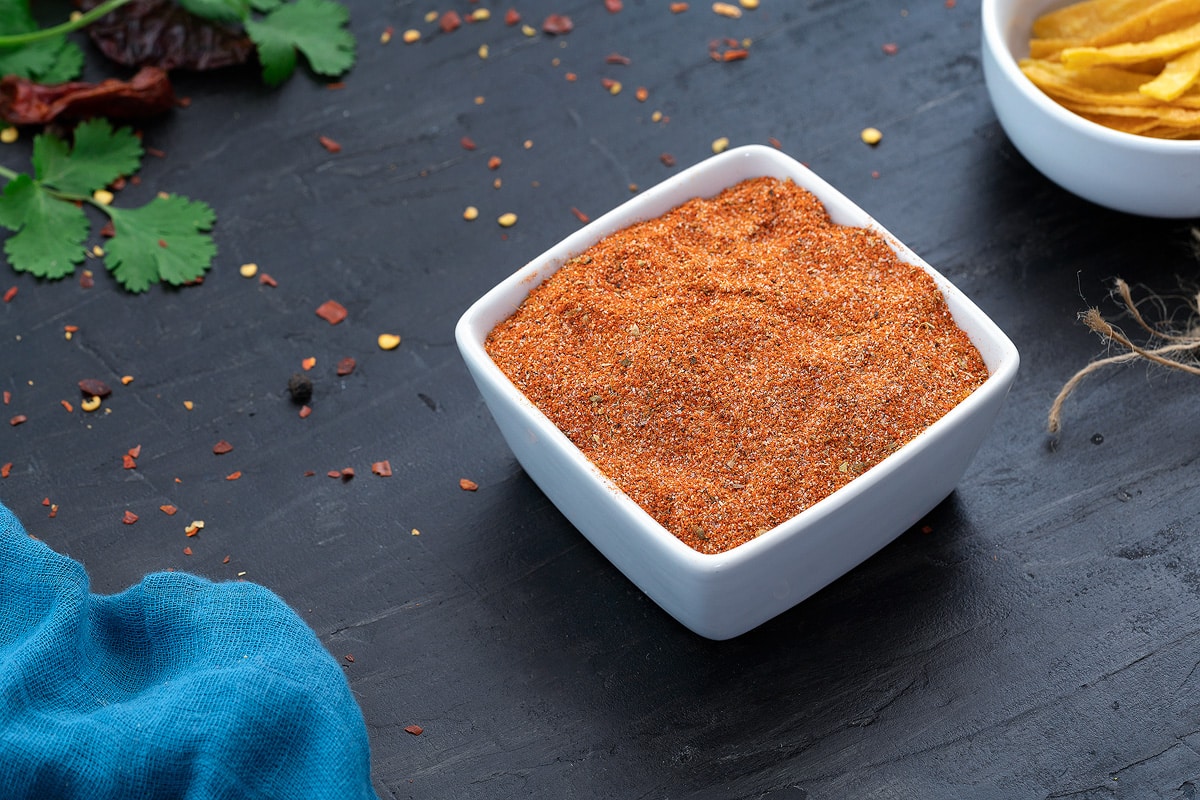 Explore a World of Seasoning Ideas: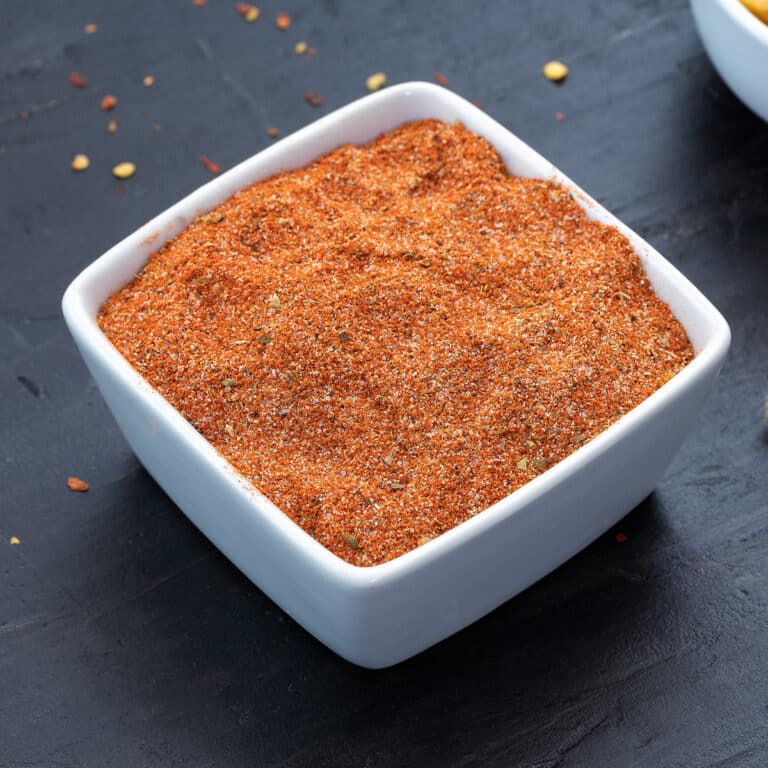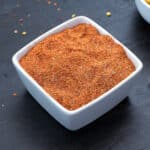 Taco Seasoning
Experience the zest of Homemade Taco Seasoning, a warm and spicy Mexican spice mix. Ideal for taco fillings, soups, and more, it enhances a variety of dishes, from meats to vegetables. Plus, this DIY blend stays fresh for up to six months, adding vibrant flavors to your meals!
Subscribe
print (text-only)
email
pin
review
save
saved!
Ingredients
1

tbsp

Chili Powder

1

tsp

Paprika

½

tbsp

Garlic Powder

½

tbsp

Onion Powder

½

tsp

Oregano

½

tsp

Cumin Powder

½

tsp

Black Pepper

,

ground

Salt

,

adjust as recipe requirements
More on Unit Conversions »
Instructions
Start by combining chili powder, garlic powder, onion powder, black pepper, paprika, salt, and oregano in a glass bowl.

Give the mixture a good stir to ensure everything is evenly blended.

There you have it, your homemade Taco Seasoning is ready!

This DIY seasoning is perfect for tacos, taco soups, stews, and a variety of roasted or baked meats and fish.
Chef's Notes and Tips
Here are some tips for perfecting your Homemade Taco Seasoning:
Ratios: It's crucial to maintain the right spice ratios for balanced flavor. Feel free to adjust the spiciness to suit your taste.
Preservation: For convenience, make a larger batch and store it in an airtight container. It remains fresh for up to 6 months at room temperature.
Serving Size: This recipe provides enough seasoning for 1 to 1.5 pounds of chicken, shrimp, turkey, or other proteins, ideal for tacos or taco soup.
Nutrition Info
Serving:
1
serving
|
Calories:
55
kcal
|
Carbohydrates:
11
g
|
Protein:
2
g
|
Fat:
1
g
|
Saturated Fat:
0.3
g
|
Polyunsaturated Fat:
1
g
|
Monounsaturated Fat:
0.4
g
|
Sodium:
1301
mg
|
Potassium:
279
mg
|
Fiber:
4
g
|
Sugar:
1
g
|
Vitamin A:
2556
IU
|
Vitamin C:
7
mg
|
Calcium:
69
mg
|
Iron:
3
mg
Disclaimer: We're not nutrition experts. Nutritional info is estimated and should be used as a guide. For precise details, consult a professional.
Discover the range in our seasoning and marinade selection, great for chicken breast, shrimp, and salmon. Our carefully crafted mix is made to improve every meal, offering a blend of flavors that perfectly goes with your favorite recipes.
How to Use this Seasoning?
Use this Homemade Taco Seasoning to bring a burst of flavor to more than just tacos. It's perfect for seasoning chicken, shrimp, or other meats, and can also enhance taco soup, stews, and various chicken dishes like roasted, baked drumsticks, breasts, wings, and thighs. Additionally, it's great for spicing up rice, adding depth and warmth to your meals. This versatile seasoning is a must-have for enriching a wide range of dishes.
Storage Suggestions
For optimal freshness, store your Homemade Taco Seasoning in an airtight container for up to 6 months at room temperature, away from direct sunlight. Keeping it in a cool, dry place helps preserve its flavor, making it a handy staple for all your favorite Mexican dishes.