An omelet is a versatile and satisfying meal that's perfect for breakfast or a quick snack. This simple recipe calls for eggs, a selection of vegetables, cheese, and herbs, all cooked together to create a fluffy and flavorful dish. In less than 30 minutes, you can enjoy this protein-rich favorite at home.
The beauty of an omelet lies in its flexibility; you can tailor it with fillings like mushrooms, chives, onions, or any veggies you prefer.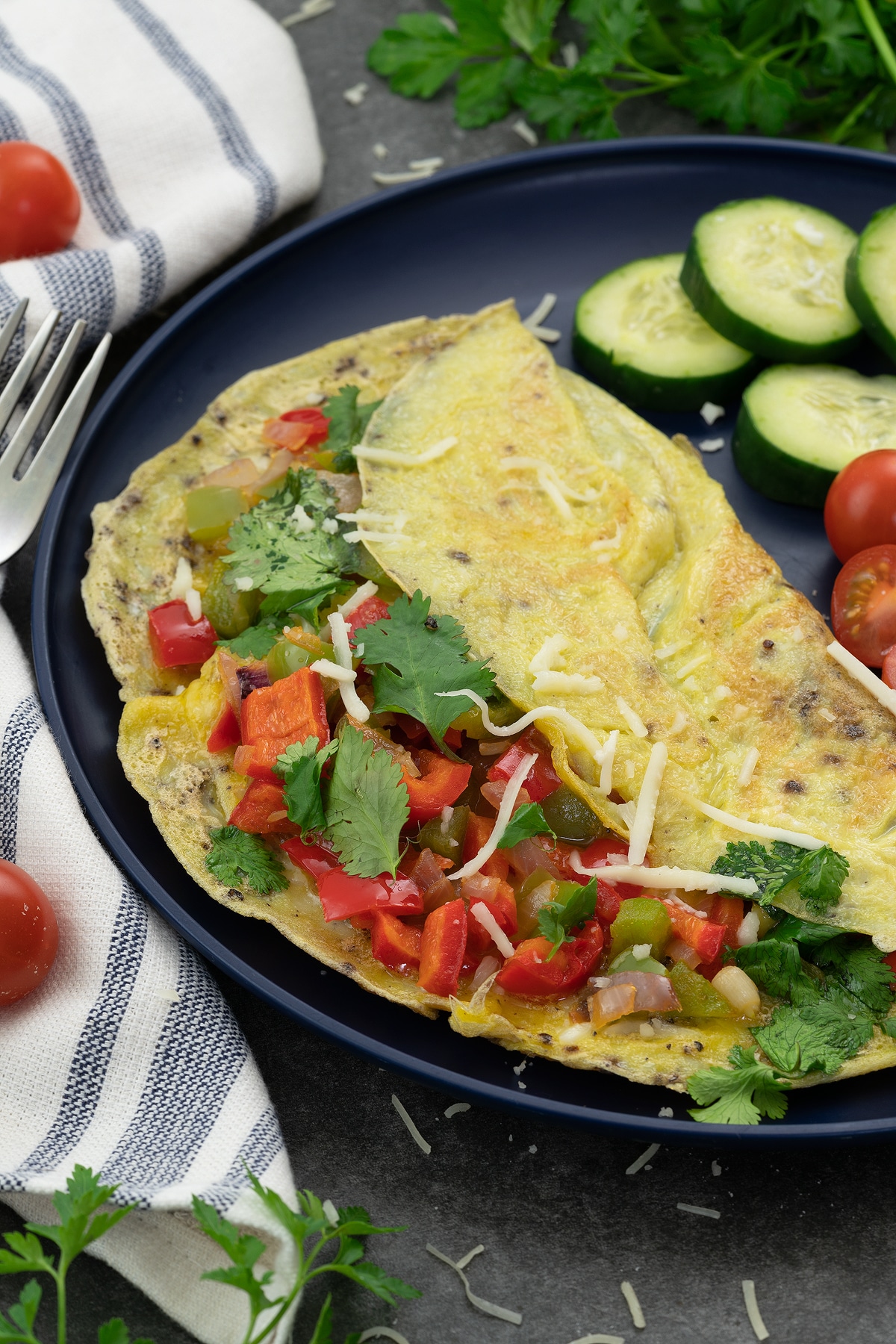 Jump to:
There are various styles to explore, from the classic American omelet to the delicate French version, the hearty Frittata, and the airy Souffle omelet. Each offers a distinct experience in texture and taste.
Omelets have a global appeal with countless variations. In the US, combinations often include cheese, ham, peppers, spinach, and mushrooms. Enjoy your omelet with bread, rice, or flatbreads for a complete meal any time of the day.
Explore More Egg Delights:
Ingredients and Substitutions Overview
To whip up this classic omelet, you'll likely find all you need already in your pantry. Here's what to gather: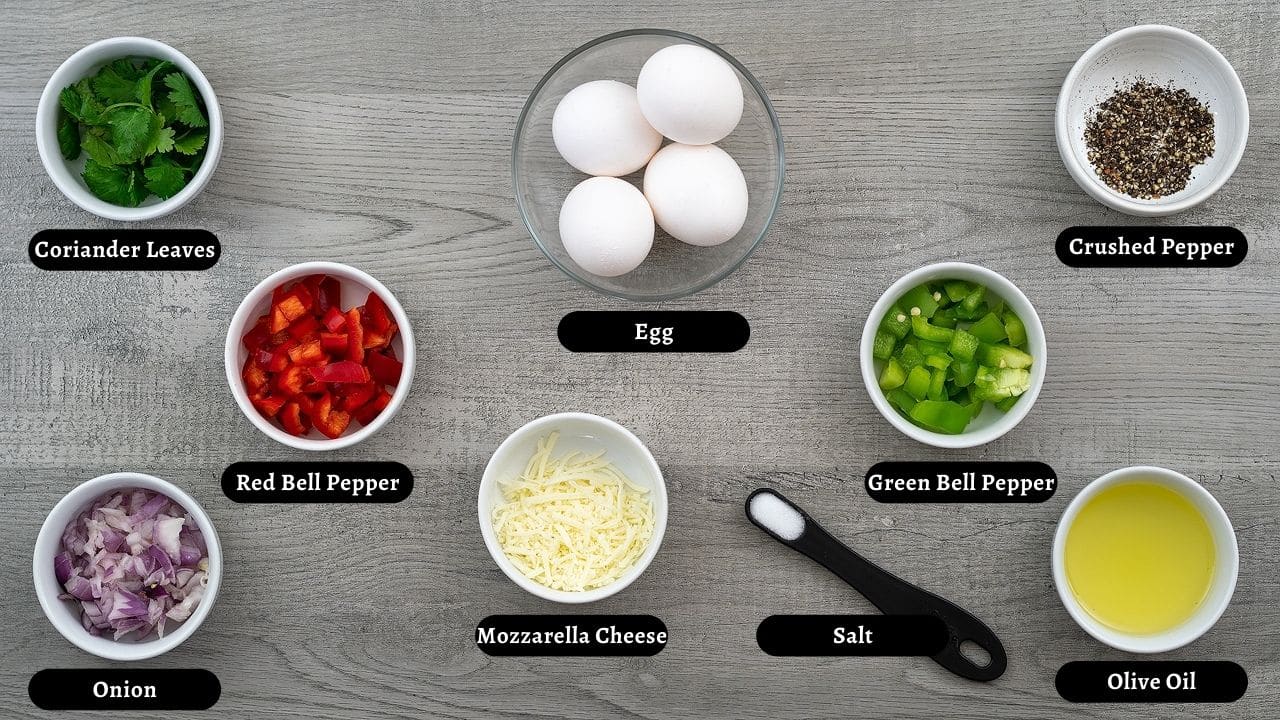 Eggs: White or your choice of brown, organic, or omega-3-enriched eggs.
Olive Oil: A healthier swap for butter, olive oil keeps the dish light.
Onion and Bell Peppers: These veggies add a sweet and savory note. Sautéing them enhances their flavor, perfect for the omelet filling.
Peppercorns: Freshly crushed for a piquant taste, or use ground pepper for convenience without the crunch.
Mozzarella Cheese: A bit of this cheese melts beautifully, but you can also experiment with cheddar, blue cheese, or Swiss varieties for different flavors.
How to make an Omelette?
Dive into the vibrant colors and textures of this wholesome omelet through the lens of my latest photos and video. Experience each step, from prep to plate, bringing this kitchen classic to life.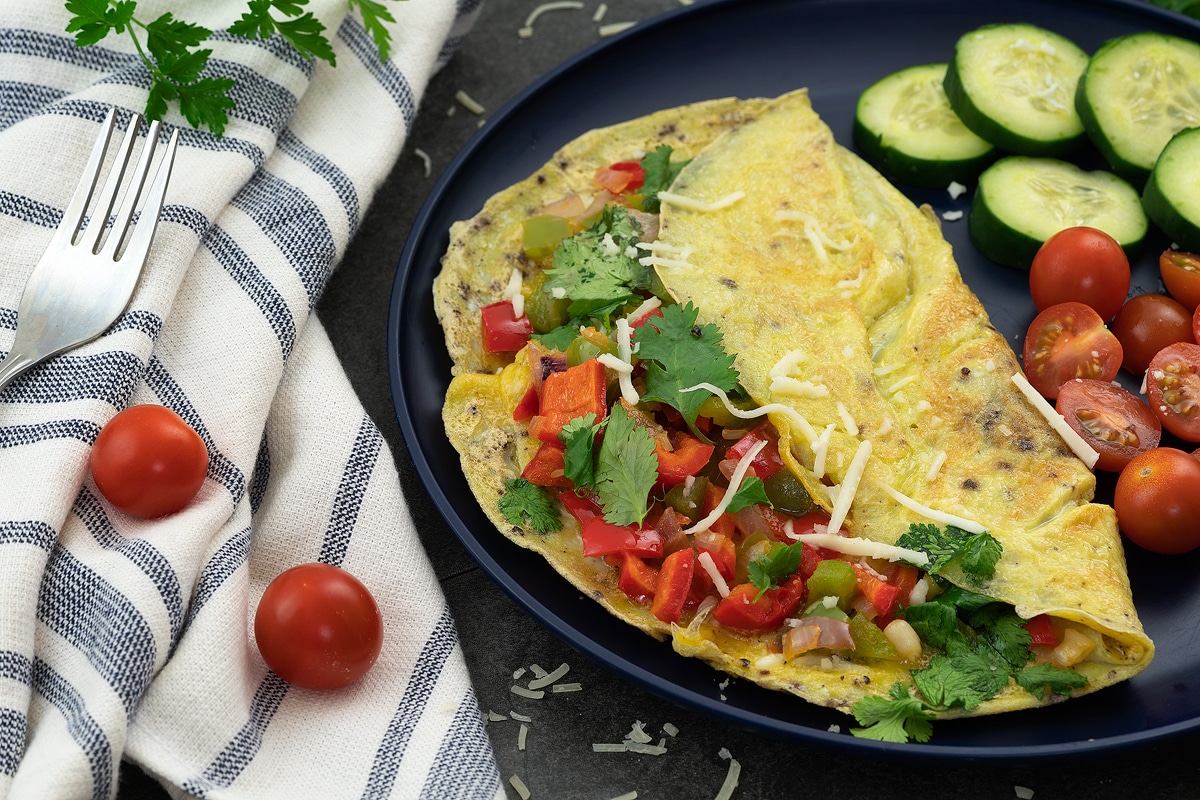 More Omelette Delights: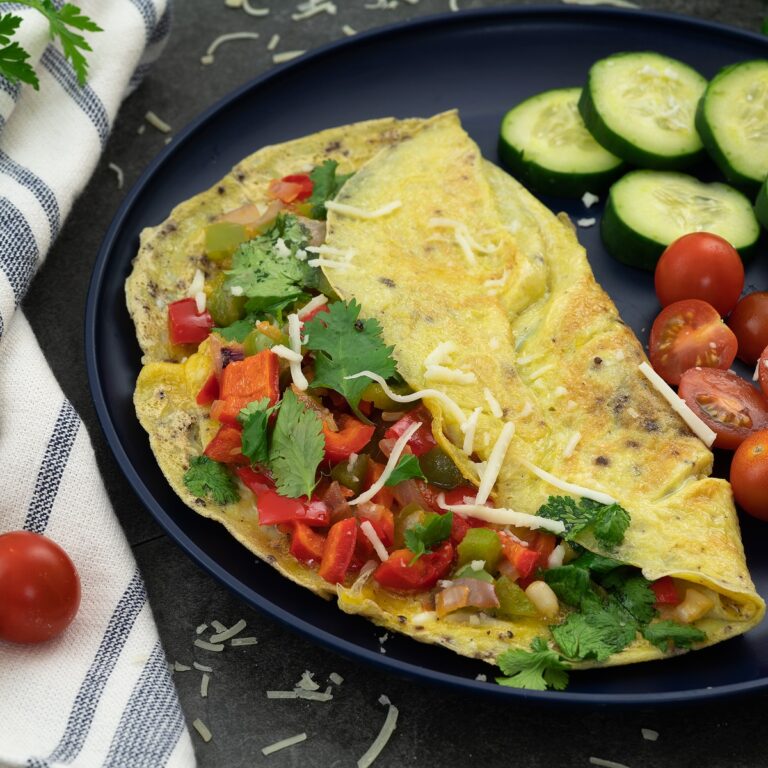 How to Make an Omelette
Start your day with an omelet: a quick, fluffy delight that's as nourishing as it is delicious. Packed with fresh veggies, melty cheese, and aromatic herbs, it's the perfect breakfast to power up your morning or to enjoy as a tasty, satisfying snack. Best of all? It's ready in a flash – under 30 minutes!
Subscribe
print (text-only)
email
pin
review
save
saved!
Ingredients
4

Egg

1

tsp

Peppercorn

,

crushed

Salt

,

as needed

2

tbsp

Onion

,

chopped

2

tbsp

Green Bell Pepper

,

chopped

2

tbsp

Red Bell Pepper

,

chopped

2

tsp

Olive Oil

1

tsp

Mozzarella Cheese

Coriander Leaves

,

to garnish
More on Unit Conversions »
Instructions
To make an Omelette
In a bowl, crack open the eggs, and add crushed pepper and salt.

Beat the eggs until they turn frothy and set them aside for later use.

Pour oil into a pan over medium heat, add onion, red bell pepper, and green bell pepper. Sauté until the veggies turn soft, then reserve them for later use. You can opt for other vegetables if you like.

In the same pan over medium heat, pour in the frothy egg mixture. Cook for a minute or until it sets at the edges.

With a heatproof rubber or silicone spatula, gently push the cooked edges toward the center, allowing the uncooked eggs to flow to the edges of the pan for even cooking.

Sprinkle mozzarella cheese and add the previously sautéed veggies to one side of the omelet. Fold it in half and let it cook for another minute. Your fluffy, delicious omelet is now ready to savor.
To Serve
Serve this nutritious omelet for breakfast, lunch, or as a quick, satisfying snack. Enjoy!
Chef's Notes and Tips
Mastering the Perfect Omelet: Essential Tips
Fluffiness: Whisk the eggs until frothy for that coveted fluffy texture. A good whisk sets the foundation for a light, airy omelet.
Fillings: While bell peppers and onions are my go-tos, don't hesitate to get creative with veggies, meats, or various cheeses for a personalized touch.
Filling Proportion: Keep the fillings balanced; overloading can cause them to spill out of the omelet.
Heat Control: Cook your omelet on medium heat to ensure even cooking without over-browning one side.
Flipping: Avoid flipping an omelet stuffed with fillings to prevent any spillage.
Spatula: Use a silicone or rubber spatula for folding and serving the omelet to maintain its integrity.
Fat Choice: Olive oil is my healthy pick, but butter for richness or other oils can be used based on your preference.
Cookware: An 8-inch non-stick skillet or a well-seasoned cast iron pan is ideal for that perfect omelet.
Omelette Filling Tips:
Spinach Delight: Mix in fresh spinach leaves with or without a cheese of your choice, perhaps with a slice of tomato for a healthy yet hearty filling.
Bacon Bliss: Combine crispy bacon with a salty cheese for an irresistible duo.
Mushroom Medley: Sauté mushrooms in butter with herbs of your choice and tuck them into your omelet for a savory treat.
Ham and Veggie Mix: Sauté ham along with your preferred veggies and add it to your omelet for an extra protein punch.
Broccoli and Parmesan: Broccoli florets with a sprinkle of Parmesan cheese create a crunchy and nutritious filling.
Potato and Gruyère: Roasted potatoes paired with melted Gruyère cheese make for a rich and satisfying meal.
Savory Onion, Tomato, and Herbs: A classic combination of onions, tomatoes, and fresh herbs like coriander can elevate a simple omelet to a flavorful meal, perfect for sandwiching between bread or enjoying with a hot cup of coffee.
Nutrition Info
Serving:
1
omelette
|
Calories:
365
kcal
|
Carbohydrates:
8
g
|
Protein:
24
g
|
Fat:
26
g
|
Saturated Fat:
7
g
|
Polyunsaturated Fat:
4
g
|
Monounsaturated Fat:
13
g
|
Trans Fat:
0.1
g
|
Cholesterol:
659
mg
|
Sodium:
284
mg
|
Potassium:
406
mg
|
Fiber:
2
g
|
Sugar:
3
g
|
Vitamin A:
1659
IU
|
Vitamin C:
40
mg
|
Calcium:
151
mg
|
Iron:
4
mg
Disclaimer: We're not nutrition experts. Nutritional info is estimated and should be used as a guide. For precise details, consult a professional.
Dive into our diverse omelet recipe collection for a range of mouthwatering options. From classic favorites to unique twists, there's an omelet for every taste bud!
Serving Suggestions
For a fulfilling meal, present this wholesome omelet at breakfast, lunch, or as a swift snack. Pair it with complementary sides for a more rounded meal.