Enjoy a classic Western Omelet, a fluffy breakfast favorite packed with eggs, fresh veggies, ham, and gooey cheese. Perfect for any meal, this omelet features caramelized onions and peppers, hearty ham, and melted cheese, all folded into a soft egg embrace.
Originally a sandwich filler for American cattle drivers, this omelet now shines solo or alongside your favorite sides. Quick to whip up in under 30 minutes, it's a delicious way to satisfy your hunger anytime.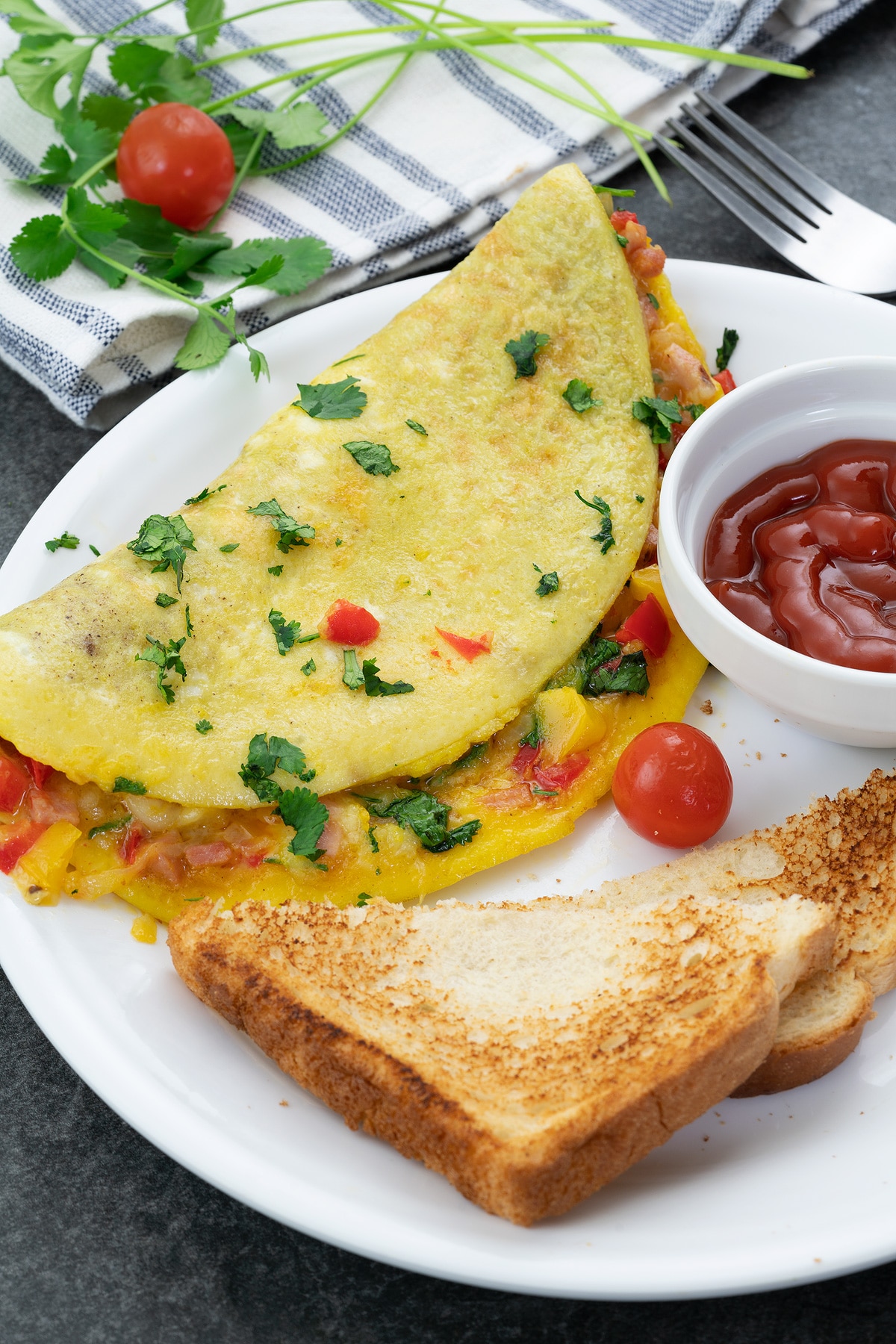 Jump to:
More Egg Recipes to Explore:
Ingredients and Substitutions Overview
You'll only need a few simple ingredients for this Western Omelet, and you'll likely find them at your local supermarket. Here's what you'll need: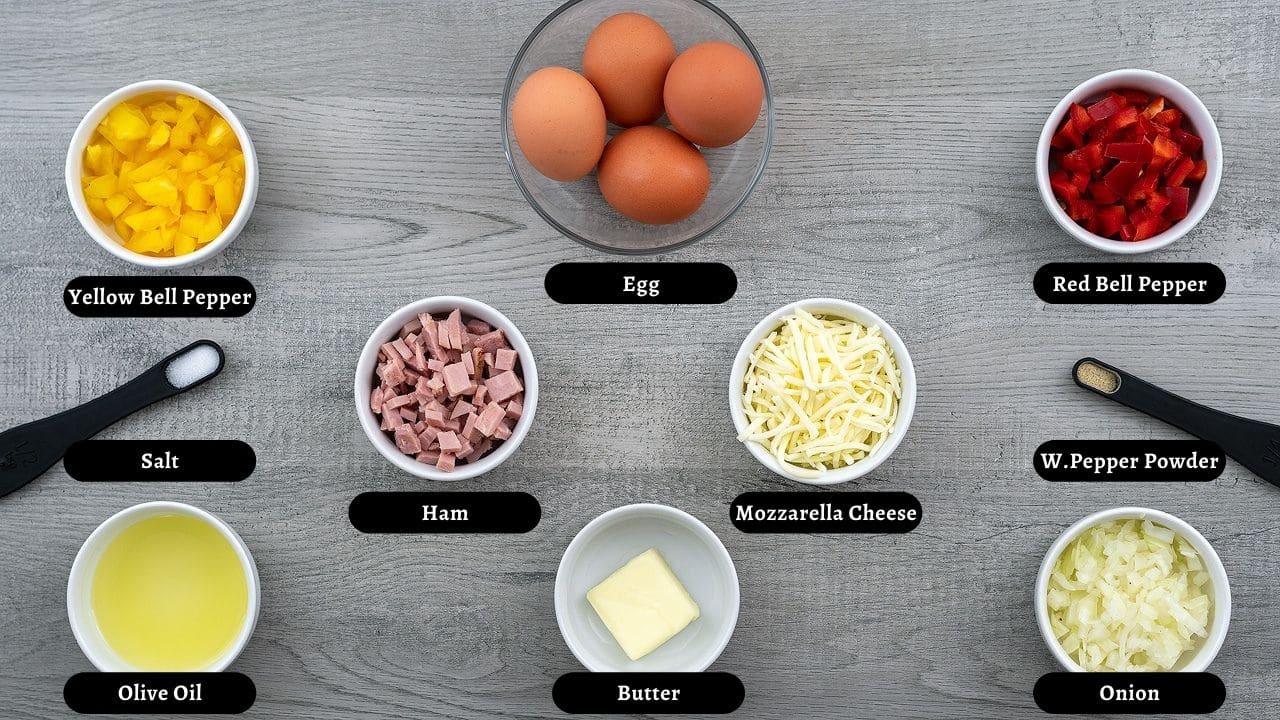 Eggs: I'm a fan of brown organic ones, but grab whatever eggs you've got handy, brown or white.
Seasoning: A pinch of salt and pepper does the trick, but if you're craving some zing, throw in some chili flakes or dice up a green chili.
Bell Peppers: Go for a mix of red, yellow, and green to make that omelet really pop.
Meat: I've gone with precooked ham, but if you're in the mood, swap it out for some crispy bacon or a handful of shredded chicken. Whatever you're into works!
Cheese: Mozzarella melts like a dream, but hey, there's no wrong choice here—cheddar, gruyere, feta, parmesan, or goat cheese all taste amazing.
Greens: Cilantro freshens it up, but if that's not your thing, snip in some chives or slice up some scallions or spring onions.
How to make Western Omelet?
Check out the photo tutorial and watch the video below to easily whip up a flawless Western Omelet. It's the perfect partner for your classic Breakfast Potatoes – let's get started!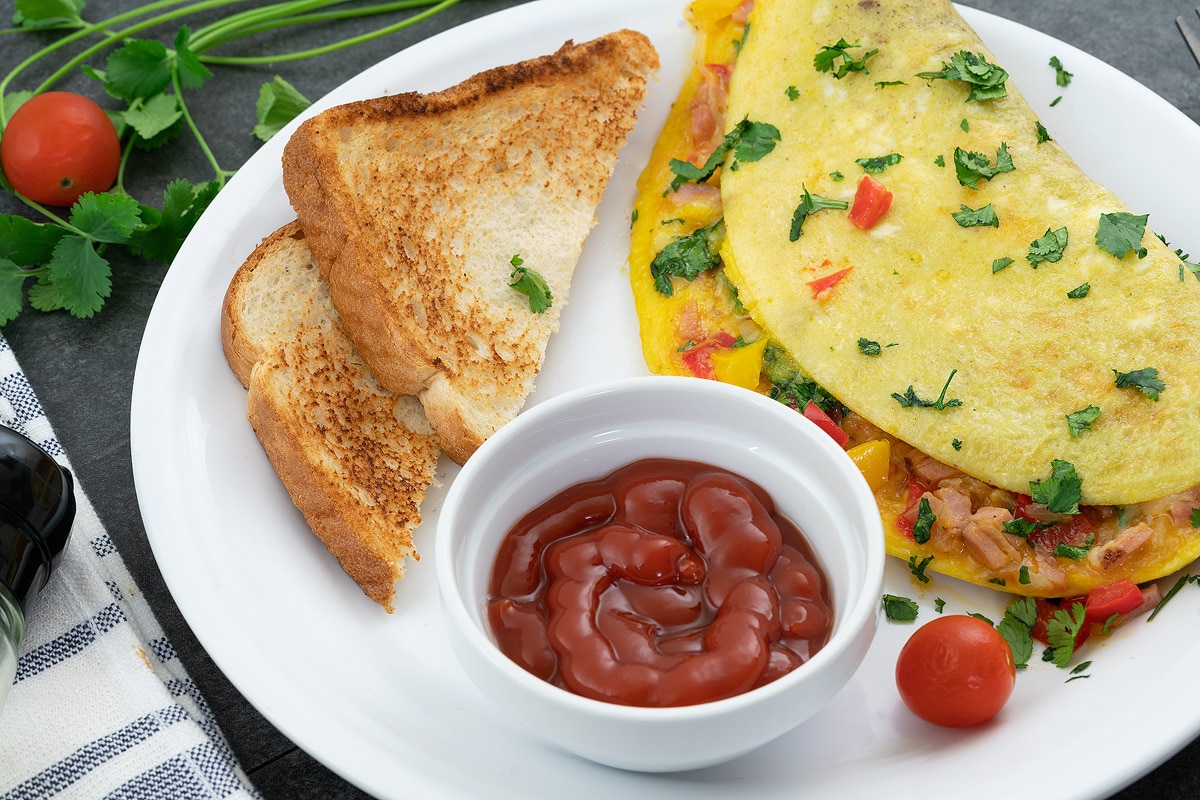 Embark on a Global Omelet Adventure: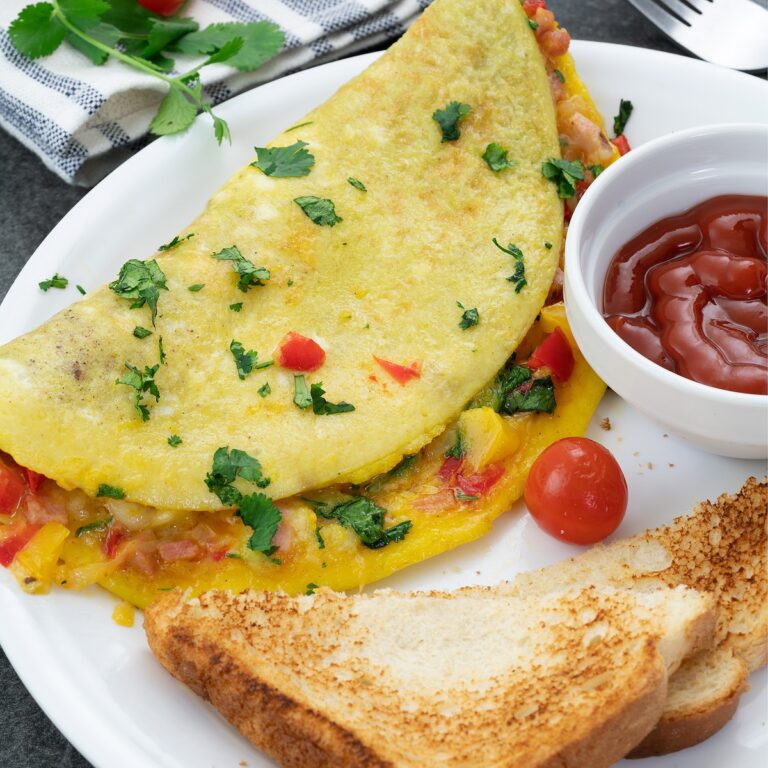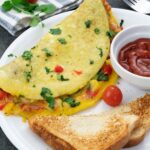 Ingredients
4

Egg

1

tbsp

Butter

2

tbsp

Onion

,

chopped

2

tbsp

Yellow Bell Pepper

,

chopped

2

tbsp

Red Bell Pepper

,

chopped

2

tbsp

Ham

,

precooked

Salt

,

as needed

1

tsp

Olive Oil

¼

tsp

Pepper Powder

,

white

2

tbsp

Mozzarella Cheese

Coriander Leaves

,

to garnish
More on Unit Conversions »
Instructions
To make Western Omelet
Begin by cracking the eggs into a glass bowl. Season with salt and pepper.

Whisk the eggs vigorously until frothy, then set aside for later.

Heat olive oil in a pan over medium heat, then sauté onion, bell pepper, and ham with a pinch of salt until they're golden and crisp. Set this mixture aside.

Reduce the heat to medium-low and melt the butter in the pan, ensuring it's evenly spread.

Pour the beaten eggs into the pan, cooking gently until the edges begin to firm up.

On one half of the eggs, lay out the sautéed veggies and ham; on the other half, sprinkle the mozzarella cheese.

Cover the pan with a lid and let the omelet cook for 2-3 minutes, or until the cheese is deliciously melted.

Using a spatula, gently fold the omelet in half, encapsulating the fillings.

Finish by garnishing with fresh coriander or parsley, and serve hot for a delightful taste experience.
To Serve
Relish a hearty Western Omelet with your choice of salsa, guacamole, or hot sauce for a flavorful start to any morning or a delightful brunch treat.
Chef's Notes and Tips
Stuffing: Traditional Western omelets feature ham and veggies, but don't hesitate to mix it up with shredded chicken, bacon, or any other meat you fancy.
Vegetable Variety: Bell peppers and onions are my go-tos, yet mushrooms, broccoli, or any of your preferred veggies can add a fresh twist.
Cheese Options: Whether it's the stretchy goodness of mozzarella, the sharp bite of cheddar, the smoothness of gruyere, the crumble of feta, the tang of parmesan, or the distinct flavor of goat cheese – they all melt beautifully into this omelet.
Low and Slow: To achieve that perfect melt and avoid a charred bottom, cook your omelet on low to medium heat.
Serve it Right: Complement the fluffy texture and savory taste of your omelet with a side of hot sauce, salsa, or guacamole for a truly satisfying meal, no matter the time of day.
Nutrition Info
Serving:
1
serving
|
Calories:
567
kcal
|
Carbohydrates:
6
g
|
Protein:
36
g
|
Fat:
44
g
|
Saturated Fat:
19
g
|
Polyunsaturated Fat:
5
g
|
Monounsaturated Fat:
17
g
|
Trans Fat:
1
g
|
Cholesterol:
727
mg
|
Sodium:
879
mg
|
Potassium:
470
mg
|
Fiber:
1
g
|
Sugar:
3
g
|
Vitamin A:
2327
IU
|
Vitamin C:
59
mg
|
Calcium:
262
mg
|
Iron:
4
mg
Disclaimer: We're not nutrition experts. Nutritional info is estimated and should be used as a guide. For precise details, consult a professional.