Whip up some excitement with Egg Foo Young, a vibrant Chinese-style omelet! Packed with colorful veggies and optional proteins like chicken or shrimp, it's not your average omelet. Each bite is enveloped in a glossy, savory brown gravy that elevates this dish from simple to extraordinary.
Perfect for any meal, it's quick to make, customizable, and ready to serve in just 30 minutes. Whether you enjoy it with rice, as a stand-alone dish, or sliced up for a delightful appetizer, Egg Foo Young is a flavorful twist that's sure to impress.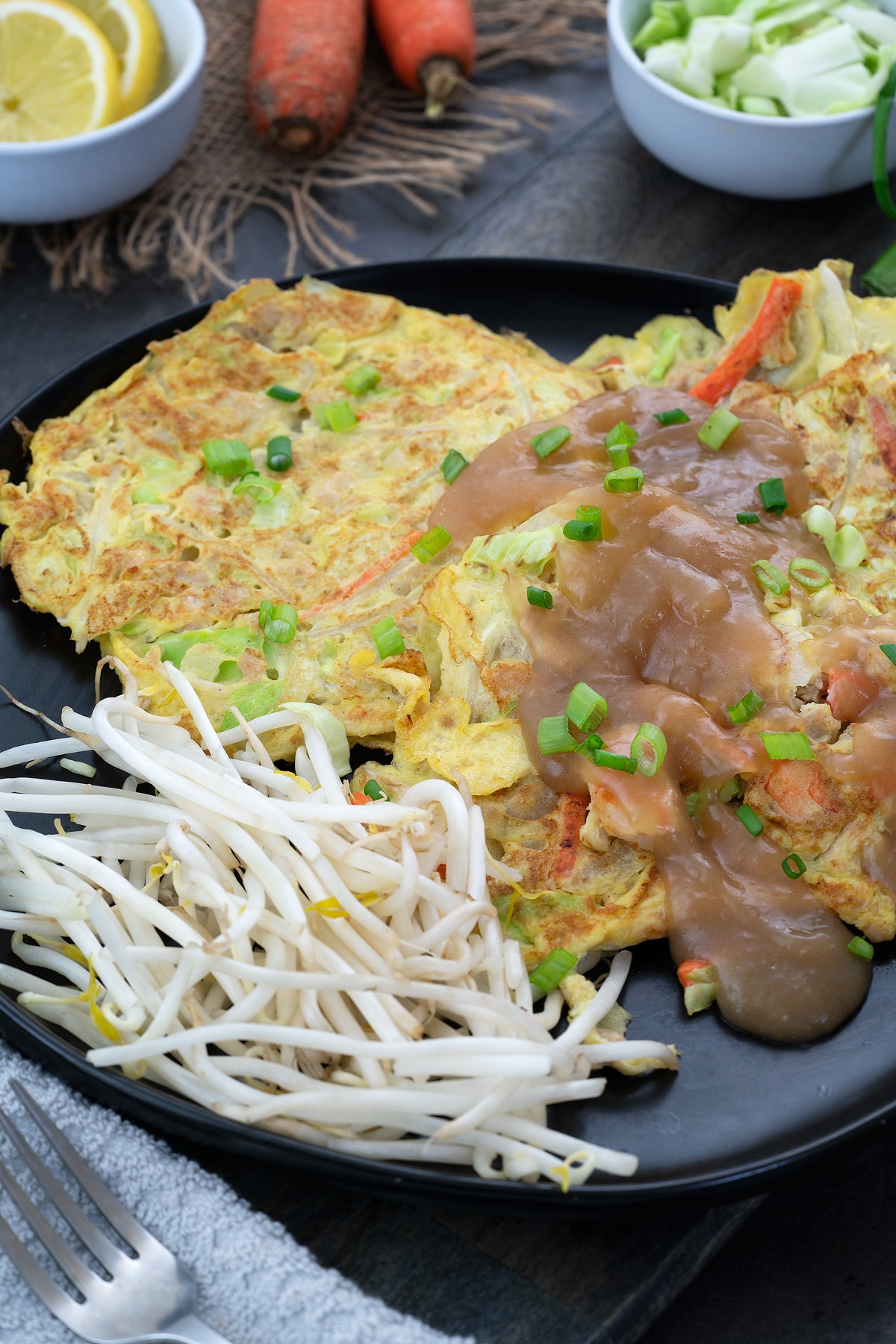 Jump to:
Legend has it that Chinese-American chefs are the brains behind this genius dish, which has been served up under many aliases—egg fooyung, egg foo yong, or egg fu young. No matter the name, it's the taste that has people coming back for more.
Explore Additional Chinese Delicacies:
Ingredients and Substitutions Overview
To make Egg Foo Young, gather these basic ingredients below from your nearest Asian grocery store:
For Gravy: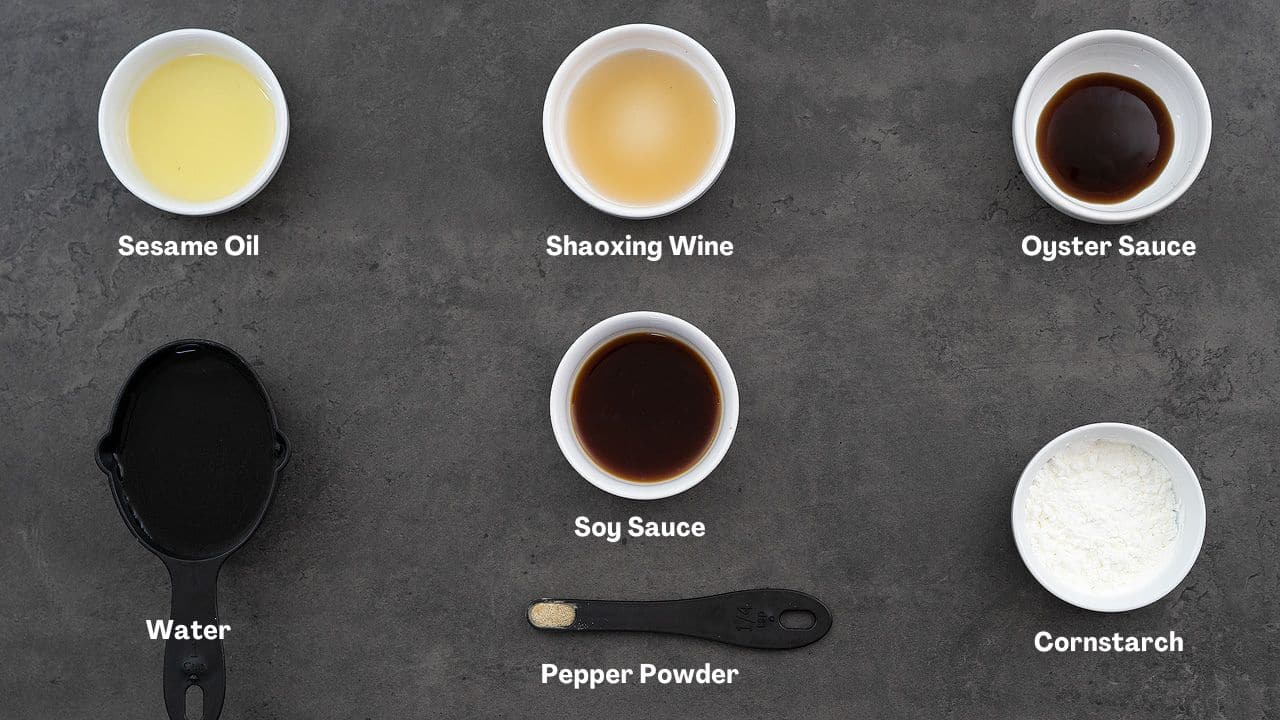 Cornstarch: The cornerstone for achieving that impeccably thick and smooth gravy.
Soy and Oyster Sauces: These sauces are the heart of the dish, delivering deep, authentic Chinese flavors.
Water or Broth: Opt for broth over water to infuse your gravy with an added dimension of taste.
Shaoxing Wine: This Chinese cooking wine offers a subtle yet complex flavor foundation.
Sesame Oil: Just a drizzle adds a distinctive, earthy aroma to your dish.
White Pepper: A pinch brings a mild heat, with black pepper available as a bolder alternative.
For Egg Foo Young: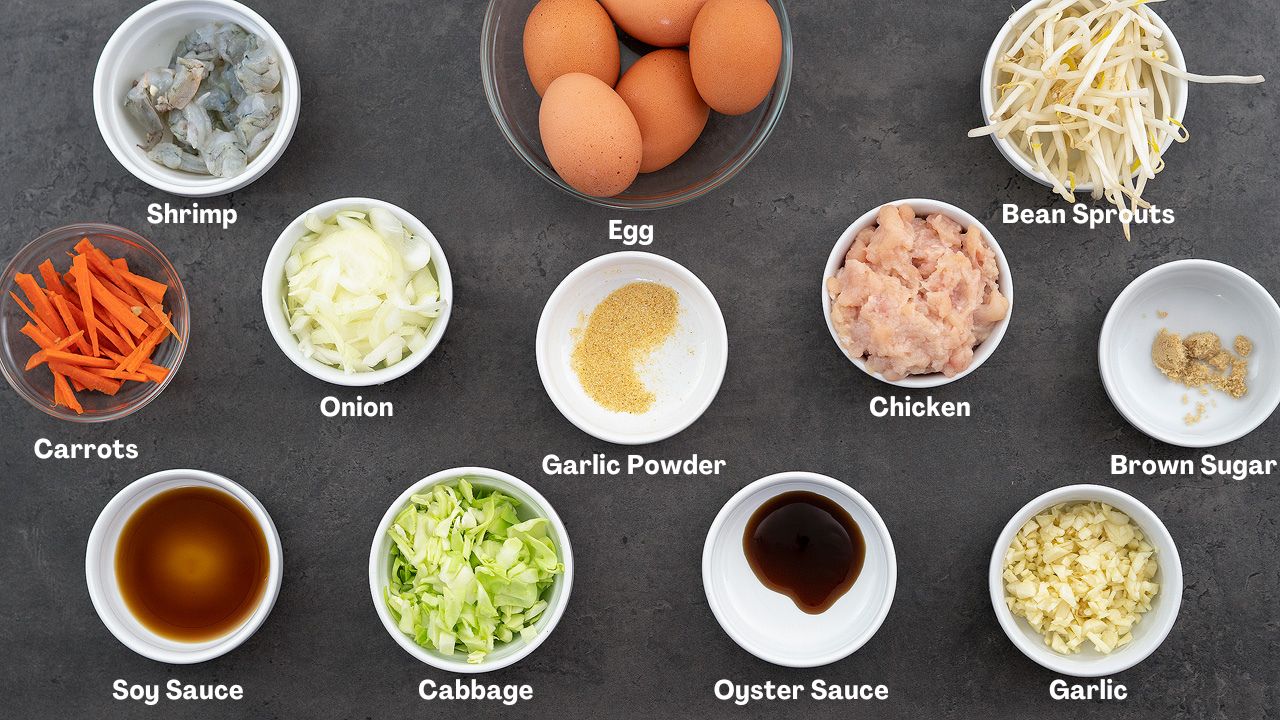 Egg: Choose any eggs you have on hand, white or brown, as your base.
Fillings: Customize with a variety of veggies and proteins such as chicken, shrimp, or pork to suit your taste.
Sauces: A trio of soy sauce, oyster sauce, and Shaoxing wine ensures an authentic flavor experience.
Seasonings: Simple yet essential, salt, pepper powder, and garlic powder round out the flavors.
How to make Egg Foo Young?
Follow the steps below, with detailed photos and a supportive video for each stage: Marinating, Gravy Preparation, Cooking the Fillings, and finally, Crafting the Egg Foo Young itself.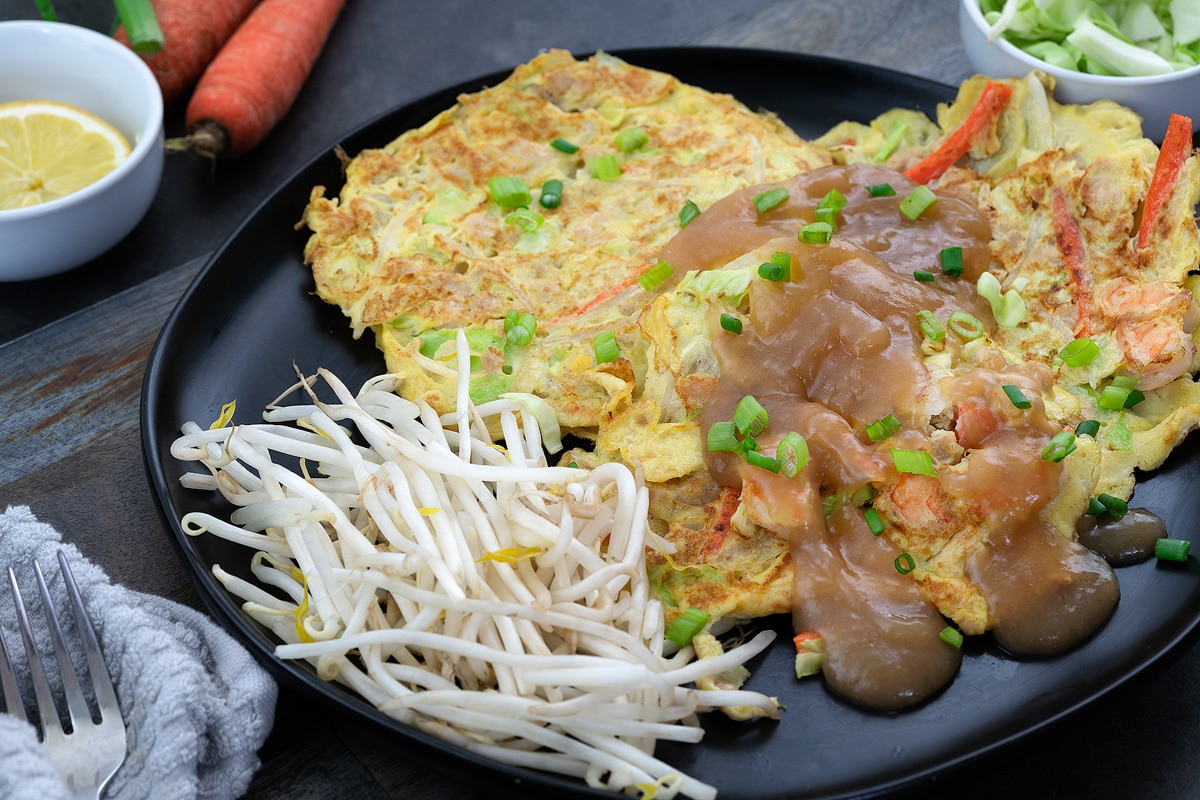 Discover More Egg and Omelet Varieties: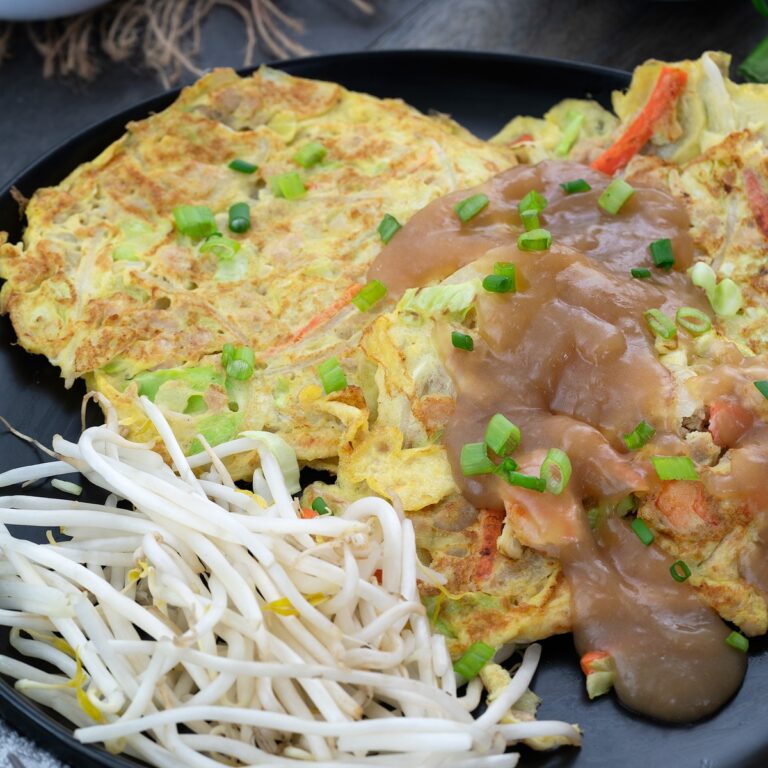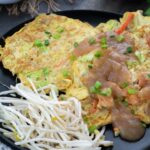 Egg Foo Young (Chinese Omelette)
Dive into the savory world of Egg Foo Young, a Chinese omelet brimming with veggies, your choice of chicken or shrimp, and smothered in a rich brown gravy. Perfect as a hearty main with rice or a tantalizing appetizer with gravy for dipping.
Subscribe
print (text-only)
email
pin
review
save
saved!
Ingredients
To Marinate Chicken
3

tbsp

Chicken

,

minced

½

tsp

Garlic Powder

¼

tsp

Pepper Powder

½

tsp

Brown Sugar

1

tsp

Soy Sauce

1

tsp

Oyster Sauce
To Marinate Shrimp
5

Shrimp

,

cleaned and cut

½

tsp

Salt

¼

tsp

Pepper Powder
For Gravy
2

tbsp

Cornstarch

1

cup

Water

,

or Chicken Broth

1

tsp

Soy Sauce

1

tsp

Shaoxing Wine

1

tbsp

Sesame Oil

1

tsp

Oyster Sauce
Other Ingredients
1

tsp

Oil

2

tbsp

Garlic

,

minced

5

Egg

¼

tsp

Pepper Powder

Salt

,

As needed

2

tbsp

Onion

2

tbsp

Cabbage

2

tbsp

Carrot

2

tbsp

Bean Sprouts

Green Onions

,

to garnish
More on Unit Conversions »
Instructions
Marinating
In a bowl, combine the minced chicken with garlic powder, pepper powder, brown sugar, soy sauce, and oyster sauce

Mix thoroughly to marinate ensuring the chicken is well-coated with the seasoning.

In a separate bowl, toss with salt and pepper powder, mix well, and set it aside for later use.
Gravy Preparation
Combine cornstarch, water, soy sauce, Shaoxing wine, oyster sauce, and sesame oil in a bowl.

Whisk the mixture smoothly to prevent any lumps.

In a pan over medium heat, cook the mixture, stirring continuously, until it thickens to your liking.

Once thickened, take the gravy off the heat and set aside for later. If it thickens upon cooling, gently reheat it before serving to restore its pourable consistency.
Cooking the Fillings
Heat oil in a pan over medium heat and sauté garlic until fragrant.

Stir in the marinated chicken and cook until it's no longer pink.

Add the marinated shrimp, cooking until they're just pink. Set aside the prepared fillings for later.
Making Egg Foo Young
Beat eggs in a bowl with pepper and salt.

Mix in onions, cabbage, carrots, bean sprouts, and the pre-cooked chicken and shrimp.

Heat oil in a pan, pour in the egg mixture, and cook until the edges set, shaping into pancakes if desired.

Flip the omelet and cook for another minute, then remove from heat.

Serve the omelet topped with bean sprouts, warmed gravy, and a sprinkle of spring onions.
To Serve
Enjoy the rich taste of Egg Foo Young over steamy white rice for a fulfilling main dish, or dip it in its savory gravy for a tempting appetizer.
Chef's Notes and Tips
Pan Fry or Oil Fry: The restaurant-style Egg Foo Young is usually deep-fried in oil, but the recipe shared here is a homestyle pan-fried version. But you can always feel free to deep fry the omelet as well
Fillings: This Chinese Omelette is a super customizable dish and you can use pork, shrimp, chicken, veggies, or other seafood options that are handy for you
Gravy: Even though gravy is served in most Chinese restaurants, you could also make this omelet without the gravy and enjoy them like a regular omelet
Chicken-Only Tip: Boost your Chicken Egg Foo Young by marinating and pan-frying 5 tablespoons of chicken. Skip the shrimp and feel free to use small chicken chunks instead of ground meat. Continue with the recipe as is.
Shrimp-Only Tip: For a shrimp-centric dish, bypass the chicken. Use 10 large or jumbo shrimp, or ¾ cup of baby shrimp for 5 eggs. Marinate, stir-fry with ginger and garlic until pink, then follow the remaining recipe steps.
Nutrition Info
Serving:
1
omelette
|
Calories:
145
kcal
|
Carbohydrates:
7
g
|
Protein:
8
g
|
Fat:
9
g
|
Saturated Fat:
2
g
|
Polyunsaturated Fat:
3
g
|
Monounsaturated Fat:
4
g
|
Trans Fat:
0.03
g
|
Cholesterol:
172
mg
|
Sodium:
510
mg
|
Potassium:
144
mg
|
Fiber:
1
g
|
Sugar:
1
g
|
Vitamin A:
1379
IU
|
Vitamin C:
3
mg
|
Calcium:
40
mg
|
Iron:
1
mg
Disclaimer: We're not nutrition experts. Nutritional info is estimated and should be used as a guide. For precise details, consult a professional.
Storage Suggestions
Egg Foo Young is most delightful served warm. Aim to prepare it fresh. If you have leftovers, the gravy may thicken—reheat gently to return it to a pourable consistency before serving.
Serving Suggestions
Enjoy your Egg Foo Young alongside hot white rice or fried rice for a satisfying meal. Alternatively, use the rich gravy as a dipping sauce to turn the omelet into a delightful appetizer.