Enjoy the flavors of Tamagoyaki, a delightful Japanese omelette that's both sweet and savory. This light and fluffy rolled egg dish is seasoned simply with soy sauce and sugar, and it can be customized with your favorite fillings such as veggies, meat, or seafood.
Tamagoyaki, meaning "grilled egg," is a versatile meal that fits perfectly into your breakfast routine, serves as a unique sushi topping, or adds a special touch to your bento lunch boxes.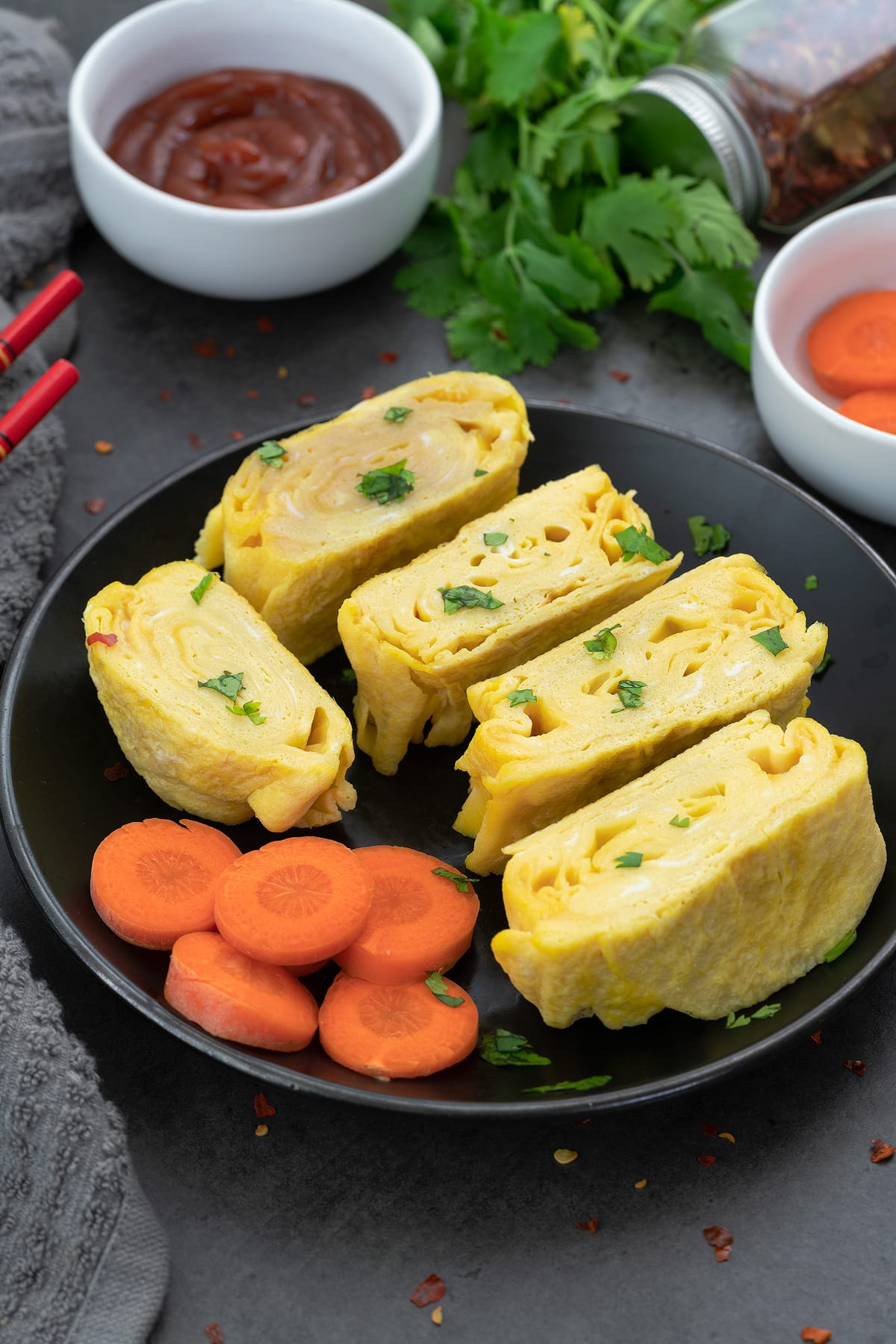 Jump to:
Crafting Tamagoyaki involves rolling layers of cooked egg into a log shape and slicing it to reveal its appealing layers. It's a hit with both kids and adults for its delicious taste and is commonly cooked in a special rectangular pan for that classic shape. But don't worry—if you don't have one, your regular frying pan works great too.
Enjoy creating your own Tamagoyaki at home—a delightful accompaniment to rice and your favorite Teriyaki Chicken or Salmon, completing a perfect homemade bento-style meal. Let's get cooking!
More Egg Favorites:
Ingredients and Substitutions Overview
For your Tamagoyaki, you'll just need a few basic ingredients that you can easily pick up at your local grocery store.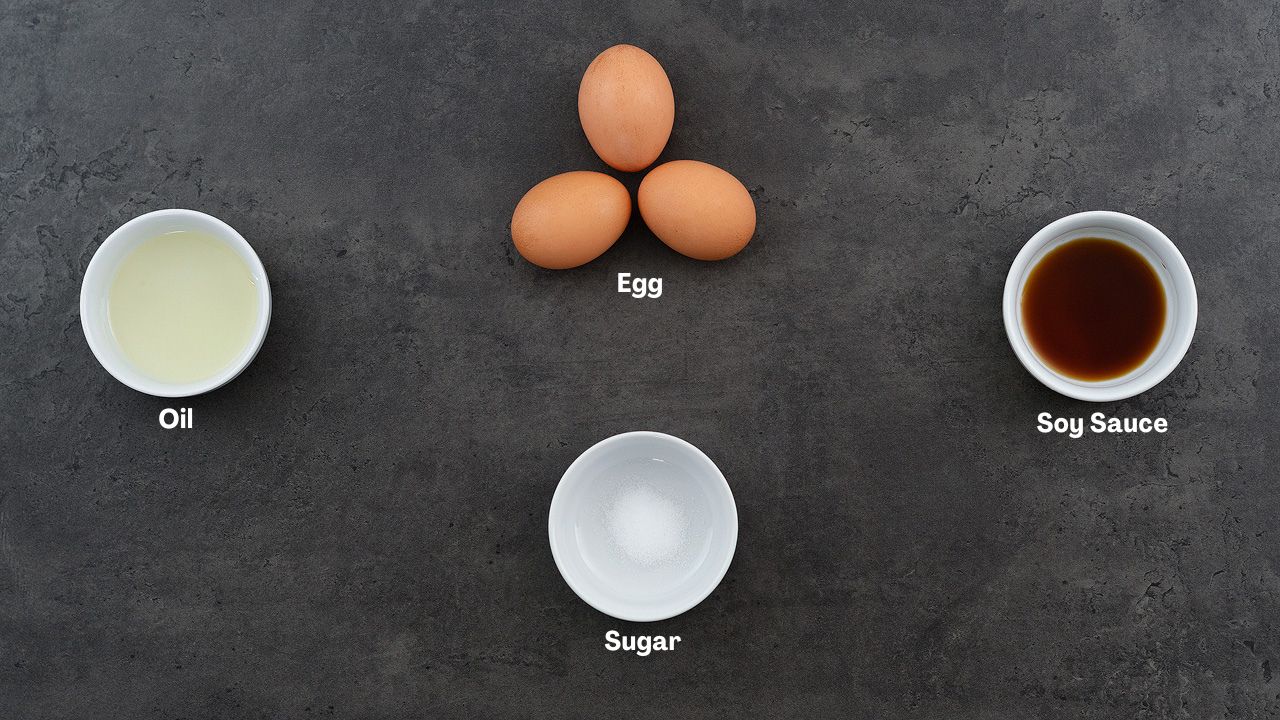 Eggs: Choose any kind you like—organic, brown, or white. Six eggs will make about 2 servings, but adjust as needed.
Soy Sauce: Just a teaspoon to add that umami flavor.
Sugar: To sweeten the omelette slightly. Alternatively, use mirin for a richer flavor.
Oil: To grease the pan before cooking.
More Japanese Favorites:
How to make Tamagoyaki?
While traditionally made with a special Tamago pan, I've used a common circular nonstick frying pan and achieved beautifully layered and shaped results. Follow along with the photos and video for each step to see how you can recreate this classic dish at home with ease. Let's roll into the recipe steps!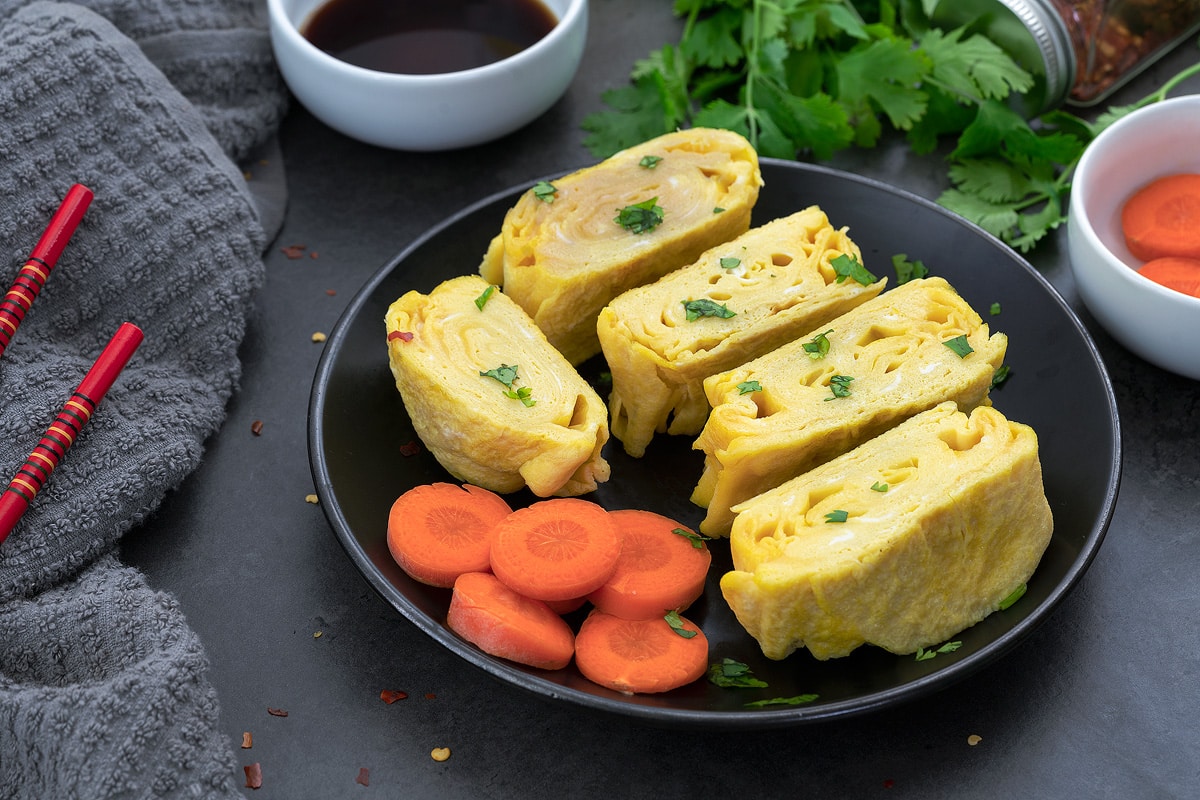 Best Collection of Omelette Recipes: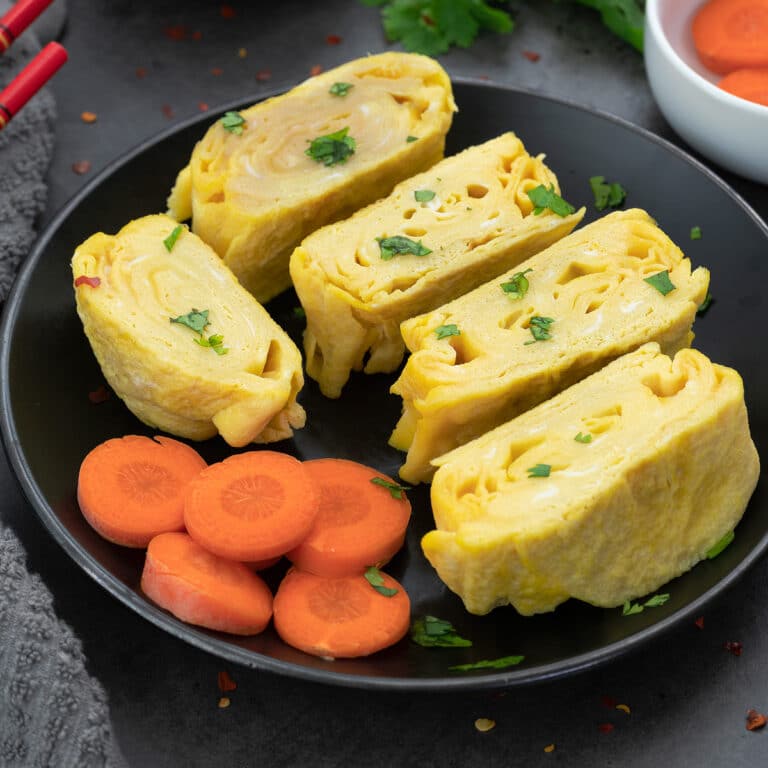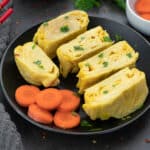 Tamagoyaki (Japanese Omelette)
Indulge in Tamagoyaki, the Japanese Rolled Omelette that blends sweet, savory, and light textures. Seasoned with soy sauce and sugar and customizable with fillings like veggies or seafood, it's a versatile dish. Enjoy it for breakfast, as a sushi rice topper, or as a delightful bento box side.
Subscribe
print (text-only)
email
pin
review
save
saved!
Ingredients
6

Egg

1

tsp

Soy Sauce

¼

tsp

Sugar

,

or as needed

1

tsp

Oil

,

for rubbing the pan
More on Unit Conversions »
Instructions
To make Tamagoyaki
Crack the eggs into a mixing bowl. Whisk vigorously until frothy for a light, airy texture.

Blend in soy sauce and sugar with the eggs for a perfect balance of umami and sweetness.

Lightly oil a pan with a folded paper towel or cloth. Warm it over medium heat.

Gently pour a thin layer of the egg mixture into the pan. Tilt the pan to cover the bottom evenly.

As soon as the bottom firms up but the top remains moist, roll the egg from one side of the pan to the other, creating a log.

Brush the pan with a bit more oil using a folded paper towel or a piece of cloth, then gently slide the rolled omelette towards the edge of the pan farthest from you.

Add another thin pour of egg, allowing it to sneak underneath the roll. This bonds the layers.

Wait for the new layer to set, then roll again. Keep adding and rolling until all the egg is used.

Once you've got a nice roll, take it off the heat. Let it cool for a moment on a cutting board for easier slicing.

Slice your Tamagoyaki into neat rounds. Now it's ready to be savored, bite by delightful bite!
To Serve
Enjoy Tamagoyaki for a delightful breakfast treat or include it as a savory side in your bento box lunch.
Chef's Notes and Tips
Shape & Pan: A Tamagoyaki pan is best for perfect rolls, but a round nonstick pan can also do the job well.
Heat Evenly: Preheat your pan to a medium setting and keep the temperature consistent for even cooking.
Oil Generously: Even with a nonstick pan, apply oil to each layer to ensure your omelette doesn't stick.
Smart Oiling: Use folded paper towel or cloth dipped in oil to lightly grease the pan. This controls oil usage and keeps things healthier.
Flavor Balance: Soy sauce and sugar add that classic sweet-umami taste, but you can skip the sugar if you prefer it less sweet.
Variety: Feel free to add fillings like seaweed, veggies, or seafood to customize your Tamagoyaki to your taste.
Yield: Expect around five layers with a round frying pan, but switch to a rectangular tamagoyaki pan and you may craft additional layers for an even more authentic touch.
Nutrition Info
Serving:
1
serving
|
Calories:
208
kcal
|
Carbohydrates:
1
g
|
Protein:
17
g
|
Fat:
15
g
|
Saturated Fat:
4
g
|
Polyunsaturated Fat:
3
g
|
Monounsaturated Fat:
6
g
|
Trans Fat:
0.1
g
|
Cholesterol:
491
mg
|
Sodium:
646
mg
|
Potassium:
189
mg
|
Fiber:
0.03
g
|
Sugar:
1
g
|
Vitamin A:
713
IU
|
Calcium:
75
mg
|
Iron:
2
mg
Disclaimer: We're not nutrition experts. Nutritional info is estimated and should be used as a guide. For precise details, consult a professional.
Storage Suggestions
Tamagoyaki can be kept fresh in the fridge for up to two days when stored in a sealed airtight container. For longer storage, it's freezer-friendly and will remain tasty for about a week. When you're ready to enjoy it again, simply thaw it in the fridge overnight or quickly defrost in the microwave.
FAQ
Is a Tamagoyaki Pan necessary to make this omelet?
You don't necessarily need a Tamagoyaki pan to make this omelet. While the traditional recipe is made with a rectangular Tamagoyaki pan, which helps to create a thick, log-shaped omelette, a regular nonstick round pan can also work well. Keep in mind that using a round pan may result in a flatter shape, so if you're going for authenticity in appearance, a smaller round pan is preferable to help maintain a more rolled shape.
What are the different varieties of Tamagoyaki?
Tamagoyaki comes in various styles, with the basic version being a great start for beginners. But in Japan, this rolled egg omelette can vary:

Atsuyaki Tamago: A thicker, denser version that's similar to a firm grilled egg.

Dashimaki Tamago: A softer, moister roll infused with the flavors of dashi, a fundamental Japanese stock.

Beyond these types, Tamagoyaki can be customized with a variety of fillings like seaweed, grated vegetables, seafood (such as shrimp and salmon), or proteins including chicken, tofu, and minced meats, adding even more diversity to this versatile dish.