Enjoy a quick and nutritious start to your day with a spinach omelet! Ready in just 15 minutes, this simple recipe is perfect for a protein-packed breakfast or brunch. Ideal for those on a keto diet or anyone looking to shed some pounds, this tasty low-carb dish is both satisfying and health-friendly.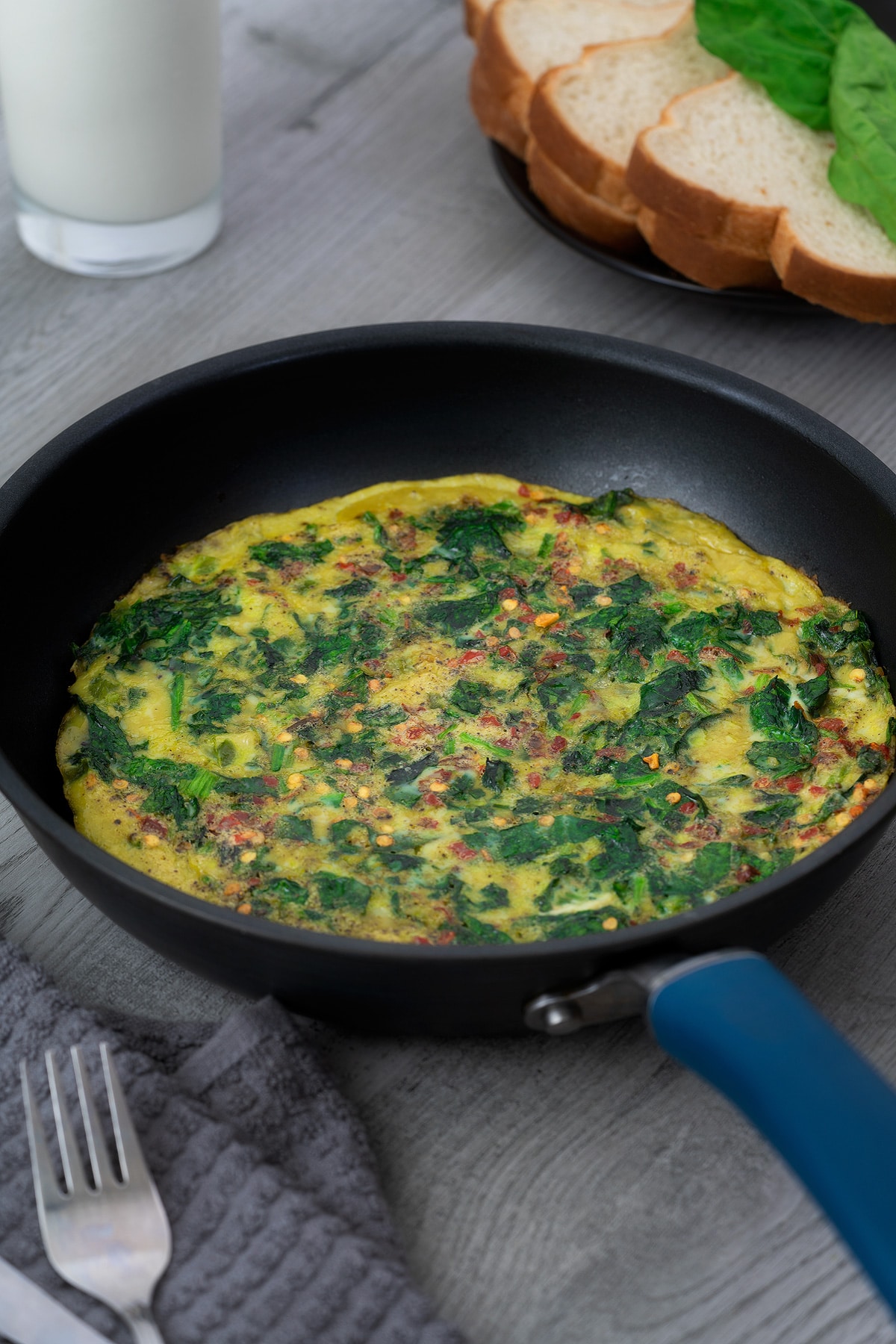 Jump to:
Discover More Egg Omelet Delights:
Ingredients and Substitution Overview
Here's a user-friendly list of ingredients for making a spinach omelet, along with some versatile options to cater to what you have on hand:
Eggs: Choose from white, brown, or omega-3 enriched for added health benefits.
Spinach: Try fresh Savoy or other types like smooth-leaf, Indian summer (palak), Malabar, or semi-savoy.
Chili Flakes: Red chili flakes for mild heat, or green chilies for more kick.
Pepper Powder: It brings spice and flavor; adjust according to the heat from chilies.
Garlic: Use minced garlic for fresh flavor or garlic powder for convenience.
Bell Pepper (optional): For extra crunch in your omelet.
Olive Oil: Healthy and rich in antioxidants, or use ghee, butter, or your oil of choice.
Feel free to swap out ingredients to suit your taste and availability.
How to make Spinach Omelette?
Dive into the step-by-step guide below, complete with vivid photos and a helpful video, to whip up a delicious spinach omelet. It's a breeze to prepare, perfect for beginners and seasoned cooks alike!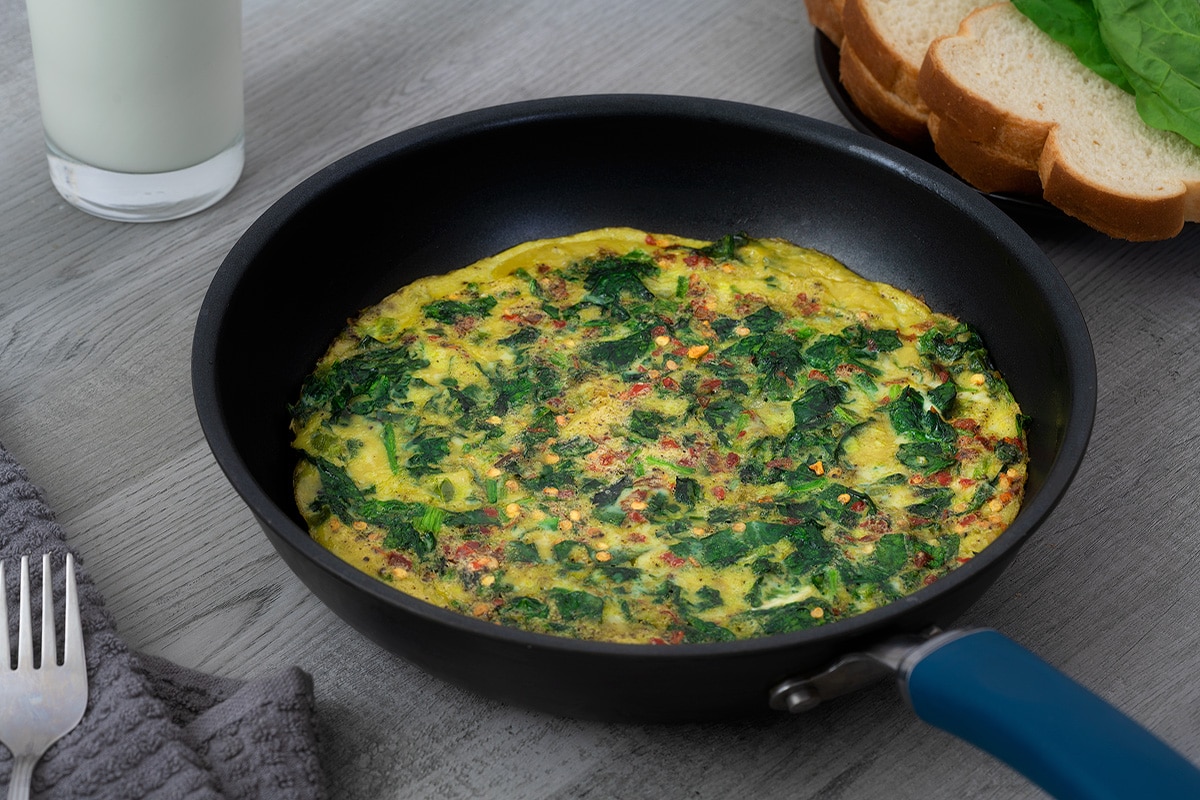 Savor More Spinach Delights: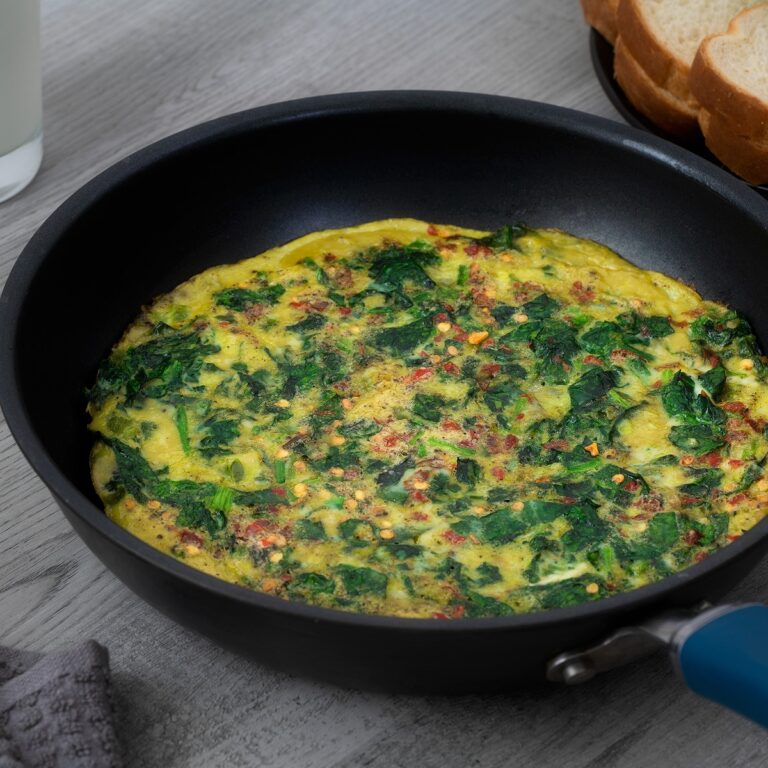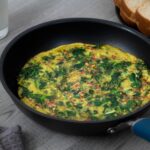 Spinach Omelet
A spinach omelet is a nutritious and delicious option for breakfast or brunch, packed with protein and vitamins. It's simple to prepare with fresh spinach and eggs, aligning well with keto and weight-loss diets. Enjoy it with additional veggies, toast, or by itself for a satisfying meal.
Subscribe
print (text-only)
email
pin
review
save
saved!
Ingredients
5

Eggs

1

cup

Spinach leaves

,

tightly packed

¼

cup

Green Bell Pepper

1

tbsp

Garlic

,

minced

2

tbsp

Olive Oil

1

tsp

Pepper Powder

1

tsp

Chili Flakes

Salt

,

as needed
More on Unit Conversions »
Instructions
To prepare Spinach Omelet
Crack the eggs into a mixing bowl, and season with pepper powder, chili flakes, and salt.

Whisk the eggs and spices vigorously until the mixture becomes frothy. Then, set it aside.

Place a pan on medium heat, pour in some oil, and add garlic, sauté until it turns aromatic.

Add the bell peppers into the pan and continue to sauté until they're tender.

Mix in the chopped spinach leaves, allowing them to wilt within the mixture.

Pour the beaten eggs into the pan, ensuring they're evenly distributed. Allow them to cook without stirring for about 2 minutes, or until the edges begin to brown slightly.

Cover the pan with a lid and allow the omelet to cook through on low heat for approximately 3 minutes.

Remove the lid, and your delicious spinach omelet is now ready to be savored.
To Serve
Enjoy the nutritious and flavorful Spinach Omelet on its own, or serve with bread, chapati, or rice for a more filling meal.
Chef's Notes and Tips
Use a non-stick or seasoned cast-iron pan to ensure your omelet doesn't stick.
Whisk the eggs well until frothy to achieve a fluffy texture that makes for a spongy, enjoyable bite.
Briefly wilting the spinach before adding it to the mix helps to prevent a watery omelet, resulting in a juicy and flavorful dish.
Stick to a simple cooking method without the need for tilting or shaking the pan, and you'll create an omelet that can rival the offerings of a fancy restaurant.
Although olive oil is my go-to, butter, ghee, or other cooking oils are also excellent options.
Spinach is a great starting point, but feel free to explore with mushrooms, cheese, chives, or asparagus to add variety to your omelet.
Nutrition Info
Serving:
1
serving
|
Calories:
200
kcal
|
Carbohydrates:
3
g
|
Protein:
10
g
|
Fat:
17
g
|
Saturated Fat:
4
g
|
Polyunsaturated Fat:
3
g
|
Monounsaturated Fat:
10
g
|
Trans Fat:
0.03
g
|
Cholesterol:
273
mg
|
Sodium:
124
mg
|
Potassium:
216
mg
|
Fiber:
1
g
|
Sugar:
1
g
|
Vitamin A:
1855
IU
|
Vitamin C:
14
mg
|
Calcium:
60
mg
|
Iron:
2
mg
Disclaimer: We're not nutrition experts. Nutritional info is estimated and should be used as a guide. For precise details, consult a professional.
Explore Our Variety of Egg Recipes:
Serving Suggestions
Enjoy your Spinach Omelet solo or elevate the meal with these serving ideas:
Complement it with sautéed mushrooms or a sprinkle of your favorite cheese.
Serve alongside a slice of toasted bread for added crunch.
For a twist, scramble the omelet and wrap it in a roti or your preferred flatbread for a satisfying, on-the-go breakfast.
Variations
Here are some tasty twists on the classic spinach omelet to keep your meals exciting:
Cheesy Spinach Omelet: Stir in 2 teaspoons of your favorite cheese for a richer, more satisfying dish. Just use cheese sparingly to keep it healthier if you're watching your fat intake. Ideal for those focused on weightlifting or weight management, it's a protein-packed option to fuel your day.
Mushroom Spinach Omelet: Elevate your omelet with mushrooms for an extra boost of protein, fiber, and antioxidants, making your breakfast not only more substantial but also more nutritious.
Egg White Spinach Omelet: For an even lighter version, go for just egg whites when preparing your omelet, cutting down on calories without sacrificing the health benefits.
Veggie-Packed Spinach Omelet: Toss in a medley of your favorite vegetables like tomatoes, artichokes, onions, asparagus, carrots, or avocados to add color, flavor, and nutrients.
Meaty Spinach Omelet: For a heartier meal, add some ham, bacon, or any leftover meats. This not only brings a wonderful taste but also makes the omelet more filling and satisfyin
Benefits of Spinach
Spinach is a powerhouse of nutrition and incorporating it into your meals can offer numerous health advantages. According to Healthline,
Supports heart health with its rich folate content.
Provides omega-3 fatty acids, essential for overall well-being.
Packed with vitamin A for healthy skin.
Can alleviate acid reflux.
High in fiber, preventing constipation.
Contains vitamins A, C, and protein that promote hair growth.
Vitamin B6 and magnesium in spinach aid in regulating a healthy sleep cycle.
Possesses antioxidants and anti-inflammatory properties that might help combat cancer.
Helps regulate blood pressure.
Aids in weight management and much more.
FAQ
Is a spinach omelet suitable for a keto diet?
Definitely. The spinach omelet recipe provided is low in carbs and high in fats and protein, making it ideal for keto. As always, check with a nutritionist before changing your diet plan.
What is the best cheese for Spinach Omelet?
The ideal cheese for a spinach omelet depends on personal taste, but feta, goat cheese, cheddar, blue cheese, and Parmesan are popular choices for their distinct flavors and textures. Swiss, Gruyère, Comté, and Beaufort are also great for a meltier omelet. Experiment to find your favorite!