Spinach omelet or omelette is a healthy, nutritious, and wholesome breakfast or brunch dish. It is prepared with minimal ingredients that make this spinach omelet recipe easy to make and under 15 minutes. The Spinach omelet recipe that I have shared here is a basic omelet that is perfect for breakfast, lunch, or any time of the day. And this is a low-carb egg dish that is keto-friendly and good for weight loss.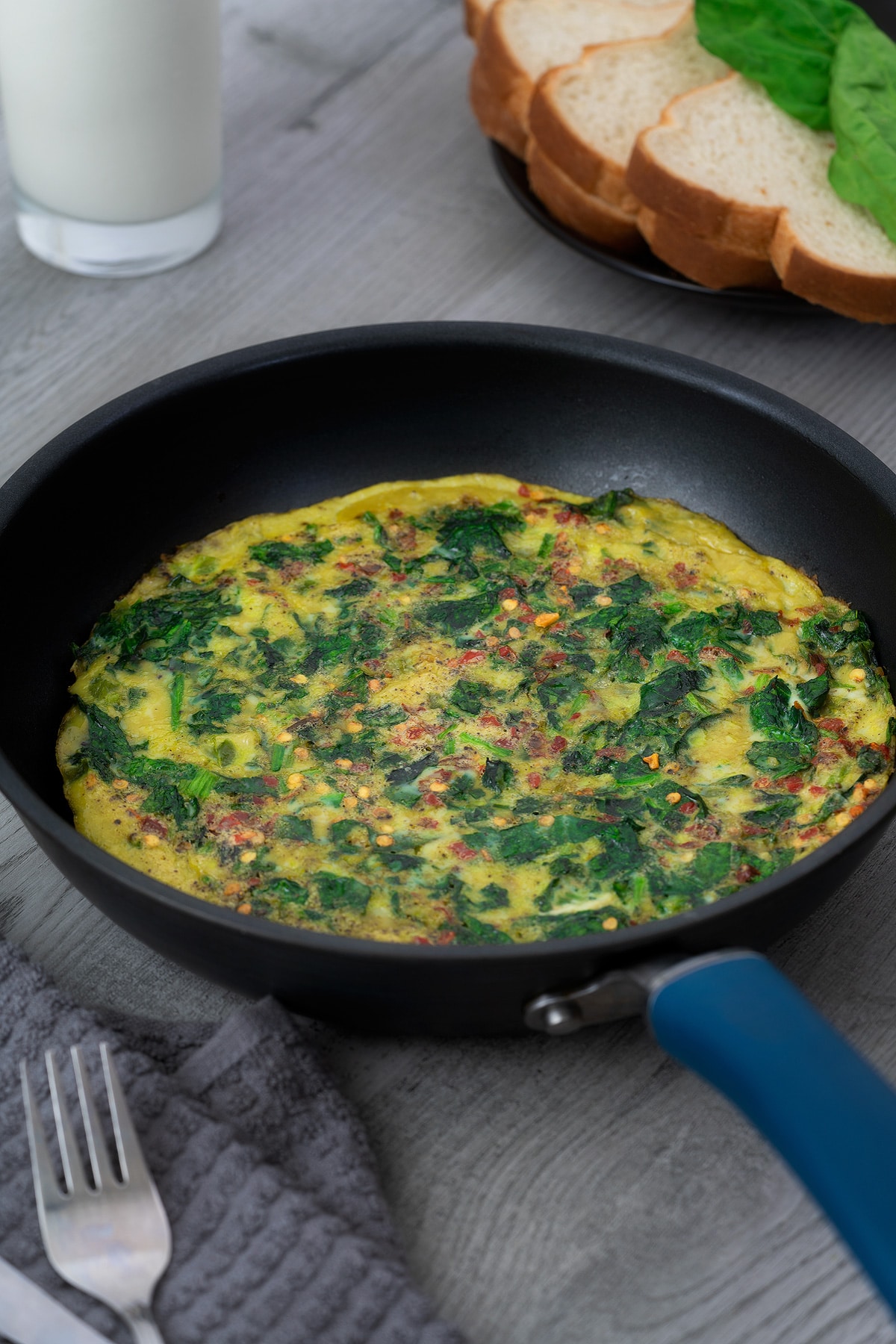 Jump to:
What is Spinach Omelet?
Spinach omelet is a healthy, protein-rich, and delicious breakfast, or brunch dish. It is a typical omelet filled with spinach as the main filling. This spinach omelet is one of the healthiest variations that give tons of benefits to our body. It is not only healthy but also tastes delicious and is an easy-to-make dish. And it is also one of the best food to consider especially when you are on a weight loss journey.
Ingredients
The ingredients required to make this spinach omelet are simple and it should be easily available in the food markets around. If not, don't worry:) I have also got alternatives if some ingredients are not really handy for you!
Eggs - I have used standard brown eggs and you can also use white, brown, or organic eggs according to your preferences. To make it extra healthier you can also use omega 3 eggs.
Spinach - I have used fresh Savoy Spinach leaves here and you could also use other varieties like smooth leaf spinach, Indian summer(palak keerai), Malabar Spinach, semi savoy Spinach, and similar others
Chili Flakes - Red Chili flakes give moderate heat to the omelette but you can also use green chilies to increase the heat
Pepper Powder - It gives a nice flavor, taste, and spice to the dish. But if you choose to add green chili to the omelet then feel free to decrease the pepper powder to decrease the spice level
Garlic - Adding minced garlic gives a nice flavor to the spinach omelette and you can also substitute it with garlic powder
Bell Pepper - This is totally an optional ingredient but it adds a slight crunchiness to every bite of your omelet
Olive Oil - It is one of the healthy oil that has a large number of antioxidants, monosaturated fats, and a lot more health benefits. You can also use ghee, butter, and other cooking oil of your choice
How to make Spinach Omelette?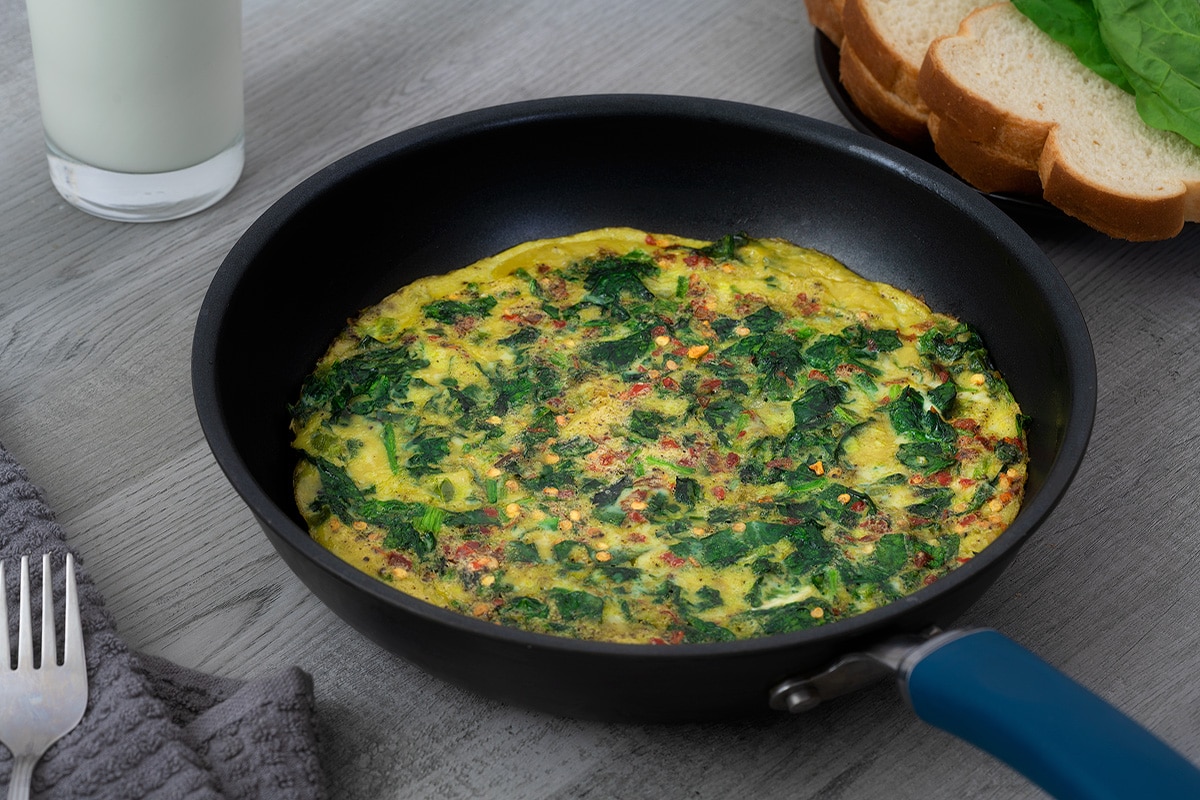 The recipe shared here is a simple yet healthy spinach omelet with basic ingredients and it serves 3 people. So let us see in this part how to make/prepare this delicious one-pan spinach omelet easily at home.
To make this Spinach Omelet,
Crack open the Eggs - first, grab all the ingredients, and start with opening the eggs into a bowl
Add in the Seasoning and Whisk - add the chili flakes, pepper powder, salt, and whisk until it turns frothy, and keep it aside
Saute Garlic - Now in a pan with medium heat, pour in the oil and saute the garlic until it turns aromatic
Add in Bell Pepper - Once they are aromatic, add in the bell peppers and saute until it turns slightly soft
Mix in the Spinach - After that, add the fresh spinach leaves and wilt for 2 to 3 minutes
Pour in the Egg - Once they are done, pour the frothy egg into the spinach mixture
Cook the Egg - Allow the eggs to cook for 2 minutes until you see the sides turning light brown
Close and Cook - Now close the pan with the lid, and cook the egg for about 3 to 5 minutes in low heat
Serve - Open the lid and now the spinach omelet should be ready for you to taste and enjoy. Slice and serve it with bread toast or with your favorite breakfast
Variations
Spinach Omelet with cheese - To make this variant, just add 2 tsp of your favorite cheese to your spinach omelet to turn it into a filling meal.
Always make sure to add a minimum quantity of cheese to cut back the fat in the dish. This spinach cheese omelet is the perfect meal especially for those who are into weight lifting or weight loss journey. And it gives the protein that is much needed for their body to keep them full and satisfied.
Spinach Omelet with mushroom - Adding mushrooms to spinach omelets is not only healthy, but is also a great way to add protein, fiber, and antioxidants to your morning breakfast
Egg White Spinach Omelet - You can also use only egg white to make spinach omelet to make a healthy version
Veggies - Add in your favorite veggies like tomato, artichoke, onion, asparagus, carrots, and avocados to your dish
Ham And Bacon - Adding in some ham and bacon and some leftover meat that gives a nice flavor and taste to your Spinach Omelet. It makes your omelet delicious, healthy, and of course, keeps you full.
What is the best cheese for Spinach Omelet?
When it comes to cheese omelets there are a lot of cheese varieties that go well with the dish. Even though there are so many cheese options, you can always feel free to add your favorite one. Or if you are like me, who loves to try something new, I have shared some of the cheese varieties below to explore and try at your home.
Feta - It is a soft white cheese made from sheep's milk
Goat Cheese - It is similar to feta cheese but it is typically made from goat's milk. But both the cheeses are similar in a creamy texture
Cheddar, Blue Cheese - These are salty, strong in flavor, and have a high melting point. If you would like to add a sharp punch to your omelets then these cheeses are the best bet. You could also use medium cheddar that is mildly flavored compared to mature ones
Parmesan - It is an Italian cheese that is hard, and granular in texture. Grate or stir this cheese into your omelet along with your favorite veggies
Swiss Cheese, Gruyère, Comté, Beaufort are some of the other cheese varieties that go well for an omelet recipe
Is spinach omelet keto-friendly?
Yes, the spinach omelet recipe that I have shared here is a keto-friendly dish. I haven't used any high-carb ingredients, so this spinach omelet is naturally a keto dish. The ketogenic diet is nothing but a diet that should have high fat, protein, and low-carb food. The diet usually pushes the body to burn fat first than carbohydrates. Even though the omelet recipe shared here is a natural keto dish, it is always better to consult an expert before introducing or following any food diet into your lifestyle.
Benefits of Spinach
Did you know including spinach in your diet regularly gives a lot of health benefits to our body? Yes, it is one of the healthiest greens and it also easily adapts to most of the dishes that we make. Following are some of the benefits that one should never miss from this superfood. So according to experts and researchers,
Spinach is rich in folates that are good for heart health
High level of omega 3 fatty acid
Rich in vitamin A that is good for your skin
Helps in treating acid reflux
Rich in fiber and helps to avoid constipation
High level of vitamin A, C, and protein helps in hair growth
Vitamin B6 and magnesium regulates a healthy sleep cycle
Antioxidants and anti-inflammatory properties may help to fight cancer
Regulates blood pressure
Helps in weight loss and much more...(source: Healthline)
Isn't the list worth adding these beautiful greeny leaves into our diet? Indeed, it is. So never miss a bunch of spinach into your omelet, rice dishes, or any side dishes that you make next time.
Tips
The key to getting a perfect spinach omelet is to use the right amount of ingredients in the right way. And it is also important to use a good non-stick pan or well-seasoned iron pan to make non-sticky omelets.
We should always whisk or beat the eggs until it is nice and frothy to achieve a spongy omelet that everyone craves. And another important fact is wilting the spinach for few minutes avoids the omelet turning watery. Instead, it delivers a spongy, juicy, and tasty dish that is insanely good to start your day!
The spinach omelet recipe shared here does not require any tilting or shaking method which is a bonus and believe me it's really delicious than an expensive restaurant-style dish. And it definitely makes you try and enjoy it over and over again.
Serving Suggestions
This Spinach omelet recipe tastes absolutely great on its own, but you can also pair it with stirred mushroom, cheese, or bread toast of your choice. You can also make the same in scramble form and wrap it in roti or any other flatbreads that you love.
You could also find similar Omelette recipes below:
More Breakfast Recipes and Egg Recipes.
More spinach recipes:
Looking for more healthy breakfast recipes to kick start your day? then you might like this Collection of Indian Breakfast Recipes that keeps you geared to manage the rest of the day.
Spinach Omelet recipe video
I have also shared a detailed video of this spinach omelet recipe that I hope will help you to make/cook easily at home. For a quick reference, you could also find this recipe in story format.
📖 Recipe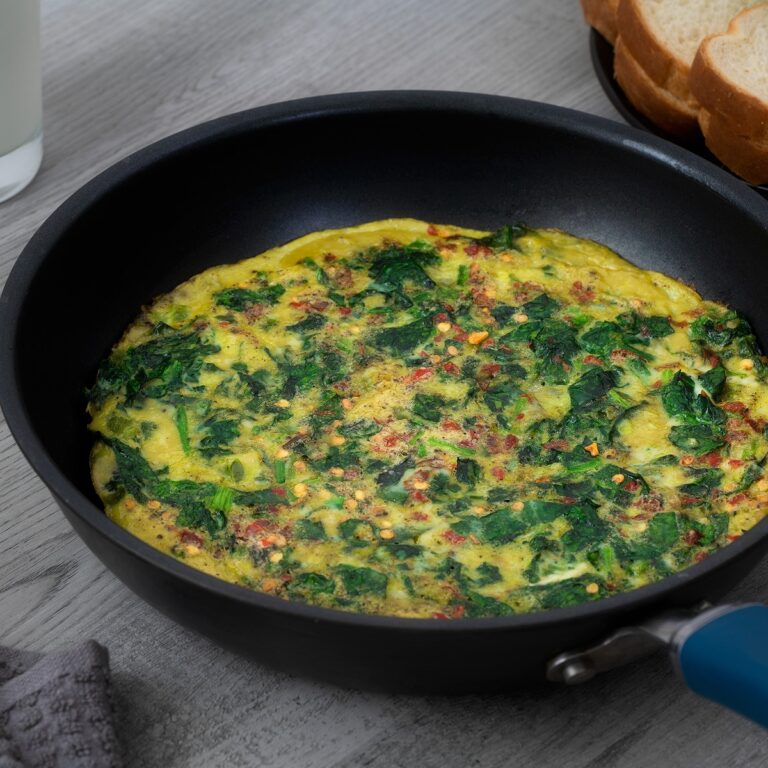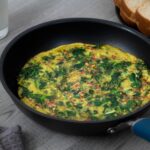 Spinach Omelet
Spinach omelet or omelette is a healthy, tasty, and easy-to-make breakfast or brunch dish. It is typically made with fresh spinach leaves and beaten eggs. This spinach omelette is loaded with protein, vitamins, and delivers a lot of health benefits. It is a perfect keto and weight loss-friendly dish that goes great with stirred veggies, toast, or just on its own.
Subscribe
print (text-only)
email
pin
review
save
saved!
Ingredients
5

Eggs

1

cup

Spinach leaves

,

tightly packed

¼

cup

Green Bell Pepper

1

tbsp

Garlic

,

minced

2

tbsp

Olive Oil

1

tsp

Pepper Powder

1

tsp

Chili Flakes

Salt

,

as needed
More on Unit Conversions »
Instructions
To prepare Spinach Omelet
In a bowl, add the eggs, pepper powder, chili flakes, and salt

Whisk the mixture until the egg turns frothy and keep it aside for later use

In a pan with medium heat, pour oil and add garlic and saute until it turns aromatic

Now add the bell peppers and saute until it turns soft

Add the chopped spinach leaves and allow them to wilt

Now pour the beaten eggs and slightly mix to even them. Allow the eggs to cook for 2 minutes or until you see slight brown color on its sides

Close the pan with a lid and cook the egg spinach mixture for about 3 minutes in low heat

Now open the lid and the spinach omelet is ready for you to taste and enjoy
To Serve
Serve this delicious and healthy Spinach omelet with bread, chapati, rice, or just as it is
Notes
Beating the eggs until frothy delivers fluffy and spongy omelets and I would recommend you the same to achieve the best results
Using a well-seasoned iron griddle or non-stick pan gives the best non-sticky omelet, so make sure to season the pan before making omelets
Even though I have used olive oil for making this spinach omelet, you can also use butter, ghee, and other cooking oils
I have used only spinach as a veggie ingredient but you can also use mushrooms, cheese, chives, asparagus for more variations
The ingredients used herein the recipe are low carb which makes this dish naturally a keto and weightloss friendly food
Nutrition
Serving:
1
serving
|
Calories:
200
kcal
|
Carbohydrates:
3
g
|
Protein:
10
g
|
Fat:
17
g
|
Saturated Fat:
4
g
|
Polyunsaturated Fat:
3
g
|
Monounsaturated Fat:
10
g
|
Trans Fat:
0.03
g
|
Cholesterol:
273
mg
|
Sodium:
124
mg
|
Potassium:
216
mg
|
Fiber:
1
g
|
Sugar:
1
g
|
Vitamin A:
1855
IU
|
Vitamin C:
14
mg
|
Calcium:
60
mg
|
Iron:
2
mg
FAQ
What is a spinach Omelet?
Spinach omelet is a healthy, tasty, and easy-to-make breakfast or brunch dish. The ingredients are basically spinach, eggs, and other seasonings that make a perfect keto and weight loss-friendly dish. This spinach omelet goes great with mushrooms, and other veggies as a side and also make a delightful meal with bread toast, rice, or flatbreads.
Is spinach omelet keto-friendly?
Yes, the recipe I have shared here does not use any high carb ingredients and it is a naturally keto-friendly dish. The recipe yields 3 servings and you could feel free to decrease the quantity to 1 serving if you are on a strict keto diet.
Is spinach omelet good for health?
Yes, spinach omelet is one of the healthiest food that is rich in protein, fiber, antioxidants, and vitamins. So including this dish in your diet is mostly a healthy and good option. You can also add ingredients like mushrooms, artichokes, carrots, and similar other veggies along with spinach to make your omelet even healthier.
Can I make a spinach omelet with cheese?
Yes, you can prepare/make a spinach omelet with cheese. To make this version add 2 tsp of your favorite cheese to your omelet and cook until it melts down. This variation is good for people who are in weight loss programs or weight lifting to keep them full for long hours.
I really hope you enjoyed the recipe that I have shared here and I would love to hear from you on how it turned out for you. Please let me know.
If you have any other questions, feel free to post them in the comment section below and I will try to get back to you as soon as possible.
Happy Cooking!