Master the art of making sunny-side-up eggs, the quintessential comfort food with silky whites and golden, flowing yolks. Simple ingredients, just eggs, a bit of oil or butter, and a pinch of seasoning, can create a home-cooked delight that enhances not only breakfast but also lunch or dinner.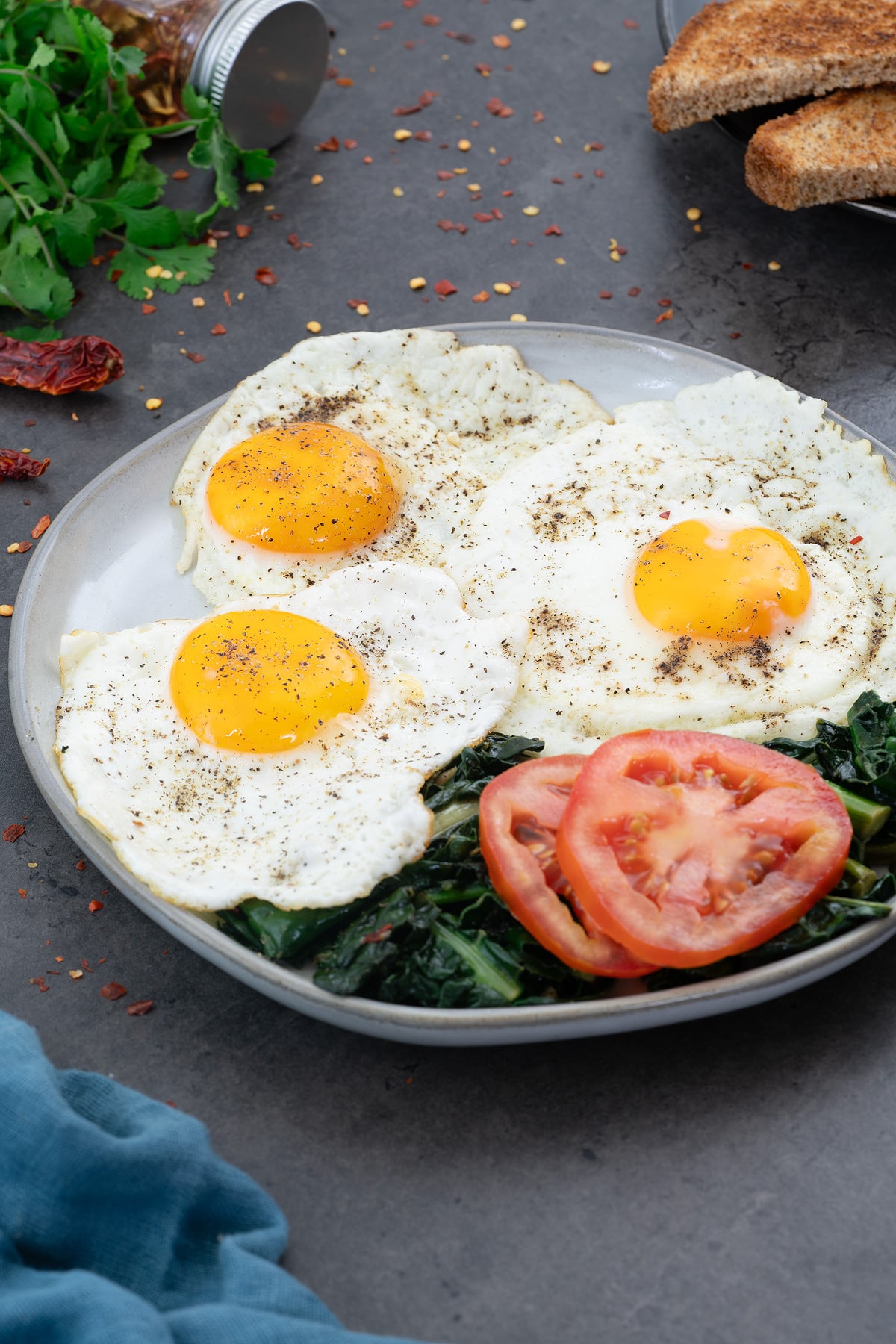 Jump to:
Sunny-side-up eggs, a beloved American staple, offer soft whites and runny yolks that go beyond breakfast, adding comfort to any meal. With their unique texture and flavor, mastering these eggs—with attention to heat, timing, and cookware—becomes a rewarding kitchen skill.
Explore More Egg Delights:
Ingredients and Substitutions Overview
The ingredients for making Sunny-side-up eggs are straightforward and likely you have already in your kitchen. Let's see what they are below.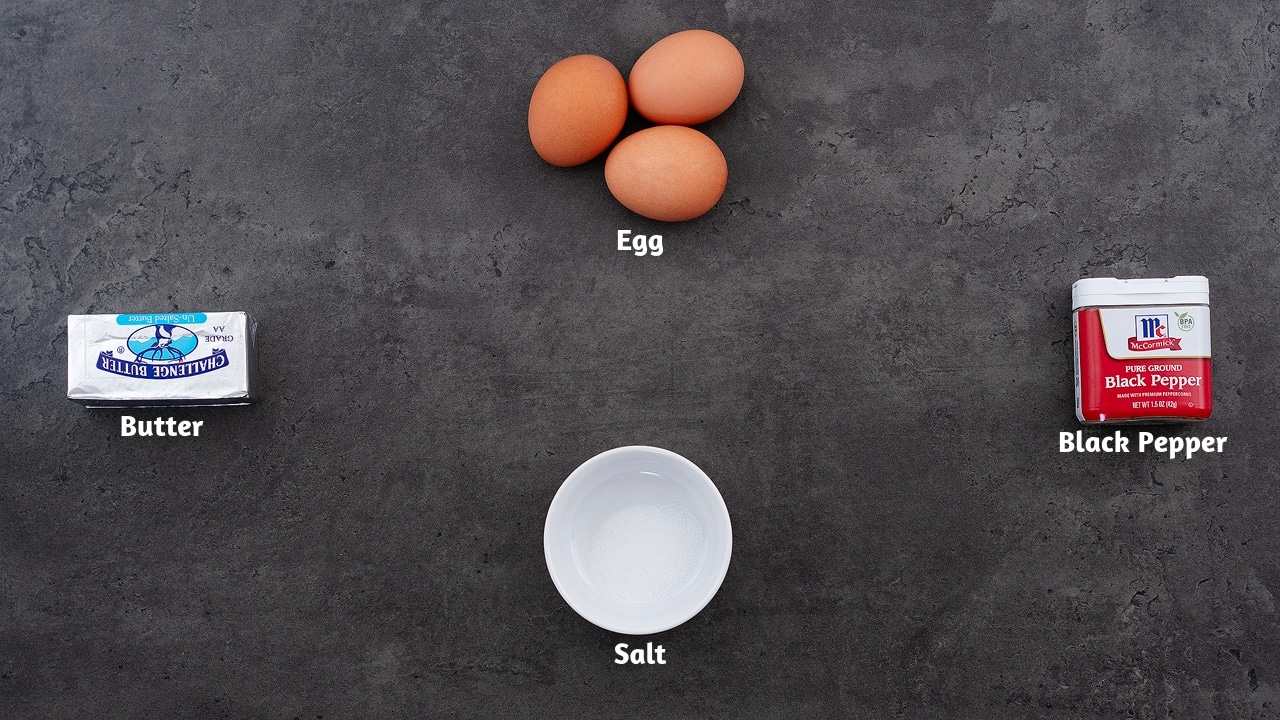 Fresh Eggs: The main ingredient. Use the freshest eggs for firmer whites and richer yolks.
Oil or Butter: A little fat to cook the eggs, prevent sticking, and add flavor—your choice of oil or butter works great.
How to Make Sunny-Side-Up Eggs at Home?
Elevate your culinary skills with my easy-to-follow guide on crafting impeccable sunny-side-up eggs. These step-by-step instructions, complemented by illustrative images and a comprehensive video tutorial, will ensure you add a tempting and visually stunning element to any meal.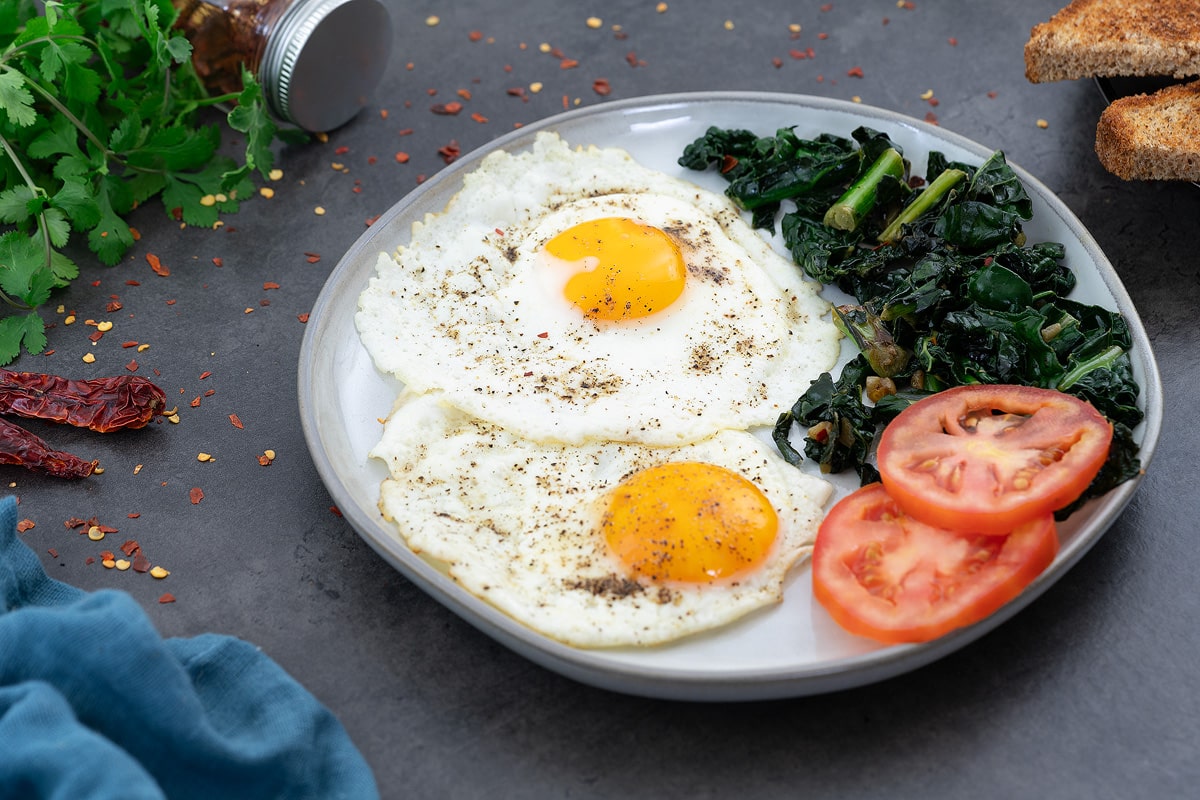 Explore the World of Omelets: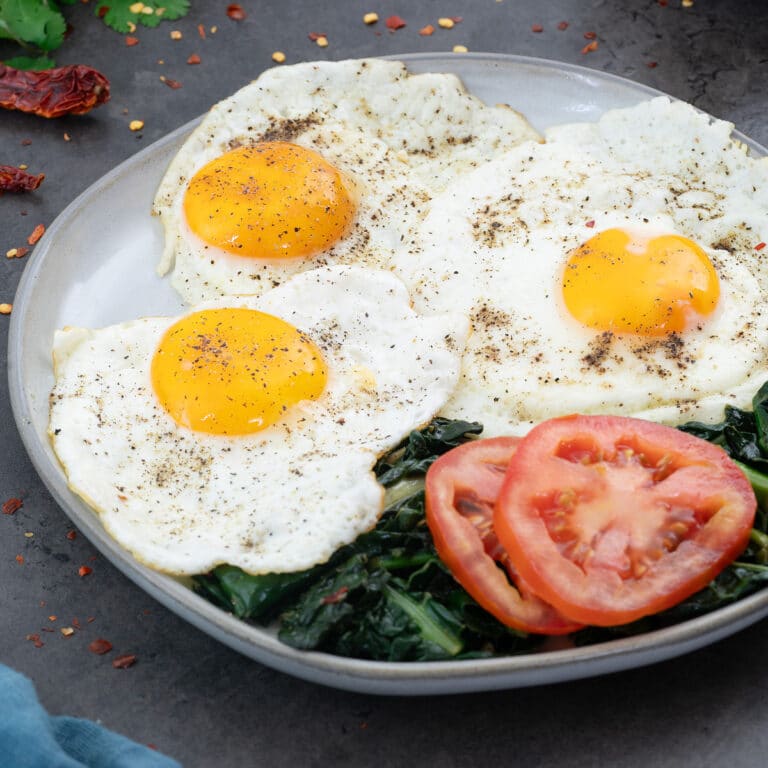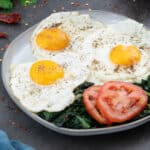 Sunny Side Up Eggs
Sunny-side-up eggs are a classic comfort food known for their velvety egg whites and luscious, runny yolks. Crafted from basic ingredients like eggs, a touch of oil or butter, and basic seasonings, they are an ideal homemade delicacy that can elevate your breakfast, lunch, or dinner table with a bit of practice.
Subscribe
print (text-only)
email
pin
review
save
saved!
Ingredients
1

Egg

,

customize based on your needs

1

tsp

Butter

,

unsalted

Salt

,

to taste

Black Pepper Powder

,

to taste
More on Unit Conversions »
Instructions
To make Sunny-Side-Up Egg
Heat a non-stick pan on medium-low and add a teaspoon of butter or oil, and spreading it well.

Crack an egg into the pan without breaking the yolk; let the white settle a bit.

Cover with a lid and cook for 2 to 2½ minutes until the white sets but the yolk stays runny.

Season with salt and pepper once done.

Use a spatula to carefully lift and serve the egg immediately.
Chef's Notes and Tips
Freshness & Pan Selection:
Use Fresh Eggs: Fresh eggs are less likely to spread out in the pan, making it easier to maintain their shape.
Use a Non-Stick Pan: Non-stick is easy for sunny-side-ups, but preheated cast iron, stainless steel, or ceramic pans with enough oil or butter can also yield delicious results. Experiment to find your favorite.
Heat & Cooking:
Temperature Control: Start with low to medium heat. Cooking on high heat can cause the eggs to cook too quickly, resulting in overcooked whites or burnt edges.
Add Oil or Butter: Use a small amount of oil or butter to coat the pan before adding the eggs. This prevents sticking and adds flavor.
Egg Handling & Cooking Techniques:
Crack Eggs Gently: Crack the eggs gently and close to the pan to avoid breaking the yolks.
Cover the Pan: Covering the pan with a lid while cooking can help the eggs cook more evenly by trapping heat and steam.
Don't Overcrowd the Pan: Leave enough space between the eggs in the pan to allow for even cooking.
Use a Spatula: When the whites are set, carefully slide a spatula under the eggs to loosen them from the pan. Be gentle to avoid breaking the yolks.
Seasoning & Presentation:
Season Gently: Season the eggs with a pinch of salt and pepper after they are in the pan. Adding salt too early can cause the whites to become watery.
Opt for a Sunny-Side-Up Presentation: If you want to maintain the classic sunny-side-up presentation, avoid flipping the eggs. Instead, cook them with the yolk side up until the whites are fully set.
Yolk Preferences & Serving:
Control the Yolk Runniness: Adjust the cooking time to control the runniness of the yolks. Longer cooking will result in firmer yolks, while shorter cooking will keep them runny.
Serve Immediately: Sunny-side-up eggs are best enjoyed right after cooking while the yolks are still runny and the whites are tender
Nutrition Info
Serving:
1
serving
|
Calories:
99
kcal
|
Carbohydrates:
0.3
g
|
Protein:
6
g
|
Fat:
8
g
|
Saturated Fat:
4
g
|
Polyunsaturated Fat:
1
g
|
Monounsaturated Fat:
3
g
|
Trans Fat:
0.2
g
|
Cholesterol:
174
mg
|
Sodium:
95
mg
|
Potassium:
62
mg
|
Sugar:
0.2
g
|
Vitamin A:
363
IU
|
Calcium:
26
mg
|
Iron:
1
mg
Disclaimer: We're not nutrition experts. Nutritional info is estimated and should be used as a guide. For precise details, consult a professional.
Serving Suggestions
Savor sunny-side-up eggs freshly cooked, with runny yolks and tender whites. Pair them with your favorite sides for a fuller meal. Here are some ideas:
Toast: Toasted bread is a classic choice. You can make traditional toast or try something like sourdough, whole wheat, or a baguette
Breakfast Potatoes: Crispy breakfast potatoes seasoned with herbs and spices are a great side dish. You can make hash browns, homemade French fries, or diced potatoes roasted in the oven
Bacon or Sausage: A side of crispy bacon or your favorite breakfast sausage can add a savory and meaty element to your meal
Avocado: Sliced or mashed avocado with a sprinkle of salt and pepper is a healthy and creamy addition
Sautéed Vegetables: Sauteed vegetables like spinach, kale, mushrooms, bell peppers, or tomatoes can add color and nutrients to your plate
Greens: A simple side salad with fresh greens, a light vinaigrette, and maybe some cherry tomatoes or cucumber slices can provide a refreshing contrast to the richness of the eggs
Fruit: A small serving of fresh fruit, such as sliced oranges, berries, or a fruit salad, can provide a sweet and refreshing contrast
Nasi Goreng (Indonesian Fried Rice): A sunny-side-up or over-easy fried egg is a common topping for Nasi Goreng. It's often placed on top of the fried rice and adds a creamy richness when the yolk is mixed in
Thai Basil Chicken (Pad Krapow Gai): Similar to Nasi Goreng, a fried egg is sometimes served on top of Thai Basil Chicken. The runny yolk adds richness to each bite
Sunny Side Up vs. Fried Eggs
Sunny-side-up eggs are cooked only on one side under a lid, keeping yolks runny and resembling the sun. Fried eggs are flipped, offering yolk textures from slightly runny (over-easy) to fully set (over-hard). The main distinction lies in the cooking style and yolk doneness.