Shrimp Marinade is an easy-to-make, flavorful addition to your seafood cooking repertoire. Its base of olive oil, combined with the bold tastes of Dijon mustard, garlic, and lemon juice, is accented by fresh parsley and essential seasonings. This marinade is incredibly versatile, perfect for shrimp and also great for enhancing the flavors of salmon, tilapia, and other fish dishes.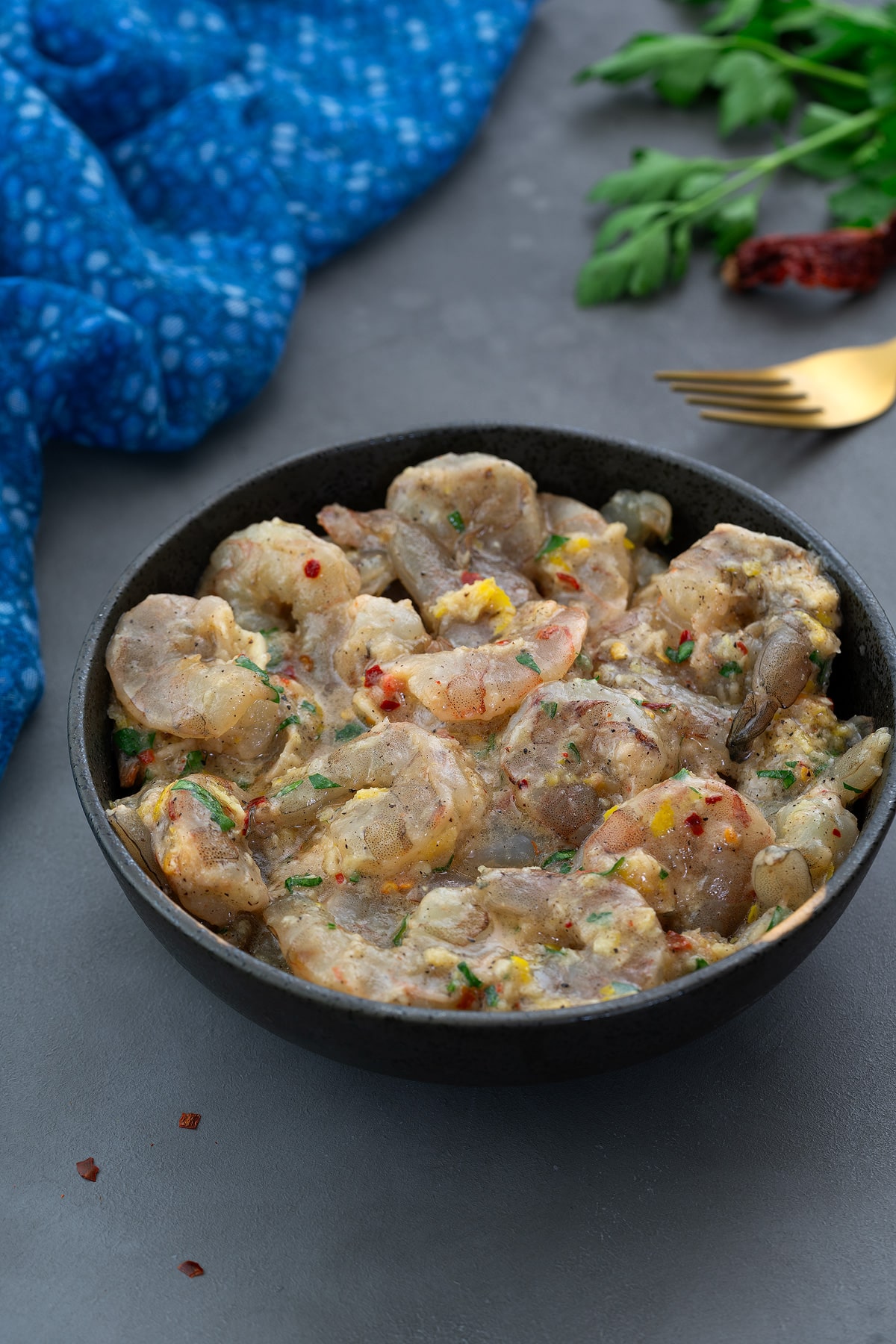 Jump to:
Whether you're grilling, sautéing, air frying, or pan-searing, this marinade promises to transform your seafood into an exceptional meal, bursting with fresh zest and tangy garlic notes that will leave everyone asking for seconds.
Enjoy a Variety of Shrimp Delights:
Ingredients and Substitutions Overview
For this Shrimp Marinade, you'll require a combination of readily available pantry staples, fresh herbs, and seasonings. Here's what you'll need: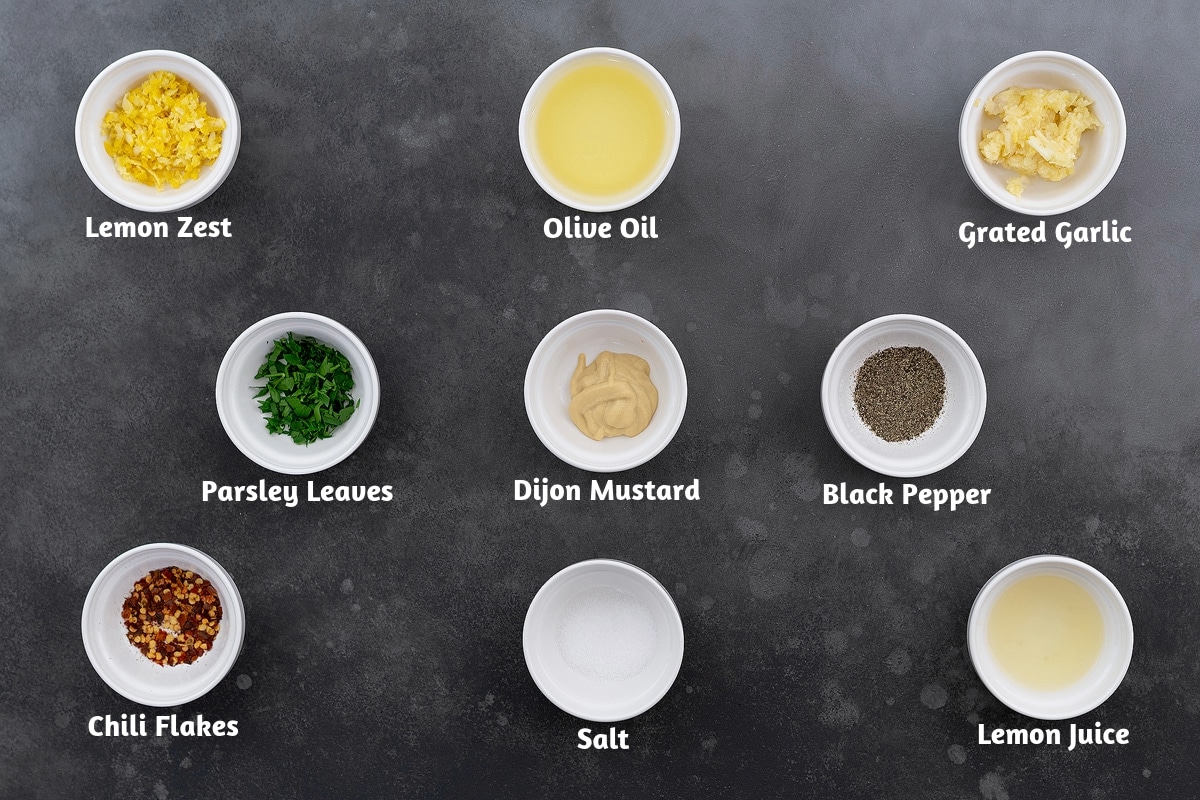 Olive Oil: Adds a rich, smooth, and slightly fruity base, enhancing the marinade with a silky texture.
Dijon Mustard: Introduces a tangy and slightly spicy flavor, enriching the overall taste.
Garlic: Freshly grated garlic provides a strong, aromatic flavor, while garlic powder offers a milder, savory note.
Lemon Juice and Zest: Lemon juice is bright and tart, and the zest adds a fragrant, zesty touch; together, they contribute a refreshing citrus element.
Chili Flakes and Black Pepper: Chili flakes bring a hint of heat and smokiness, while black pepper adds mild spiciness and an earthy flavor.
Parsley Leaves: They add a fresh, herbal, slightly grassy flavor, enhancing the marinade with a vibrant green touch.
How to Make Shrimp Marinade at Home?
Dive into the art of marinating with our simple yet flavorful Shrimp Marinade recipe. Follow along with our step-by-step photos and video to master this zesty, aromatic blend, perfect for seafood and beyond. Let's get started: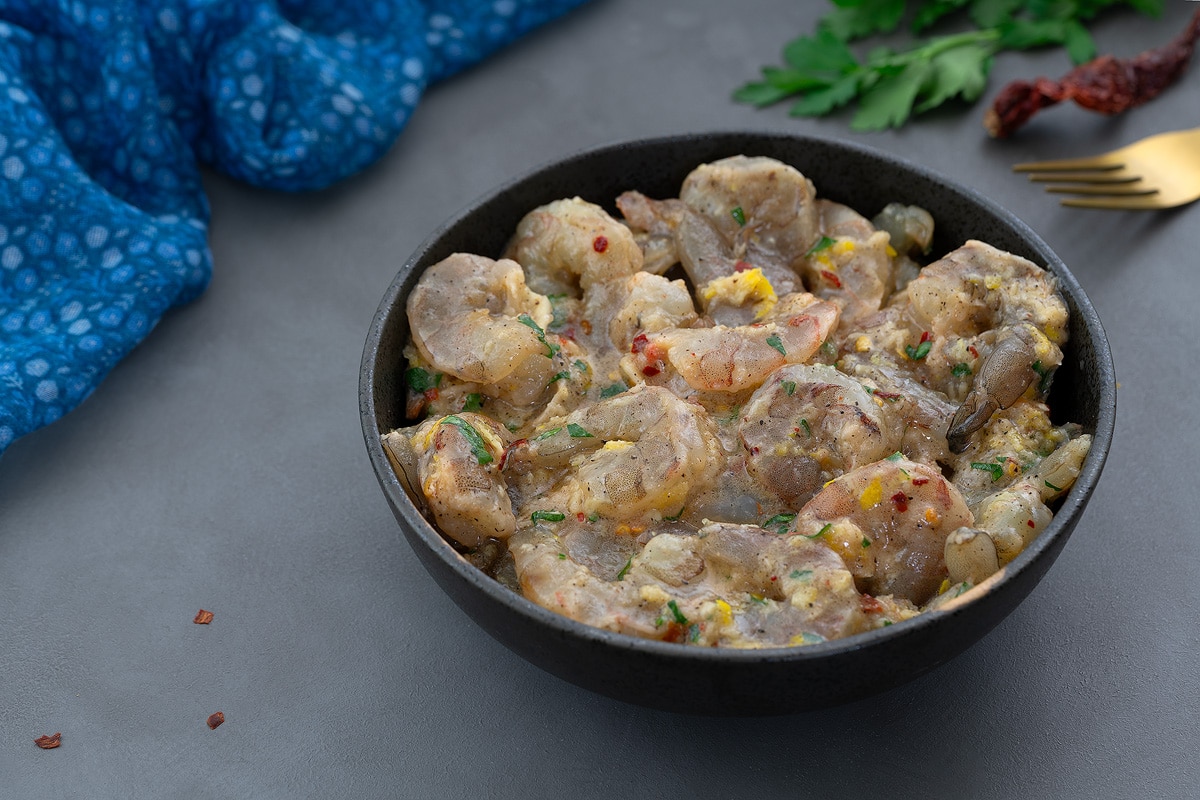 Discover a World of Marinade Ideas: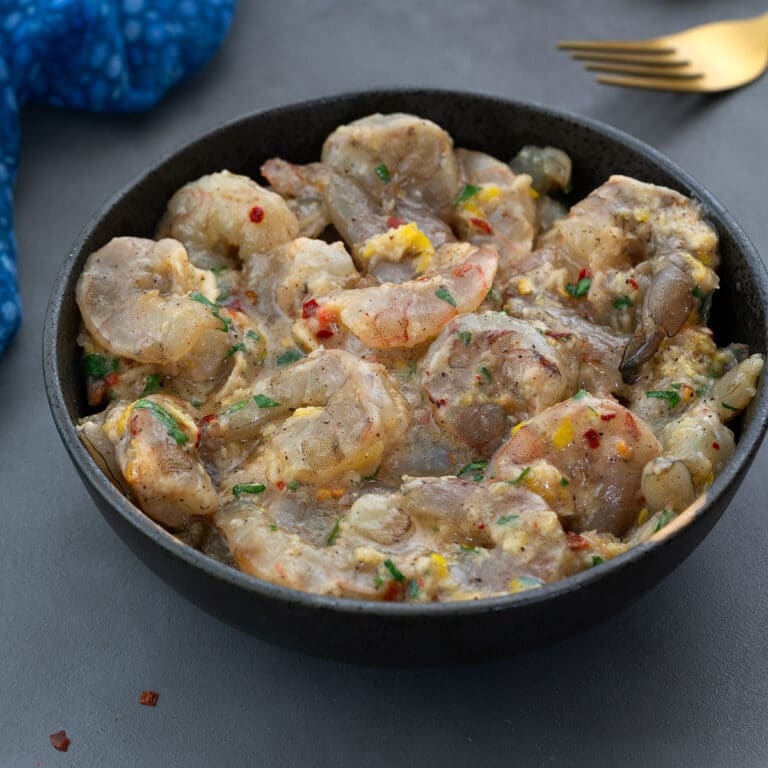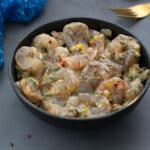 Shrimp Marinade
Elevate your seafood with this Shrimp Marinade, a simple yet impactful blend of olive oil, Dijon mustard, garlic, and lemon juice, accented with fresh parsley and key seasonings. Its versatility extends beyond shrimp, enhancing salmon, tilapia, and other fish dishes with its zesty and vibrant flavors.
Subscribe
print (text-only)
email
pin
review
save
saved!
Ingredients
3

tbsp

Olive Oil

1

tbsp

Dijon Mustard

3

cloves

Garlic

,

grated

1

tsp

Chili Flakes

,

adjust according to heat preference

2

tbsp

Lemon Zest

,

or adjust for less tanginess

1

tbsp

Lemon Juice

1

tsp

Parsley Leaves

,

chopped

Salt

,

to taste

½

tsp

Black Pepper Powder
More on Unit Conversions »
Instructions
To Make Shrimp Marinade
Gather all the ingredients mentioned in the ingredients section above.

In a mixing bowl, combine these ingredients. Use a whisk or fork to stir everything together until well blended and the flavors are thoroughly mixed.

Place the deveined and shell-removed shrimp into the marinade. Ensure the shrimp are well-coated with the marinade. Let them marinate for at least 30 minutes, but no longer than 2 hours. For marinating, you can use a bowl or a ziplock bag, whichever is more convenient for you.
To Cook
Cook the marinated shrimp using your preferred method, such as grilling, baking, air frying, or pan-searing, to suit your taste and convenience.
Chef's Notes and Tips
Here are some tips to perfect your Shrimp Marinade:
Flavor Profile: Start by deciding your preferred flavor profile - be it citrusy, spicy, sweet, or savory. Use ingredients like lemon, garlic, herbs, or specific spices to achieve your desired taste.
Acidic Component: Include an acidic element like lemon juice or vinegar in your marinade. This not only adds flavor but also helps in tenderizing the shrimp.
Oil or Fat: Choose a high-quality oil or fat, such as olive oil or melted butter, to add richness to the marinade and prevent the shrimp from sticking while cooking.
Herbs and Spices: Experiment with various herbs like parsley, cilantro, or dill, and spices such as chili flakes and black pepper. For more depth, try adding paprika, cayenne, or cumin.
Garlic and Onions: Garlic is essential for complexity, and though not used here, onions can also be a great addition to the marinade for extra flavor.
Marinating Method: Marinate the shrimp in a bowl, zip-top bag, or vacuum-sealed bag, depending on your convenience and the time you have.
Cooking Method: The cooking method (grilling, stovetop, or oven) should also be considered while preparing your marinade to complement the cooking technique.
Garnishes: After cooking, garnish your dish with fresh herbs, lemon zest, or a little extra marinade to enhance the flavor and presentation.
Nutrition Info
Serving:
1
serving
|
Calories:
93
kcal
|
Fat:
11
g
|
Saturated Fat:
1
g
|
Polyunsaturated Fat:
1
g
|
Monounsaturated Fat:
8
g
|
Sodium:
0.2
mg
|
Potassium:
0.1
mg
|
Calcium:
0.1
mg
|
Iron:
0.1
mg
Disclaimer: We're not nutrition experts. Nutritional info is estimated and should be used as a guide. For precise details, consult a professional.

Explore our unique selection of seasonings and marinades, designed to enhance a range of meats, including shrimp. Perfect for grilling, baking, or pan-searing, our products are tailored to elevate the taste of your culinary creations.
How Long to Marinate Shrimp?
To achieve the best flavor, marinate the shrimp for a minimum of 30 minutes, but no more than 2 hours. This duration allows the shrimp to fully absorb the rich, aromatic flavors of the marinade, enhancing their taste and succulence. Remember to marinate in the refrigerator to ensure freshness and food safety.
Serving Suggestions
This versatile Shrimp Marinade can be used in a variety of delightful dishes. Here are some delightful ways to incorporate it:
Grilled Shrimp: Marinate the shrimp and grill them for a flavor-packed, smoky meal.
Sauteed Shrimp: Combine marinated shrimp with vegetables, and serve over rice or noodles for a satisfying dish.
Shrimp Tacos: Create delicious tacos with grilled marinated shrimp, slaw, and your favorite toppings.
Pasta: Toss cooked, marinated shrimp with pasta and a sauce of your choice for a quick, flavorful pasta dish.
Kebabs: Make vibrant kebabs by skewering marinated shrimp with a selection of vegetables.
Salad: Elevate a green salad by adding cooked, marinated shrimp for a protein-rich, flavorful twist.
Seafood Platter: Feature marinated cooked shrimp on a seafood platter, accompanied by a variety of dips.
Rice Dishes: Incorporate the marinated shrimp into rice dishes like paella or fried rice for an extra burst of flavor.
Storage Suggestions
To store the Shrimp Marinade, keep it in a sealed jar in the refrigerator for up to 3 days. For longer shelf life, up to 1 week, use garlic powder instead of fresh garlic to help preserve its freshness.