Try out this delicious Pork Chop Marinade, a perfect mix of sweet, garlicky, and savory tastes. It combines soy sauce, Worcestershire sauce, garlic, dijon mustard, brown sugar, and essential seasonings to elevate your pork's flavor. Great for grilling, pan-searing, or air frying, this marinade is a must-try!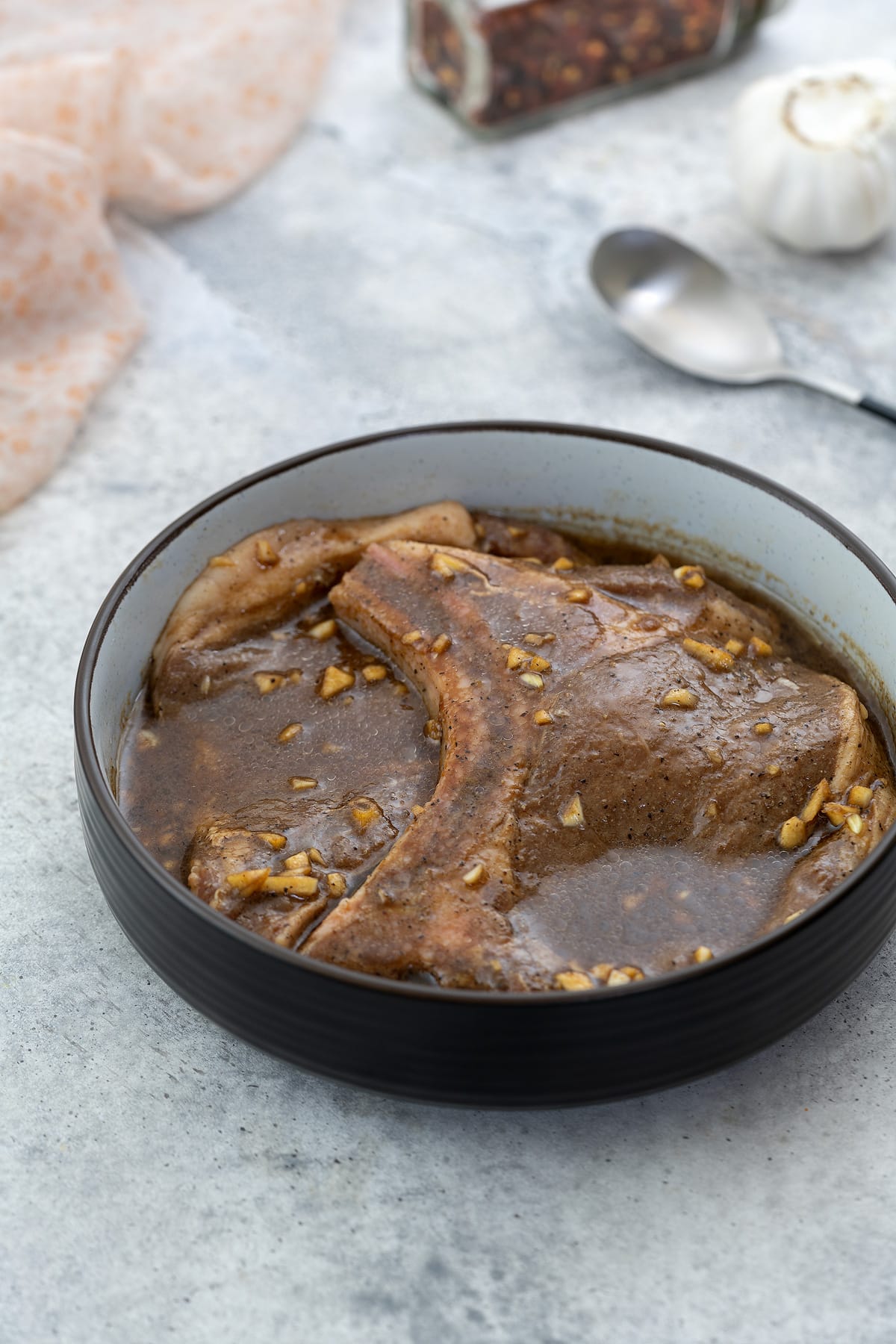 Jump to:
Here's the best part: In just under 5 minutes, you can whip up this marinade to transform pork chops into a flavor sensation. And it's not just for pork! This versatile blend works wonders on chicken, lamb, and veal too. Quick, adaptable, and guaranteed to add an extra burst of taste to your meals.
Ingredients and Substitutions Overview
Get ready to elevate your pork chops with our perfect marinade! Just a quick trip to your local grocery store to pick up these essential ingredients, and you're all set for a marinade.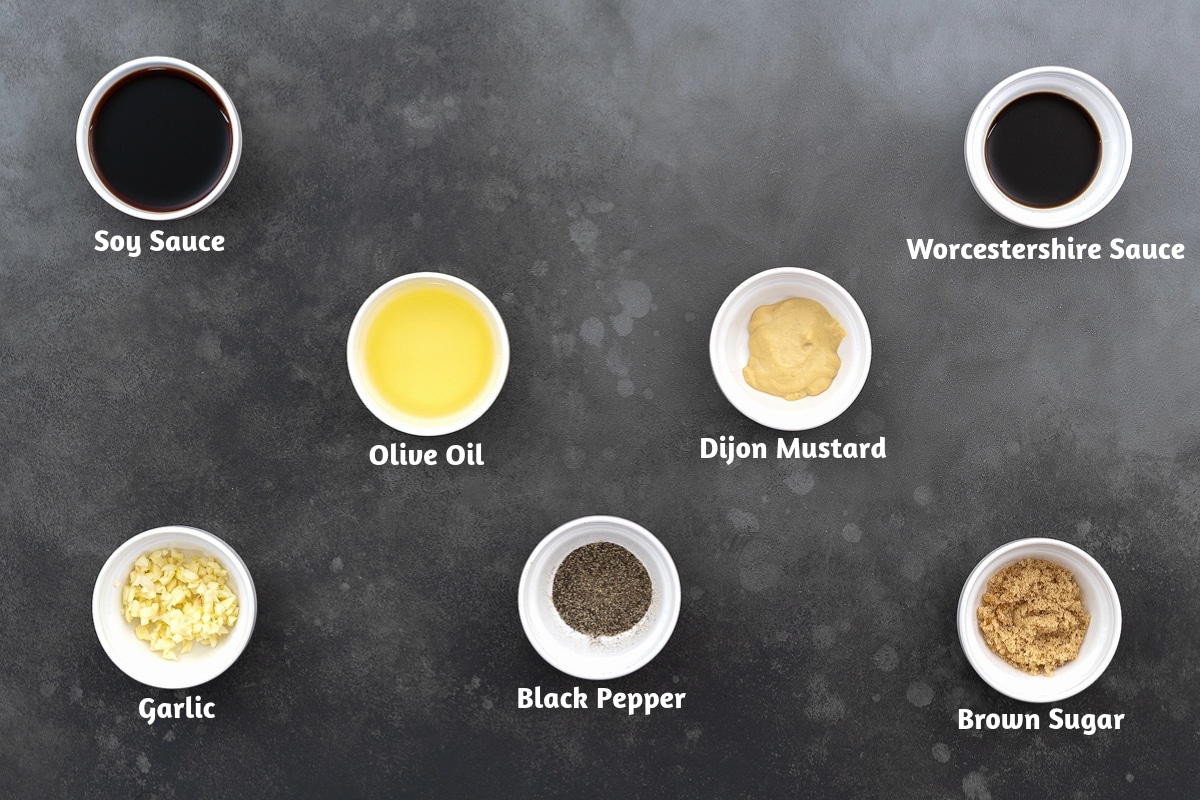 Soy Sauce: Brings savory umami depth to your marinade, eliminating the need for extra salt.
Worcestershire Sauce: Adds a rich complexity, elevating your pork chops to gourmet status.
Olive Oil: Drizzle in the richness of olive oil for a smooth and delectable marinade
Dijon Mustard: A touch of tanginess and a robust kick for an exciting flavor twist.
Garlic: Whether minced, grated or in powder form, garlic adds a punch of flavor to your chops.
Brown Sugar: More than just sweetness, it brings a caramel-like depth, enhancing the natural flavors.
Black Pepper: Just a pinch for an earthy, spicy edge that ties the flavors together.
Pork Chops: Opt for bone-in chops for extra moisture or boneless for convenience and easy cooking.
How to Make Pork Chop Marinade at Home?
Begin your flavorful journey with our Pork Chop Marinade recipe! Follow our easy step-by-step guide, enhanced with tempting photos and a handy video, to create a delicious masterpiece.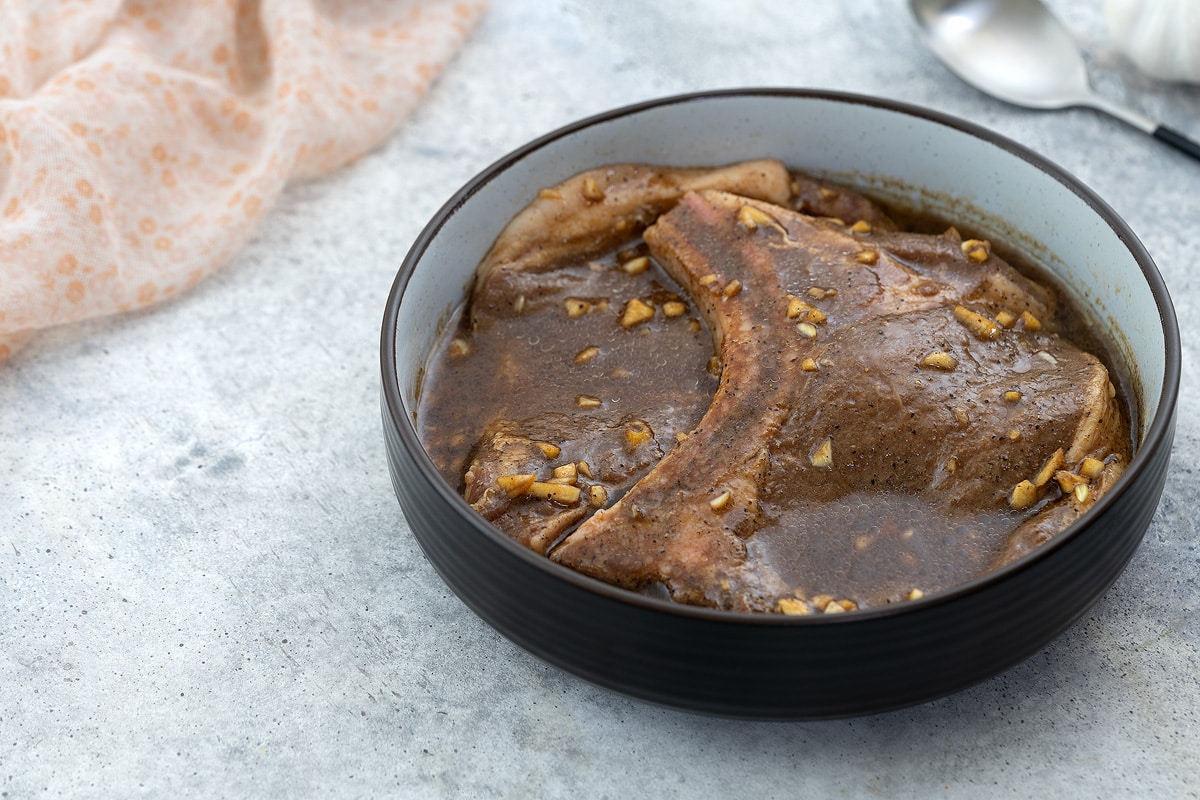 Explore More Homemade Marinade Ideas!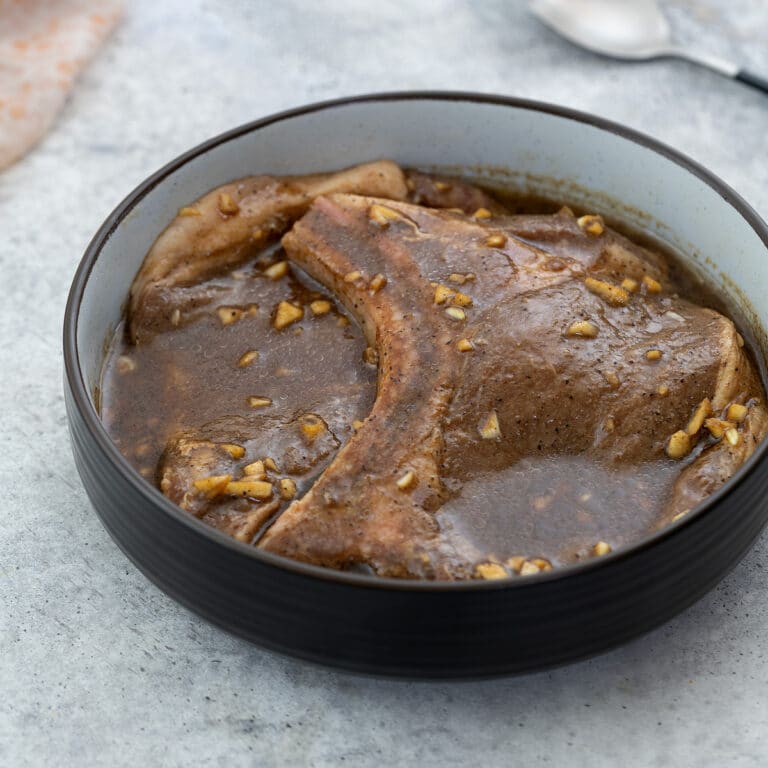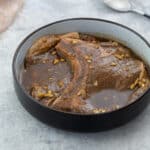 Pork Chop Marinade
Take your Pork Chops to the next level with our delectable Marinade! Simply whisk together, let the chops marinate for 1-8 hours, and cook them to perfection. It's versatile, delicious, and tailored to your taste - experience pork chops like never before!
Subscribe
print (text-only)
email
pin
review
save
saved!
Ingredients
4

tbsp

Olive Oil

3

tbsp

Soy Sauce

1

tbsp

Worcestershire Sauce

3

cloves

Garlic

,

minced

1

tbsp

Dijon Mustard

1

tbsp

Brown Sugar

¾

tsp

Black Pepper
More on Unit Conversions »
Instructions
To make Pork Chop Marinade
To begin, gather all the ingredients mentioned above.

Whisk the mixture thoroughly to ensure all ingredients are well combined.

Place pork chops in a ziplock bag, pour in the prepared marinade, seal, and give it a good rub. Marinate for 1 to 8 hours to let the flavors infuse. Alternatively, use a bowl for marinating convenience.
To Cook
Cook the marinated pork chops to perfection using your preferred method; grill, pan sear, or air fry. Enjoy your deliciously flavored chops!
Chef's Notes and Tips
Here are some expert tips to perfect your Pork Chop Marinade:
Balancing Act: Adjust the quantities of soy sauce, Worcestershire sauce, and brown sugar to find your ideal balance of sweet and savory.
Garlic Love: Play with the amount of garlic based on your preference. Whether you enjoy a subtle hint or a bold garlic flavor, it's up to you!
Marinating Time: For optimal flavor infusion, let the pork chops marinate for at least 1 hour, but up to 8 hours in the refrigerator.
Mixing Methods: Experiment with mixing methods. While a bowl works great, try a zip-lock bag for an even distribution of flavors.
Versatile Pairing: Don't limit yourself to pork chops! Explore using this marinade with other meats like chicken, lamb, or seafood for a delicious variety.
Safety First: Never reuse marinade that has been in contact with raw pork. This is important to prevent cross-contamination and ensure food safety.
Cooking Tip: Grill, pan-sear, or air fry pork chops until the internal temperature hits 145°F, as recommended by the FDA. Let them rest for 10 minutes before serving for ultimate flavor!
Serving Tip: Enhance your pork chops by pairing them with white or basmati rice, roasted vegetables like asparagus, broccoli, potatoes, green beans, mashed potatoes, or a crisp cucumber salad, creating a perfect symphony of tastes for your meal!
Nutrition Info
Serving:
1
serving
|
Calories:
218
kcal
|
Carbohydrates:
11
g
|
Protein:
2
g
|
Fat:
19
g
|
Saturated Fat:
3
g
|
Polyunsaturated Fat:
2
g
|
Monounsaturated Fat:
14
g
|
Sodium:
1719
mg
|
Potassium:
114
mg
|
Fiber:
0.4
g
|
Sugar:
9
g
|
Vitamin A:
8
IU
|
Vitamin C:
2
mg
|
Calcium:
25
mg
|
Iron:
1
mg
Disclaimer: We're not nutrition experts. Nutritional info is estimated and should be used as a guide. For precise details, consult a professional.
Delve into our array of seasoning, marinade, and condiment recipes – perfect for enhancing any meal with rich, diverse flavors. Find your ideal match for every culinary need!
How to Use This Marinade?
Marinating pork chops, whether bone-in or boneless, is simple and impactful with our marinade. Choose a bowl or a zip-lock bag for convenience. For the best flavor, marinate in the refrigerator for 1 to 8 hours. Once marinated, cook the pork chops to your liking, whether by grilling, pan-searing, or air frying.
But the fun doesn't stop with pork chops - experiment with this marinade on lamb, chicken wings, thighs, breasts, and even seafood like salmon or shrimp for a delightful twist in your meals!
Storage Suggestions
Store the marinade in an airtight container in the fridge for up to a week. For safety, discard any marinade that has touched raw meat to prevent foodborne illnesses.