Savor the authentic taste of Greece with our Greek Chicken Marinade recipe. This delightful mix combines olive oil, garlic, lemon juice and zest, along with fresh herbs to create a marinade that's both easy to make and delicious. Perfect for any chicken cut, whether it's tender breasts, juicy thighs, flavorful wings, or succulent drumsticks, this marinade will enhance your chicken dishes with its irresistible Mediterranean flair.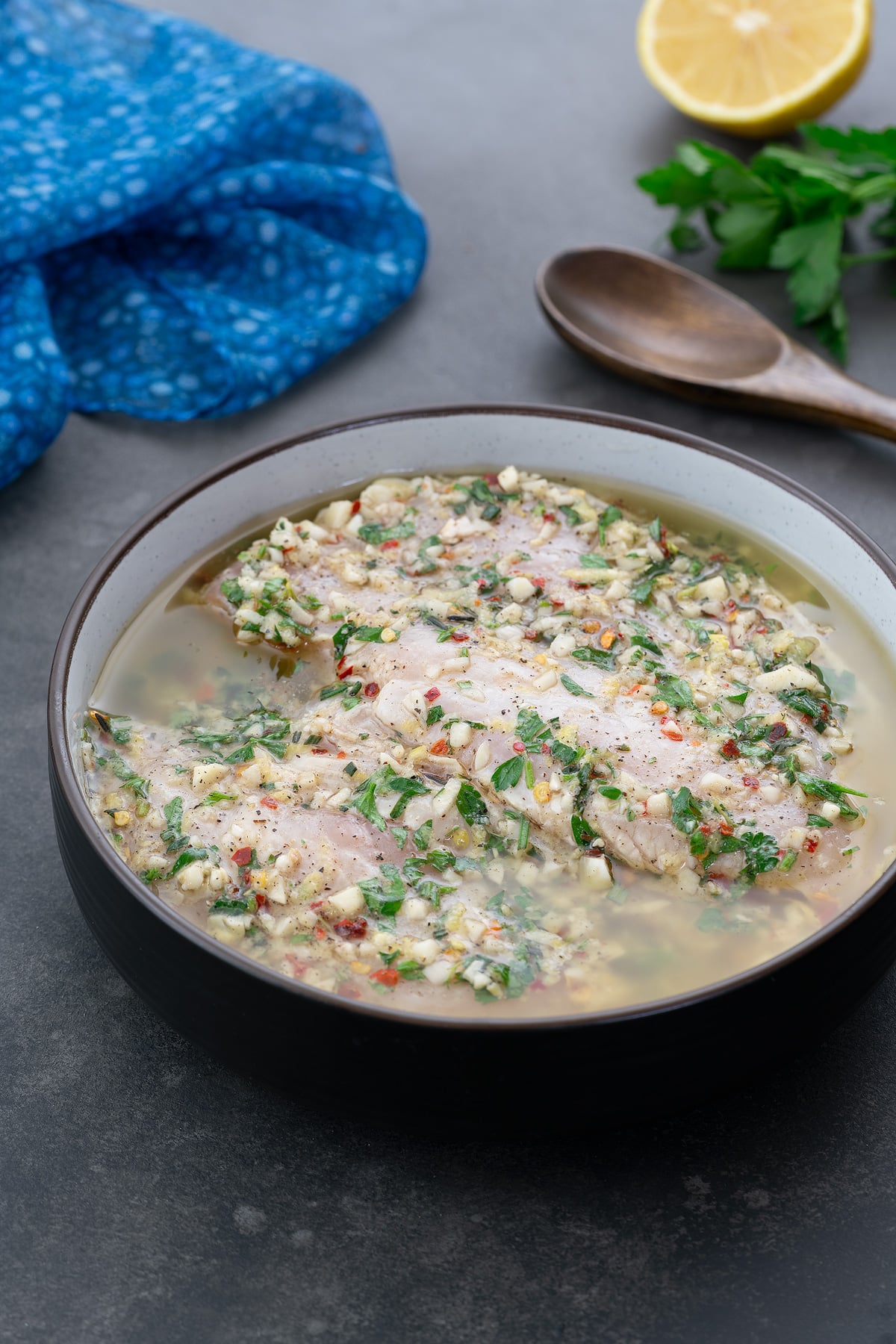 Jump to:
This Greek Chicken Marinade is ideal for any cooking method - grilling, pan-searing, air frying, or baking. It guarantees your chicken stays juicy and packed with taste. It's also a breeze to make, only needing a handful of common ingredients.
For a full Greek dining experience, add a refreshing Greek salad. Complement your flavorful chicken with a crisp salad, tossed in a homemade Greek salad dressing, to round off your Mediterranean culinary journey.
Ingredients and Substitutions Overview
Making this Greek Chicken Marinade is incredibly straightforward, using everyday pantry items and a touch of Italian herbs. You can find all these ingredients at your local grocery store. Here's what you'll need: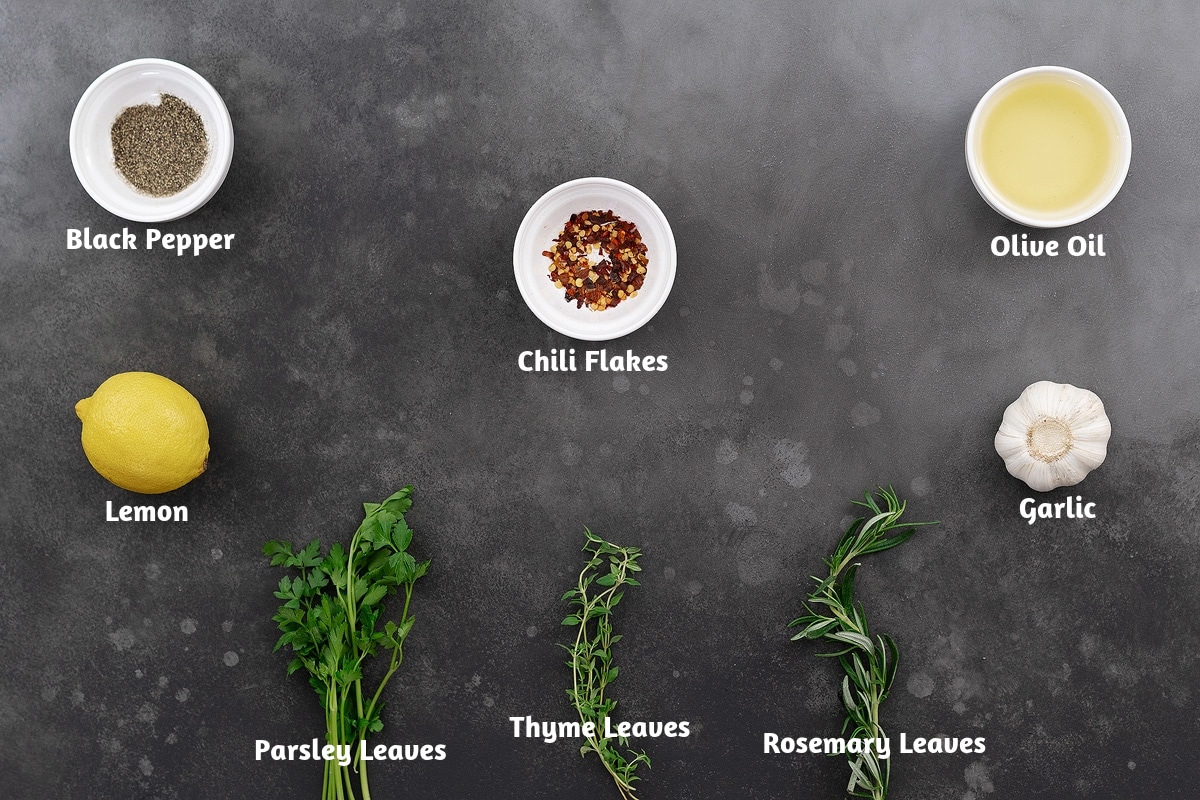 Olive Oil: This is the base flavor of your marinade.
Garlic: Use freshly minced garlic for a strong garlicky flavor. If unavailable, garlic powder is a great alternative.
Lemon Juice: This brings a bright, citrusy tang. Red wine vinegar can also be used for an added tang.
Lemon Zest: Adds a burst of fresh citrus flavor to the marinade.
Chili Flakes and Black Pepper: These spices add a hint of spice and depth.
Fresh Herbs: Rosemary, thyme, and parsley provide a fragrant herbal aroma. In a pinch, a tablespoon of Italian seasoning can substitute for fresh herbs.
Chicken: Choose your favorite cuts for marinating, such as boneless or bone-in breasts, thighs, or cuts perfect for kabobs.
How to Make Greek Chicken Marinade at Home?
Discover the joy of Mediterranean cooking with our Greek Chicken Marinade. With easy-to-follow sttep-by-step photos and an instructional video, mastering this flavorful recipe is a breeze. Enjoy each delicious bite of this Greek-inspired dish.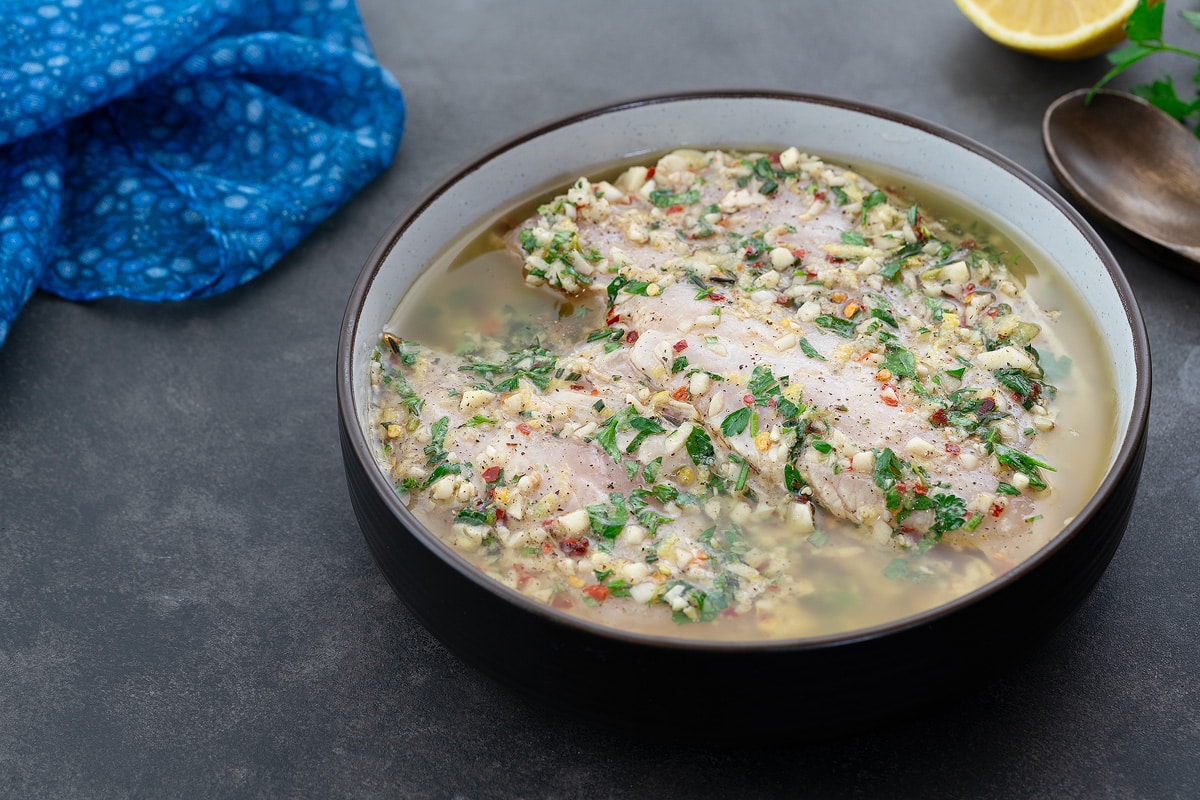 Discover a Variety of Homemade Marinades: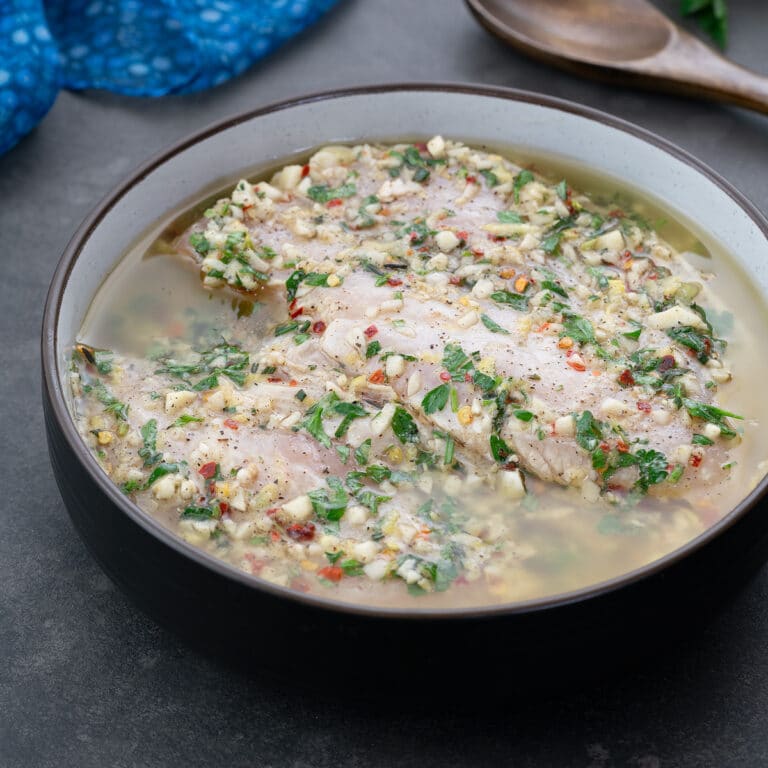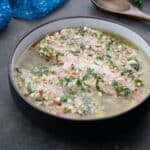 Greek Chicken Marinade
Unleash the magic of the Mediterranean with our Greek Chicken Marinade. A harmonious fusion of olive oil, garlic, lemon juice, zest, and aromatic herbs awaits you. Whether you prefer tender chicken breasts, succulent thighs, crispy wings, or juicy drumsticks, this versatile marinade invites you to savor the vibrant tastes of Greece.
Subscribe
print (text-only)
email
pin
review
save
saved!
Ingredients
½

cup

Olive Oil

5

cloves

Garlic

,

minced

1

tbsp

Lemon Zest

2

tbsp

Lemon Juice

1

tsp

Chili Flakes

,

adjust based on your heat level

¾

tsp

Black Pepper Powder

1

tsp

Rosemary Leaves

,

chopped

1

tbsp

Parsley Leaves

,

chopped

1

tsp

Thyme Leaves

,

chopped

Salt

,

to taste
More on Unit Conversions »
Instructions
Making Greek Chicken Marinade
In a bowl, combine all the ingredients listed in the list.

Whisk the mixture using a whisker until all the ingredients are fully combined.

Now, add your chicken breasts or your preferred chicken cuts into the marinade. Mix them well, ensuring the chicken is coated evenly, and let it rest for at least 30 minutes. For more intense flavor, marinate it overnight.
To Cook
This Greek Marinated Chicken Breast can be cooked using your preferred method, whether it's grilling, pan-frying, baking, or air frying.
Chef's Notes and Tips
Here are some helpful tips to create the perfect Greek Chicken Marinade:
Use Fresh Ingredients: Opt for fresh minced garlic, lemon juice, zest, and herbs to maximize flavor.
Vinegar Option: Substitute red wine vinegar for lemon juice and zest for a tangier taste.
Marinating Time: Soak the chicken for at least 30 minutes. For deeper flavor, marinate overnight.
Handling Leftover Marinade: Don't reuse marinade that's touched raw meat. If you must reuse it, boil it thoroughly before applying it to cooked chicken.
Flavor Experimentation: Customize your marinade with additions like Dijon mustard, honey, or Greek yogurt for a personal touch.
Nutrition Info
Serving:
1
serving
|
Calories:
249
kcal
|
Carbohydrates:
2
g
|
Protein:
0.4
g
|
Fat:
27
g
|
Saturated Fat:
4
g
|
Polyunsaturated Fat:
3
g
|
Monounsaturated Fat:
20
g
|
Sodium:
10
mg
|
Potassium:
44
mg
|
Fiber:
1
g
|
Sugar:
0.3
g
|
Vitamin A:
259
IU
|
Vitamin C:
8
mg
|
Calcium:
15
mg
|
Iron:
0.5
mg
Disclaimer: We're not nutrition experts. Nutritional info is estimated and should be used as a guide. For precise details, consult a professional.
Discover an array of seasoning blends, marinades, and condiment recipes designed to elevate your culinary creations with a rich tapestry of flavors. Whether you're preparing everyday meals or planning a special occasion, these culinary enhancements promise to deliver delightful and impressive results to your table.
How to Use this Marinade?
This versatile marinade is suitable for all types of chicken, whether bone-in or boneless, including thighs, breasts, wings, or kabob cuts. To marinate, choose either a shallow bowl or a ziplock bag. Place the chicken in your chosen container, pour the marinade over it, and ensure it's well-coated. Allow it to marinate for a minimum of 30 minutes or an even richer flavor overnight.
When it's time to cook, remove the chicken from the marinade and prepare it using your preferred cooking method. Always ensure the chicken reaches the USDA-recommended safe internal temperature of 165°F to enjoy it safely.
Storage Suggestions
Keep this delightful marinade fresh by storing it in an airtight container in the refrigerator, where it will remain good for 3-4 days. Remember, if you've used it to marinate chicken, it's safest to discard the used marinade to maintain food safety.