Salmon Marinade is a delightful concoction that perfectly balances sweet, savory, and zesty flavors to elevate your salmon dishes. Made with everyday ingredients like olive oil, paprika, lemon juice, garlic, and soy sauce, it's incredibly easy to prepare and versatile for any cooking method, whether you're grilling, baking, or pan-frying.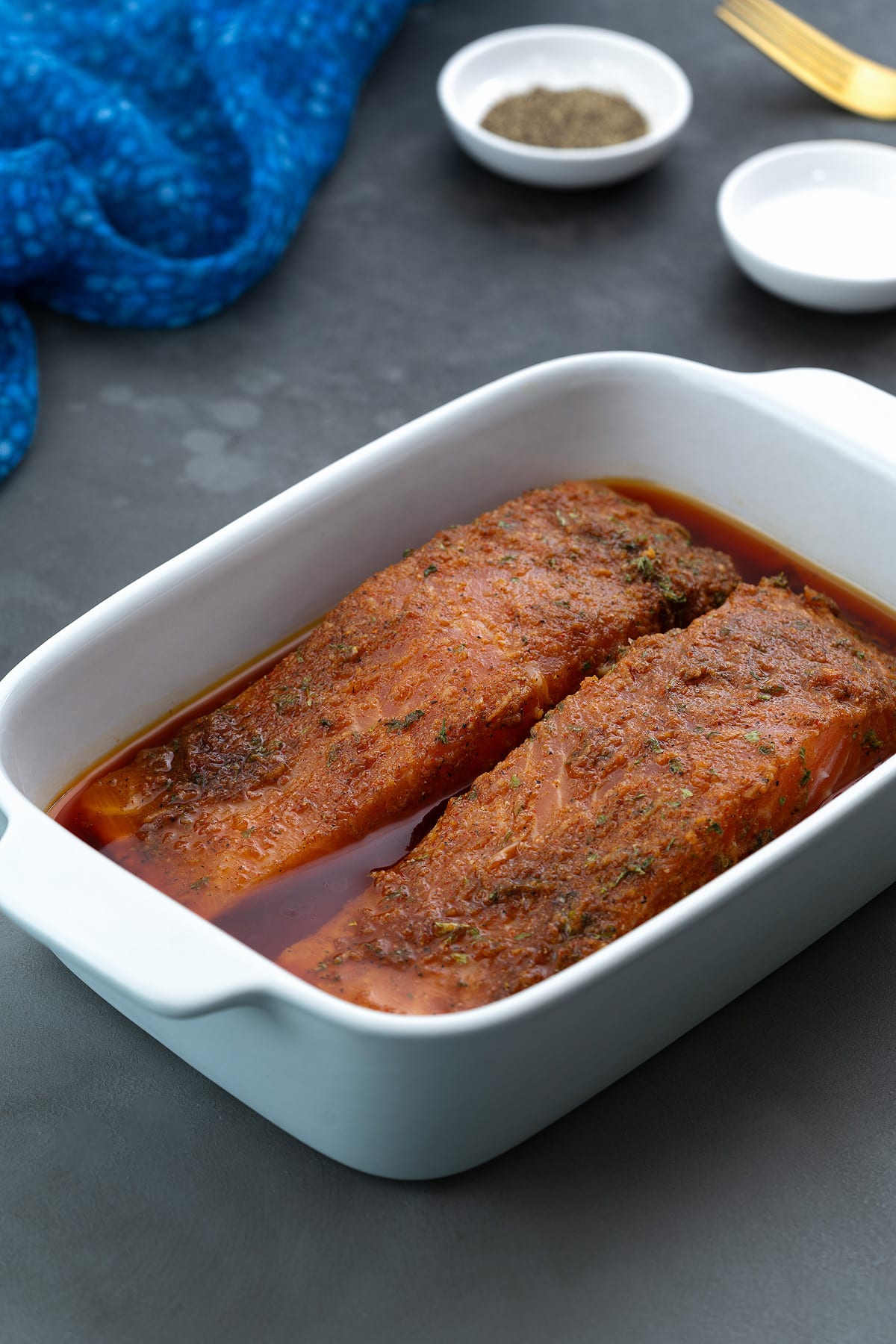 Jump to:
This marinade not only enhances the flavor of your salmon but also adds a visually appealing touch, making your seafood dinners even more special. It's the perfect way to add an extra kick to your salmon, ensuring each bite is bursting with a harmonious blend of flavors.
Discover Flavor Packed Salmon Dishes:
Ingredients and Substitutions Overview
For the Salmon Marinade, you'll find the ingredients are likely already in your kitchen. Here's what you'll need: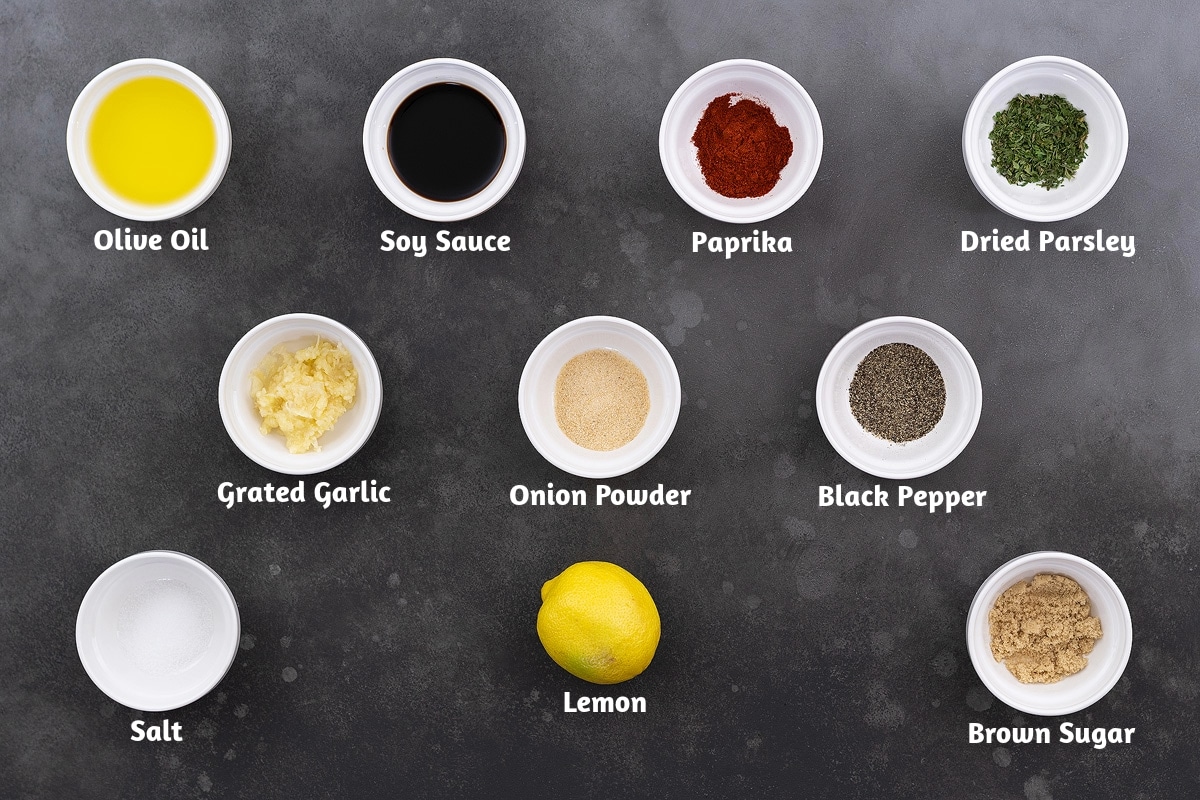 Olive Oil: A smooth and rich foundation, olive oil brings a subtle fruity and peppery taste, perfectly blending and enhancing the other flavors in the marinade.
Paprika: Choose mild or hot for a touch of smokiness and a beautiful red hue. Paprika adds a sweet or spicy twist, elevating the marinade's complexity.
Garlic: Essential for its robust and aromatic flavor, fresh garlic adds a spicy edge. Garlic powder is a great alternative for longer shelf life without losing that garlic punch.
Soy Sauce: The umami heart of the marinade, soy sauce deepens the flavors. Go for low-sodium to keep the taste balanced.
Brown Sugar: A sweet counterpoint, brown sugar harmonizes the savory and acidic notes, rounding out the flavors.
Lemon Juice: Zesty and bright, lemon juice cuts through the richness, adding a refreshing citrus tang.
Onion Powder: A warm, subtly sweet addition, onion powder boosts the aromatic qualities and works in harmony with the other ingredients.
Dried Herbs (Parsley): Dried parsley introduces a gentle herbaceous note. Feel free to experiment with other herbs to customize the flavor.
Black Pepper and Salt: The classic duo, black pepper brings a mild heat, while salt unites all the flavors, achieving a well-rounded taste profile.
How to Make Salmon Marinade at Home?
Get ready to transform your salmon with this flavorful marinade! Follow along with our photos and video guide to effortlessly master each step of the recipe. Let's dive in: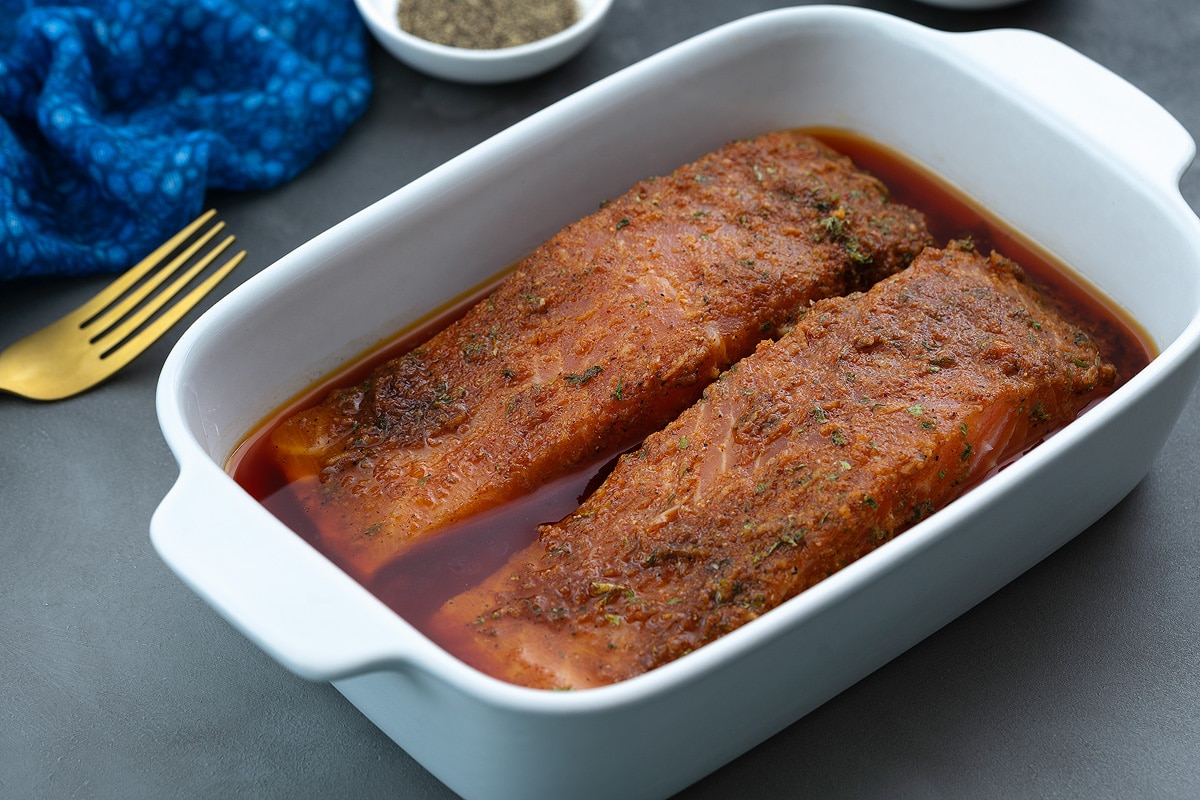 Explore a Variety of Seasoning and Marinade Recipes: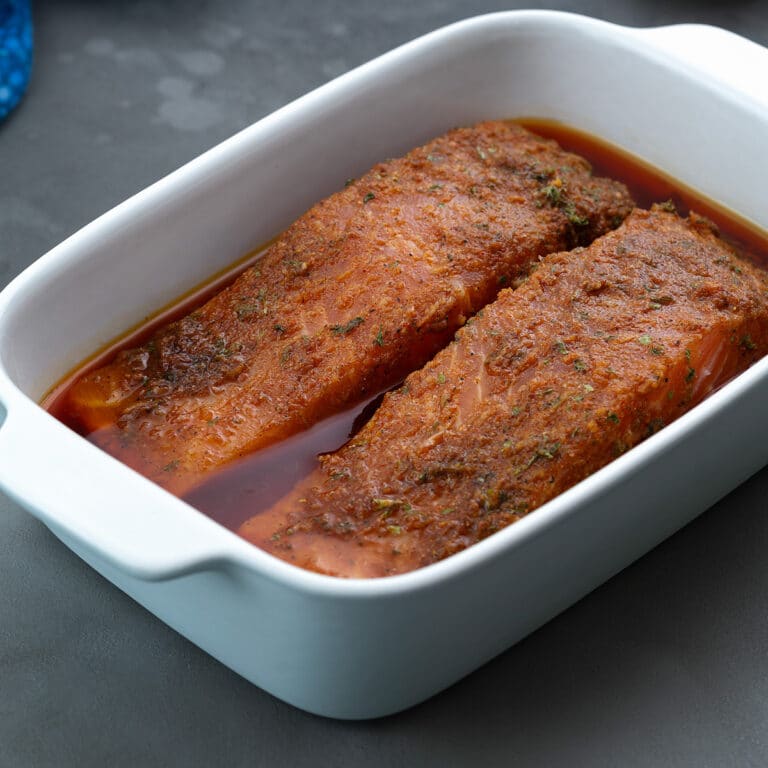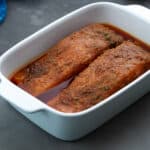 Salmon Marinade
Elevate your salmon dishes with our easy-to-make Salmon Marinade. Its sweet, savory, and zesty flavors are perfect for any cooking method, transforming your meal into a gourmet experience. Let's get started!
Subscribe
print (text-only)
email
pin
review
save
saved!
Ingredients
1

tbsp

Paprika

,

use the variety based on your preferred heat level

1

tsp

Onion Powder

½

tsp

Black Pepper Powder

1

tsp

Dried Parsley

1

tsp

Brown Sugar

1

tsp

Salt

,

or to taste

3

cloves

Garlic

,

grated

2

tbsp

Lemon Juice

1

tbsp

Soy Sauce

,

low sodium

½

cup

Olive Oil
More on Unit Conversions »
Instructions
To Make Salmon Marinade
In a mixing bowl, gather all the ingredients from our ingredient list.

Whisk everything together until it's completely blended. Your flavorful Salmon Marinade is now ready.

Pat the salmon fillets dry and arrange them on a plate, in a baking dish, or inside a zip-lock bag. Pour the marinade over the fillets, making sure each one is evenly coated. This marinade is good for 4-5 salmon fillets.
To Use
This Salmon Marinade is great for grilling, baking, air-frying, or pan-frying your salmon. Enjoy the versatility it brings to your dishes!
Chef's Notes and Tips
Here are some expert tips to make your Salmon Marinade truly exceptional:
Freshness First: Fresh ingredients are key! They bring out the best flavors, making your salmon dishes extraordinarily tasty.
Fresh Garlic for Impact: Freshly grated garlic is a game-changer. It enhances the marinade with a deeper, more robust flavor compared to garlic powder.
Customize the Heat: I've used moderate-heat paprika and a touch of black pepper for a balanced spice level. Feel free to adjust with different types of paprika or chili powder to suit your heat preference.
Herbs Add Depth: Whether fresh or dried, herbs are essential for that extra layer of flavor. They're not to be missed!
Marinating Time Matters: For the best flavor infusion, marinate the salmon for 30 minutes to 5 hours. Avoid marinating beyond 5 hours to maintain the perfect texture.
Marinade Quantity: This recipe is perfect for 4-5 salmon fillets (4-6 ounces each). Remember, the salmon in our instruction photo is just for illustration.
Flavor Experiments: Don't hesitate to experiment! Add honey or maple syrup for sweetness, sweet chili sauce or hot sauce for heat, or Dijon mustard and minced ginger for a bold twist. These additions allow you to customize the marinade to your taste.
Nutrition Info
Serving:
1
serving
|
Calories:
202
kcal
|
Carbohydrates:
2
g
|
Protein:
1
g
|
Fat:
22
g
|
Saturated Fat:
3
g
|
Polyunsaturated Fat:
2
g
|
Monounsaturated Fat:
16
g
|
Sodium:
668
mg
|
Potassium:
31
mg
|
Fiber:
0.2
g
|
Sugar:
1
g
|
Vitamin A:
59
IU
|
Vitamin C:
5
mg
|
Calcium:
7
mg
|
Iron:
0.3
mg
Disclaimer: We're not nutrition experts. Nutritional info is estimated and should be used as a guide. For precise details, consult a professional.
Explore our select seasonings and marinades, specially crafted for salmon recipes. Perfect for grilling, baking, or pan-searing, they promise to enrich your dishes with unique, harmonious flavors for a memorable dining experience.
How to Use this Marinade?
Here's how to make the most of this versatile Salmon Marinade in your cooking:
Storage Suggestions
To keep your Salmon Marinade fresh and ready-to-use, follow these storage tips:
Refrigerator Storage: Store the marinade in an airtight container in the fridge. It will stay fresh and maintain its flavors for 3-4 days, perfect for spontaneous salmon dinners.
Extend Shelf Life: For a longer shelf life, swap fresh garlic with garlic powder. This simple change can extend the marinade's freshness up to 2 weeks in the refrigerator, giving you more flexibility for meal planning.