Pumpkin Puree is a must-have in autumn's kitchen. It's the key to adding a touch of the season's warmth to your dishes. Its smooth texture and rich, sweet flavor make it perfect for a variety of dishes. Whether you're baking pumpkin bread, cheesecake, cookies or pies, whipping up soups, enhancing lattes, or creating desserts, this versatile puree brings the essence of fall to your cooking.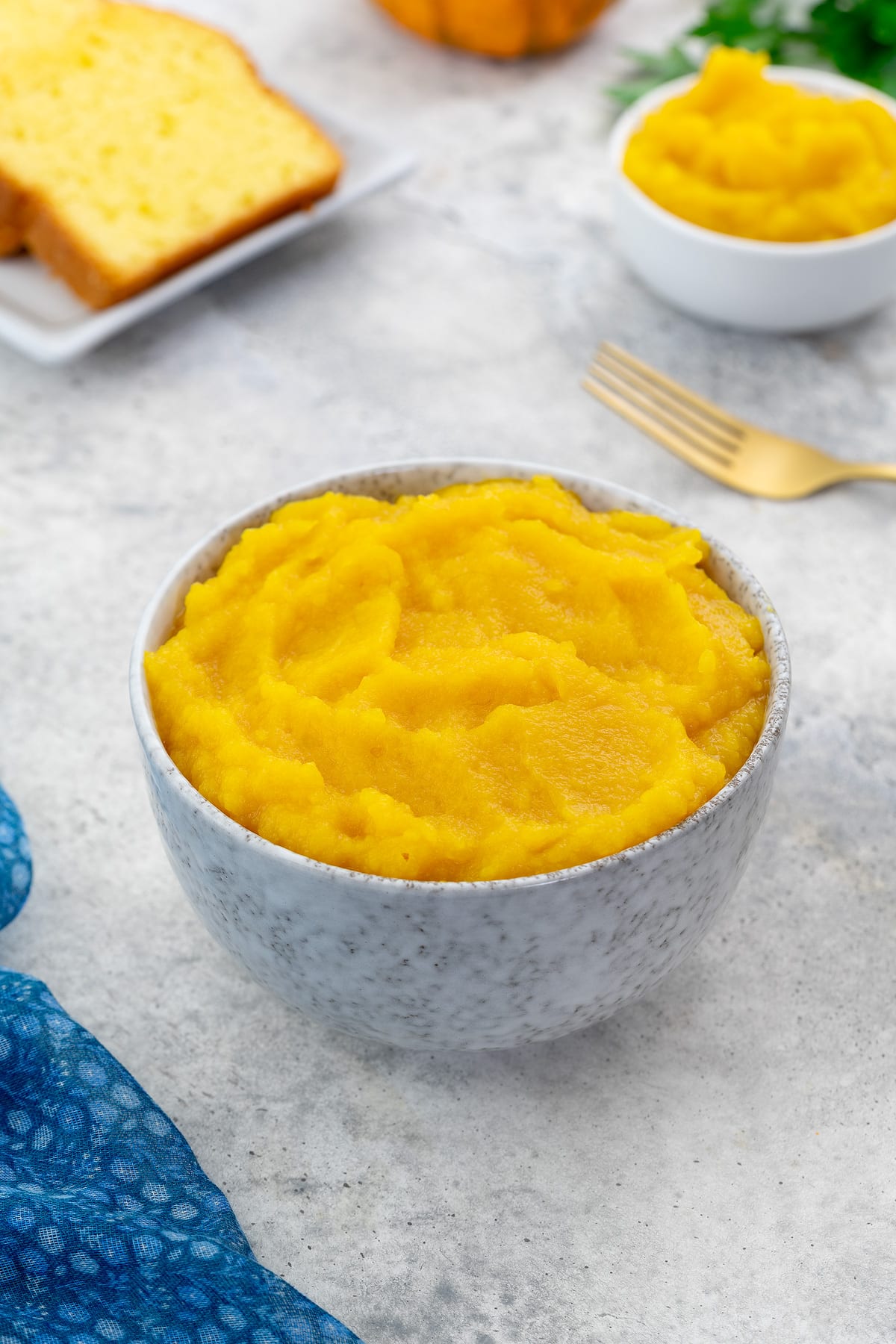 Jump to:
Opting for canned pumpkin puree might be quick, but making it at home is surprisingly simple, and nothing beats the freshness during pumpkin season. With just a roast and a puree, you can elevate your pumpkin recipes to a whole new level of homemade goodness.
Ingredients and Substitutions Overview
Creating Pumpkin Puree doesn't require a long shopping list. Here are the essentials with some optional additions: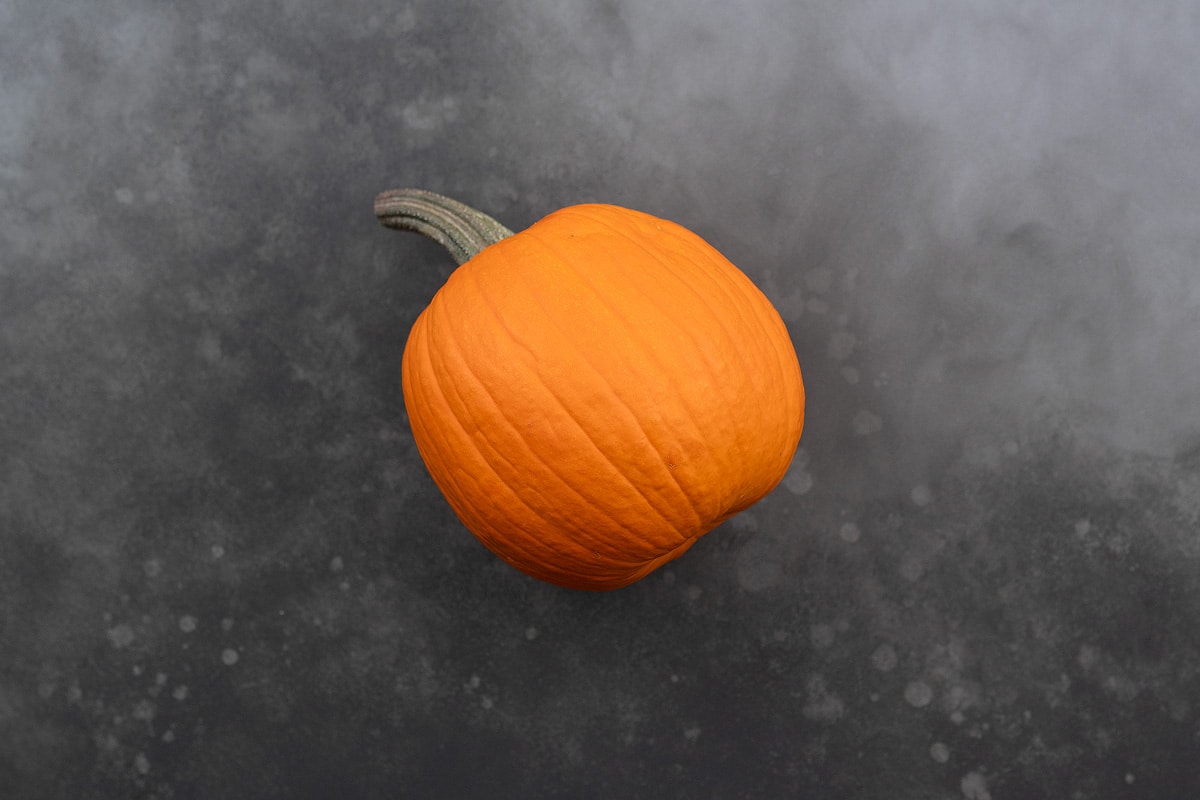 Pumpkin: Opt for small sugar or pie pumpkins, as they are sweeter and more manageable for creating the best pumpkin puree.
Oil and Salt (optional): Drizzle a bit of oil on the skin or season the flesh with salt to your liking. This puree is adaptable and can be flavored to suit your dishes.
How to Make Pumpkin Puree at Home?
Make Pumpkin Puree effortlessly with our easy-to-follow video guide. From prepping to pureeing, we'll guide you to silky-smooth perfection. Watch now for expert tips, and enjoy homemade puree in no time!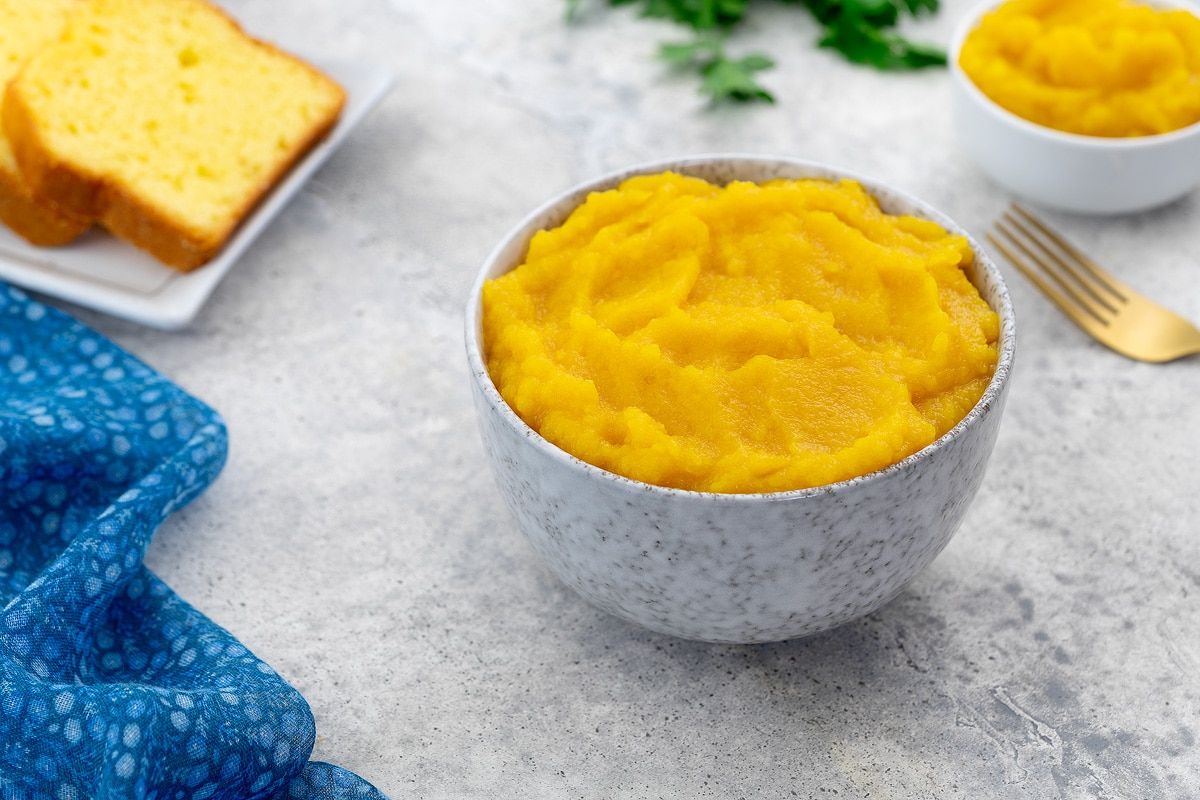 Uncover More Pumpkin Treasures: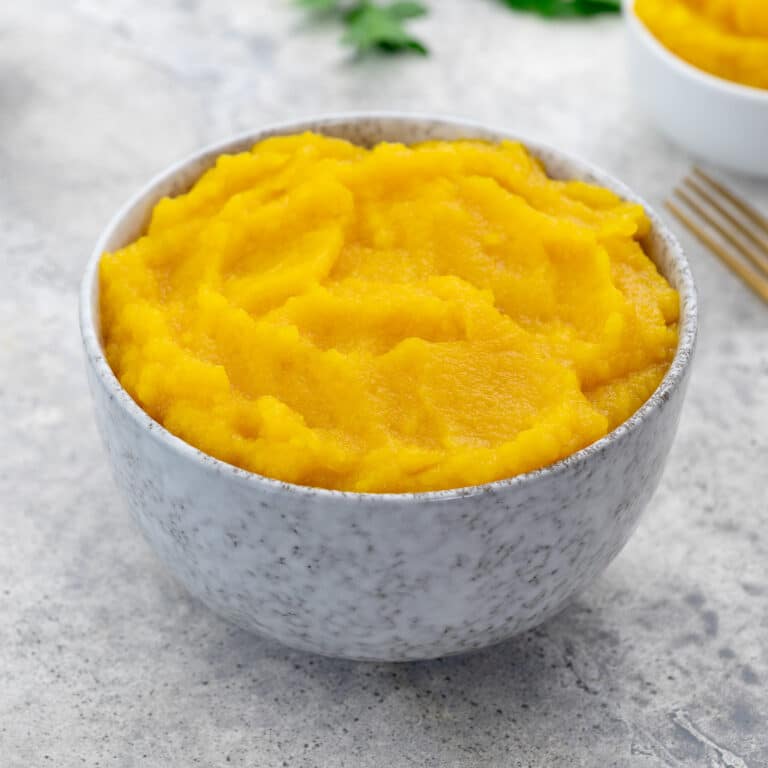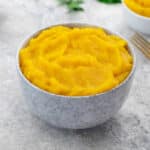 Pumpkin Puree
Pumpkin Puree: The Essence of Fall! Smooth, rich, and ready to enhance your favorite recipes - from warm breads and comforting soups to classic pies, and delightful cakes. Add a spoonful of autumn with this kitchen must-have!
Subscribe
print (text-only)
email
pin
review
save
saved!
Ingredients
1

Pumpkin

,

sugar or pie pumpkin (3-4 lb)

2

tsp

Oil

,

optional, see tips below

Salt

,

optional, to taste, see tips below
More on Unit Conversions »
Instructions
To prep Pumpkin
Wash the pumpkin and dry it with a kitchen towel. Cut the pumpkin in half and remove the seeds and stringy parts. (Tip: Save the seeds to make a crunchy snack.)

Place the halved pumpkin, cut side down, on a parchment-lined baking tray.
To Bake Pumpkin
Roast the pumpkin in a preheated oven at 350°F for 45-50 minutes, or until it's fork-tender.
To make Puree
Remove the pumpkin from the oven and let it cool until you can handle it comfortably.

Scoop out the pumpkin flesh into a bowl.

Use an immersion blender or food processor to blend the pumpkin until it becomes a smooth puree.
To Use
Your smooth and soft Pumpkin Puree is now ready for use in various recipes, like pumpkin bread, muffins, or pumpkin spice lattes.
Chef's Notes and Tips
Preparing the Pumpkin:
Choosing Your Pumpkin: Select pie or sugar pumpkins, preferably smaller ones (about 3-4 lbs) for easy handling.
Cutting Safely: Position the pumpkin stem side up. Firmly grip the pumpkin, then carefully insert a sharp knife and cut in half, rotating the pumpkin as you go.
Prepping for Roast: Remove seeds and strings (save the seeds for roasting, it is a treasure). Optionally, oil the skin and pierce lightly with a knife.
Roasting the Pumpkin:
Position for Roasting: Place pumpkin halves cut side up or down on the baking sheet, it doesn't matter.
Oven Temperature and Time: Roast at 350°F for 45-50 minutes, or until a fork can easily pierce the flesh. Adjust time as needed for different sizes.
Processing the Pumpkin:
Cooling: Allow the pumpkin to cool before handling.
Pureeing: For blending, use an immersion blender for one-step processing, or a food processor, working in batches to achieve a smooth texture.
Nutrition Info
Serving:
1
serving
|
Calories:
2
kcal
|
Carbohydrates:
0.04
g
|
Protein:
0.1
g
|
Fat:
0.2
g
|
Saturated Fat:
0.03
g
|
Polyunsaturated Fat:
0.1
g
|
Monounsaturated Fat:
0.1
g
|
Sodium:
0.02
mg
|
Potassium:
3
mg
|
Fiber:
0.02
g
|
Sugar:
0.003
g
|
Vitamin A:
0.1
IU
|
Vitamin C:
0.01
mg
|
Calcium:
0.2
mg
|
Iron:
0.03
mg
Disclaimer: We're not nutrition experts. Nutritional info is estimated and should be used as a guide. For precise details, consult a professional.
Explore our delightful assortment of pumpkin recipes and condiments, crafted to add a special touch to your cooking. From savory additions to sweet delights, these choices are ideal for elevating your everyday meals.
How to Use this Pumpkin Puree?
Your Pumpkin Puree is a versatile ingredient with a touch of seasonal magic. Here's how to make the most of it:
Baking: Elevate your baked goods with a rich pumpkin twist - from pumpkin bread, cheesecake, pancakes and muffins to cookies and pies.
Smoothies: Power up your morning with a nutritious and spiced pumpkin boost in your smoothies.
Lattes: Sip on your homemade pumpkin spice latte by blending it with your coffee and favorite spices.
Desserts: Indulge in the sweet side of pumpkin with bars, cheesecakes, and ice cream that are irresistible.
Storage Suggestions
Once you've crafted your Pumpkin Puree, here's how to store it for future culinary adventures:
In the Refrigerator: Transfer your homemade puree to an airtight container; it will keep in the refrigerator for up to one week. This is ideal for short-term use in your favorite recipes.
In the Freezer: For longer storage, freeze the puree in measured portions. Use freezer bags or ice cube trays for convenience. Frozen puree can last up to two months, ready to be thawed and used whenever you need a taste of autumn.