Savor the natural sweetness of Roasted Pumpkin, a dish that's as nutritious as it is delicious. With just a few simple ingredients like paprika, garlic powder, and herbs, you can transform pumpkin into a golden, caramelized treat. Perfect alongside your favorite meats or as a tasty addition to salads, it's an easy and versatile side that enhances any meal, whether it's lunch or dinner.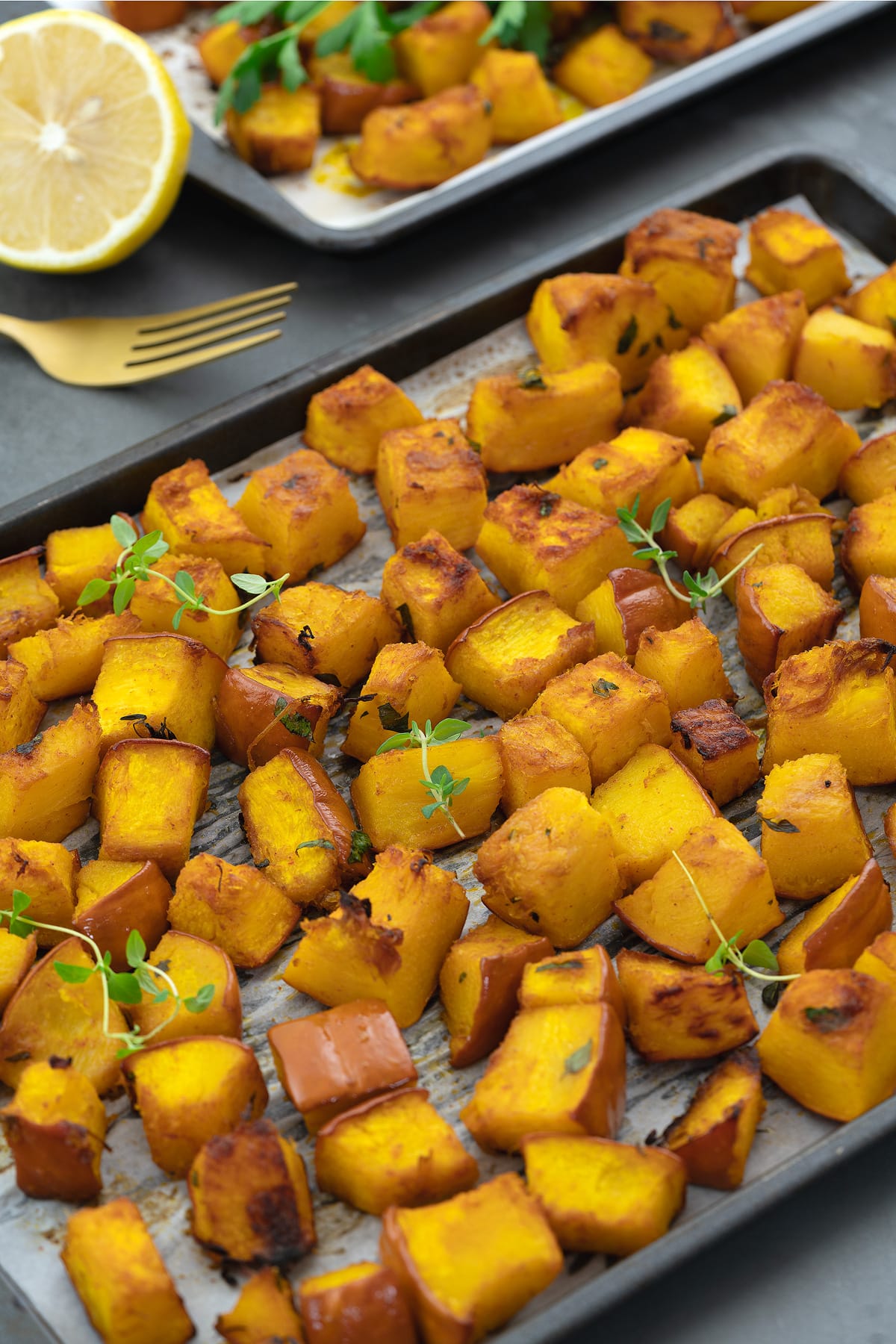 Jump to:
Roasting brings out the pumpkin's sugars, adding a rich depth of flavor that's sure to be a hit at any table - not just reserved for soups or baked goods!
A Medley of Roasted Vegetables:
Ingredients and Substitutions Overview
The ingredients for roasting pumpkins are simple staples you're likely to have in your kitchen. Let's go over them in detail.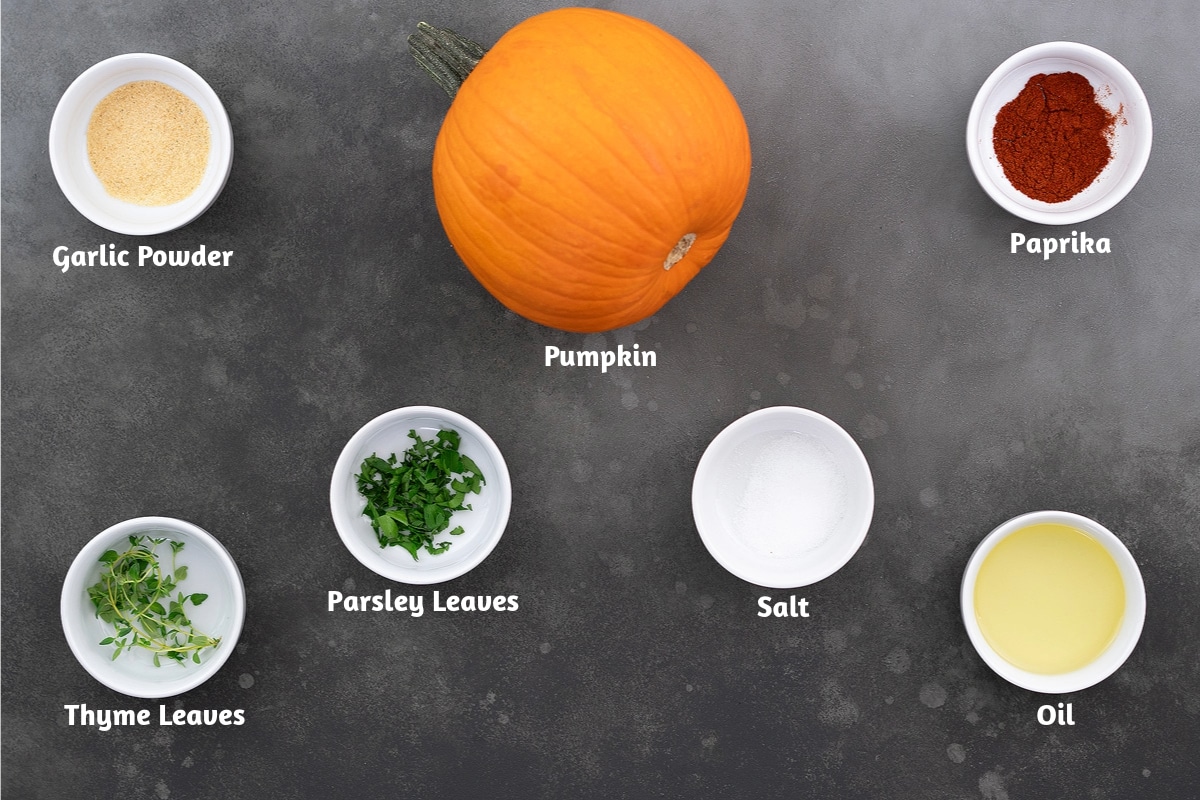 Pumpkin: Choose the smaller sugar or pie pumpkins because they're sweet and have a great nutty taste. They get even sweeter when you roast them.
Olive Oil: Makes the pumpkin soft and gives it a nice, slightly spicy flavor.
Paprika: Adds a smoky taste and makes the pumpkin look a nice red color.
Garlic Powder: Gives a hearty flavor that goes really well with the pumpkin's sweetness.
Fresh Herbs (Thyme and Parsley): Thyme makes your pumpkin taste a bit earthy, and parsley gives it a fresh taste.
Remember, it's okay to switch things up with what you have on hand – the pumpkin will still turn out delicious!
More Healthy and Hearty Roasts: From Carrots to Asparagus.
How to Roast Pumpkin in the Oven?
Check out our easy visual guide below, filled with step-by-step photos and a helpful video, to master the art of making Roasted Pumpkin. Ideal for both newcomers and seasoned kitchen pros!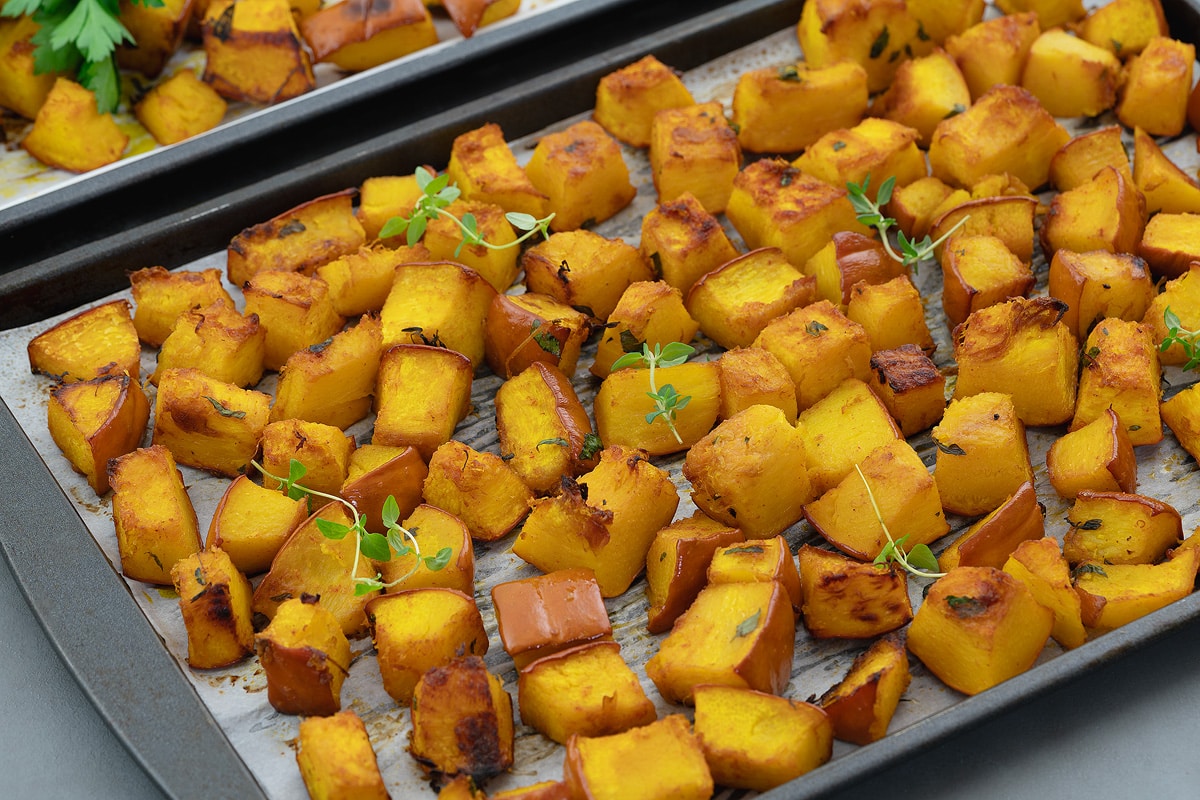 Pick of the Pumpkin: Tasty Recipes.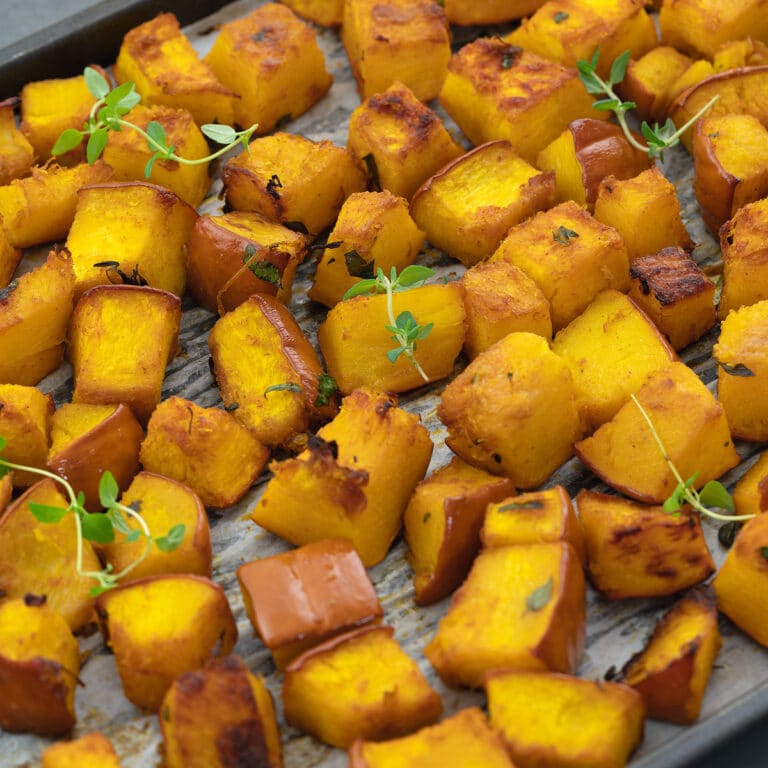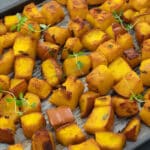 Roasted Pumpkin
Roasted Pumpkin is a delightful blend of sweet and savory, made even more delicious with the addition of aromatic herbs like thyme and parsley. Seasoned with staples such as paprika and garlic powder, this dish comes to life in the oven, where it caramelizes beautifully, creating a versatile accompaniment that pairs superbly with a variety of meats, seafood, and salads for lunch or dinner.
Subscribe
print (text-only)
email
pin
review
save
saved!
Ingredients
1

Sugar Pumpkin

,

weighs approx 3-4 lb

3

tbsp

Olive Oil

1

tbsp

Paprika

1

tsp

Garlic Powder

Salt

,

to taste

3

sprigs

Thyme Leaves

1

tsp

Parsley Leaves

,

chopped
More on Unit Conversions »
Instructions
To Roast Pumpkin
Begin by washing the pumpkin thoroughly and drying it with a kitchen towel. Cut the pumpkin in half, then use a spoon to scoop out the seeds and stringy parts. (Tip: Keep the seeds for roasting later!)

Cut the halved pumpkin into evenly sized wedges, aiming for pieces that will cook at the same rate.

Cut the wedges into smaller, bite-sized chunks. You can leave the skin on for extra texture, or peel it off if you prefer a softer bite.

Place the pumpkin pieces in a bowl. Drizzle with oil and sprinkle with paprika, garlic powder, salt, and some fresh thyme and parsley. Toss everything to coat well.

Spread the seasoned pumpkin onto a parchment-lined baking tray in a single layer, ensuring they don't touch for even roasting. Use two trays if needed to prevent crowding.

Roast in a preheated oven at 400°F for 20-25 minutes. Then, open the oven and gently turn the pumpkin pieces over with a spatula for even browning. Continue to roast for another 10-15 minutes until they are tender and golden.

Once done, remove the pumpkin from the oven, and it's ready to enjoy.
To Serve
Enjoy the roasted pumpkin warm as a tasty side, or let it cool if you're prepping for future meals. Check out the detailed serving suggestions below for more ideas.
Chef's Notes and Tips
Preparing the Pumpkin:
Pick the Perfect Pumpkin: Smaller sugar pumpkins are not just easy to manage, but they're also tastier and have a better texture.
Stay Safe: Cutting pumpkins can be tricky. Keep your fingers clear and use a sharp knife for easier slicing, safety first!
Preserve the Pumpkin Seeds: Don't discard those pumpkin seeds – they're a treasure! Simply clean, roast, and relish them as a crispy treat. Check my blog for the Roasted Pumpkin Seeds recipe.
Size Matters: Cut your pumpkin pieces evenly. It'll help them roast at the same rate, so every bite is just as perfect as the last.
Seasoning and Cooking:
Flavor is Key: Don't hold back on seasoning. A good drizzle of oil and a mix of spices like paprika, garlic powder, and herbs will make all the difference.
Watch the Clock: Get your oven hot (400°F is a sweet spot), and keep an eye on the time. Tender and golden is the goal-not mushy.
Turn 'Em Over: Give those pieces a flip midway through roasting. It ensures every side gets its time to shine.
Roasting Tips:
Stick Not: Line your tray with parchment paper to keep those pumpkin pieces from sticking.
Space Out: Spread out the pieces on your tray. More space means better roasting and that sought-after caramelized edge.
Keep these pointers in hand, and you're set for some top-notch roasted pumpkin!
Nutrition Info
Serving:
1
serving
|
Calories:
123
kcal
|
Carbohydrates:
15
g
|
Protein:
2
g
|
Fat:
7
g
|
Saturated Fat:
1
g
|
Polyunsaturated Fat:
1
g
|
Monounsaturated Fat:
5
g
|
Sodium:
3
mg
|
Potassium:
783
mg
|
Fiber:
1
g
|
Sugar:
6
g
|
Vitamin A:
19370
IU
|
Vitamin C:
23
mg
|
Calcium:
50
mg
|
Iron:
2
mg
Disclaimer: We're not nutrition experts. Nutritional info is estimated and should be used as a guide. For precise details, consult a professional.
Discover an array of mouthwatering recipes, from pumpkin recipes, roasted and baked vegetables to flavorful vegetable sides, all meticulously crafted to elevate your dining pleasure.
Serving Suggestions
Roasted Pumpkin is a versatile side that goes well with many main dishes. Here are some pairing suggestions to inspire your next meal:
With Meat: It's great with rich meats. Think of it as a side to your turkey at Thanksgiving, a companion to your Sunday roast chicken, or alongside a juicy pork chop.
Seafood: It also complements seafood nicely. Serve it next to grilled and baked salmon or a light and flaky tilapia.
Vegetarian Dishes: For a plant-based meal, roasted pumpkin adds heartiness to stuffed peppers, gives texture to vegetable lasagna, or can be tossed into a refreshing quinoa salad.
Soup: Enhance your autumn soups. A scoop of roasted pumpkin can add depth to butternut squash or pumpkin soup.
Grains: Mix it with grains. Add it to risotto for creaminess, to couscous for a sweet twist, or to quinoa for a nutritious boost.
Salads: Brighten up greens by tossing in some roasted pumpkin, sprinkle with feta, and drizzle with balsamic for a salad that's anything but boring.
Pasta: Turn a simple pasta dish into something special by adding chunks of roasted pumpkin, fresh herbs, and a creamy sauce.
Brunch: Yes, even brunch! Add roasted pumpkin to frittatas, on the side of your morning eggs like sunny-side-ups, or into an omelet for a touch of sweetness.
With these ideas, roasted pumpkin can be more than just a seasonal favorite, it's a year-round delight.
Storage Suggestions
Store It Right: Pop any leftover roasted pumpkin into an airtight container and tuck it into the fridge.
Shelf Life: It'll stay good for 2 to 3 days.
Reheat and Eat: When you're hungry again, just microwave it until warm and it's ready to enjoy!