Savor the rich and comforting flavors of Pumpkin Soup, a perfect blend of sweetness and savoriness. This delicious soup, made with pumpkin, onion, garlic, and a medley of seasonings, is an ideal treat for cozy fall days. Its natural sweetness, enhanced with ingredients like cumin and black pepper, and the creamy texture from heavy cream, create a delightful flavor profile.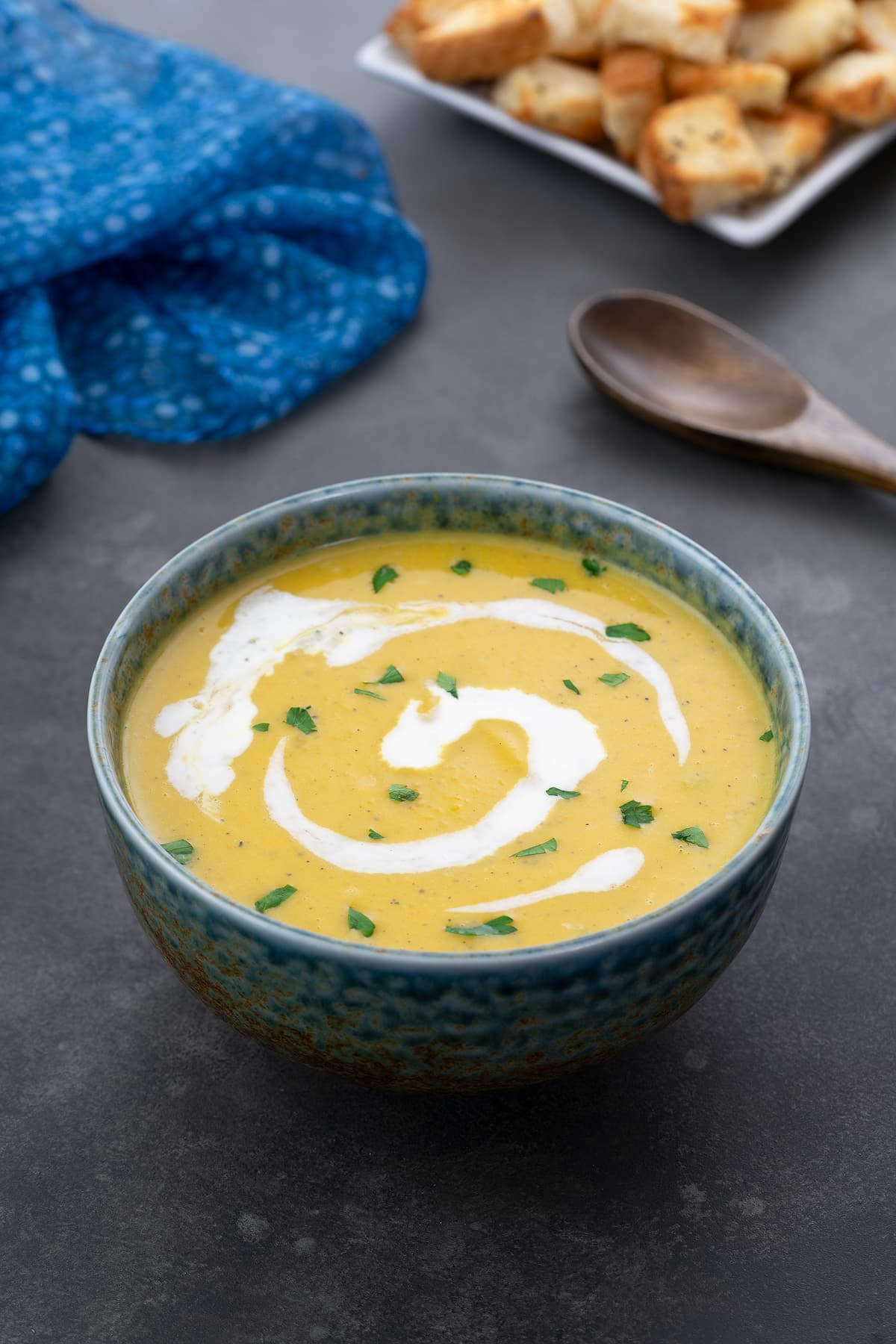 Jump to:
This classic soup, simple in its preparation, invites you to experiment with various seasonings and serves as a heartwarming meal when paired with croutons, crusty bread, or cheesy dinner rolls.
Ingredients and Substitutions Overview
Prepare to indulge in the ultimate Pumpkin Soup experience with these essential ingredients and handy substitutions: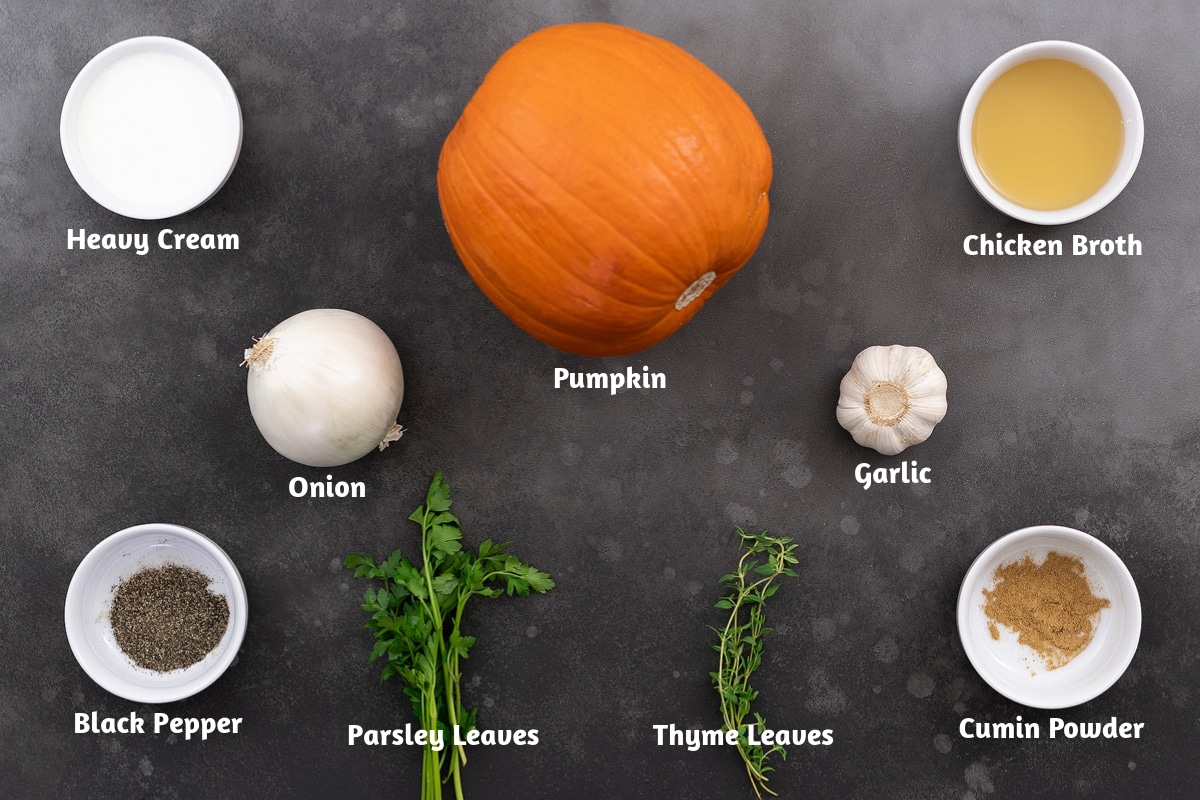 Pumpkin: Sugar or pie pumpkins are ideal, but butternut squash is a great alternative for its natural sweetness.
Onion: Choose finely chopped onions for a touch of warm, sweet flavor.
Garlic: Add a punch of taste with minced, grated, or powdered garlic.
Broth: Use chicken broth for a rich flavor base, or vegetable broth for a vegetarian twist.
Cream: Heavy cream adds a luxurious texture, but half-and-half or whole milk are excellent substitutes.
Seasoning Powders: Enhance the pumpkin's sweetness with a blend of black pepper, cumin, and salt.
Herbs: Incorporate fresh thyme and parsley for a burst of freshness and vibrancy.
Olive Oil: A drizzle of olive oil brings richness and rounds out the flavors for a smooth and delectable soup.
How to Make Pumpkin Soup at Home?
Discover the flavors of our Pumpkin Soup recipe. Below, you'll find step-by-step instructions accompanied by photos and a video to guide you through the process of creating this comforting classic.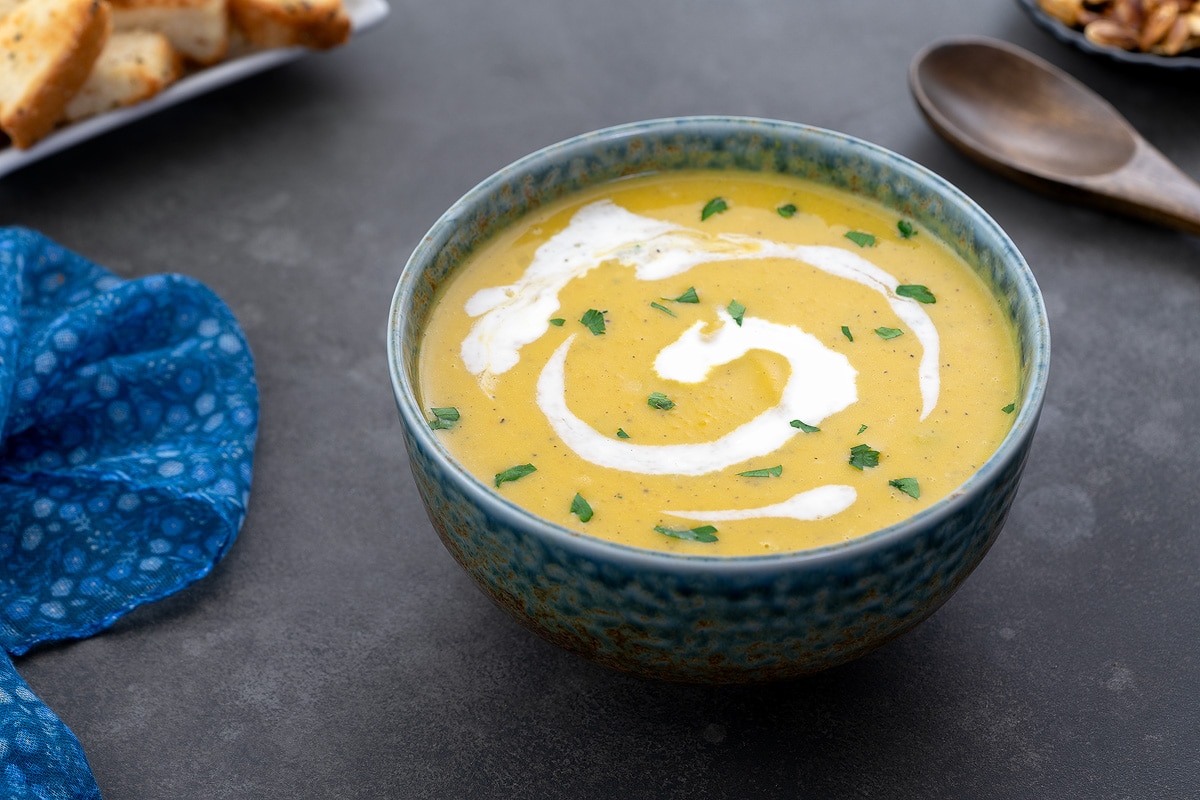 Explore More Pumpkin Delights: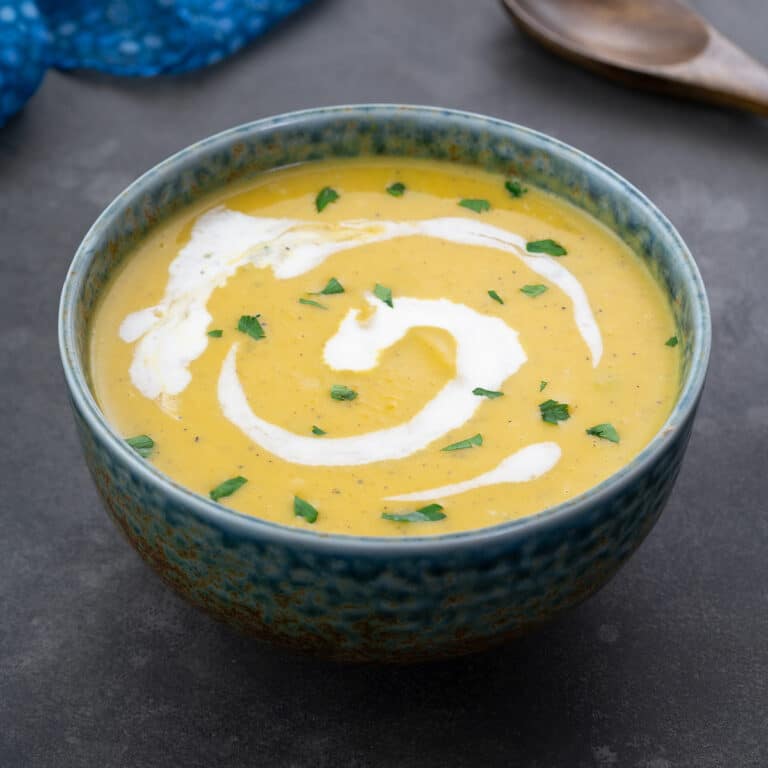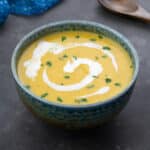 Pumpkin Soup
Savor the perfection of Pumpkin Soup, a cozy blend of sweet and savory crafted with pumpkin, onion, garlic, chicken broth, heavy cream, and fresh herbs. An ideal companion for those chilly fall days!
Subscribe
print (text-only)
email
pin
review
save
saved!
Ingredients
1

Sugar Pumpkin

,

peeled and diced (2-3 lb)

1

Onion

,

medium, sliced

8

cloves

Garlic

2

sprigs

Thyme Leaves

¾

tsp

Black Pepper Powder

,

or adjust to the spice level

1

tsp

Cumin Powder

Salt

,

to taste

4

cup

Chicken Broth

,

or veg broth

½

cup

Heavy Cream

Parsley Leaves

,

to garnish

2-3

tbsp

Olive Oil
More on Unit Conversions »
Instructions
Preparing Pumpkin Soup
Heat your pan on a medium flame. Toss in onions, garlic, and thyme leaves. Sauté until they're soft and they smells delightful.

Add diced pumpkin, season with salt, black pepper, and cumin powder. Sauté until everything is well mixed.

Pour in chicken broth and let the pumpkin cook until it's tender. When done, turn off the heat.

Use an immersion blender to blend for a smooth texture. If you're using a regular blender, let it cool a bit, then blend in batches.

Stir in heavy cream, and garnish with parsley, and there you go! Your flavorful pumpkin soup is ready.
Serving
Serve it with crusty or cheesy bread and simple salads for a hearty meal
Chef's Notes and Tips
Here are some expert tips to perfect your Pumpkin Soup:
Selecting the Pumpkin: Choose sugar or pie pumpkins for their natural sweetness. Butternut squash is a reliable, sweet alternative.
Cutting for Consistency: Aim for medium-sized pumpkin slices for even cooking. Need cutting tips? Refer to my roasted pumpkin recipe.
Seasoning Simplicity: Create a classic flavor with a mix of onion, garlic, black pepper, and cumin powder.
Broth Choice: Simmer the pumpkin in chicken or veggie broth to enhance its flavors – it's like a cozy embrace for your soup.
Blending Method: Use an immersion or regular blender. Cool the pumpkin slightly before blending for safety.
Creaminess Level: Indulge with heavy cream, or keep it light with half-and-half or milk.
Herbal Touch: Garnish with fresh parsley or cilantro for an herbal freshness.
Creative Flavors: Experiment with pumpkin spice or paprika for an extra kick.
Roasting Made Easy: For a simple soup, roast the pumpkin. Follow my pumpkin puree recipe: roast pumpkin halves with a head of garlic and a medium onion. Once cool, peel, blend, add cream, season, and garnish with parsley for a cozy soup experience.
Nutrition Info
Serving:
1
serving
|
Calories:
259
kcal
|
Carbohydrates:
22
g
|
Protein:
5
g
|
Fat:
19
g
|
Saturated Fat:
8
g
|
Polyunsaturated Fat:
1
g
|
Monounsaturated Fat:
8
g
|
Cholesterol:
38
mg
|
Sodium:
885
mg
|
Potassium:
919
mg
|
Fiber:
2
g
|
Sugar:
9
g
|
Vitamin A:
19792
IU
|
Vitamin C:
26
mg
|
Calcium:
102
mg
|
Iron:
3
mg
Disclaimer: We're not nutrition experts. Nutritional info is estimated and should be used as a guide. For precise details, consult a professional.
Discover the ultimate in comfort with our pumpkin recipes and cozy recipe collection. From classic favorites to new culinary delights, find your ideal match among our comforting chicken soup and hearty vegetable soup recipes.
Storage Suggestions
Refrigeration: Keep your Pumpkin Soup fresh in the fridge for up to 2-3 days. Just make sure it's in an airtight container.
Freezing Tips: For longer storage, use portion-sized ziplock bags to freeze the soup. This method preserves its flavors for up to 2 months.
Reheating: When you're ready to enjoy it again, let the soup thaw in the fridge overnight. Reheat it on the stove or in the microwave. If it's too thick, a splash of water will bring it back to the perfect consistency.
Serving Suggestions
Elevate your dining experience by exploring pairing options that perfectly complement your pumpkin soup. Think about serving it with:
Dip and Tear Some Bread: Grab a chunk of crusty bread or croutons, and let it dive into the velvety goodness of your pumpkin soup.
Crunchy Pumpkin Seeds: Sprinkle those roasted pumpkin seeds on top, trust me, they add a satisfying crunch and a pop of pumpkin flavor.
Grilled Cheese Love: Picture this – melty cheese meeting rich pumpkin soup. Pure comfort, right?
Light and Fresh Salad: Keep it breezy with a side salad, dressed up in a tangy vinaigrette. It's like a little garden party on your plate.