Vegetarian Chili, a delightful Mexican American creation, is a creamy and moderately spiced dish brimming with fresh flavors. This homemade recipe skillfully blends vegetables, beans, aromatics, cream cheese, vegetable broth, and the ideal chili seasoning for a taste experience akin to classic beef chili and white chicken chili. It's a versatile dish, easily adaptable to a vegan diet.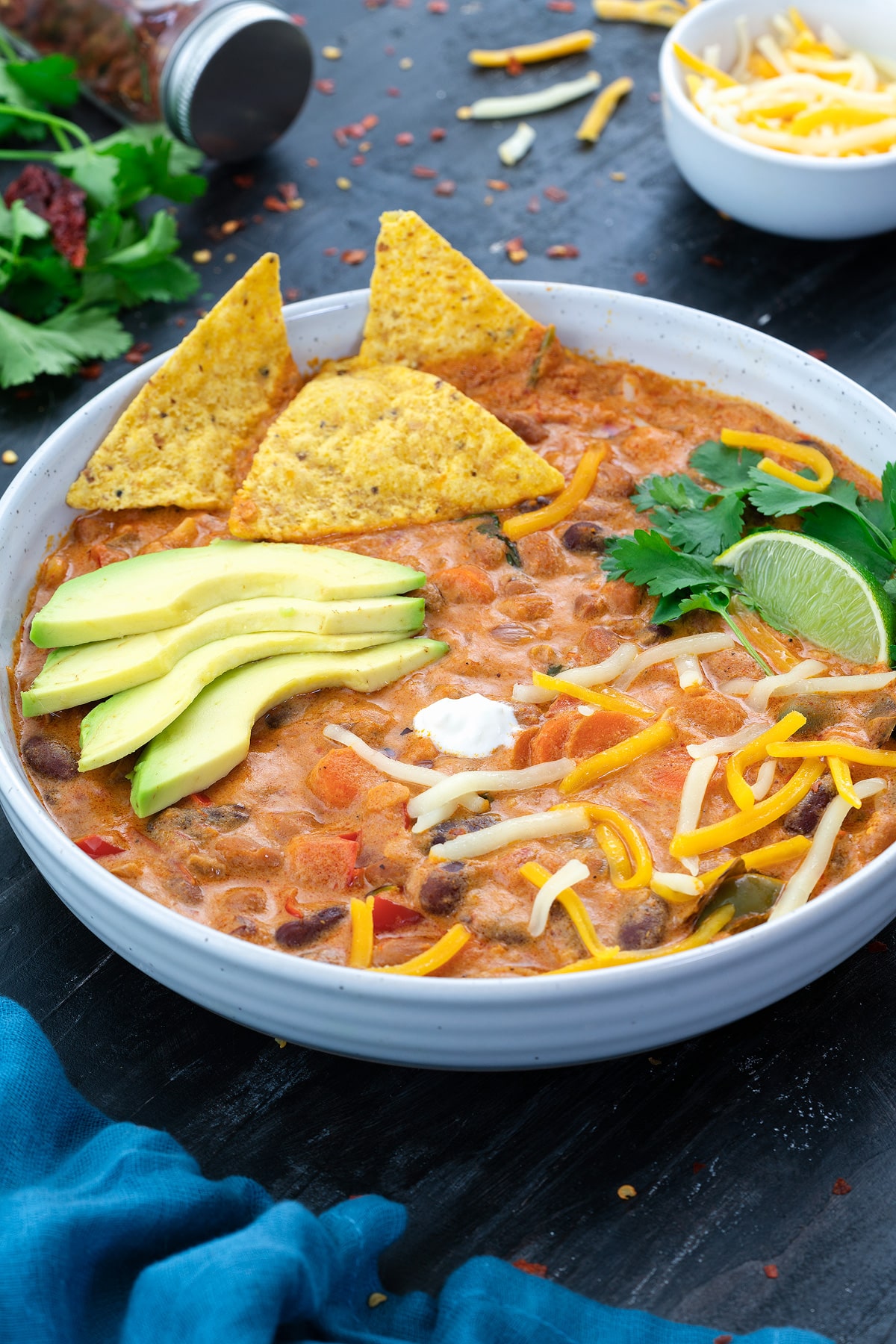 Jump to:
Ideal for lunch or dinner, this chili is elevated when served with toppings like avocado, tortilla chips, a blend of cheeses, coriander leaves, and sour cream. Whether it's a cozy meal on a cold winter day, a satisfying option for game night dinners, or a healthy choice rich in fiber and protein, this vegetarian chili is a crowd-pleaser. Its flavors deepen when enjoyed the next day, making it perfect for meal prep.
For those who love hearty Mexican fare, consider pairing this chili with our Mexican drinks recipes, including atole, Mexican hot Chocolate, and cafe de olla, for a complete dining experience.
Ingredients and Substitutions Overview
This Vegetarian Chili recipe calls for simple pantry staples and fresh produce, readily available in most grocery stores. Here's a breakdown of the ingredients and possible substitutions: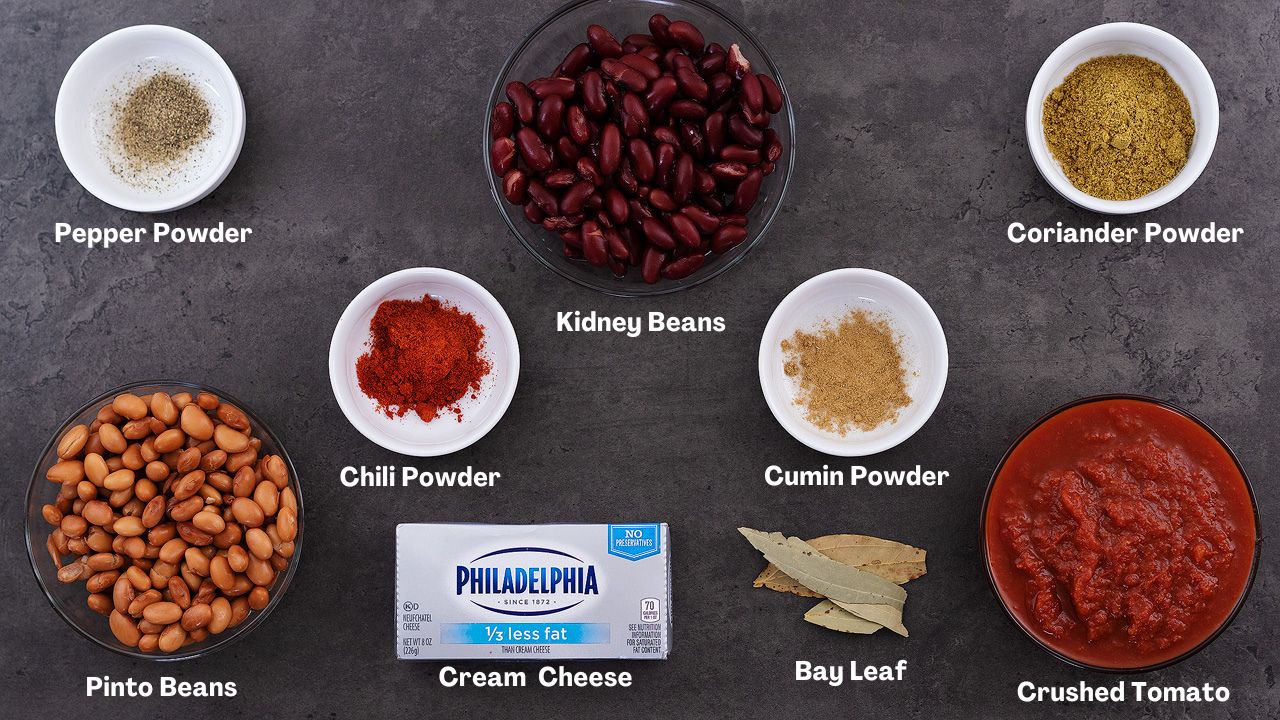 Beans: The recipe uses kidney and pinto beans. Feel free to substitute with white beans, black beans, or a mix of these.
Tomato: Crushed tomatoes are essential for a balanced sweet and tangy flavor.
Chili Seasoning: A crucial mix of chili powder or paprika, coriander powder, ground black pepper, and cumin powder. Smoked paprika can be used for a smoky twist.
Cream Cheese: Adds a rich, creamy texture to the chili.
Bay Leaves: These infuse a mild peppery mint flavor into the dish.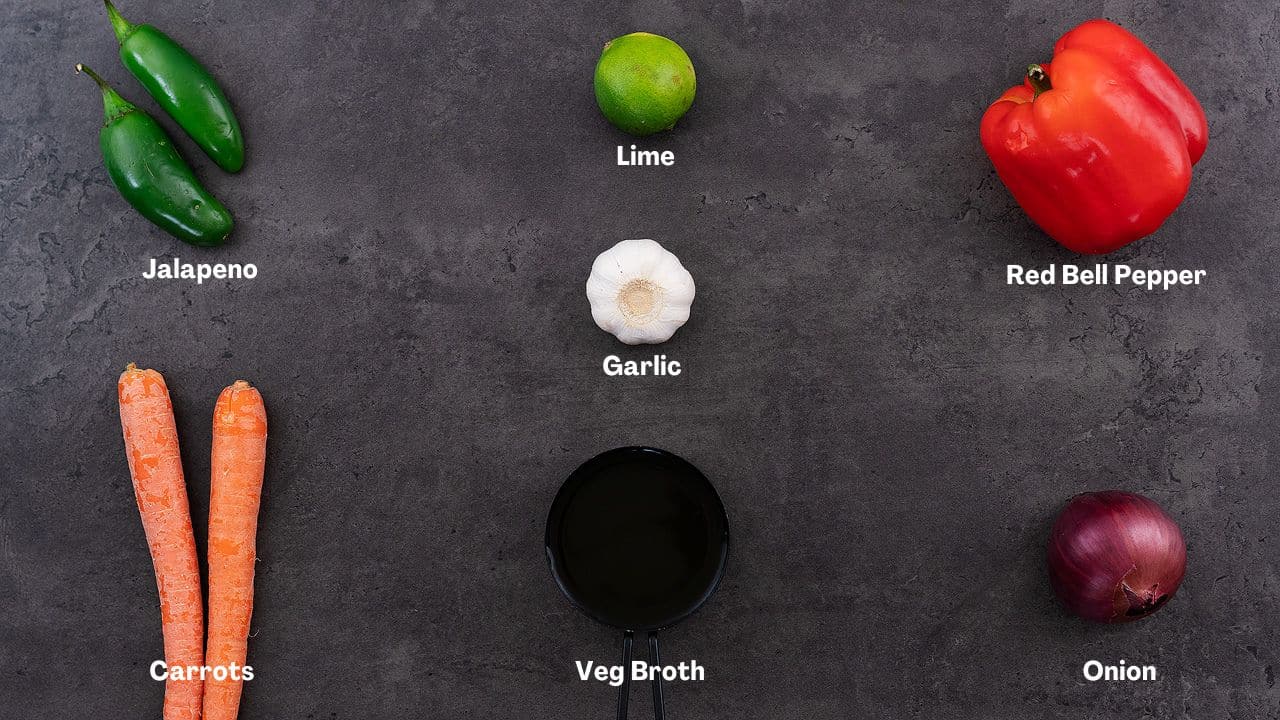 Aromatics: Onion and garlic contribute sweet and warm notes.
Veggies: Carrots and red bell pepper are used, but celery ribs, mushrooms, shredded soy, or tempeh are great alternatives for extra flavor.
Broth: A flavorful addition that shouldn't be skipped.
Green Chili: Jalapeño peppers add unique flavor and heat, adjust the quantity to suit your taste.
Toppings: Avocado, sour cream, tortilla chips, coriander leaves, lime wedges and juice, and cheese blends are perfect for garnishing.
How to make Vegetarian Chili?
Dive into the delightful world of Vegetarian Chili with our step-by-step recipe, accompanied by helpful photos and a video guide. Follow along to create this comforting and flavorful dish that's perfect for any occasion.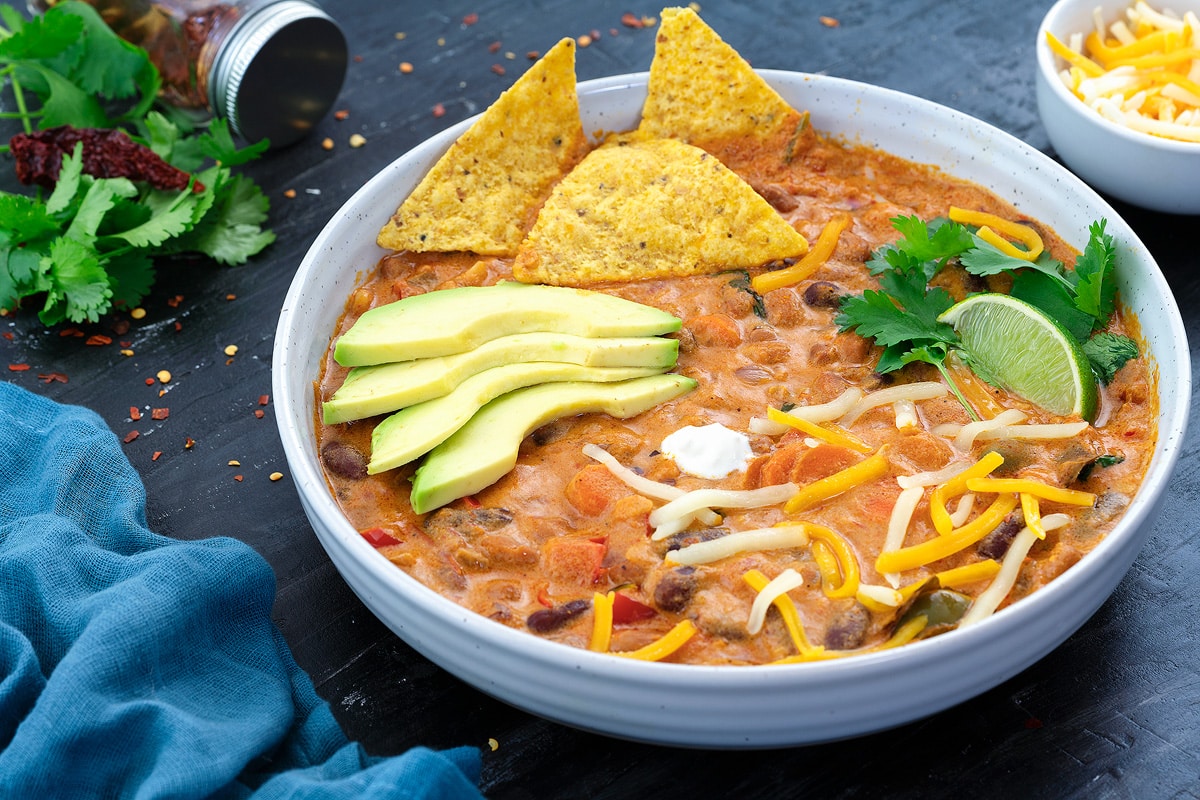 Explore a Variety of Tasty Soup Recipes: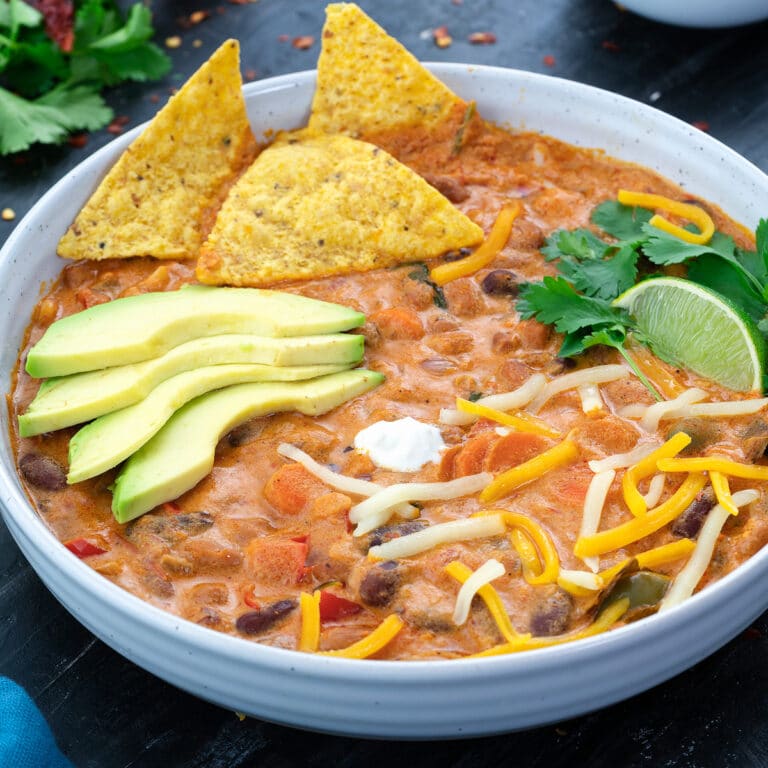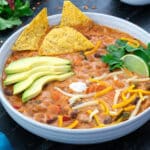 Vegetarian Chili
Vegetarian Chili, a creamy, moderately spiced Mexican American dish, features fresh veggies, beans, aromatics, cream cheese, and special chili seasoning. Simple to prepare, this homemade chili has a unique flavor profile reminiscent of classic recipes. Enjoy it with avocado, tortilla chips, a cheese blend, coriander, and sour cream, ideal for both lunch and dinner.
Subscribe
print (text-only)
email
pin
review
save
saved!
Ingredients
2

tbsp

Olive Oil

2

Bay Leaves

2

tbsp

Garlic

,

chopped

2

Jalapeno

,

chopped

¼

cup

Onion

,

chopped

¼

cup

Red Bell Pepper

,

chopped

¼

cup

Carrot

,

chopped

1

tsp

Chili Powder

,

or paprika (for less heat)

2

tbsp

Coriander Powder

½

tsp

Cumin Powder

,

could increase upto ¾ tsp

½

tsp

Black Pepper Powder

15

oz

Crushed Tomato

15

oz

Kidney Beans

15

oz

Pinto Beans

2

cup

Vegetable Broth

4

oz

Cream Cheese

3

tbsp

Coriander Leaves

,

+ for topping

½

Lime

,

juice from ½ lime

Avocado

,

for topping

Sour Cream

,

for topping

Tortilla Chips

,

for topping

Cheese Blend

,

for topping

Salt

,

as needed
More on Unit Conversions »
Instructions
To make Vegetarian Chili
Start by heating some oil in a pan over medium heat. Toss in the bay leaves, garlic, jalapeno, and onion, and sauté them until the onion becomes soft.

Next, add the red bell pepper and carrots, and sprinkle in a bit of salt. Continue to cook until they become soft.

Now, it's time for the spices. Add the chili powder or paprika, coriander powder, cumin powder, and black pepper. Stir everything together until the mixture is fragrant.

Mix in the crushed tomatoes, kidney beans, and pinto beans. Make sure everything is well combined.

Pour in the vegetable broth and give it a good stir. Let the mixture simmer for about 15 to 20 minutes.

Now, add the cream cheese. Stir it gently until it completely melts into the chili.

Finally, add a fresh touch with coriander leaves and the juice of half a lime. Give everything a final mix. Your Vegetarian Chili is now ready to be savored!
To Serve
Enjoy Vegetarian Chili topped with avocado, cheese blend, sour cream, tortilla chips, and coriander leaves. It also pairs well with cornbread, baked potatoes, nachos, tacos, Mexican rice, roasted potatoes, and guacamole for a versatile meal experience.
Chef's Notes and Tips
Tips for the Perfect Vegetarian Chili:
Optimal Flavor and Taste: Use vegetable broth as the cooking liquid for your chili. It's key to achieving the best taste and flavor, so it's worth not substituting this ingredient.
Beans and Veggies Selection: Choose from a variety of beans like black, pinto, kidney, and white beans. Pair them with veggies such as carrots, mushrooms, and celery ribs to enrich the flavor and nutrition of your chili.
Vegan Adaptation: For a vegan-friendly chili, simply omit the cream cheese and cheese blends from the recipe.
Thickening the Chili: While cream cheese adds creaminess, consider blending a portion of the beans (about ¼ cup reserved before cooking) for an even creamier texture.
Flavor Enhancements: Introduce additional layers of flavor to your chili by incorporating dark chocolate or sherry.
Adjusting the Heat: Tailor the spiciness to your liking by modifying the amounts of heat-inducing ingredients in the recipe. This ensures the chili meets your preferred heat level.
Topping: Consider using avocado, corn, different types of onions (red, fried, spring), crunchy elements like tortilla chips or Ritz crackers, creamy additions such as sour cream or ranch, a cheese blend of cheddar and Monterey Jack, guacamole, and salsa.
Best Beans for Chili: When selecting beans for your chili, opt for pinto beans, kidney beans, black beans, or northern white beans. Feel free to use any single type or a combination of these beans, depending on your recipe's requirements.
Nutrition Info
Serving:
1
serving
|
Calories:
457
kcal
|
Carbohydrates:
62
g
|
Protein:
18
g
|
Fat:
19
g
|
Saturated Fat:
7
g
|
Polyunsaturated Fat:
2
g
|
Monounsaturated Fat:
8
g
|
Cholesterol:
29
mg
|
Sodium:
1965
mg
|
Potassium:
1830
mg
|
Fiber:
17
g
|
Sugar:
20
g
|
Vitamin A:
4060
IU
|
Vitamin C:
54
mg
|
Calcium:
184
mg
|
Iron:
7
mg
Disclaimer: We're not nutrition experts. Nutritional info is estimated and should be used as a guide. For precise details, consult a professional.
Explore our collection of comforting soup recipes, satisfying comfort food, and authentic Mexican dishes. Indulge in rich flavors and hearty textures with these warm, comforting culinary treasures.
Storage Suggestions
Chili often tastes better the next day. Store any leftovers in an airtight container in the refrigerator for up to 3 to 4 days. When ready to enjoy, simply reheat the desired amount in a microwave-safe bowl.
Serving Suggestions
Enjoy this Vegetarian Chili topped with avocado, a cheese blend, sour cream, tortilla chips, and coriander leaves. It pairs excellently with sides like cornbread, baked potatoes, nachos, tacos, Mexican rice, roasted potatoes, guacamole, or any other preferred sides.