Tom Kha Gai, a classic Thai coconut soup, is known for its rich blend of flavors and comforting qualities. This satisfying soup combines chicken, mushrooms, coconut milk, chicken broth, Thai red curry paste, galangal, and lemongrass. It's a favorite comfort food that complements rice or crusty bread and is ideal for both lunch and dinner.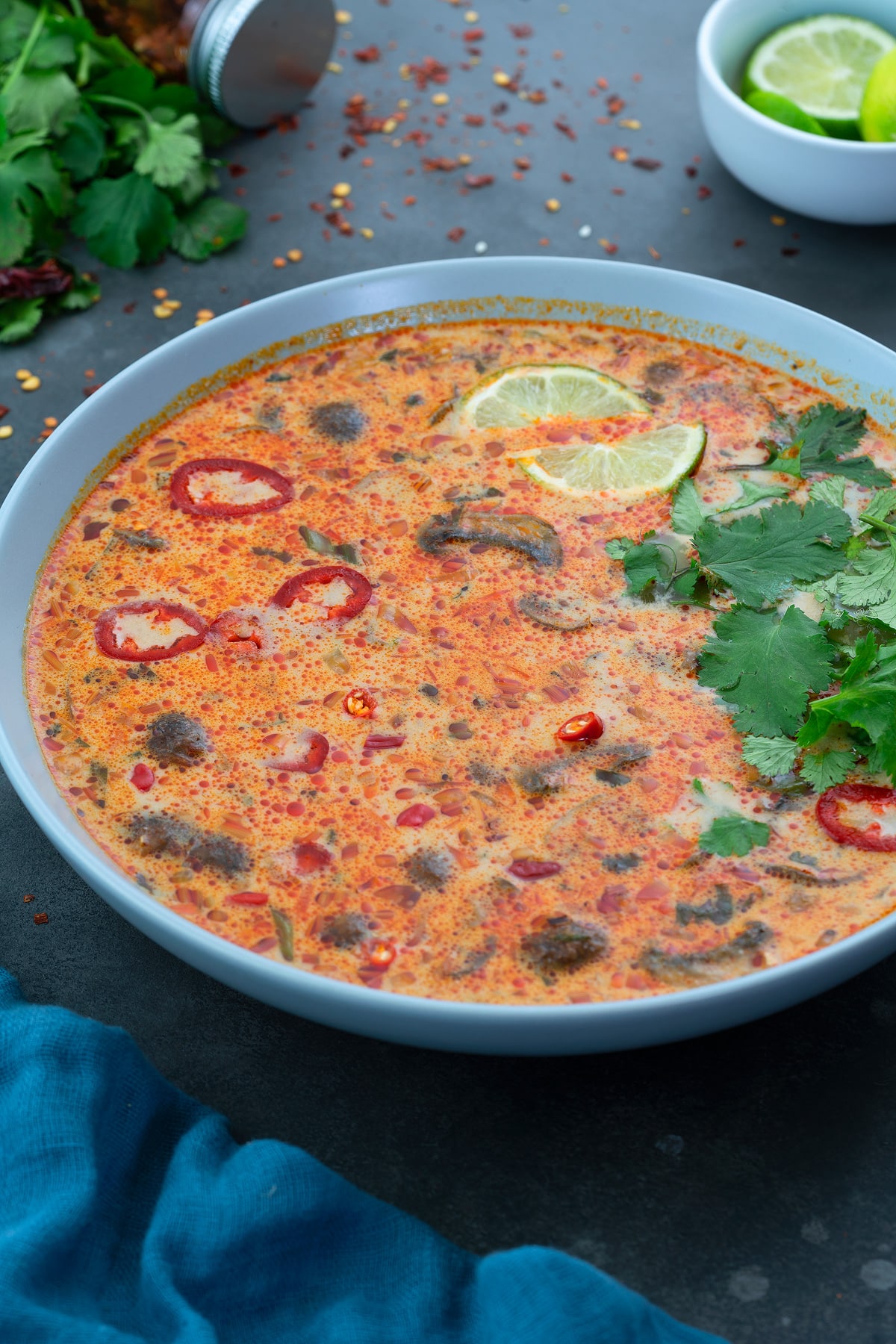 Jump to:
This creamy, aromatic Thai soup, infused with ingredients like garlic, fish sauce, and Thai red chilies, offers a global culinary experience. It's often garnished with cilantro and pairs well with steamed rice or bread, providing a hearty and fulfilling meal.
The name Tom Kha Gai reflects its main elements: "Tom" means boiling, "Kha" is galangal, and "Gai" stands for chicken. What makes this soup stand out is its ease of preparation and adaptability. You can tailor the spice levels and ingredients to your preference, making it a customizable and health-conscious choice. The coconut milk in the soup, rich in beneficial fats, adds to its nutritional value and satiety.
Ideal for lovers of Asian cuisine or those seeking a tasty chicken soup, Tom Kha Gai is a delightful way to enjoy the authentic flavors of Thai cooking.
Explore the Taste of Thai Delicacy:
Ingredients and Substitutions Overview
For your Tom Kha Gai Soup recipe, gather a selection of Asian spices, seasonings, and fresh ingredients, typically available at Asian grocery stores. This ensures an authentic taste and aroma for your soup.
Main Ingredients: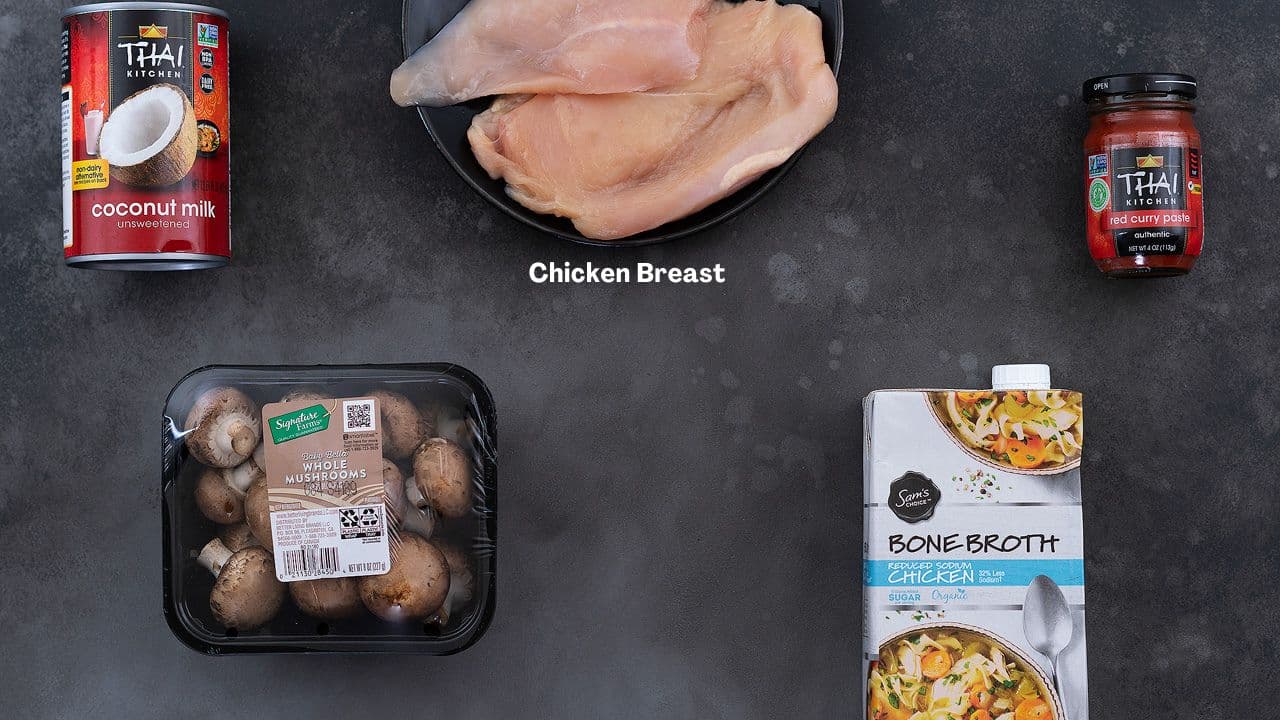 Chicken: Choose between boneless, skinless chicken breasts or thighs. Use low-sodium or homemade chicken broth for enhanced flavor.
Mushrooms: While brown baby Bella mushrooms are used here, feel free to substitute with any edible mushroom variety.
Coconut Milk: Essential for its rich, creamy taste.
Thai Red Curry Paste: An optional but flavorful addition, though not traditional in the recipe.
Aromatics and Seasonings: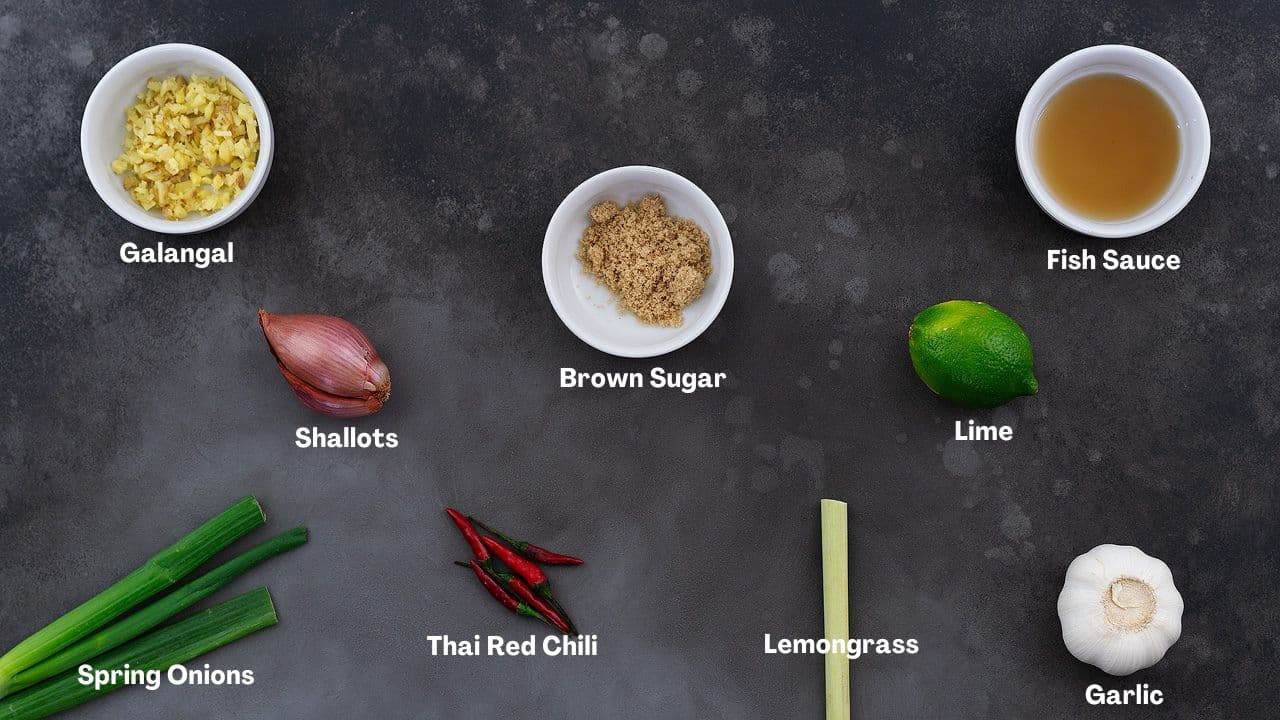 Aromatics: Galangal, lemongrass, garlic, and shallots are crucial for authentic flavors. Galangal, similar to ginger but with a citrus-pine taste, is preferred. Dried galangal can substitute if fresh isn't available. Ginger can also be used, though it alters the flavor slightly.
Lime Juice: Adds a citrusy, tart touch. Lemon juice is a suitable substitute if lime is unavailable.
Fish Sauce: Essential for its unique umami taste. Worcestershire sauce or soy sauce can be used as alternatives.
Brown Sugar: Helps balance the flavors.
Thai Red Chilies: Adjust the amount to control the heat level.
Herbs: Spring onions and coriander add a fresh, herbaceous note. Kaffir lime leaves are ideal but optional; add 2-3 leaves if available.
How to Make Tom Kha Gai Soup at Home?
Dive into the aromatic world of Thai cuisine with our Tom Kha Gai Soup recipe. Follow along with our step-by-step photos and video to easily recreate this flavorful and comforting dish at home. Let's get started!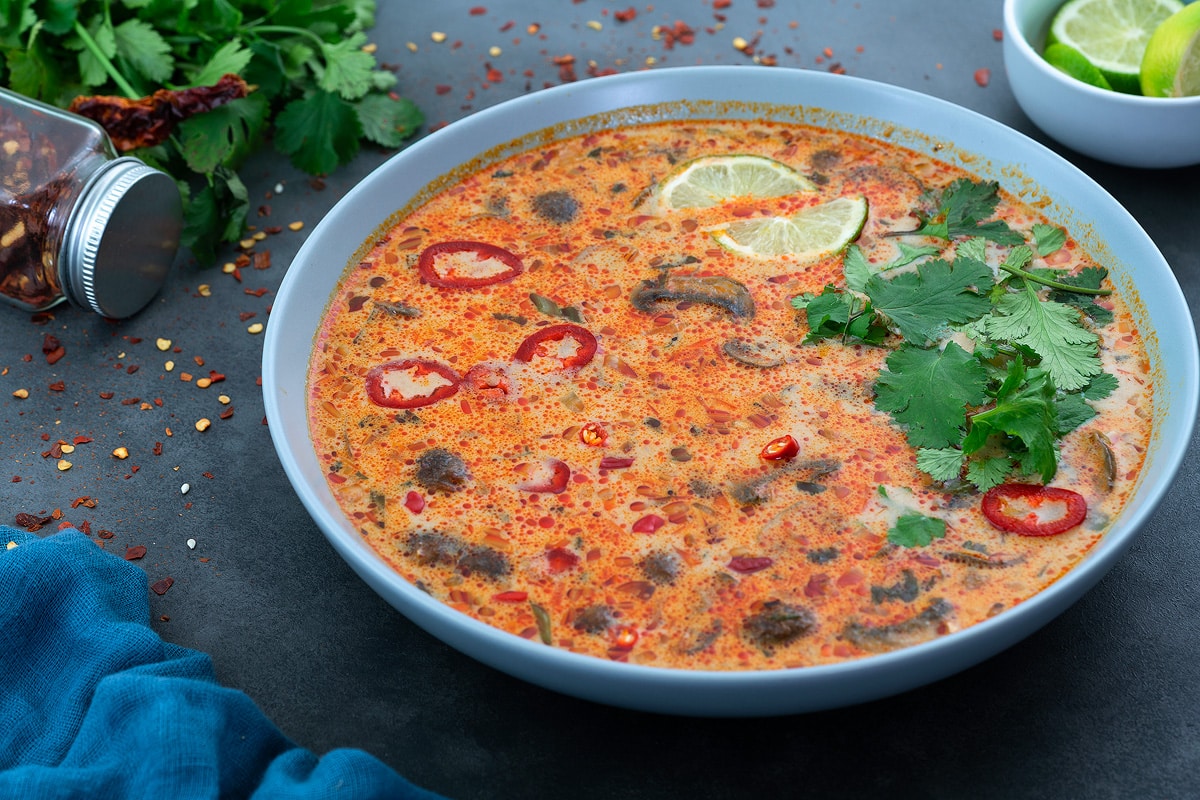 Discover More Comforting Soup Recipes: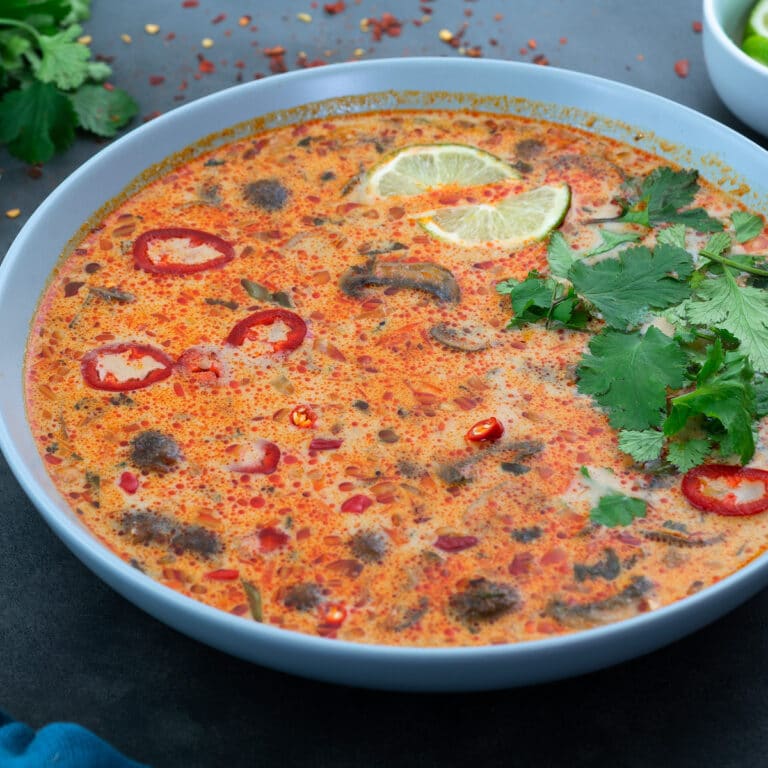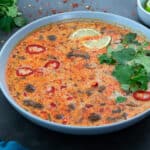 Tom Kha Gai (Thai Coconut Chicken Soup)
Tom Kha Gai, a delicious Thai coconut soup, combines chicken, mushrooms, coconut milk, and aromatic spices like galangal and lemongrass. This hearty, comforting dish is perfect with rice or bread, suitable for both lunch and dinner.
Subscribe
print (text-only)
email
pin
review
save
saved!
Ingredients
2

tsp

Oil

,

use coconut oil, if it is handy

2

Shallots

,

chopped

2

tbsp

Garlic

,

chopped

2

tbsp

Galangal

,

chopped or substitute with ginger

2

tbsp

Lemongrass

,

chopped, remove outer layer and dice the inner portion

4

Thai Red Chili

,

reduce the quantity for less heat

2

tbsp

Thai Red Curry Paste

0.7

lb

Chicken Breast

,

diced

2

cups

Mushroom

,

sliced, use any edible mushroom variety

3

cups

Chicken Broth

,

reduced sodium

13½

fl. oz

Coconut Milk

,

thick and unsweetened variety

1

tbsp

Brown Sugar

1

tbsp

Fish Sauce

1½

tbsp

Lime Juice

,

or lemon juice

Coriander Leaves

,

to garnish

Spring Onions

,

to garnish

Salt

,

to taste

Lime Slices

,

for topping
More on Unit Conversions »
Instructions
To make Tom Kha Gai Soup
Start by heating some oil in a wide-bottomed pan over medium heat. Add shallots, garlic, galangal, lemongrass, and Thai red chilies. Sauté them until they become fragrant.

Stir in the Thai red curry paste and sauté until it releases its aromatic flavors.

Now, introduce the chicken into the pan, season it with salt, and sauté for about 3 to 5 minutes.

Add the sliced mushrooms and give everything a gentle mix.

Pour in the chicken broth and mix thoroughly. I recommend opting for reduced-sodium broth to keep your sodium intake in check.

Now, incorporate the brown sugar, fish sauce, and lime or lemon juice into the broth. Mix everything well. The fish sauce adds a unique umami flavor to your Thai soup without any funky fishiness.

Next, add the creamy coconut milk and gently incorporate it into the soup.

Let the soup simmer for 7 to 10 minutes, stirring occasionally.

To finish, garnish with fresh coriander leaves and spring onions. Remove from heat, and your delicious Tom Kha Gai Soup is ready to enjoy!
To Serve
Enjoy this Tom Kha Gai in a serving bowl topped with coriander leaves and lime slices for a comforting lunch or dinner.
Chef's Notes and Tips
Here are some tips to elevate your Tom Kha Gai Soup:
Sauté for Flavor: Begin by sautéing the aromatics, Thai red curry paste, chicken, and mushrooms to deepen the flavors. While this step can be skipped in some variations, sautéing enhances the overall taste.
Chicken Broth: Store-bought broth works well, but homemade broth can also be used for added richness.
Key Aromatics: Lemongrass and galangal are vital for authentic Thai flavor. Galangal might be harder to find in regular stores but is usually available in Asian markets.
Coconut Milk: Use thick, unsweetened coconut milk for a rich and creamy soup.
Fish Sauce: Despite its strong scent, fish sauce adds essential umami flavors without an overpowering fishy smell.
Adjusting Heat: The recipe uses four Thai red chilies for a moderate heat level. Reduce the chilies if you prefer a milder soup.
Fish Sauce Substitute: If fish sauce is unavailable or not preferred, soy sauce or Worcestershire sauce can be used as substitutes. They provide a similar salty, umami flavor but may slightly change the dish's taste. Start with small amounts and adjust to your preference.
Galangal Alternative: In the absence of galangal, ginger can be used, though it lacks galangal's citrusy and piney notes. Use ginger in smaller quantities due to its stronger flavor and aroma. Dried galangal is a closer substitute to fresh galangal than ginger if available.
Nutrition Info
Serving:
1
serving
|
Calories:
306
kcal
|
Carbohydrates:
14
g
|
Protein:
20
g
|
Fat:
20
g
|
Saturated Fat:
14
g
|
Polyunsaturated Fat:
1
g
|
Monounsaturated Fat:
3
g
|
Trans Fat:
0.01
g
|
Cholesterol:
47
mg
|
Sodium:
1103
mg
|
Potassium:
781
mg
|
Fiber:
2
g
|
Sugar:
7
g
|
Vitamin A:
1254
IU
|
Vitamin C:
17
mg
|
Calcium:
55
mg
|
Iron:
4
mg
Disclaimer: We're not nutrition experts. Nutritional info is estimated and should be used as a guide. For precise details, consult a professional.
Explore our collection of comforting chicken soup, hearty comfort food, and authentic Thai recipes. Experience warm flavors and satisfying textures with dishes like Tom Kha Gai, Pad Thai, and more.
Storage Suggestions
For storing Tom Kha Gai soup, refrigerate it for 2-3 days. It reheats well on the stovetop or in the microwave, offering convenient meals later.
Serving Suggestions
Enhance your Tom Kha Gai experience with these serving suggestions:
Rice Dishes: Enjoy it with steamed white, jasmine, or brown rice Mix the rice with the soup for a heartier meal.
Noodles: Pair it with Thai noodles like Pad Thai or Drunken Noodles for a filling and complementary combination.
Spring Rolls: Fresh or fried spring rolls make excellent appetizers or sides. Dip them in the soup for added flavor and crunch.
Sauteed Dishes: Balance the soup's richness with sautéed vegetables such as asparagus and mushrooms.
Thai Iced Tea: Complete the Thai dining experience with a glass of sweet and creamy Thai Iced Tea, a perfect complement to the soup's spicy and savory flavors.