Hot and Sour Soup, a staple in Chinese cuisine, offers a delightful blend of spiciness and tanginess. This versatile soup, packed with ingredients like shiitake and wood ear mushrooms, bamboo shoots, tofu, and a choice of chicken or pork, is not just a dish but an experience.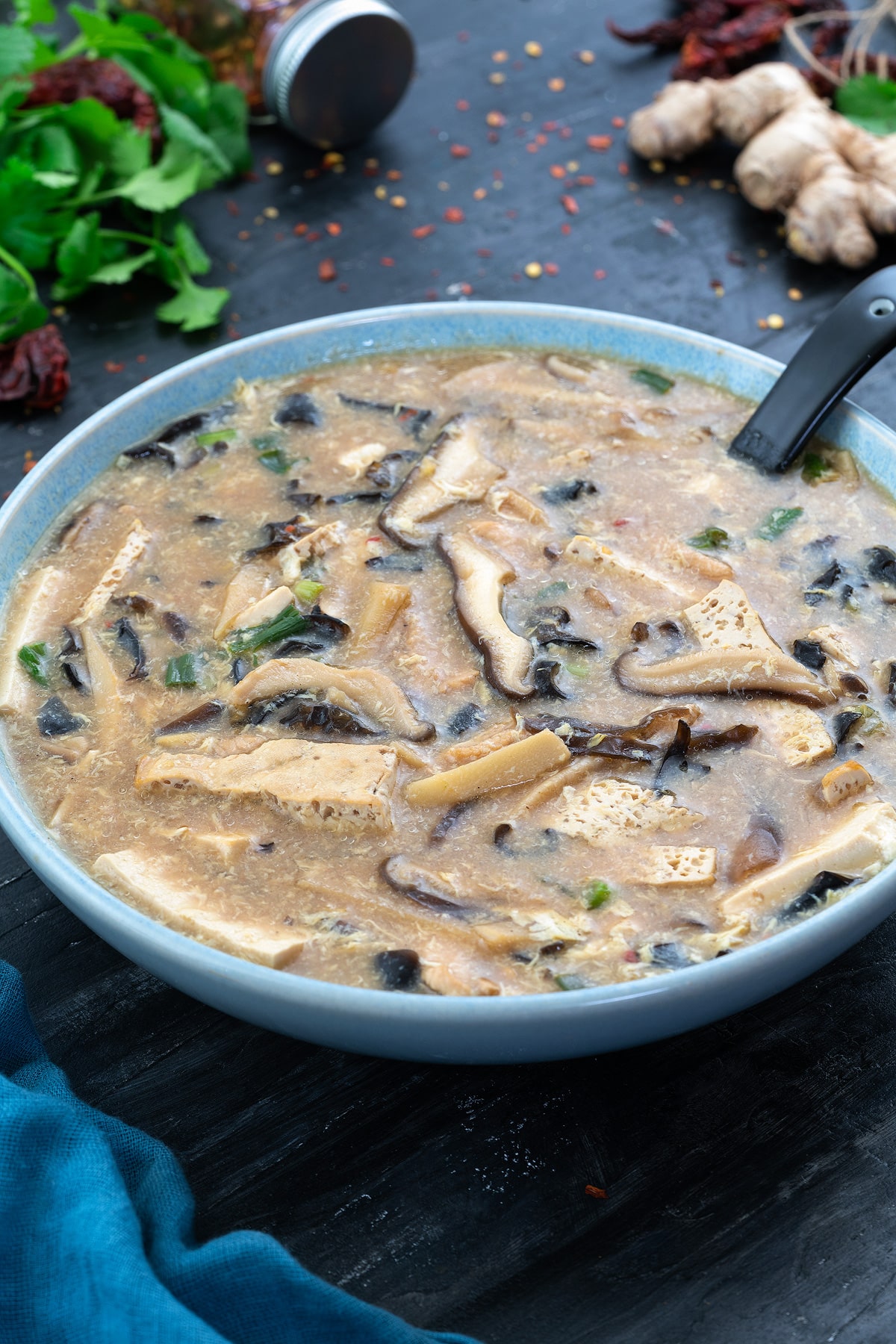 Jump to:
Its unique flavors come from white pepper and vinegar, adding an earthy, nutty heat and a distinct sourness. Perfect as a standalone meal or as a starter, it's ideal for warming up on chilly days or adding an Asian flair to your dining table.
Making this soup at home allows you to tailor it to your taste, adjusting the heat and sourness as desired. It's a healthy choice for any meal, promising to satisfy and comfort. Whether you're craving a taste of classic Chinese flavors or seeking a nutritious and hearty soup, this Hot and Sour recipe is an excellent pick.
Ingredients and Substitutions Overview
Creating a batch of Hot and Sour Soup requires some fundamental Chinese pantry staples along with fresh produce, generally available at Asian grocery stores. Below is a detailed list of the necessary ingredients for this flavorful dish.
Main Ingredients: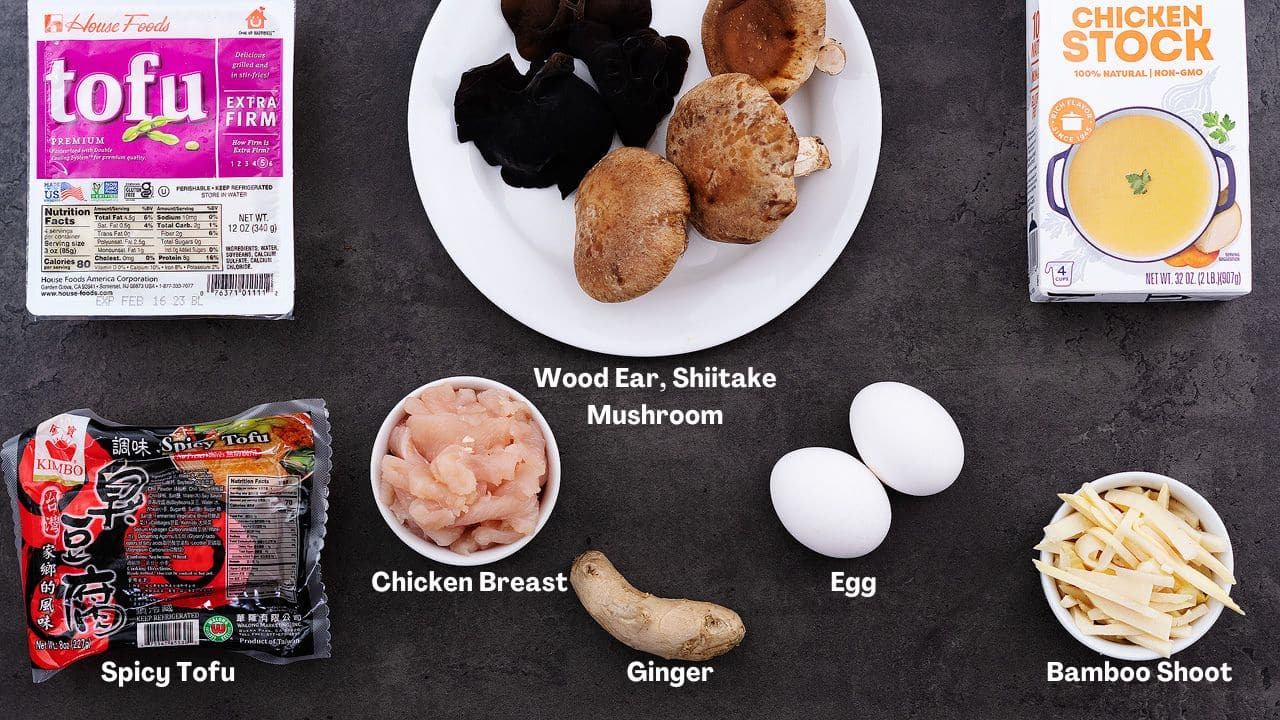 Mushrooms: Essential are shiitake and wood ear mushrooms. Wood ear mushrooms, known for their earthy taste, are also called black fungus. If these are hard to find, white or brown mushrooms make great substitutes. Remember to soak dried mushrooms in hot water before use. For an extra vegetable boost, consider adding carrots and cabbage.
Bamboo Shoots: They bring a unique sweet and earthy crunch. If you're not a fan or haven't tried bamboo shoots, you can simply leave them out.
Tofu: The recipe requires extra firm tofu and optionally spicy tofu. However, using only extra firm tofu works just fine.
Chicken Breast: While traditional recipes often use pork, this recipe opts for thinly sliced chicken breast. Feel free to substitute with pork if you prefer.
Eggs: Beaten eggs are added to the soup, creating beautiful "egg flowers" or egg ribbons.
Chicken Stock: It's the foundation of the soup's rich flavor.
Ginger: A touch of ginger adds a warm, spicy note to the soup.
Additional Ingredients: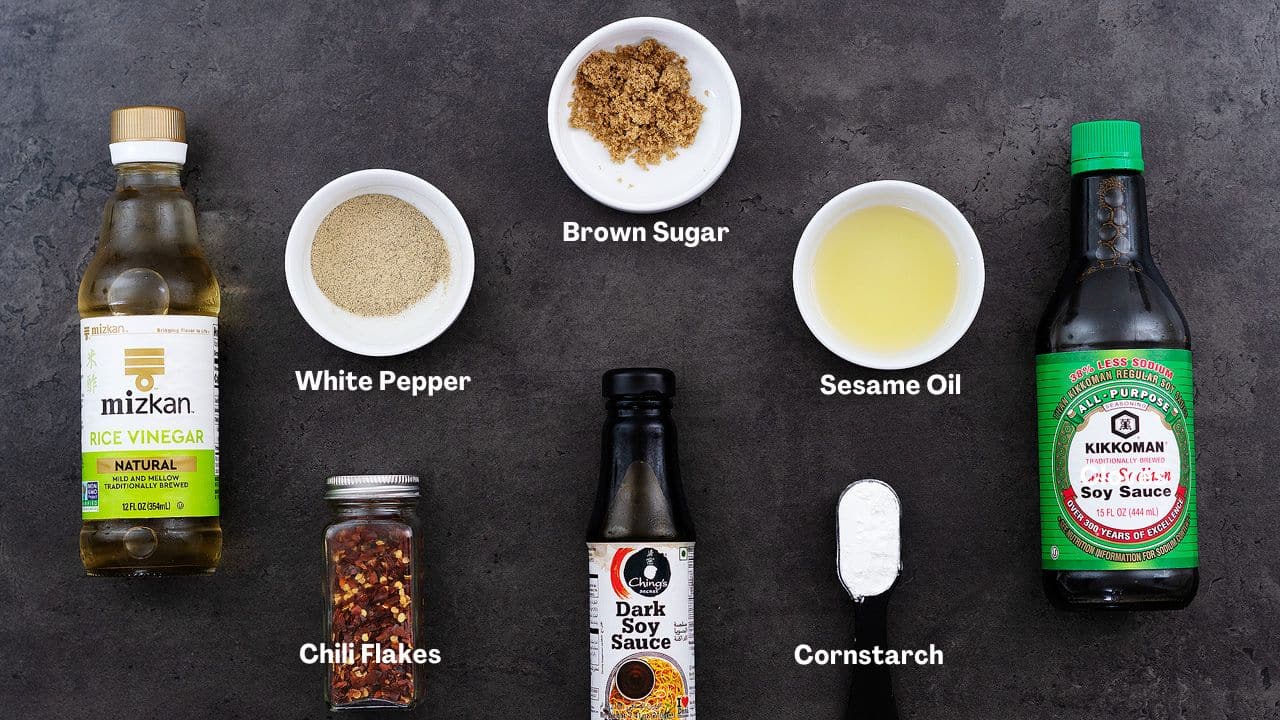 Soy Sauce: Essential for its umami depth. Use dark soy sauce if you want to deepen the soup's color.
Rice Vinegar: The key to the soup's sour character. White vinegar is a suitable alternative.
Chili Flakes: They introduce a gentle heat. Alternatively, chili sauce or chili garlic sauce can be used for a similar effect.
Brown Sugar: A touch of brown sugar balances and enhances the soup's flavors.
Ground White Pepper: It adds a sharp, spicy kick. Start with a small amount and adjust as needed. Black pepper is a fine replacement if white pepper isn't available.
Toasted Sesame Oil: Contributes a rich, earthy aroma.
Chili Oil (Optional): For those who enjoy an extra zing, chili oil makes a great soup topping.
How to Make Hot and Sour Soup at Home?
Master the art of making Hot and Sour Soup with our easy step-by-step recipe, featuring photos and a video guide. Join us in bringing this classic Chinese dish to your kitchen and let's start cooking!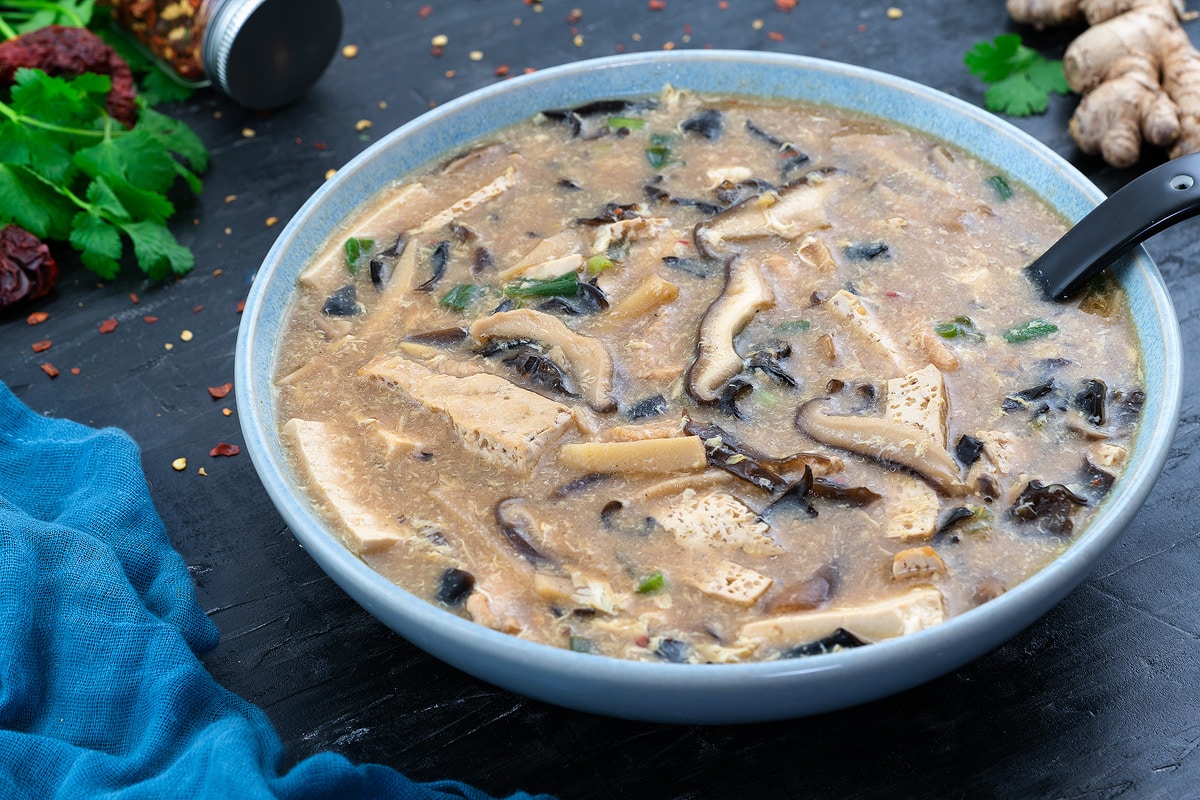 Explore a Variety of Tasty Soup Recipes: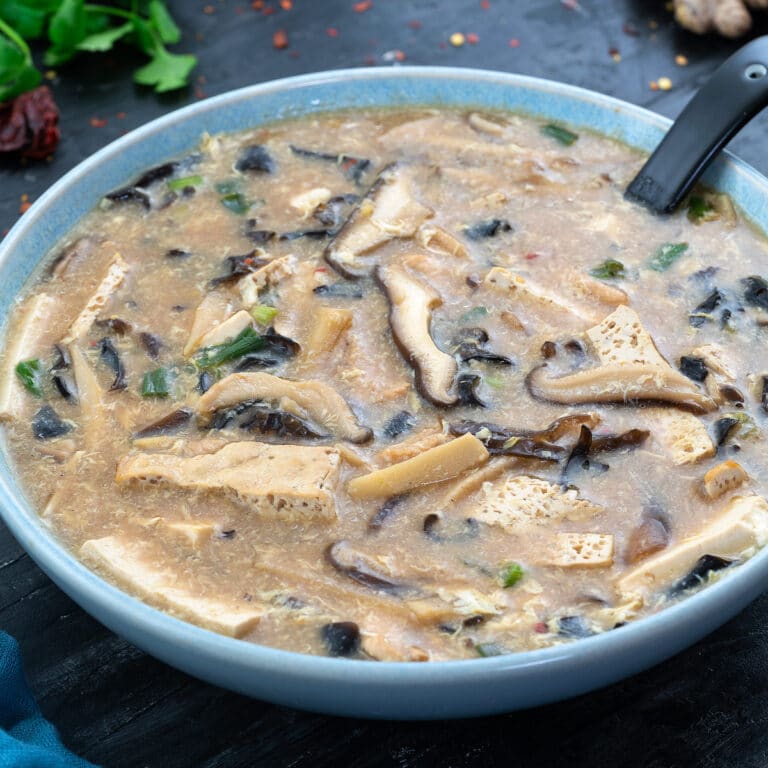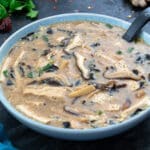 Hot and Sour Soup
Enjoy the rich flavors of Hot and Sour Soup, a Chinese classic with shiitake mushrooms, bamboo shoots, and tofu. Perfect for a hearty meal or as a flavorful addition to Asian cuisine, this homemade soup is both healthy and satisfying, ideal for cold days or as a delightful starter.
Subscribe
print (text-only)
email
pin
review
save
saved!
Ingredients
0.7

lb

Shiitake Mushroom

,

thinly sliced, dried or fresh

4

oz

Wood Ear Mushroom

¼

cup

Bamboo Shoot

,

thinly sliced

¼

cup

Spicy Tofu

,

thickly sliced

½

cup

Extra Firm Tofu

,

Thickly sliced

2

Eggs

6

cup

Chicken Stock

1

tbsp

Ginger

,

finely chopped

4

oz

Chicken Breast

,

thinly sliced or pork

2

tbsp

Cornstarch

,

1 tbsp for chicken + 1 tbsp for slurry

4

tbsp

Low Sodium Soy Sauce

,

1 tbsp for chicken + 3 tbsp for soup

2

tbsp

Dark Soy Sauce

3

tbsp

Rice Vinegar

,

increase for more sour taste

1½

tbsp

Ground White Pepper

,

start with a lesser amount then increase for the more hot taste

1

tsp

Chili Flakes

3

tbsp

Scallions

,

chopped

1

tbsp

Brown Sugar

2

tbsp

Toasted Sesame Oil

Chili Oil,

for serving or topping
More on Unit Conversions »
Instructions
To make Hot and Sour Soup
Begin by marinating thinly sliced chicken breast (or pork for authenticity) in soy sauce and cornstarch. Set aside to allow the flavors to infuse.

In a separate bowl, beat 2 eggs and set them aside for later use.

Heat 6 cups of chicken stock in a wide pot or pan over medium heat. Add finely chopped ginger and warm the mixture.

Add the marinated chicken to the pot and stir gently.

Incorporate shiitake and wood ear mushrooms, bamboo shoots, soy sauce, dark soy sauce, rice vinegar, salt, chili flakes, and brown sugar. Bring to a boil and cook for 10-15 minutes.

Add both spiced tofu and extra firm tofu into the pot, stirring well. Allow the soup to continue boiling for an additional 7-10 minutes.

Mix 1 tablespoon of cornstarch with 3-4 tablespoons of water and add to the soup. Cook until it reaches your desired consistency.

Slowly pour in the beaten eggs, stirring to form ribbons.

Finally, add ground white pepper, chopped scallion, and toasted sesame oil. Stir gently and remove from heat. Your Hot and Sour Soup is now ready to enjoy!
To Serve
Enjoy this comforting Hot and Sour Soup with a drizzle of chili sauce or oil for extra heat. Explore additional tips in the serving suggestions section.
Chef's Notes and Tips
Tips for Perfect Hot and Sour Soup:
Mushrooms: Thinly slice shiitake and wood ear mushrooms. If using dried, soak them in hot water until soft, then slice. Clean fresh mushrooms with a damp kitchen towel before slicing thinly. Thinly slice bamboo shoots lengthwise as well.
Tofu: Cut the tofu into your desired shapes. You can cut spiced tofu directly. For extra firm tofu, drain the water and press out excess moisture before cutting.
Mushroom Type (Dried vs Fresh): Choose between fresh or dried mushrooms. If using dried, soak them in hot water until they soften for easy slicing. Wood ear mushrooms might be labeled as "dried black fungus."
Meat Selection: Traditional recipes use pork, but chicken is used here for a lighter touch. Feel free to switch to pork if preferred.
Adjusting Flavor: Increase the heat with more ground white pepper. For more sourness, add extra vinegar.
Vegetarian Version: For a plant-based soup, omit chicken and egg, and use vegetable stock instead of chicken stock.
Nutrition Info
Serving:
1
serving
|
Calories:
235
kcal
|
Carbohydrates:
24
g
|
Protein:
19
g
|
Fat:
7
g
|
Saturated Fat:
2
g
|
Polyunsaturated Fat:
1
g
|
Monounsaturated Fat:
3
g
|
Trans Fat:
0.01
g
|
Cholesterol:
89
mg
|
Sodium:
974
mg
|
Potassium:
745
mg
|
Fiber:
3
g
|
Sugar:
9
g
|
Vitamin A:
622
IU
|
Vitamin C:
2
mg
|
Calcium:
49
mg
|
Iron:
2
mg
Disclaimer: We're not nutrition experts. Nutritional info is estimated and should be used as a guide. For precise details, consult a professional.
Dive into our curated selection of comforting chicken soup, hearty comfort food, and authentic Chinese recipes. Each dish is crafted to elevate your dining experience with warm, satisfying flavors and rich textures, perfect for any mealtime.
Storage Suggestions
Hot and Sour Soup is ideally enjoyed fresh, but if you have leftovers, they can be stored in an airtight container in the refrigerator for up to 2 days. When you're ready to enjoy it again, simply reheat the soup on the stovetop until it's evenly warmed throughout. This way, you can savor the flavors of this delightful soup once more!
Serving Suggestions
This Comforting Hot and Sour Soup pairs wonderfully with a variety of Chinese and Asian dishes. Try it alongside classics like fried rice, chicken fried rice, Szechuan chicken, kung pao chicken, and honey garlic shrimp for an authentic Chinese meal experience.
Alternatively, it goes great with other popular Asian takeout options such as pad Thai, orange chicken, and teriyaki chicken creating a diverse and satisfying dining spread. Whether as a starter or a complement to your main course, this soup adds a warm and flavorful touch to any meal.