Savor the flavors of fall with every slice of this delectably moist Pumpkin Bread, a simple yet indulgent treat that comes together in a snap. Imagine the aroma of pumpkin mingled with spices like cinnamon, nutmeg, and cloves wafting through your home; a true herald of autumn.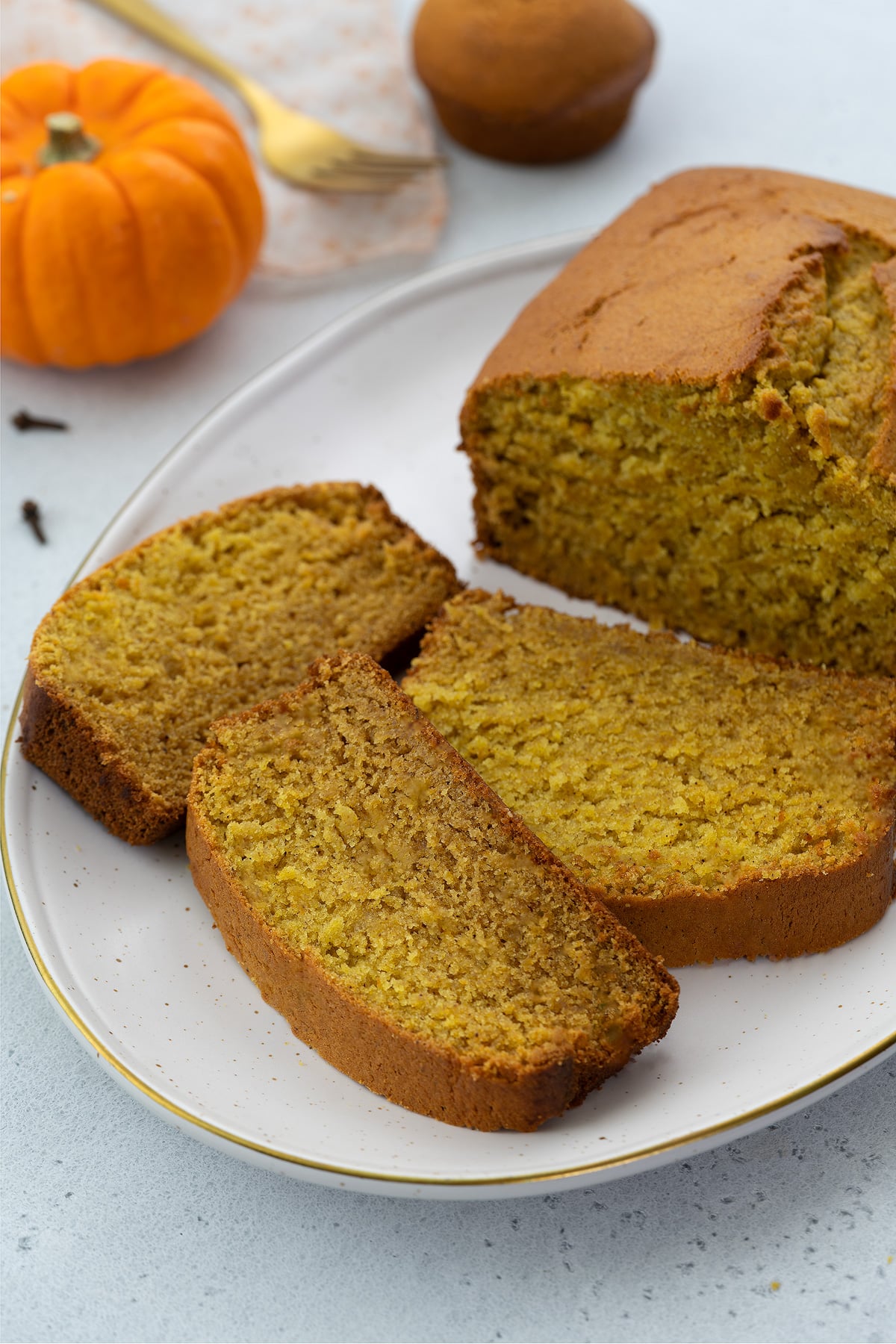 Jump to:
This recipe is a breeze; no waiting around for dough to rise. A few common ingredients and you're on your way to a quick, heavenly loaf that pairs impeccably with your favorite coffee or tea. It's the kind of recipe that invites you to take a break and enjoy the moment.
Ingredients and Substitutions Overview
To bake your very own Pumpkin Bread, gather these simple ingredients found in the baking aisle of nearly any grocery store: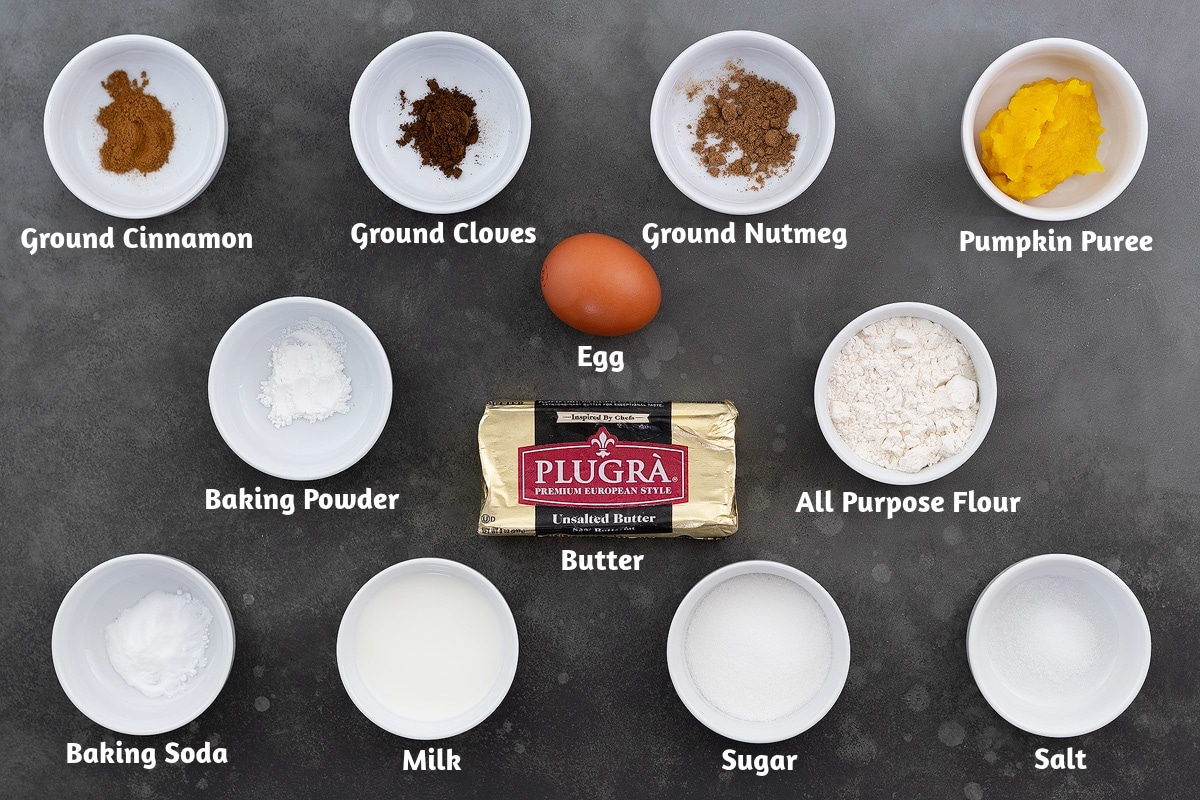 All-Purpose Flour: Provides the structure and bulk of the bread. It's the primary dry ingredient that forms the base
Pumpkin Puree (canned or fresh): Adds moisture and the distinctive pumpkin flavor to the bread. It contributes to the bread's soft and tender texture
Sugar: Sweetens the bread and enhances its flavor. It also helps to brown the bread during baking
Unsalted Butter (at room temperature): Adds richness, moisture, and a buttery flavor to the bread. It helps create a tender crumb
Eggs (at room temperature): Bind the ingredients together, provide structure, and contribute to the bread's moisture and texture
Milk: Adds extra moisture to the batter, making the bread soft and moist. You can also use almond milk, oat milk, or other non-dairy milk according to your preferences
Ground Cinnamon: Provides a warm and aromatic flavor that complements the pumpkin and spices. It's a classic spice for pumpkin bread
Ground Cloves: Imparts a warm and slightly spicy flavor to the bread. It pairs well with the other spices
Ground Nutmeg: Offers a nutty and slightly sweet flavor that enhances the overall spiciness of the bread
Baking Soda: Acts as a leavening agent to help the bread rise and become airy. It also contributes to browning
Baking Powder: Another leavening agent that works with baking soda to ensure the bread rises properly and has a good texture
Salt: Balances the sweetness and enhances the flavors in the bread. It's a critical element for flavor enhancement
How to Make Pumpkin Bread at Home?
Master Pumpkin Bread with our concise photo and video guide below: a step-by-step to perfecting fall's moist classic.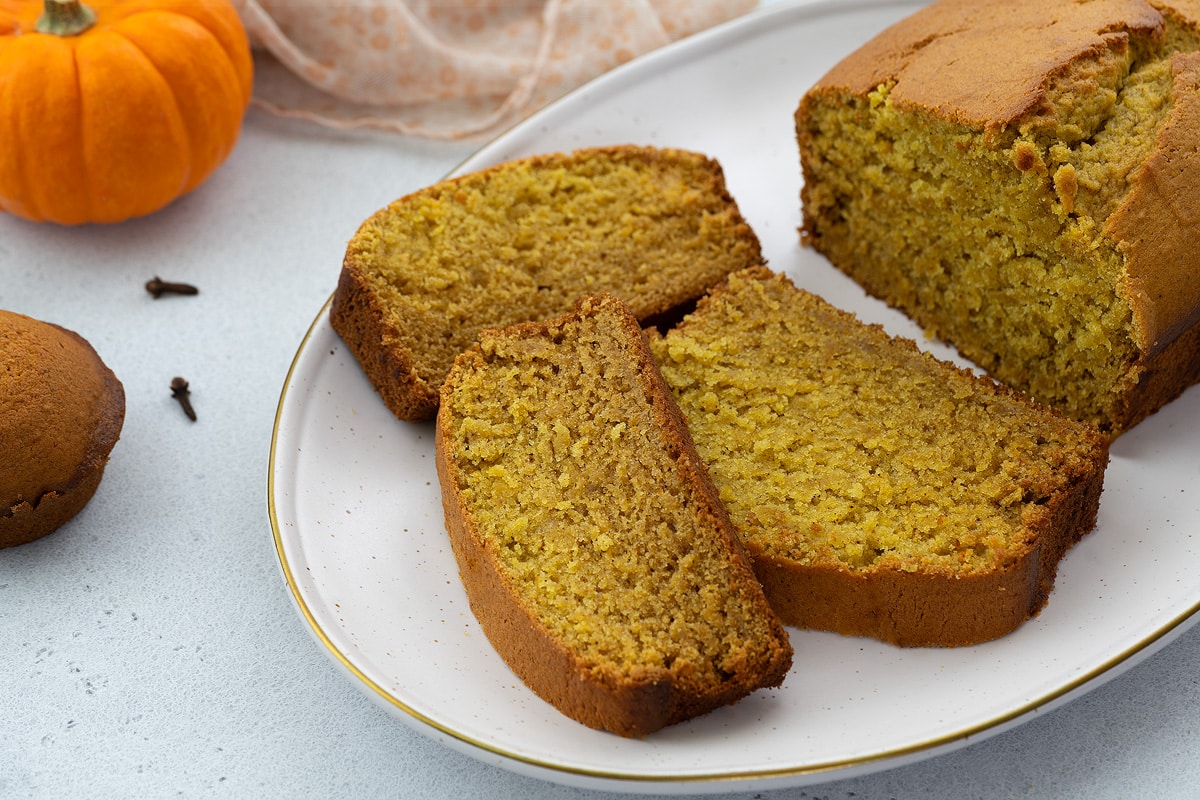 Explore Pumpkin Delights!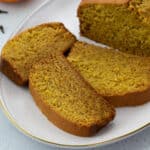 Pumpkin Bread
Pumpkin Bread, with its soft, moist crumb and rich autumnal spices, is the essence of fall. Quick to bake and perfect alongside your morning brew or as an afternoon delight, it's the season's favorite treat.
Subscribe
print (text-only)
email
pin
review
save
saved!
Ingredients
2

cups

All Purpose Flour

2

cups

Pumpkin Puree,

canned or fresh

1½

cups

Sugar

¾

cup

Unsalted Butter

,

or use 1½ sticks (room temp)

2

Eggs

,

room temp

½

cup

Milk

1

tsp

Ground Cinnamon

¾

tsp

Ground Cloves

1

tsp

Ground Nutmeg

1

tsp

Baking Soda

½

tsp

Baking Powder

½

tsp

Salt
More on Unit Conversions »
Instructions
To make Pumpkin Bread
Begin by creaming together unsalted butter and granulated sugar at room temperature until they reach a smooth consistency.

Introduce a room-temperature egg and a splash of milk, whipping it into a creamy blend.

Stir in the pumpkin puree on a lower speed until it melds into the mix, embracing the rustic, grainy appearance.

Sift all-purpose flour through a fine mesh strainer into your pumpkin concoction for a fine base.

Add a harmony of spices: cloves, nutmeg, cinnamon, along with baking essentials like powder, soda, and a hint of salt, sifting them to perfection.

With a spatula, employ the cut-and-fold technique unite the ingredients together, ensuring they're thoroughly combined.

Pour your fragrant batter into a greased loaf pan, choosing from a quaint rectangle stoneware or a classic loaf tin.

Bake the batter in a preheated oven at 350 degrees Fahrenheit for about 50-60 minutes, or until a toothpick inserted in the center comes out clean.

Once it's done, let your soft, moist, and flavorful Pumpkin Bread cool completely before slicing and serving.
To Serve
Enjoy Pumpkin Bread with butter, cream cheese, whipped cream, or alongside a chai tea latte, pumpkin spice latte, or black coffee.
Chef's Notes and Tips
Baking Foundations:
Freshness Counts: Always use fresh ingredients, especially pumpkin puree, for the best flavor.
Temperature Matters: Ingredients like butter, eggs, and milk should be at room temperature for better mixing and texture.
Measuring Flour: Measure flour correctly with the spoon-and-level method to prevent a dense bread.
Mixing Technique: Combine ingredients just until mixed; avoid overmixing to prevent toughness.
Sift for Success: Sifting dry ingredients ensures a uniform and smooth batter.
Finishing Touches:
Spice to Your Liking: Adjust spice quantities to suit your taste for a personalized flavor.
Puree Quality: The pumpkin puree should be thick; drain any excess liquid to get the right consistency.
Creative Add-Ins: Customize your Pumpkin Bread with chocolate chips, nuts, or dried fruits and serve it with butter or whipped cream to turn baking into a shared tradition.
Pan Prep: Grease the baking pan well to ensure your bread doesn't stick.
Cooling Process: Let the bread cool in the pan before transferring to a wire rack to fully cool.
Reviving Leftovers: Refresh refrigerated slices by warming them in the microwave.
Nutrition Info
Serving:
1
serving
|
Calories:
351
kcal
|
Carbohydrates:
50
g
|
Protein:
4
g
|
Fat:
15
g
|
Saturated Fat:
9
g
|
Polyunsaturated Fat:
1
g
|
Monounsaturated Fat:
4
g
|
Trans Fat:
1
g
|
Cholesterol:
71
mg
|
Sodium:
267
mg
|
Potassium:
66
mg
|
Fiber:
1
g
|
Sugar:
31
g
|
Vitamin A:
494
IU
|
Vitamin C:
0.01
mg
|
Calcium:
44
mg
|
Iron:
1
mg
Disclaimer: We're not nutrition experts. Nutritional info is estimated and should be used as a guide. For precise details, consult a professional.
Embrace autumn's charm with our cozy pumpkin recipes, perfect for cool evenings and crisp fall days. Choose from warming soups to sweet delights, each dish celebrating the season's richness.
Serving Suggestions
Pumpkin Bread is delicious on its own, but you can enhance the experience by serving it with various accompaniments. Here are some suggestions
Cream Cheese or Butter: Spread a little cream cheese or butter on a warm slice of bread for a creamy and rich contrast
Honey or Maple Syrup: Drizzle some honey or maple syrup over your pumpkin bread to add sweetness and extra flavor
Whipped Cream: Top your Pumpkin Bread with a dollop of whipped cream for a light and airy touch
Nuts: Chopped nuts, such as pecans or walnuts, can be sprinkled on top or incorporated into the bread for added texture and nutty flavor
Cream Cheese Frosting: If you want to make it more like a dessert, consider a drizzle of cream cheese frosting for a sweet and decadent treat
Coffee, Tea, or Latte: Pumpkin Bread pairs wonderfully with a hot cup of black coffee, masala chai, or lattes like a pumpkin spice latte. This enhances the overall experience
Savory Options: If you prefer a savory twist, consider serving your pumpkin bread with cream cheese and smoked or baked salmon, or even as a side with a bowl of soup
Storage Suggestions
Keep your Pumpkin Bread fresh for up to 4 days by refrigerating it in a ziplock bag. For extra freshness, wrap the bread in plastic before placing it in the bag. Note that refrigeration might firm up the loaf slightly as the butter content solidifies.
FAQ
Can I use a non-dairy alternative to milk in this pumpkin bread?
Certainly! Almond milk, oat milk, or coconut milk can be excellent substitutes that offer their unique flavors to the bread.
Is it feasible to replace butter with oil in the recipe?
Yes, you can swap out butter for an equal amount of canola or vegetable oil. When doing so, mix the oil with the sugar, eggs, and substitute milk first before continuing with the rest of the recipe.
What variations can I try with this pumpkin bread?
Feel free to get creative! Stir in chocolate chips, walnuts, or pecans for an added crunch and flavor dimension, or consider dried fruits like cranberries for a tart contrast.