Enjoy the essence of autumn with our Pumpkin Muffins – soft, sweet, and topped with a delightful crunchy streusel. These treats are a breeze to make, combining pumpkin puree, flour, pumpkin pie spice, and other baking staples. The standout feature? A crunchy streusel topping that adds a sweet crunch to every bite.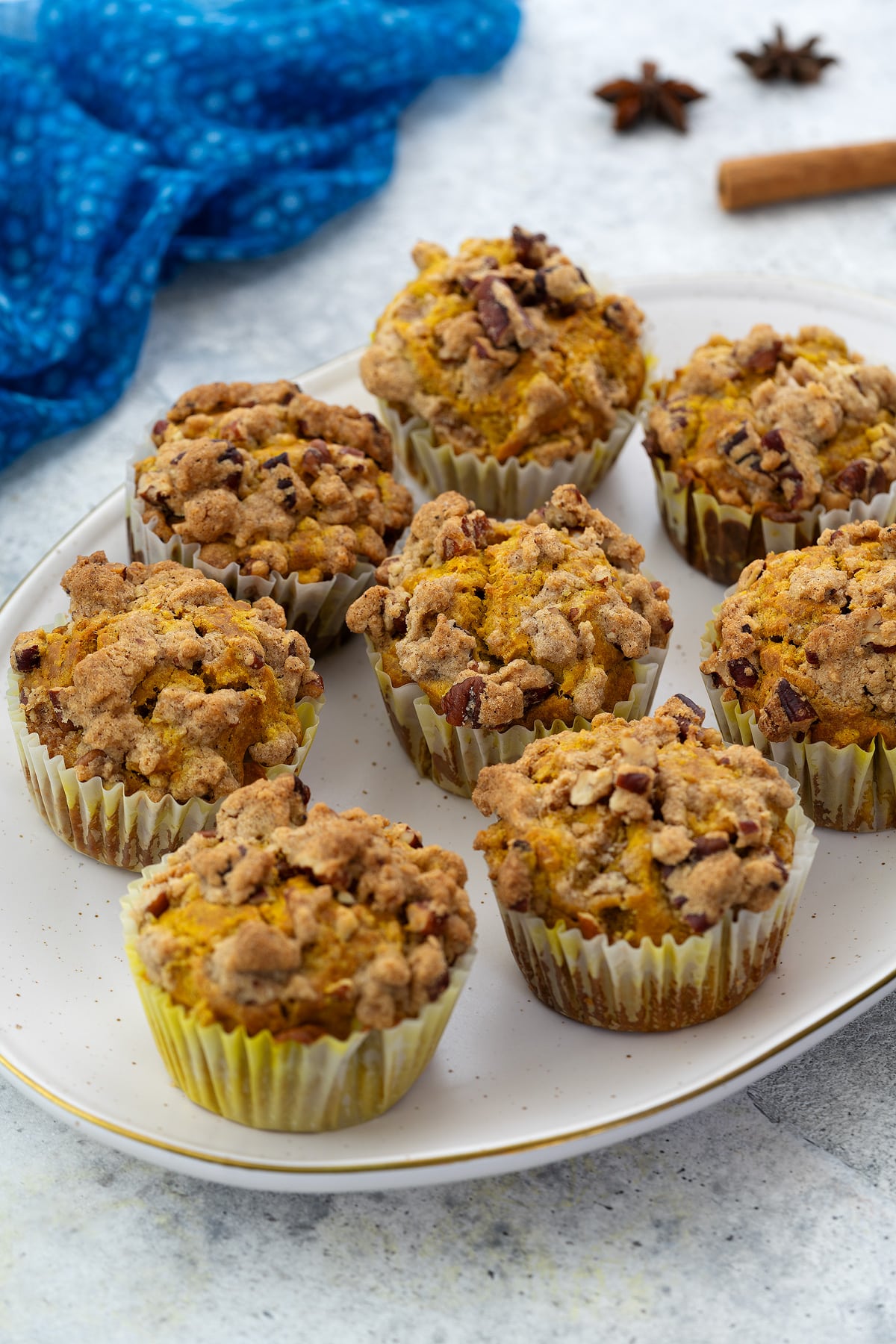 Jump to:
Achieve perfect muffins by using fresh ingredients and adhering to the recommended baking temperatures and times. Simple and straightforward, this approach ensures top-notch results every time.
Our Pumpkin Muffins are simple to make, requiring only basic ingredients and a bit of patience. No need for specialized equipment – a regular kitchen setup works perfectly. Ideal for a cozy breakfast or a sweet evening snack, these muffins are perfect whether you're using fresh pumpkins or satisfying a year-round fall craving.
Ingredients and Substitutions Overview
Get ready for some Pumpkin Muffin magic! These essential ingredients can be picked up at your nearby grocery store, with most of them waiting for you in the baking aisle. Let's dive right in!
For Streusel Topping: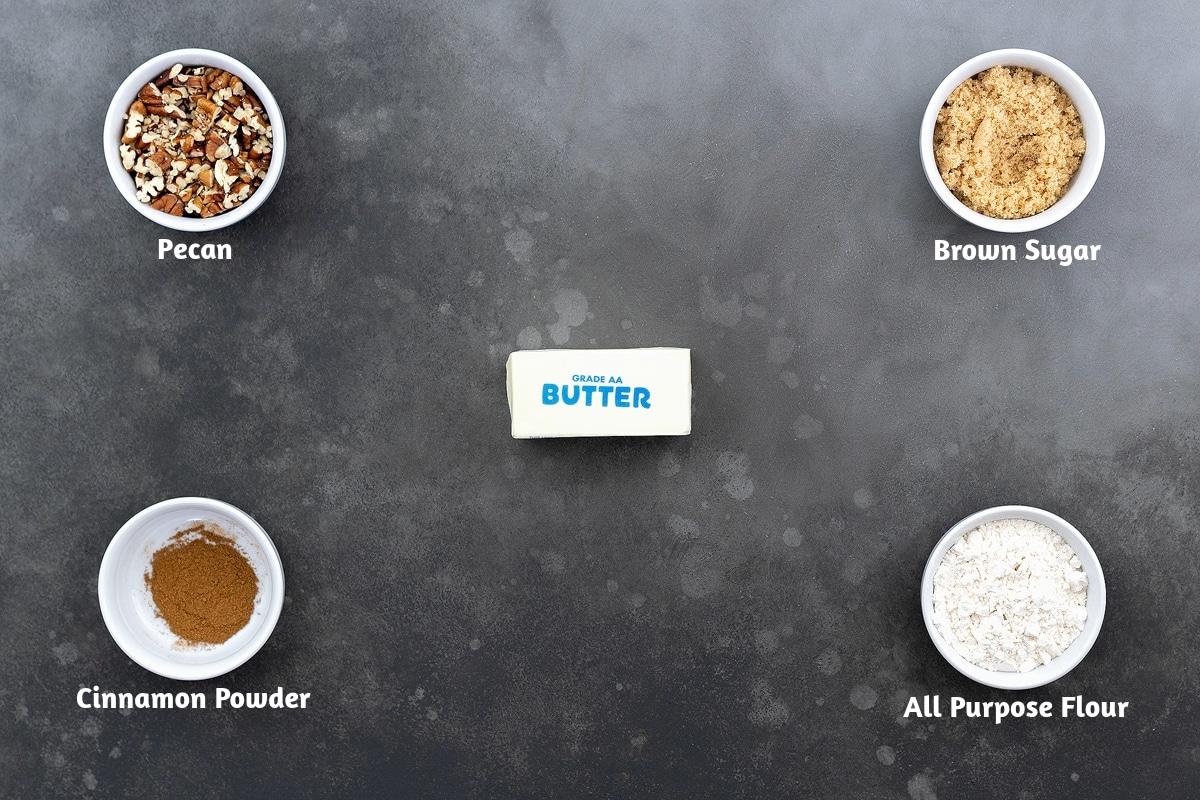 Pecans: A crunchy addition to the muffins. You can switch things up with toasted cashews, walnuts, or pistachios for different flavors.
Brown Sugar: It adds a deep, earthy sweetness and forms a delightful crunchy layer on top.
All-Purpose Flour: Helps to bind the streusel ingredients, ensuring a great texture.
Melted Unsalted Butter: Infuses the streusel with a rich, buttery flavor.
Cinnamon Powder: Brings a cozy, warm, and classic fall aroma.
For the Pumpkin Muffin Batter: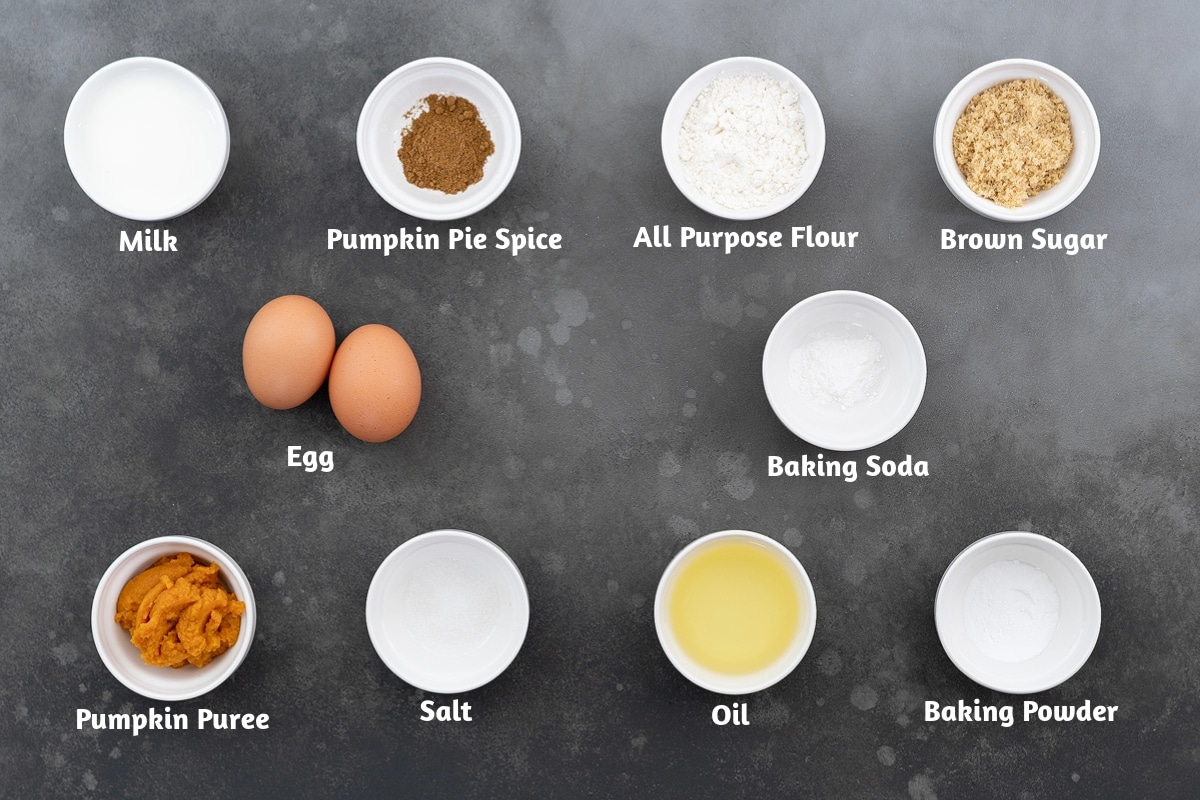 Pumpkin Puree: Either store-bought or homemade puree works well.
All-Purpose Flour: Forms the base of your muffin batter.
Eggs: Best used at room temperature for seamless mixing.
Milk: Also at room temperature, it helps to keep the muffins moist.
Brown Sugar: Balances the batter with its sweetness.
Fats: We've used vegetable oil for a moist texture. Coconut oil or melted butter are great for adding a different kind of richness.
Pumpkin Pie Spice: Essential for that comforting autumn taste.
Leavening Agents: Baking soda and baking powder give the muffins a lovely lift.
Salt: Just a little bit to bring out all the wonderful flavors.
How to Make Pumpkin Muffins at Home?
Join us in baking delightful Pumpkin Muffins. We'll guide you from crafting crunchy streusel topping to a moist batter, complete with step-by-step photos and a video tutorial for perfect results.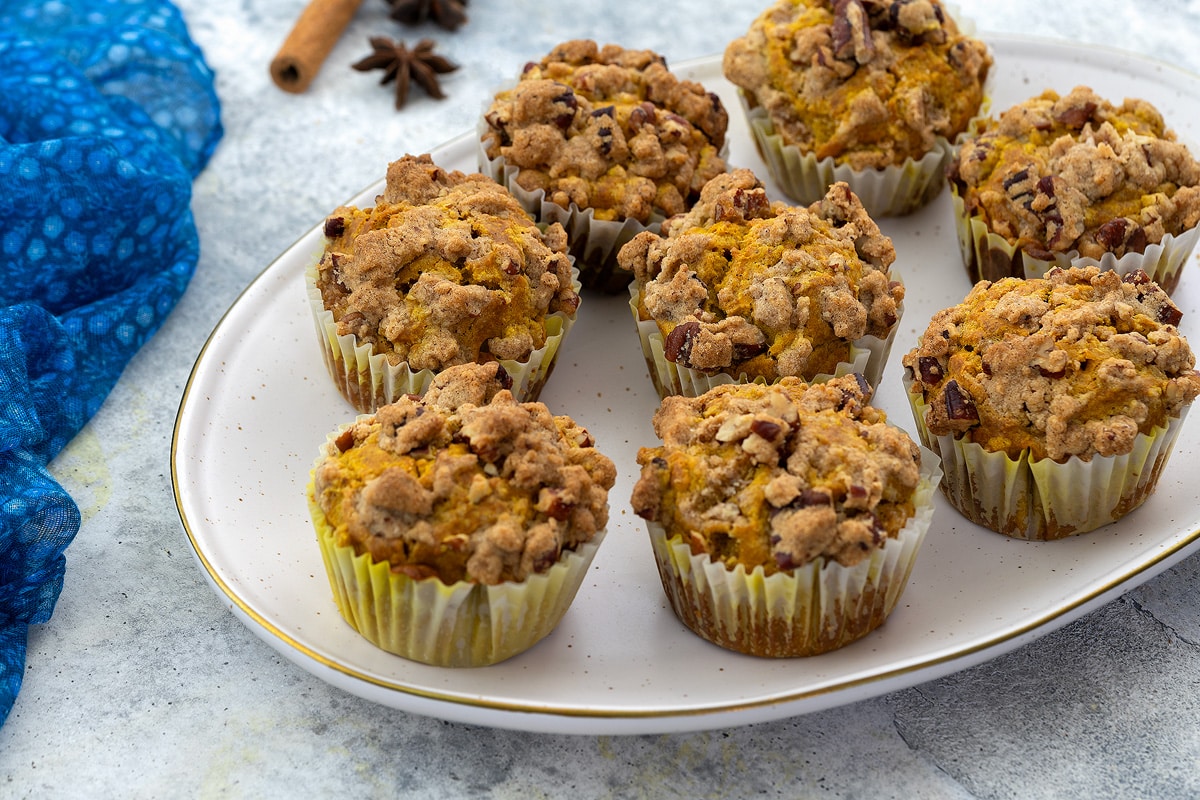 More Pumpkin Favorites: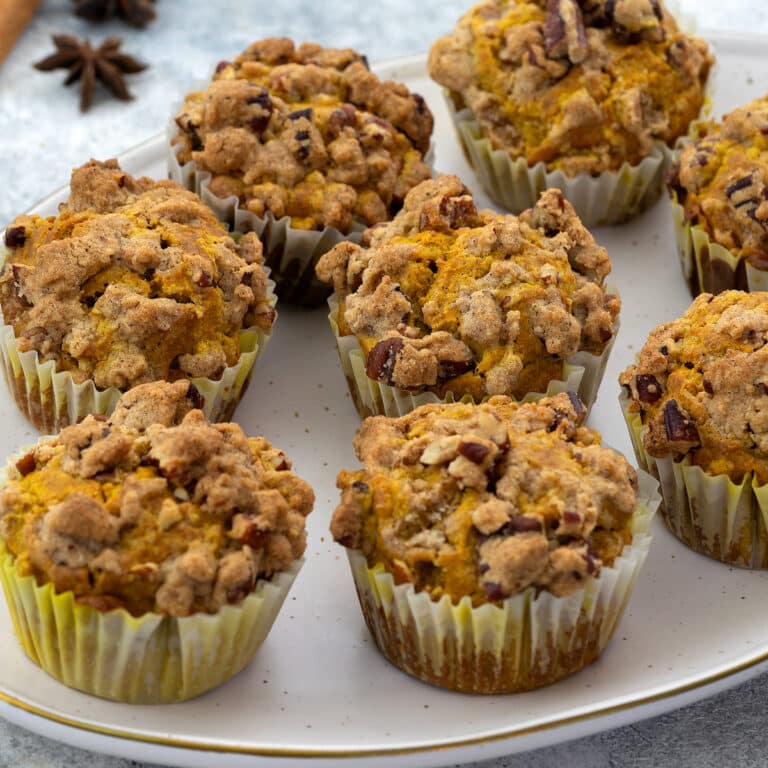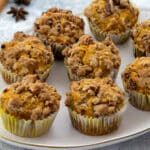 Pumpkin Muffins
Celebrate the essence of fall with our Pumpkin Muffins, combining softness, sweetness, and a delightful crunch. Made with an easy-to-follow batter of pumpkin puree and warm spices, and topped with a tempting streusel. Perfect for autumn days!
Subscribe
print (text-only)
email
pin
review
save
saved!
Ingredients
For Streusel Topping
¼

cup

Pecans

,

chopped

¼

cup

All Purpose Flour

¼

cup

Brown Sugar

¼

cup

Butter

,

melted at room temp

¾

tsp

Cinnamon Powder
For Pumpkin Muffin Batter
2

cups

All Purpose Flour

2

cups

Pumpkin Puree

2

Egg

,

room temp

½

cup

Vegetable Oil

,

or melted room-temp butter

½

cup

Milk

,

room temp

1

cup

Brown Sugar

1½

tsp

Pumpkin Pie Spice

1

tsp

Baking Soda

½

tsp

Baking Powder

½

tsp

Salt
More on Unit Conversions »
Instructions
Streusel Topping:
In a bowl, combine chopped pecans, brown sugar, all-purpose flour, and cinnamon powder. Mix these ingredients thoroughly to create a delicious streusel topping.

Gradually add the melted, room temperature butter to the dry mixture. Mix until the streusel topping is well-coated and crumbly. Set this aside for later use.
Pumpkin Muffin Batter:
In a separate bowl, add eggs, oil (or melted butter), brown sugar, milk, and pumpkin puree.

Combine these ingredients well. This mixture can also be made even richer by using melted butter instead of oil.

In another bowl, combine all-purpose flour, pumpkin pie spice, salt, baking powder, and baking soda. Thoroughly mix these dry ingredients.

Next, carefully incorporate the pumpkin mixture into the dry flour mix. Employ a "cut and fold" technique to blend the batter, ensuring not to overmix – it's okay to have a few lumps.
Baking the Batter:
Grease a muffin pan with oil or use muffin liners. Pour the prepared Pumpkin Muffin batter into each muffin cup. Top each muffin with the streusel topping that you prepared earlier. This will add a delightful crunchy texture to your muffins.

Bake in a preheated oven at 350°F for approximately 35-40 minutes or until a toothpick inserted into the center of a muffin comes out clean. Keep a close eye to avoid overbaking.

Once baked, remove the Pumpkin Muffins from the oven and allow them to cool for at least 10 minutes on a wire rack before indulging in their deliciousness.
Serving:
Enjoy these Pumpkin Muffins as a perfect evening sweet treat or as a delightful breakfast muffin alongside a cup of milk to kickstart your morning!
Chef's Notes and Tips
Here are some expert tips to perfect your Pumpkin Muffins:
Ingredients and Additions:
Select Fresh Ingredients: Use fresh baking soda, baking powder, pumpkin pie spice, eggs, milk, and other ingredients for optimal results.
Pumpkin Puree Options: Choose between homemade or canned pumpkin puree according to your convenience.
Streusel Topping: Enhance muffins with a sweet, crunchy streusel topping or a simple sprinkle of coarse sugar.
Fat Variations for Moisture: Use vegetable oil for moist muffins, or try coconut oil or melted butter for different flavors.
Chocolate Chip Addition: Fold in a handful of chocolate chips for an extra indulgent treat.
Baking Techniques and Tips:
Optimized Baking Temperatures: Bake at 350°F for 35-40 minutes, or start at 425°F for 10 minutes, then reduce to 350°F.
Whisking Tools: Use any tool, from an electric beater to a hand whisk, for making the muffin batter.
Resting Time Post-Baking: Allow muffins to cool for at least 10 minutes on a wire rack.
Avoid Overbaking: Monitor the baking process to ensure muffins are moist and tender.
Greasing Muffin Trays: Lightly grease the trays with oil or butter if not using muffin liners.
Yield Information: Recipe yields 12 medium-sized muffins, or 15-16 mini muffins.
Nutrition Info
Serving:
1
serving
|
Calories:
358
kcal
|
Carbohydrates:
52
g
|
Protein:
4
g
|
Fat:
16
g
|
Saturated Fat:
4
g
|
Polyunsaturated Fat:
6
g
|
Monounsaturated Fat:
4
g
|
Trans Fat:
0.2
g
|
Cholesterol:
39
mg
|
Sodium:
262
mg
|
Potassium:
186
mg
|
Fiber:
2
g
|
Sugar:
33
g
|
Vitamin A:
6531
IU
|
Vitamin C:
2
mg
|
Calcium:
71
mg
|
Iron:
2
mg
Disclaimer: We're not nutrition experts. Nutritional info is estimated and should be used as a guide. For precise details, consult a professional.
Dive into the flavors of fall with our comforting pumpkin recipes, perfect for cozy evenings and crisp autumn days. From savory soups to sweet treats, find your ideal dish to celebrate the season's bounty.
Storage Suggestions
Storing at Room Temperature: These delectable Pumpkin Muffins stay fresh and moist for up to 3-4 days at room temperature when stored in an airtight container.
Freezing Options: If you're planning to preserve them for a longer period, consider freezing them in freezer-friendly ziplock bags. They can remain delicious for up to 3 months in the freezer.
Reheating for That Fresh-Baked Feel: To enjoy the delightful taste of these muffins again, simply follow these steps: Allow your frozen muffins to thaw overnight in the refrigerator for ultimate freshness. When you're ready to indulge, microwave them until they are warm all the way through.
Serving Suggestions
When it comes to enjoying your Pumpkin Muffins, the possibilities are as delightful as the muffins themselves! Here are some tasty companions to consider:
Hot Beverage: A warm cup of coffee, tea, or hot chocolate pairs perfectly with the cozy flavors of pumpkin.
Cream Cheese Spread: A creamy and slightly tangy cream cheese spread can be a delightful addition to your muffins.
Fresh Fruit: Sliced apples, pears, or berries provide a refreshing contrast to the rich flavors of the muffins.
Nut Butter: Peanut butter, almond butter, or any nut butter of your choice spread on the muffins can create a satisfying and protein-rich combination.
Whipped Cream: A dollop of lightly sweetened whipped cream can turn your muffins into a delightful dessert.
Maple Syrup or Honey Drizzle: A drizzle of pure maple syrup or honey can enhance the pumpkin flavor and add natural sweetness.
Eggs: If you're having your muffins for breakfast, a side of scrambled, sunny side-ups, or poached eggs can provide a savory element to balance the sweetness.
Breakfast Sausage or Bacon: For a heartier meal, serve your muffins with some crispy bacon or breakfast sausage links.