Garlic Butter is a delightful and easy-to-make condiment, known for its creamy texture and rich garlic flavor, enhanced by Italian herbs. You just need room temperature butter, fresh garlic, and herbs to whip up this versatile spread. It's an excellent addition to a variety of dishes, from pasta and chicken to seafood and steak.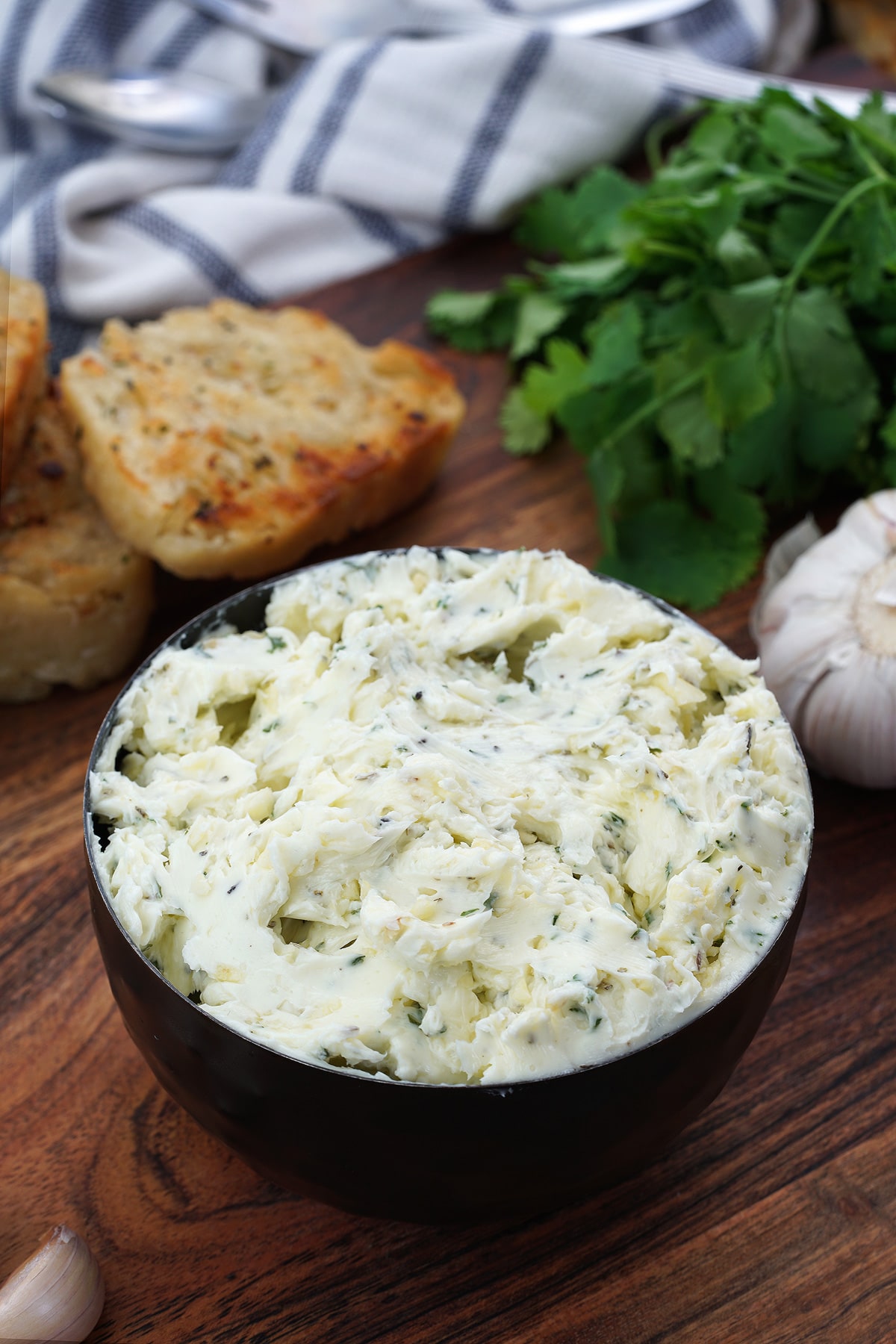 Jump to:
Quick to prepare, taking less than 10 minutes, this homemade garlic butter also boasts a long shelf life, remaining fresh in the refrigerator for up to a week and for months in the freezer.
Explore More Garlic and Butter Based Recipes:
Ingredients Overview
Create this Homemade Garlic Butter with commonly available ingredients, likely already in your kitchen. These ingredients are readily found in most supermarkets. Here's what you'll need: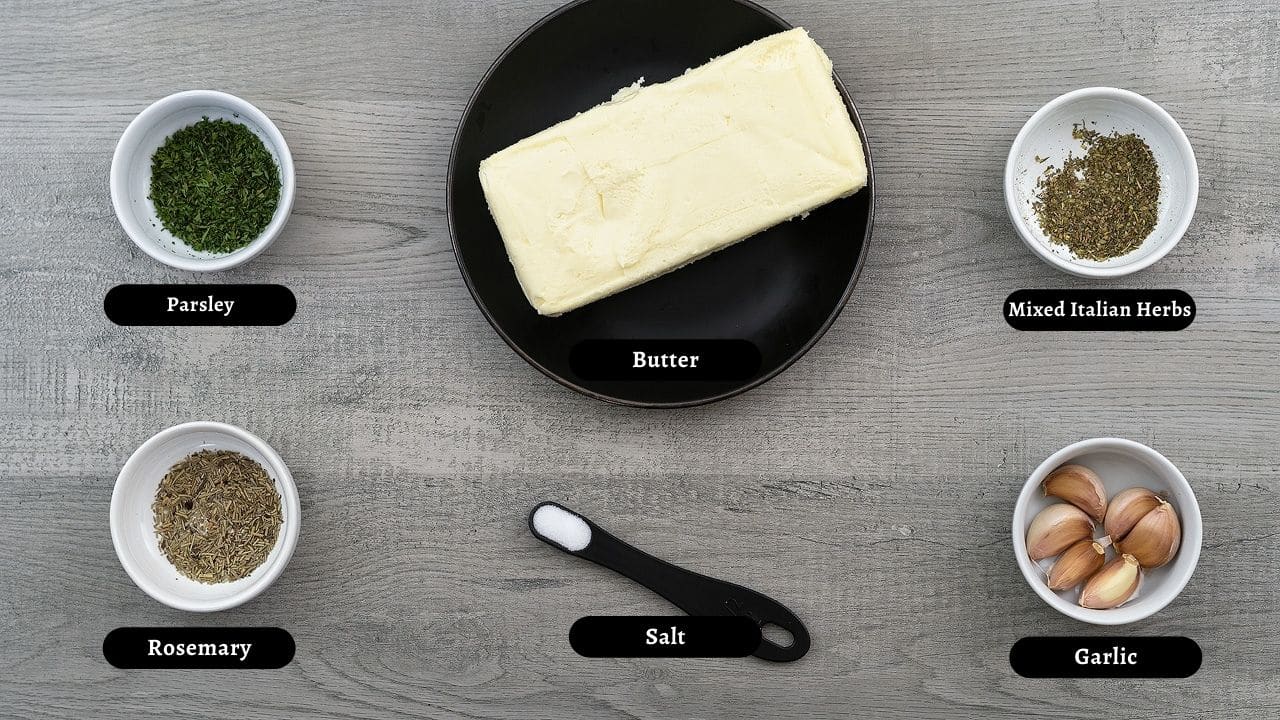 Butter: The base of this recipe is unsalted butter, although salted butter can be substituted. Remember to omit additional salt if using salted butter.
Garlic: Fresh garlic is preferred for its robust aroma and taste. However, garlic powder or garlic salt are suitable alternatives.
Parsley: Dried parsley is used here, but fresh parsley is also a great option if available.
Rosemary: This herb adds a wonderful flavor and aroma. Feel free to adjust or substitute with herbs of your choice to suit your taste.
Mixed Italian Herbs: An optional but recommended ingredient that enhances the overall taste and aroma of the dip.
How to make Garlic Butter?
Dive into the world of flavors with our Homemade Garlic Butter recipe, showcased through a series of step-by-step photos and a detailed video guide. These visual aids will effortlessly walk you through the process, ensuring your culinary success. Let's get started!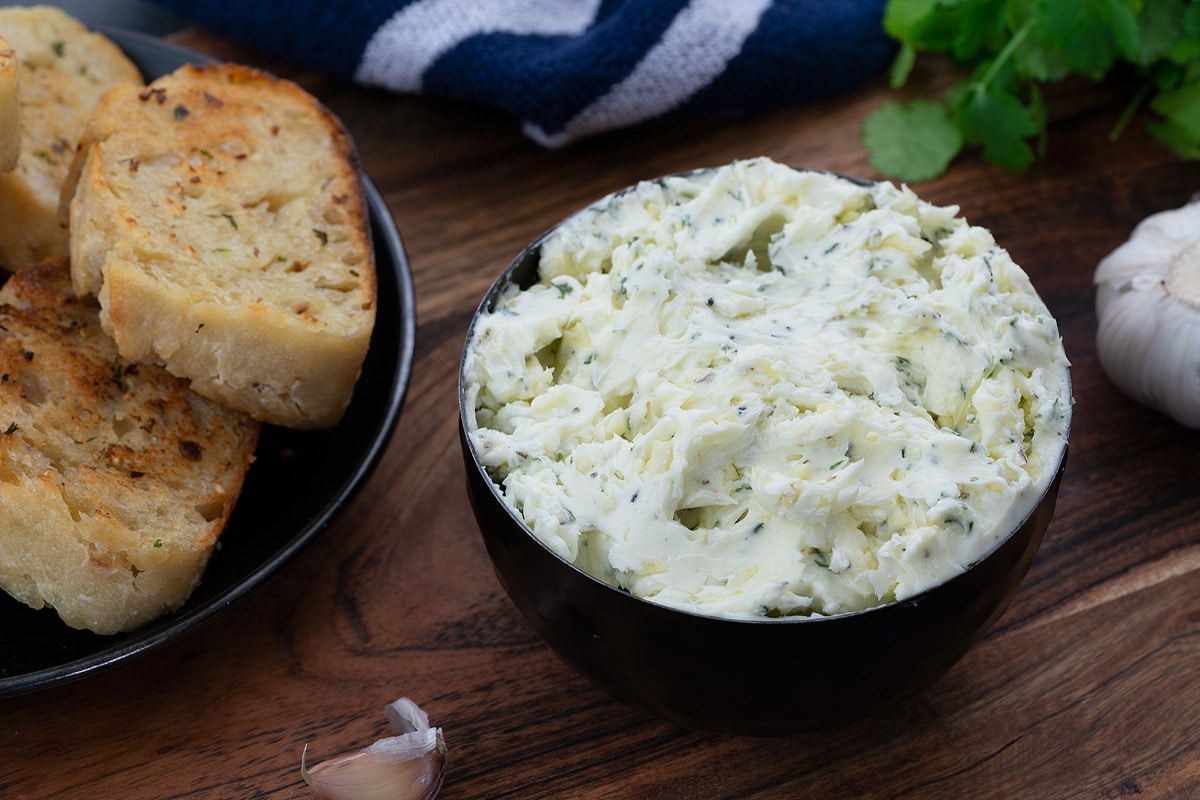 Explore More Delicious Sauces and Dips: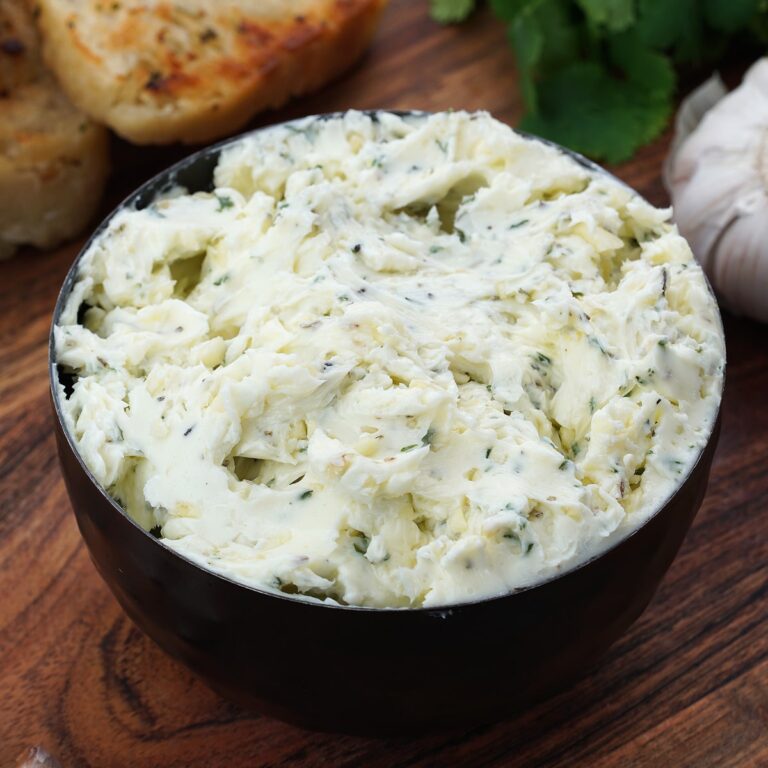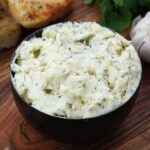 Garlic butter
Garlic Butter, a rich and creamy condiment, is infused with fresh garlic and Italian herbs. Easily prepared with room-temperature butter, this homemade version is perfect for enhancing bread, pasta, chicken, seafood, or steak, adding a burst of flavor to each dish.
Subscribe
print (text-only)
email
pin
review
save
saved!
Ingredients
1

lb

Butter

,

unsalted

6

Garlic

,

minced

1

tsp

Parsley

,

dried

1

tsp

Rosemary

,

dried

1

tsp

Italian Herbs,

mixed

Salt

,

as needed
More on Unit Conversions »
Instructions
To make Garlic Butter
Start by peeling fresh garlic cloves. Finely chop them and set aside.

In a mixing bowl, add butter that's been brought to room temperature. Mix thoroughly using a fork, or for a creamier texture, use an electric beater to whisk or beat the butter.

Add the chopped garlic, parsley, mixed Italian herbs, and salt to the butter. Mix everything well to ensure the ingredients are fully combined.

Your delicious garlic butter is now ready to be used in various recipes!
To Serve
You can enjoy this garlic butter as a versatile spread on bread, or use it to enhance the flavors of your favorite dishes, including pasta, steak, shrimp, fish, or chicken.
Chef's Notes and Tips
Tips for Perfect Garlic Butter:
Use Fresh Ingredients: Opt for fresh garlic and herbs whenever possible. They impart a superior aroma and flavor to the dip. Fresh ingredients can significantly elevate the taste.
Achieving Creamy Texture: To ensure a smooth and creamy consistency, start with butter at room temperature. This makes it easier to blend with other ingredients, resulting in a creamier texture.
Mixing Techniques: While a fork and spatula are great for mixing, consider using an electric beater for an even creamier texture. The beater aerates the butter, making it fluffier.
Nutrition Info
Serving:
1
serving
|
Calories:
205
kcal
|
Carbohydrates:
0.5
g
|
Protein:
0.3
g
|
Fat:
23
g
|
Saturated Fat:
15
g
|
Polyunsaturated Fat:
1
g
|
Monounsaturated Fat:
6
g
|
Trans Fat:
1
g
|
Cholesterol:
61
mg
|
Sodium:
183
mg
|
Potassium:
13
mg
|
Fiber:
0.1
g
|
Sugar:
0.03
g
|
Vitamin A:
711
IU
|
Vitamin C:
0.4
mg
|
Calcium:
11
mg
|
Iron:
0.1
mg
Disclaimer: We're not nutrition experts. Nutritional info is estimated and should be used as a guide. For precise details, consult a professional.
Delve into our exquisite culinary collection, where you'll find an array of Italian recipes, an assortment of imaginative sauces, and distinctive dips. Each recipe is meticulously designed to enhance and enrich your cooking journey, perfect for adding a touch of elegance to any occasion!
Storage and Serving Suggestions
This Garlic Butter can be conveniently stored in the refrigerator for up to a week, and it freezes well for several months. For optimal freezing, portion it into ice cube trays or individual servings.
Its creamy and robust flavor makes it versatile for various dishes. Spread it over bread for a quick snack or use it to elevate the taste of steak, chicken, seafood, or pasta. It's also perfect for adding a rich, herby touch to roasted vegetables like green beans, broccoli, cauliflower, or asparagus.