Indulge in the zest of Andhra with Chepala Pulusu, a fiery and tangy fish curry adored in Nellore. Made with fresh fish, rich spices, and sesame oil, this traditional dish offers a unique taste that's a delight for seafood enthusiasts.
Enjoy this staple of Andhra and Telangana cuisine, featuring fish simmered in a robust tamarind gravy, alongside rice, appam, dosa, or roti. Experience the signature flavors of Andhra's famous fish curry, right from the comfort of your home.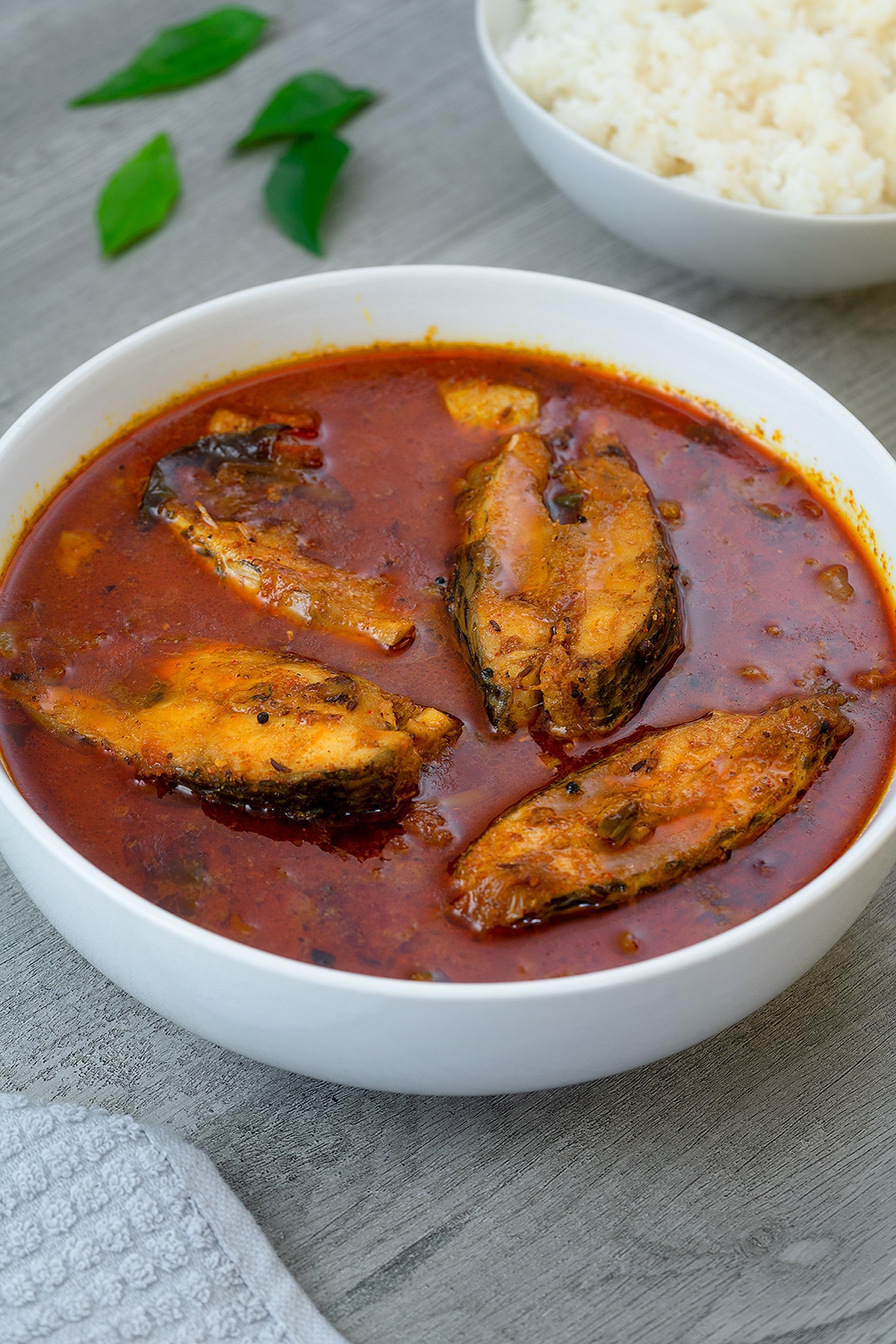 Jump to:
Explore the Diversity of Indian Seafood Recipes:
How to make Chepala Pulusu?
Prepare Chepala Pulusu effortlessly with our two-step guide: first, create the Pulusu Paste, then cook the curry. Below, you'll find an easy-to-follow guide with step-by-step images and a helpful video to guide you through the process. Enjoy your cooking journey!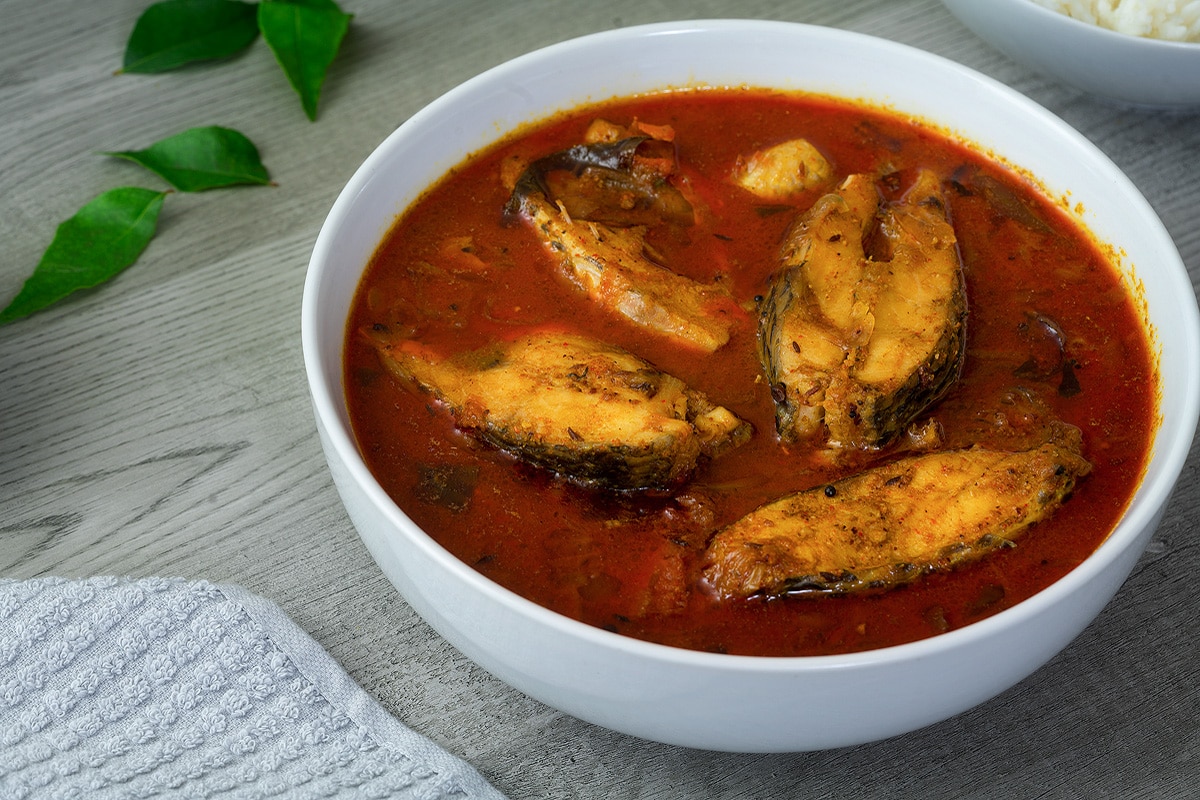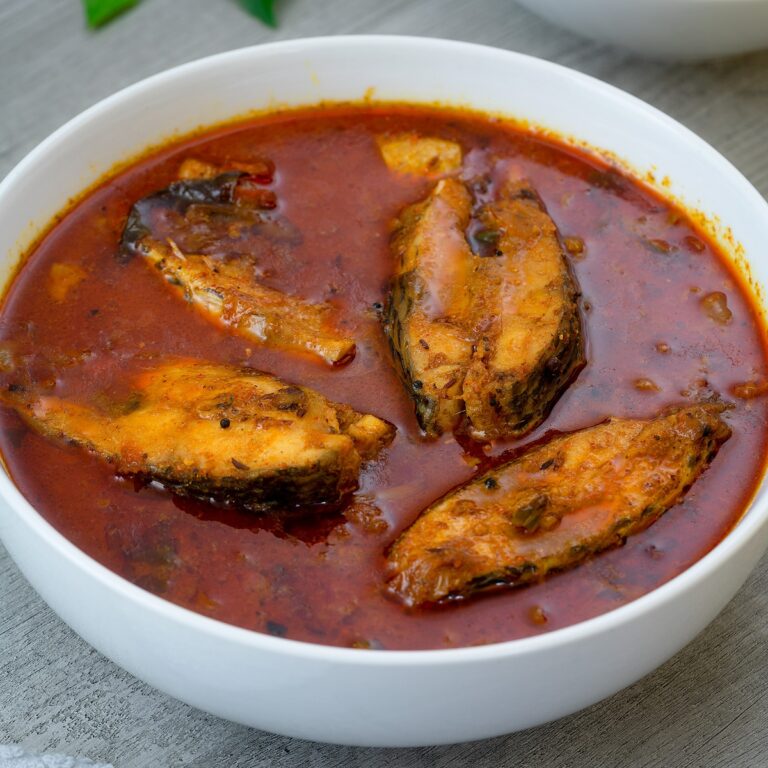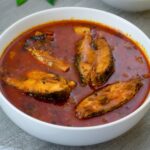 Chepala Pulusu (Andhra Fish Curry)
Enjoy the rich flavors of Andhra with Chepala/Fish Pulusu – a spicy seafood delight made with fresh ground masalas, tangy tamarind, and succulent freshwater fish. Perfectly paired with rice, appam, roti, or idiyappam, this dish is a must-have for lunch or dinner.
Subscribe
print (text-only)
email
pin
review
save
saved!
Ingredients
8

slice

Fish

,

tilapia

0.55

lb

Pearl Onion

,

sliced

1

Tomato

,

chopped

3

Green Chili

,

chopped

1

tsp

Ginger Garlic Paste

1

tsp

Mustard Seeds

1

tsp

Cumin Seeds

¼

tsp

Fenugreek Seeds

1

sprig

Curry Leaves

1½

tsp

Chili Powder

3

tsp

Coriander Powder

¼

tsp

Turmeric Powder

Salt

,

as needed

¼

cup

Oil

,

sesame

¼

cup

Tamarind Juice

,

diluted from 1 tsp Tamarind paste or 2 tsp Tamarind Sauce

2

cups

Water
For Paste
1

tsp

Cumin Seeds

½

tsp

Mustard Seeds

¼

tsp

Fenugreek Seeds

2

tsp

Poppy Seeds

½

tsp

Peppercorn
More on Unit Conversions »
Instructions
Fish Pulusu Paste Preparation
Heat a pan on medium and sauté mustard, cumin, fenugreek seeds, poppy seeds, and peppercorns until aromatic.

Blend with ¼ cup water to create a smooth paste. Set this paste aside for later.
To Prepare Fish Pulusu
Start by heating oil in a pan over medium heat, then add mustard seeds, fenugreek, and cumin seeds, letting them pop.

Next, add chopped onions, green chili, and curry leaves, sautéing until the onions soften.

Introduce ginger-garlic paste and cook until the raw smell vanishes and it becomes aromatic.

Follow with diced tomatoes, continuing to cook until they breakdown and turn mushy

Sprinkle in the chili, turmeric, and coriander powders along with salt, stirring to combine them well.

Pour in water and introduce the previously prepared masala paste, stirring to integrate everything.

Bring this mixture to a gentle boil and let it simmer for 5 minutes, allowing the flavors to meld.

Carefully lay the fish pieces into the simmering gravy, ensuring they are evenly distributed.

Close the pan with a lid and cook the fish for another 5 minutes, allowing it to absorb the spices.

Uncover and add tamarind water or paste, folding it in gently to avoid breaking the fish.

Lower the heat and simmer the curry until oil surfaces along the edges, indicating your Andhra Fish Curry is ready to be served.
To Serve
Serve this rich and tangy Chepala/Fish Pulusu with your choice of hot white rice, appam, parotta, or idiyappam for a complete meal.
Chef's Notes and Tips
Here are some expert tips to perfect your Chepala Pulusu:
Choosing the Right Fish:
Freshwater Favorites: Opt for freshwater fish such as Tilapia, Catfish, Trout, Indian Seer fish, Butterfish, or Milkfish for authentic flavor. Tilapia is a great choice, as used in this specific recipe.
Bone-In Benefits: While bone-in fish are traditional and infuse the curry with extra flavor, boneless varieties can also be used for convenience and varied texture.
Perfecting Chepala Pulusu:
Precision with Spices: Ensure to use the exact amounts of mustard and fenugreek seeds as specified in the recipe to prevent bitterness.
Careful Roasting: Roast the masala ingredients on medium heat to avoid burning, ensuring the curry develops its full flavor. This is a crucial step for the best results.
Sesame Oil Authenticity: For the authentic taste and flavor, use sesame oil as recommended in the preparation of the dish.
Customize the Heat: Adjust the spiciness to suit your family's taste; the curry can be made milder without losing its authenticity.
Patience Pays Off: The flavor of the fish pulusu intensifies and improves after 4 to 5 hours, and it's even more delicious the next day.
Chepala Pulusu Variations:
Tangy Tamarind Leaves: For a tangy Chepala Pulusu, use tender tamarind leaves in place of tamarind water in the Chintha Chiguru version.
Coconut for Creaminess: To add a creamy texture to your fish curry, try using coconut instead of poppy seeds when preparing the masala.
Mango for Zest: Introduce raw mango pieces to your Chepala Pulusu for a zesty flavor punch.
Regional Delights: Expand your palate by trying out regional variations like Rayalaseema, Rajahmundry, and Bhimavaram fish curries to experience their unique flavors.
Nutrition Info
Serving:
1
serving
|
Calories:
203
kcal
|
Carbohydrates:
15
g
|
Protein:
3
g
|
Fat:
16
g
|
Saturated Fat:
1
g
|
Polyunsaturated Fat:
5
g
|
Monounsaturated Fat:
10
g
|
Trans Fat:
0.1
g
|
Cholesterol:
1
mg
|
Sodium:
140
mg
|
Potassium:
259
mg
|
Fiber:
4
g
|
Sugar:
7
g
|
Vitamin A:
515
IU
|
Vitamin C:
25
mg
|
Calcium:
75
mg
|
Iron:
2
mg
Disclaimer: We're not nutrition experts. Nutritional info is estimated and should be used as a guide. For precise details, consult a professional.
Serving Suggestions
Classic Pair: Serve with hot white rice for a comforting meal.
Seafood Platter: Create a feast with Fish Pulusu, and Indian Fish Fry alongside white rice.
Extra Special: Pair with Meen Pollichathu for an indulgent experience.
Storage Suggestions
Freshly Served Warmth: Enjoy your fish pulusu warm for immediate satisfaction.
Flavor Intensification: Let it sit for 4 to 5 hours at room temperature to deepen the flavors.
Room Temperature Storage: It remains good for 2 days; the flavor enhances with time.
Refrigeration: Keep in an airtight container in the fridge to savor for up to 4 days.