Prawn Biryani or Shrimp Biryani is a flavor-packed Indian main course seafood meal made with fresh ground biryani masala, spices, and herbs. This Prawn biryani is one of the tastiest meals and an ultimate treat for seafood lovers. This prawn biryani is an irresistible meal that pairs great with nonveg curry and is typically served for lunch and dinner along with raita.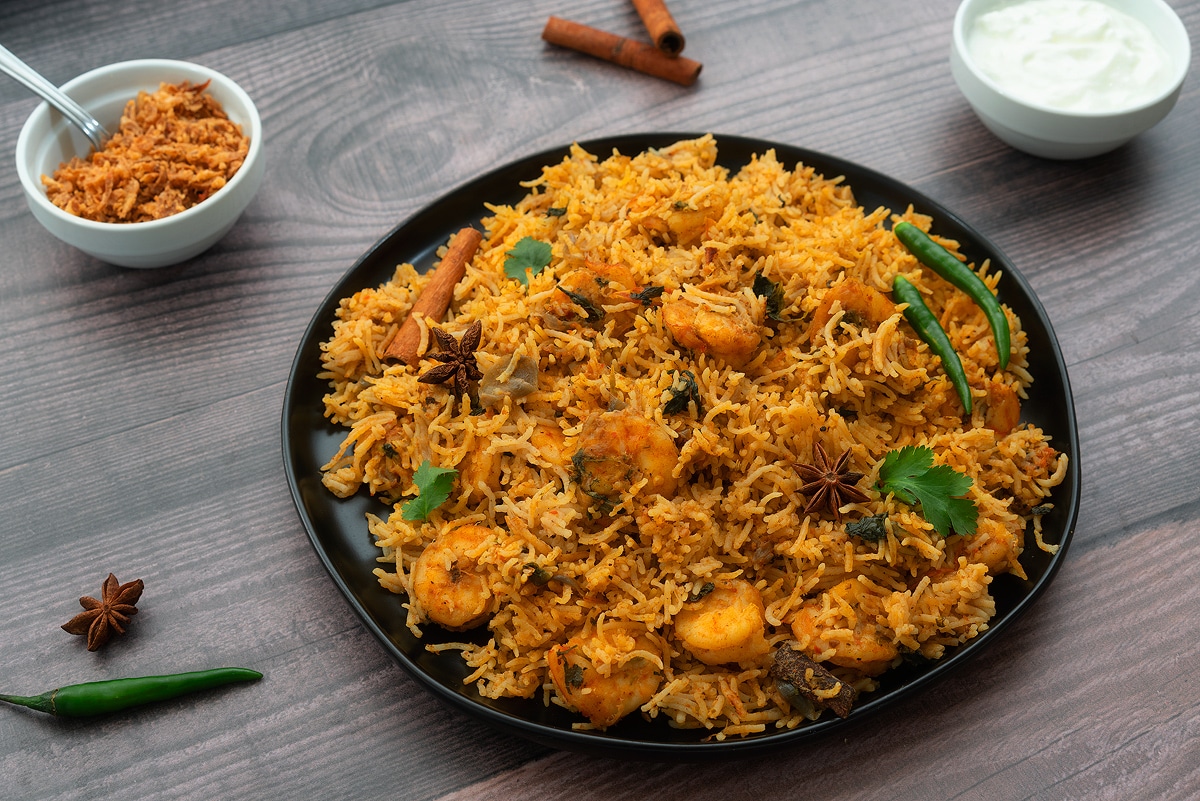 Jump to:
What is Prawn biryani?
Prawn biryani is a delicious and flavor-filled main course Indian meal that uses basmati rice or seeraga samba rice. There are two ways of making prawn biryani, one with the classic layer method(Hyderabadi style) and the other is a one-pot method. It is typically prepared with fresh prawns or shrimp, Chettinad spices, and fresh herbs like mint, and coriander leaves that make this dish tasty and flavorful.
About this Prawn Biryani
The recipe I have shared here is an easy prawn biryani yet without compromising on the taste. And this dish is simple to make in an instant pot and pressure cooker. Initially, I seasoned the whole Indian spices until they turned aromatic. And I kept the heat to medium to avoid burning the spices and of course, I would recommend you to follow the same. Then I sautéed the onions until they turned soft. After that, I added 2 tsp of ginger garlic paste and sautéed until the raw aroma leaves.
Following that, added tomatoes and cooked them to mushy. I would always suggest you not compromise on sautéing the onion and tomatoes to the right consistency. This helps to add rich flavor to the foods. After that, I added all the spice powders, mint, and coriander leaves and gave a good mix. At this stage, it will look like a thick gravy. Usually, prawn naturally has a sweet taste, so if you don't like the sweetness in biryani, try increasing the quantity of chili powder.
Later I added the prawns to the gravy mix and cooked it for about 10 to 12 minutes. Usually, the prawns will turn soft and tender within this time, but if it doesn't try to cook for 5 more minutes. Once the prawns are soft, I added the soaked basmati rice, and 3 cups of water, and gave a nice mix. And then, I allowed the rice to cook to 70%. I would highly suggest you follow the soaking process to achieve a perfect long-grain biryani. The ideal minimum time I would suggest is 30 minutes.
Finally, garnished them with coriander and mint leaves and cooked for another 15 minutes with low heat with the pan lid closed.
More Prawn Recipes:
Instant Pot Prawn Biryani
You could also do this prawn/shrimp biryani in the instant pot. To do that, in sauté mode, season all the spices and sauté the onions, tomatoes, and spice powders similar to the one-pot method. After adding prawns and rice, add water, and give a quick mix. And then close the lid, and cook for 6 minutes at high pressure. And naturally, release pressure for 10 minutes. Always make sure to stir the bottom to avoid burning the dish before setting it to pressure cook mode.
The same process can be followed for the pressure cooker prawn biryani too. But the only difference is you should pressure cook the biryani for 2 whistles in medium heat. Both methods are quick and easy to make yet taste heavenly similar to all other methods.
Variations
Biryani is one of the most loved dishes and no wonder the Prawn biryani recipe is one among them especially if you are a seafood lover. It usually requires minimal effort if you have cleaned and deveined prawns handy at home. This prawn/shrimp biryani is rich in flavor and has a lot of variations.
In Tamilnadu, people call Prawn Eral and they make this Eral biriyani recipe with fresh Chettinad spices. It is also common to use Seeraga samba rice for biryani recipes in the state.
Even though the layer-dum version of the biryani is popular across India and around the world, Chettinad style biryani uses the one-pot method yet it is unique in taste and popular across South India.
People from the region also use coconut milk in their eral biriyani recipe to enhance the taste and flavor.
You can also use coconut oil, ghee, cashews, raisins, and black pepper powder in this dish which enhances the flavor and taste.
Serving Suggestions
This prawn biryani recipe is a perfect treat for any day. And I believe you will love and enjoy this recipe with your loved ones. It tastes great on its own but tastes divine when it is served with the side dishes like Dalcha, Chicken Sukka, Pepper Chicken, or other chicken curries along with raita.
Related Recipes
You could also find similar recipes below and more at Biryani Recipes.
More Shrimp Recipes
Looking for a list of Biryani, Seafood, and Chicken recipes at one place to cook for your next meal or a party? Then you could also check this collection of Best Biryani Recipes, Indian Seafood Recipes for the main course and side dish, and Indian Chicken Dry and Semi Gravy Recipes to accompany your main dish. Take a look!
Prawn/Shrimp Biryani video
I have also shared a detailed video instruction for this Prawn Biryani recipe below and I believe will help you to make this delicious seafood dish easily at home. For a quick reference, you could also find this recipe in story format.
📖 Recipe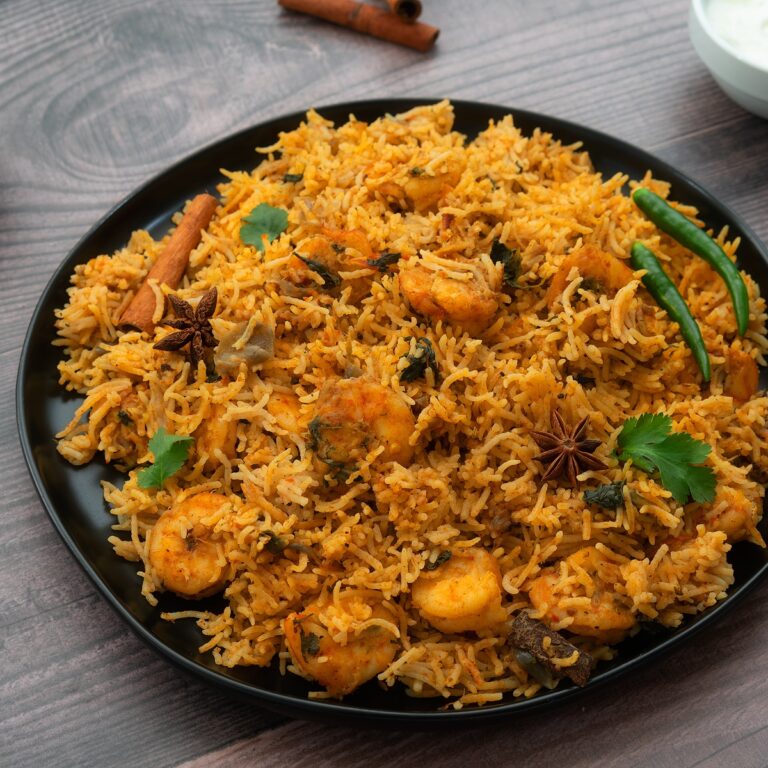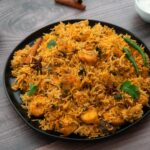 Prawn Biryani (Shrimp Biryani)
Prawn or Shrimp biryani is a tasty and aromatic one-pot South Indian meal in which fresh prawns are cooked with basmati rice, Indian spices, and herbs. It tastes great on its own and even better when it is served with South Indian chicken curries. It is also called Eral Biryani in South India.
Subscribe
print (text-only)
email
pin
review
save
saved!
Ingredients
1.15

lb

Prawn

,

cleaned & deveined

1½

cup

Basmati Rice

,

soaked for 30 minutes

2

Onion

,

thinly sliced

2

Tomato

,

chopped

2

Bay Leaves

1

Star Anise

3

Cinnamon Stick

,

small

3

Cloves

1

Javitri

3

Cardamom

1

Kalpasi

3

Green Chili

2

tsp

Ginger Garlic paste

½

tsp

Turmeric Powder

1

tsp

Chili Powder

1½

tsp

Coriander Powder

1½

tsp

Biryani Masala

Salt

,

as needed

½

cup

Mint Leaves

½

cup

Coriander Leaves

3

cups

Water

¼

cup

Oil
More on Unit Conversions »
Instructions
To Prepare Prawn Biryani
In a wide bottom pan with medium heat, pour oil, add bay leaves, star anise, cinnamon stick, cloves, javitri, cardamom, kalpasi, green chili, and saute until it turns aromatic

Add the thinly sliced onion and saute until it turns soft

Now add the ginger-garlic paste and saute until the raw aroma leaves

Add the chopped tomatoes and saute until it turns mushy

Now add the turmeric powder, chili powder, coriander powder, biryani masala, and salt and combine everything well

Add ¼ cup of mint and coriander leaves and give a nice mix

Now add the cleaned and deveined prawns and mix well. Allow it to cook for 10 to 12 minutes or until the prawns turns soft

Add the basmati rice and 3 cups of water and give a nice mix. Allow the rice to cook 70%

Now add the remaining ¼ cup of coriander and mint leaves and simmer the heat to medium-low heat

Close the pan with the lid and cook it for about 15 minutes

Switch off the stove and allow it to rest for 5 minutes and then open the lid

Fluff the rice gently and now the prawn biryani should be ready for you to taste and enjoy
To Serve
Seve the delicious Prawn biryani with spicy brinjal gravy, dalcha, raita, or any non-veg curry

Notes
For getting a perfectly juicy, soft, and tasty prawn biryani, I always recommend you to use fresh prawns. If fresh prawns are not readily available, you could choose frozen prawns
Always make sure not to skip the soaking time of basmati rice. The ideal minimum time should be at least 30 minutes which helps to achieve a fluffy long-grain biryani
Prawn naturally has a sweet taste, so if you don't like the sweetness in biryani, try to increase the quantity of chili powder
I have used only oil in this biryani, but you can also use ghee for extra rich flavor
You could also make this biryani in a pressure cooker or instant pot to speed up the process
Nutrition
Serving:
1
serving
|
Calories:
553
kcal
|
Carbohydrates:
70
g
|
Protein:
33
g
|
Fat:
16
g
|
Saturated Fat:
1
g
|
Polyunsaturated Fat:
4
g
|
Monounsaturated Fat:
9
g
|
Trans Fat:
0.1
g
|
Cholesterol:
210
mg
|
Sodium:
298
mg
|
Potassium:
752
mg
|
Fiber:
7
g
|
Sugar:
5
g
|
Vitamin A:
1047
IU
|
Vitamin C:
20
mg
|
Calcium:
184
mg
|
Iron:
3
mg
FAQ
What is Prawn/Shrimp biryani?
Prawn biryani is a tasty and flavorful meal popular in South India. It is usually made with Basmati or Seeraga Samba rice with Indian spices, and herbs by either layer or one-pot method. This is also prepared in instant pot or with pressure cooker.
Which rice is used for Prawn biryani?
Biryani is usually made with Basmati rice. To enjoy the unique Chettinad style biryani Seeraga samba, short-grain rice can be used instead of basmati rice.
Can I make Prawn biryani with coconut milk?
Yes, prawn biryani can be made with coconut milk which enhances the taste and flavor of the dish.
How to make Prawn Biryani in the instant pot?
To make prawn biryani in an instant pot, just follow the instructions mentioned above in this post.
I really hope you enjoyed the recipe that I have shared here and I would love to hear from you on how it turned out for you. Please let me know.
If you have any other questions, feel free to post them in the comment section below and I will try to get back to you as soon as possible.

Happy Cooking!