Ambur Biryani or Star Ambur Biryani is a tasty South Indian dish that is native to the Tirupattur district of Tamilnadu. This traditional and unique Seeraga samba briyani recipe has a long history from Arcot Nawab and is popularized by the Star Biryani Hotel in Ambur. And hence it is also called Star Ambur Biryani.
The Seeraga samba, a South Indian rice that is cooked with chicken, chili paste, and a minimal amount of spices makes this meal unique and flavorful. This Ambur biryani is a delightful one-pot meal with raita that can be served for lunch and dinner, and parties.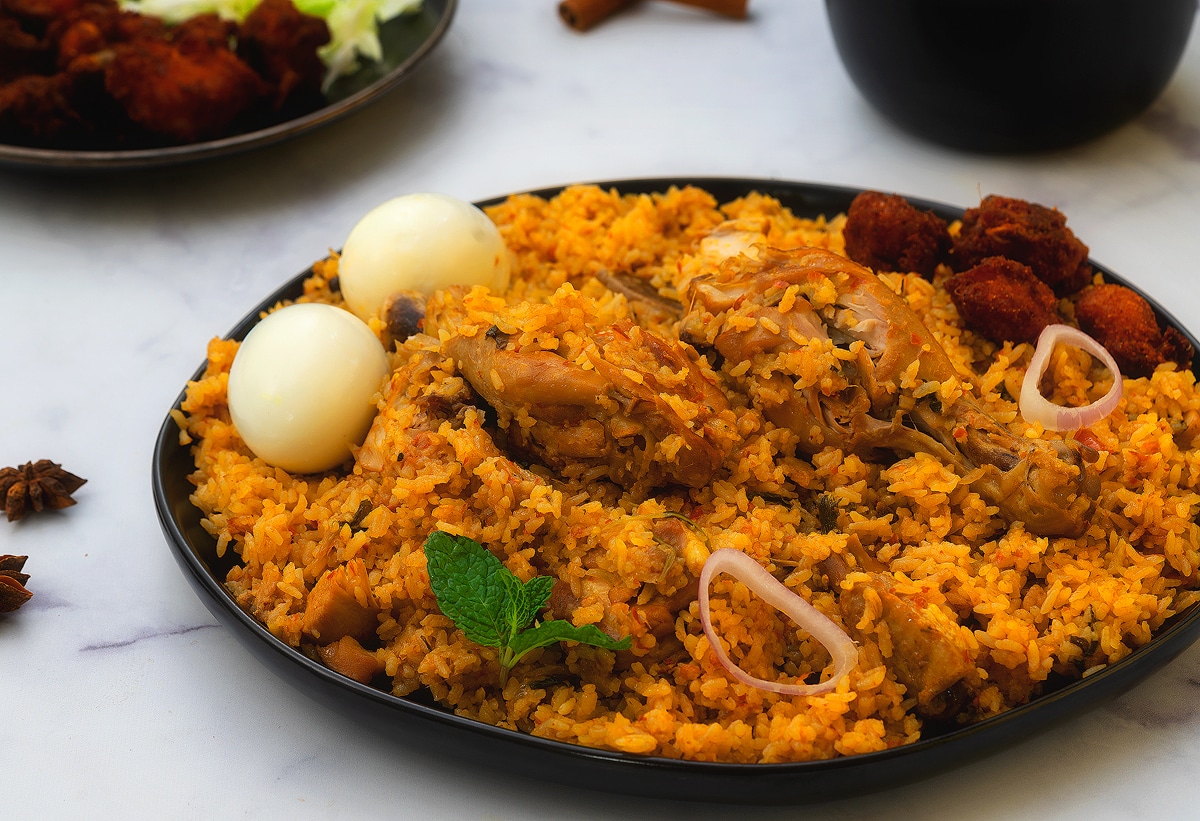 Jump to:
What is Star Ambur Biryani?
Star Ambur biryani is a delicious non-vegetarian main course food popular in the town of Ambur, Vaniyampadi, and nearby places in Tamilnadu. Ambur biryani has got this name as the biryani was popularized by the Star biryani hotel in Ambur. The original recipe of the dish was introduced by the Nawabs of Arcot during their regime and it is now widely prepared in different hotels and places including star biryani hotels.
Even though the technology has grown and even in villages we could see people cooking with gas and induction stoves, the star hotel still prepares this dum biryani with wood fire. And they believe that this adds a special taste to the dish. This is one of the uniqueness of the star hotel biriyani.

As with any other biriyani, the Ambur chicken biryani recipe is very popular and prepared among the Muslim population due to the origin of the dish. But it is equally special and famous with other people from the state of Tamilnadu for its popularity and uniqueness. Usually, Ambur biriyani is cooked with either goat meat or chicken with a high meat ratio to the rice. This is also one of the differences to note about this dish.
What is unique about Ambur Biryani?
The uniqueness of Ambur chicken biryani is that they never use green chili and other masala powders that are used in most other briyani dishes. The whole taste of the biryani comes from the chili paste, a few whole spices, and Seeraga samba rice.

Since there is no heavy masala or garam masala powders used, the dish is very light and easily digestible, yet without compromising the heavenly taste. Ambur briyani is cooked with the dum process like in Mughlai chicken biryani in which the rice and meat are cooked separately and put together in a dum.
Variations in Seeraga Samba Biryani
Seeraga Samba is special rice popular in Tamilnadu and is used to prepare different biriyani recipes around the region and in neighboring states. Since this Ambur star biryani uses Seeraga samba rice, I would like to share some of the other varieties of biryanis prepared with the same rice for you to try and enjoy.

Each style of biryani mentioned below is prepared with this rice and it is unique in its own way. I would definitely suggest you prepare these delicious dishes and enjoy yourself with your family whenever you get a chance.

I have posted the recipe for Mutton Biryani which is a typical Tamilnadu special briyani that turned out really soft and aromatic. In addition to that below are some of the other south Indian biryanis that use seeraga samba rice for the preparation.
Tamilnadu special Seeraga samba briyani with chicken
Bangalore Donne biryani
Thalassery Chicken Biryani
Thalapakatti Chicken Biryani
About this Star Ambur Biryani
The recipe that I have shared here is a classic Ambur star biriyani but with slight modification. I cooked the chicken and rice in the same pot instead of cooking them separately. This enhances the aroma of the chicken and rice altogether. Then once the rice is cooked to 70%, I simmered the heat to low and cook for another 15 minutes with the lid closed.
For the spice, I have taken 10 dry red chilies and soaked them in hot water for about 10 minutes. Then l ground it into a fine smooth paste. If you feel that the number of chilis used here for the recipe is too much for your spice level, feel free to reduce it to your taste. Apart from using chili paste and a few whole spices, no other masala powder is used here.

I also added ¼ cup of white onion slices after sauteing purple onions, garlic paste, and ginger paste which helps to intensify the aroma of biryani. Since I ran out of purple onions at home, I used white onions as a replacement. So you could either use white or purple onion. And I believe it wouldn't alter the taste.
Tips
I used a rice water ratio of 1:1 for this recipe and soaked the rice for 30 minutes. This helps us to achieve a nice and fluffy biryani. I would advise you to stick to this ratio as the chicken would also release a lot of water while it's cooked.

The traditional Ambur star biriyani recipe uses only Seeraga samba rice and it is better to stick with the rice for this biriyani to get an authentic taste. But it should not stop you from trying this with basmati rice if you don't have Seeraga samba rice handy. But expect to see the difference in taste if you choose to go with Basmati rice.
Serving Suggetions
This special Ambur chicken biryani / Star biriyani recipe delivers a soft and moist hotel-style briyani that you will definitely love and enjoy. Typically this star biriyani is served with brinjal curry, boiled egg, dalcha, salna, and raita in restaurants. But you could also enjoy it with Pepper chicken, Chicken Sukka, Andhra Chilli Chicken, Chettinad Chicken, Chicken Fry, and Chicken Chintamani which are special chicken dishes that go very well with this briyani. And I am sure you will not regret it.
Related Recipes
You could also find similar recipes below and more under Chicken and Biryani recipes.
Looking for different chicken recipes to cook for your next meal or a party? Then you could also check this collection of Biryani Recipes and Indian Chicken Dry and Semi Gravy Recipes to accompany your main dish and to enjoy with your family and loved ones.
Ambur Biryani video
In the video below I have shared the detailed instructions of Ambur Biryani recipe and I believe it will help you to make this authentic and delicious dish at home. For a quick reference, you could also find the recipe in story format.
📖 Recipe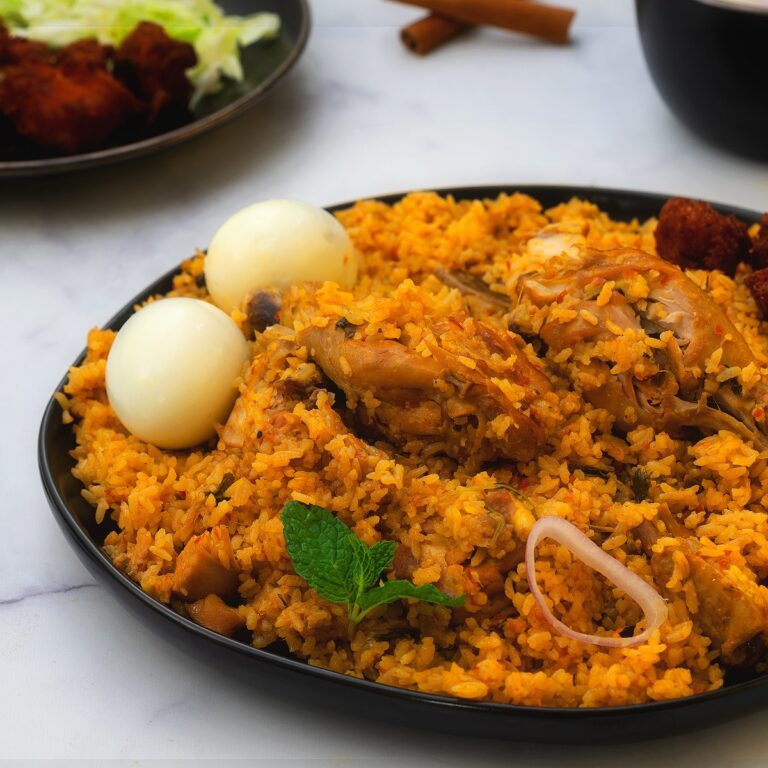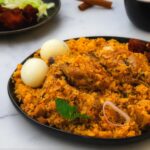 Ambur Biryani
Ambur biryani or Star Ambur biryani recipe is an authentic, unique, flavorful, delicious meal introduced by Arcot Nawab during their regime in Tamilnadu, South India. This unique and delicious meal prepared with Chicken and seeraga sambar rice can be served for lunch, dinner, or for parties.
Subscribe
print (text-only)
email
pin
review
save
saved!
Ingredients
1½

cup

Seeraga Samba Rice

,

soaked for 30 minutes

2.25

lb

Chicken

,

cleaned & cut (½ kg - 1 kg is ideal)

¼

cup

Oil

2

tbsp

Ghee

2

Onion

,

thinly sliced

2

Tomato

,

chopped

2

tbsp

Onion

,

chopped

1

Bay Leaf

3

Cinnamon Stick

,

small

5

Cloves

8

Cardamom

2

tsp

Garlic paste

2

tsp

Ginger paste

10

Dry Red Chili paste

,

soaked & grind

½

tsp

Turmeric Powder

Salt

,

as needed

¼

cup

Curd

¼

cup

Coriander Leaves

¼

cup

Mint Leaves

1½

cup

Water
More on Unit Conversions »
Instructions
To Prepare Ambur Chicken Biryani
In a wide bottom pan with medium heat, pour oil, ghee and add bay leaf, cinnamon stick, cloves, cardamom, and saute until it turns aromatic

Now add thinly sliced onions and saute until it is caramelized. Caramelizing the onions gives a rich aroma to the biryani

Add garlic paste and saute until it turns fragrant

Now add ginger paste and saute until the raw aroma leaves

Add 2 tbsp of thinly sliced onion and tomato to the above mixture and saute until the tomatoes turn mushy. Adding a small portion of onion along with tomatoes gives a creamy texture and good flavor to the biryani

Now add the dry red chili paste, turmeric powder, salt and saute until raw chili paste aroma leaves

Add the cut and cleaned chicken pieces to the chili gravy and mix them well until the masala coat evenly

Cook the chicken for about 5 to 7 minutes until it leaves water

Now add curd, coriander leaves, and mint leaves and mix everything well

Close the pan with the lid and cook the chicken for about 10 minutes

Open the lid and add water to the above gravy and allow it to boil

Now add the soaked Seeraga samba rice and mix well

Cook the rice until it is 70 % done

Now close the pan with the lid and cook for 15 minutes. Make sure to keep the flame low heat to avoid over cooking

Open the lid and gently fluff the biryani. The chicken biriyani is ready for you to taste and enjoy
To Serve
Serve this delicious Ambur special chicken biryani with curd raita, chicken salna, or any non-veg curry of your choice
Notes
The uniqueness of this dish is that the chili paste is used as the main ingredient. And it doesn't need any masala powders compared to other biryani dishes. But if the chili count feels too hot to your taste, feel free to reduce it
Traditionally, Ambur biryani is prepared with Seeraga samba or Jeeraga samba rice which gives the best taste and authentic flavor to the dish. But you could also try basmati rice if you do not have Seeraga samba rice handy
I have used the rice water ratio of 1:1 for this recipe and the rice was soaked for about 30 minutes
Make sure to stick with this ratio as the chicken would leave additional water while it is cooked
To prepare the chili paste, soak the dry red chilies in hot water until it turns soft and grinds into a smooth paste
Nutrition
Serving:
1
serving
|
Calories:
705
kcal
|
Carbohydrates:
20
g
|
Protein:
35
g
|
Fat:
55
g
|
Saturated Fat:
15
g
|
Polyunsaturated Fat:
12
g
|
Monounsaturated Fat:
25
g
|
Trans Fat:
0.2
g
|
Cholesterol:
148
mg
|
Sodium:
134
mg
|
Potassium:
748
mg
|
Fiber:
6
g
|
Sugar:
6
g
|
Vitamin A:
1176
IU
|
Vitamin C:
24
mg
|
Calcium:
148
mg
|
Iron:
4
mg
FAQ
What is Ambur Biryani?
Ambur Biryani is an authentic Tamilnadu special dish prepared with Seeraga samba rice along with chili paste being the main ingredients. This biryani was introduced by Nawabs of Arcot to the people in the Ambur and Vaniyambadi region during their regime.
What is special about Ambur biryani?
The uniqueness of the Ambur biryani is that it uses only red chili paste and few whole spices along with meat and Seeraga samba rice to achieve the great flavor and taste of this biryani. And it doesn't use typical spices used in other kinds of biryani recipes.
Is Ambur Briyani healthy?
Ambur biryani never uses green chili, heavy garam masala powders like other biryanis. Hence it is very light and easily digestible. But always having any food in moderation is key to healthy living.
Can I make this recipe in Pressure Cooker?
Yes, you can make this recipe in a pressure cooker following the same process. But do not expect the whistle, when you are cooking it in the low heat.
I really hope you enjoyed the recipe and I would love to hear from you on how it turned out for you. Please let me know.
If you have any other questions, feel free to post them in the comment section below and I will try to get back to you as soon as possible.

Happy Cooking!