Mutton biryani or Lamb Biryani is an aromatic, spicy, and flavorful non-vegetarian dish made with basmati rice or Seeraga samba rice along with Indian spices. The recipe I have shared here explains to you how to make a perfect Mutton Biryani also called Lamb biryani with easy step-by-step instructions. This mutton biryani is juicy, tasty, and easy to make one-pot biryani at home. It tastes best with raita or any non-veg curries like chicken gravy for lunch and dinner.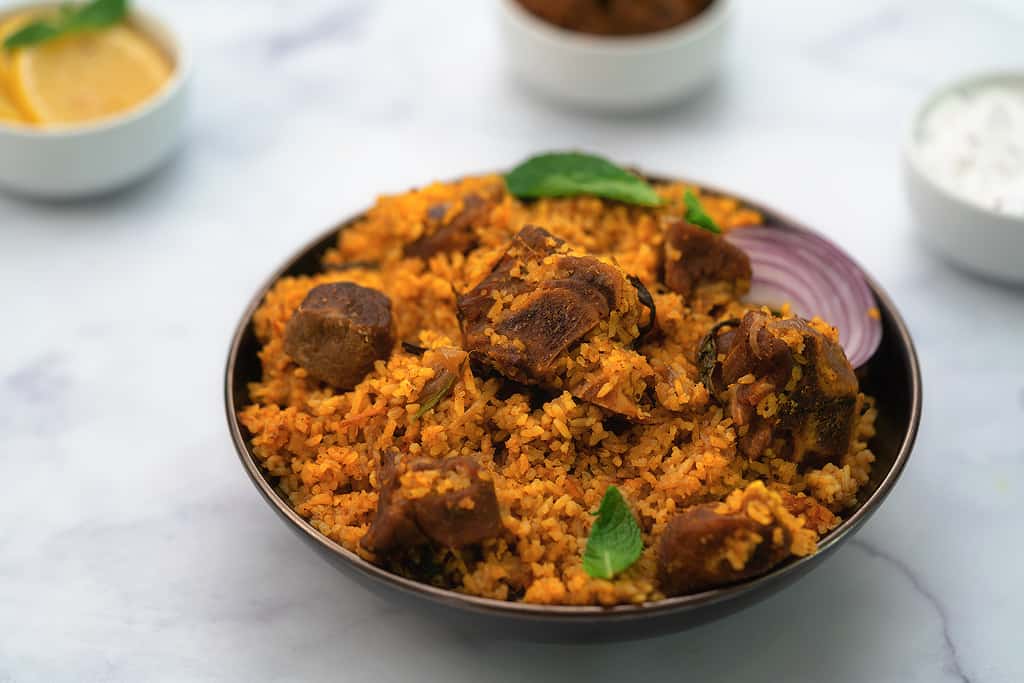 Jump to:
What is Mutton(Lamb) Biryani?
It is a rice dish in which the Mutton or lamb meat gravy is mixed or layered with flavored basmati rice in one pot under Tandoor or pressure cooked in steam. The word biryani or biriani is from the origin of the Persian language. Different parts of people have their own versions based on their culture and cuisine.
How to make Mutton(Lamb) Biryani?
In this mutton biryani, tender goat meat(lamb) is slow-cooked with onion, tomato, and Indian spices. This mutton gravy is then cooked with seeraga samba rice in low-medium heat. This rice is rich in its aroma which results in flavorful biryani.
The goat meat chosen here is very tender, so it does not require pressure cooking. If the meat chosen is not tender, then it should be pressure cooked for at least 4 whistles.
Please find the detailed steps with images in the recipe card below.
Serving Suggetions
This Seeraga samba mutton biryani is a rich, tasty, juicy, and aromatic rice dish and can be a perfect meal for lunch and dinner along with raita. And it tastes great with Chettinad Mutton Chukka, Lamb Vindaloo, Rogan Josh, or Chicken Sukka Varuval. You can also serve it with boiled eggs on the side. This dish can be a perfect party meal or for any festive day.
Related Recipes
Mutton(Lamb) Biryani Recipe video
I have also shared the detailed video instructions of this recipe below and I believe it will help you to prepare this delicious meal at home. You could also find the Mutton Biryani Recipe in story format for a quick reference.
📖 Recipe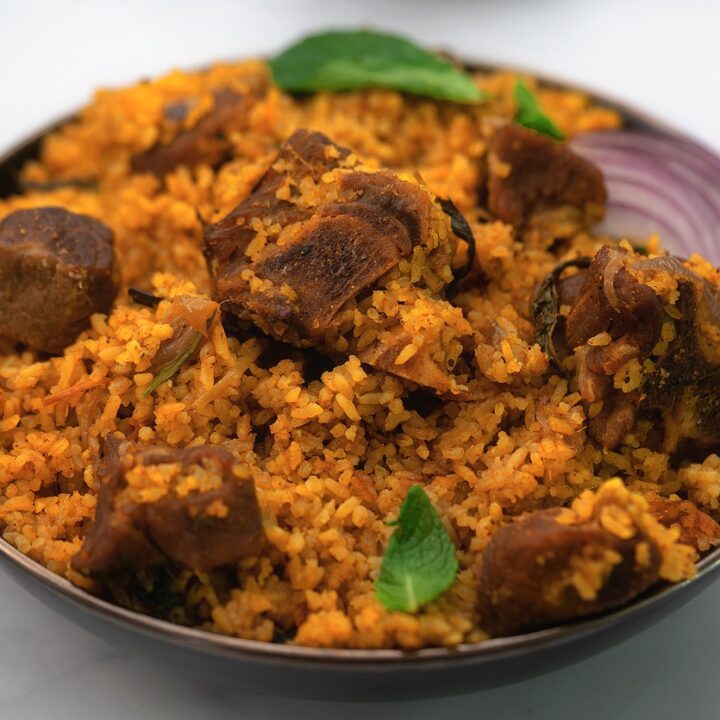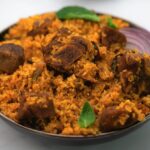 Ingredients
2.25

lb

Mutton

,

goat/lamb (tender pieces), ½ to 1 kg ideal

1

cup

Seeraga Samba Rice

,

soaked for 15 mins and drained

1

Onion

,

thinly sliced

1

Tomato

,

chopped

2

Green Chili

,

slit

2

tsp

Ginger Garlic Paste

¼

cup

Onion Paste

,

pearl onion preferred

1

tsp

Chili Powder

2

tsp

Coriander Powder

1

tsp

Biryani Masala

¼

cup

Curd

¼

cup

Mint Leaves

¼

cup

Coriander Leaves

½

cup

Oil

1

Cinnamon Stick

,

crushed

4

Cloves

4

Cardamom

2

Bay Leaves

1

Star Anise

1

Javitri

2

Kalpaasi

Salt

,

as needed

1½

cup

Water
More on Unit Conversions »
Instructions
To Prepare Lamb/Mutton Biryani
In a wide bottom pan with medium heat, pour oil, add cinnamon, cardamom, cloves, javitri, black stone flower, kalpaasi, bay leaves, green chili, onion, and onion paste

Saute everything well until the onion turns soft

Add ginger-garlic paste, chili, coriander, biryani masala, turmeric powder, and salt and mix well

Add tomatoes and add give a nice mix

Add curd, mint leaves and saute until the tomatoes turn mushy

Add the mutton pieces and give a nice mix until all the masala are well incorporated

Close the pan with the lid and cook for 15 minutes

Open the lid and give a mix

Allow the mutton to cook until soft for about 15 minutes

The mutton gravy turns thick reddish-brown in color

At this stage add water and allow it to boil

Once it starts boiling, add the seeraga samba rice to the mutton gravy and mix well

Let the rice to cook 70%

Simmer the heat and add coriander and mint leaves

Close the pan with the lid and cook the biryani in steam for about 10 to 15 minutes

Open the lid and fluff the biryani
To Serve
Serve the delicious mutton biryani with curd raita or gravy of your choice
Notes
The key for perfect juicy and moist biryani is choosing the best tender goat meat and the right water ratio for the rice
Here in this recipe oil is used for cooking biryani, it can also be replaced with ghee
Cooking the biryani in steam or dum for 15 minutes gives the best flavor to the biryani
Nutrition
Serving:
1
serving
|
Calories:
402
kcal
|
Carbohydrates:
12
g
|
Protein:
3
g
|
Fat:
39
g
|
Saturated Fat:
3
g
|
Polyunsaturated Fat:
11
g
|
Monounsaturated Fat:
24
g
|
Trans Fat:
0.1
g
|
Sodium:
126
mg
|
Potassium:
252
mg
|
Fiber:
5
g
|
Sugar:
4
g
|
Vitamin A:
798
IU
|
Vitamin C:
14
mg
|
Calcium:
90
mg
|
Iron:
2
mg
Frequently Asked Questions
What is Mutton dum biryani?
Mutton dum biryani is a rice dish in which the aromatic basmati rice is layered with goat meat and cooked with caramelized onion, tomato, curd, and Indian spices.
What is the difference between Dum biryani and one pot Mutton biryani?
In Dum biryani, the rice and meat are layered alternatively and cooked by following the process called Dum. Whereas in one pot biryani, rice and meat are cooked together. Both are unique in their taste.
Which part of goat or lamb is good for biryani?
Usually, young lamb or goat meat is best for mutton biryani. If the meat is not tender it can be marinated with curd, papaya, and spices overnight or for at least 2 to 3 hours before making biryani.
Is Mutton biryani good for health?
Mutton biryani is high in calories which could be taken in moderate quantity. If you have an underlying condition or are diet conscious, it would be great to count on the calories and seek for the recommendation from medical experts.
Which biryani is famous in India?
India has many states with different cultures and traditions so as the style of food making. Hence, even though few biryanis are widely popular and known worldwide, there are many more types throughout India which are equally tasty and popular.

Some of the famous biryanis are Hyderabadi biryani, Kacchi biryani, Ambur biryani, Thalapakatti biryani, Malabar Thalaserry biryani, Lucknow biryani, and so on. Each of them is different in their taste and origin and popular due to its uniqueness.
What is Seeraga samba rice biryani ?
Seeraga samba is organically grown and naturally, aromatic rice traditionally used for biryani in South India, particularly in the state of Tamilnadu. It is a tiny oval like shape which resembles the size of seeragam/jeera(cumin). The biryani prepared with this rice is called Seeraga samba biryani and has a unique taste due to its natural aroma and flavor.
Can I make Mutton biryani in pressure cooker?
Yes, it is one of the styles of making biryani. In this style, the cooker is closed with the lid which has a whistle inserted on it. Usually, it is cooked for 2 whistles.
What is the water ratio for Seeraga samba Biryani?
If the rice is soaked for 15 minutes, the ratio is 1:1.5. If the rice is not soaked the ratio is 1:2. This ratio gives perfect fluffy biryani. But it is always recommended to soak the rice to get better results.

Can I make Mutton biryani with Basmati rice?
Yes, it can be prepared with Basmati rice.
I really hope you enjoyed the recipe that I have shared here and I would love to hear from you on how it turned out for you. Please let me know.
If you have any other questions, feel free to post them in the comment section below and I will try to get back to you as soon as possible.

Happy Cooking!
More Recipes: Vegetable Dum Biryani / Veg Pulao