Rasam, a vibrant and tangy South Indian delicacy, combines the robust flavors of tomato, garlic, tamarind, and a blend of Indian spices and herbs. Renowned for its comforting qualities, particularly in aiding digestion and alleviating cold and cough symptoms, this wholesome side dish is both easy to prepare and healthy. Ready in under 30 minutes, rasam is a versatile accompaniment, perfect white rice or basmati rice, or enjoyed on its own for a nourishing lunch or dinner.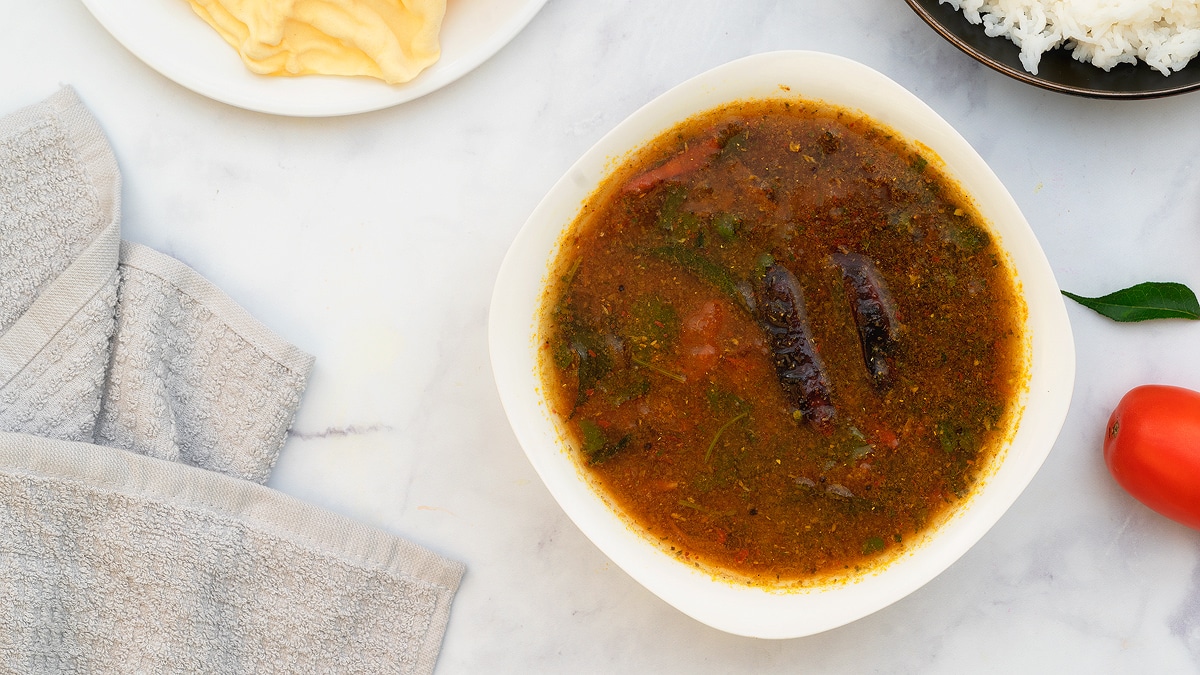 Jump to:
Popular across the southern states of Tamil Nadu, Kerala, Karnataka, and Andhra Pradesh, rasam holds a cherished place in both festive and everyday meals, as well as in restaurant buffets. Known regionally as 'charu' in Andhra Pradesh and 'saaru' in Karnataka, the core ingredients remain consistent, though regional variations exist.
Whether made with homemade or store-bought powder, this authentic recipe celebrates the simplicity and health benefits of traditional South Indian cuisine.
How to make Rasam?
Begin a flavorful culinary journey as we guide you through the steps of making this comforting South Indian classic, Rasam. Follow along with our photos and video for a seamless cooking experience.
Explore More Soup Recipes and Veg Curry Delights: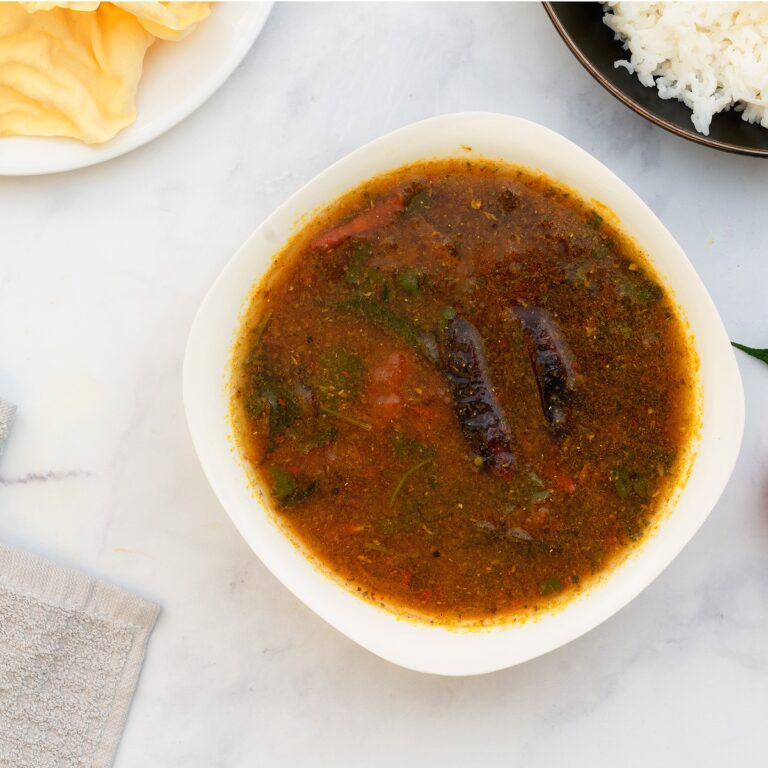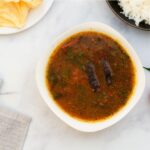 Rasam Recipe
Rasam is a tasty and tangy authentic South Indian soup-like dish made by simmering tomato water, garlic, Indian spices, and herbs. This rasam act as comfort food for cold, cough, and helps for easy digestion. It tastes best when served with white rice for lunch or dinner.
Subscribe
print (text-only)
email
pin
review
save
saved!
Ingredients
For Rasam Mixture
1

tsp

Fennel Seeds

2

tsp

Cumin Seeds

1

tsp

Peppercorn

9

Garlic Cloves

3

Red Chili

,

dry

¼

cup

Coriander Stalk
Other Ingredients
3

Tomatoes

,

chopped

1

sprig

Curry Leaves

3 ½

cups

Water

½

tsp

Turmeric Powder

¼

cup

Coriander Leaves

3

tsp

Tamarind Water

Salt

,

as needed

2

tsp

Oil

1

tsp

Mustard Seeds

1

tsp

Urad Dal

½

tsp

Fenugreek Seeds

2

Red Chili

,

dry

1

sprig

Curry Leaves

1

tsp

Asafoetida

,

or hing

4

Garlic cloves

,

crushed
More on Unit Conversions »
Instructions
To Prepare Rasam Mixture
Place fennel seeds, cumin seeds, peppercorn, garlic cloves, dry red chilies, and coriander stalk in a blender.

Grind them to a coarse paste and set it aside for later use.
To Make Rasam
In a pan over medium heat, bring tomatoes and 1 sprig of curry leaves to a boil with half a cup of water. Let the tomatoes cook until they become soft, then cool them down completely.

Transfer the tomato-water mixture to another bowl, add 3 cups of water, turmeric powder, coriander leaves, tamarind water, and salt. Mix everything well, mashing the tomatoes with your hands.

In a separate pan over medium heat, heat oil and add mustard seeds, urad dal, fenugreek seeds, dry red chili, 1 sprig of curry leaves, and asafoetida/hing. Stir-fry until it splutters.

Add the ground coarse rasam mix and sauté until it becomes aromatic.

Pour the prepared tomato-water mixture into the pan and mix well.

Reduce the heat and add the crushed garlic cloves.

Allow the tomato rasam to cook until it starts to puff up.

Turn off the heat, and your flavorful tomato rasam is ready to be served and enjoyed.
To Serve
Serve the delicious rasam with white rice, accompanied by papad/appalam or vathal for a delightful meal.
Chef's Notes and Tips
Pro Tips to Make Perfect Rasam of Your Choice:
Measure Your Spices Right: Achieving the perfect rasam relies heavily on using ingredients in precise quantities. Incorrect spice proportions can significantly change the dish's taste and flavor. However, feel free to adjust peppercorns and dry red chilies to suit your spice preference without affecting the dish's overall flavor.
Avoid Burning the Spice Mixture: When sautéing the coarse spice mixture, be vigilant to prevent burning. A burnt mixture can drastically alter and diminish the rasam's flavor.
Stop Cooking at the Right Time: As soon as the rasam begins to puff up, turn off the heat. Allowing it to boil can change its aroma and flavor, detracting from the authentic taste of the dish.
Explore Various Techniques: Rasam, a versatile dish, can be prepared in numerous ways. While the traditional recipe includes tomatoes, spices, and Indian herbs, regional variations exist. For example, in some South Indian areas, tomatoes are sautéed in oil until mushy, while others prefer pre-cooking them in water. Experiment with these methods to discover your preferred texture.
Add a Sweet Touch: In certain South Indian regions, jaggery is added to rasam for a hint of sweetness, balancing the tangy flavors.
Incorporate Diverse Ingredients: For a twist on the classic recipe, consider adding ingredients like dal, garlic, and tamarind. Each addition offers a unique flavor profile, enhancing the comfort and deliciousness of the dish.
Embrace Modern Convenience: While preparing rasam without rasam powder is traditional, using store-bought rasam powder is a convenient alternative. This modern approach simplifies the cooking process and still maintains the dish's authentic taste.
Nutrition Info
Serving:
1
serving
|
Calories:
92
kcal
|
Carbohydrates:
15
g
|
Protein:
4
g
|
Fat:
3
g
|
Saturated Fat:
0.3
g
|
Polyunsaturated Fat:
1
g
|
Monounsaturated Fat:
2
g
|
Trans Fat:
0.01
g
|
Sodium:
25
mg
|
Potassium:
504
mg
|
Fiber:
3
g
|
Sugar:
6
g
|
Vitamin A:
1431
IU
|
Vitamin C:
117
mg
|
Calcium:
73
mg
|
Iron:
2
mg
Disclaimer: We're not nutrition experts. Nutritional info is estimated and should be used as a guide. For precise details, consult a professional.
Discover our curated selection of comforting soup recipes and Indian curry delights, embodying the true spirit of comfort food. Savor the deep flavors and hearty textures of these warm, soothing dishes, perfect for any occasion.
Serving Suggestions
This versatile rasam recipe makes for a simple, wholesome side dish suitable for any occasion. It pairs wonderfully with white rice and fragrant basmati rice . For a delightful combination, serve it alongside chicken dishes and non-veg curries.
If you're looking for a savory snack, try soaking Medu Vada in rasam for a flavorful treat. For a perfect vegetarian and vegan meal, enjoy it with white rice, Poppadom, and Aloo Gobi for a satisfying platter.