Gutti Vankaya Kura is a celebrated Andhra side dish, known for its unique and flavorsome profile. Central to its appeal is the use of roasted peanut powder, which when combined with small, purple brinjals, creates a rich and creamy texture. This dish is not just a treat for the palate but also vegan-friendly, making it a perfect accompaniment for a variety of main courses like roti, parotta, biryani, or rice, suitable for both lunch and dinner.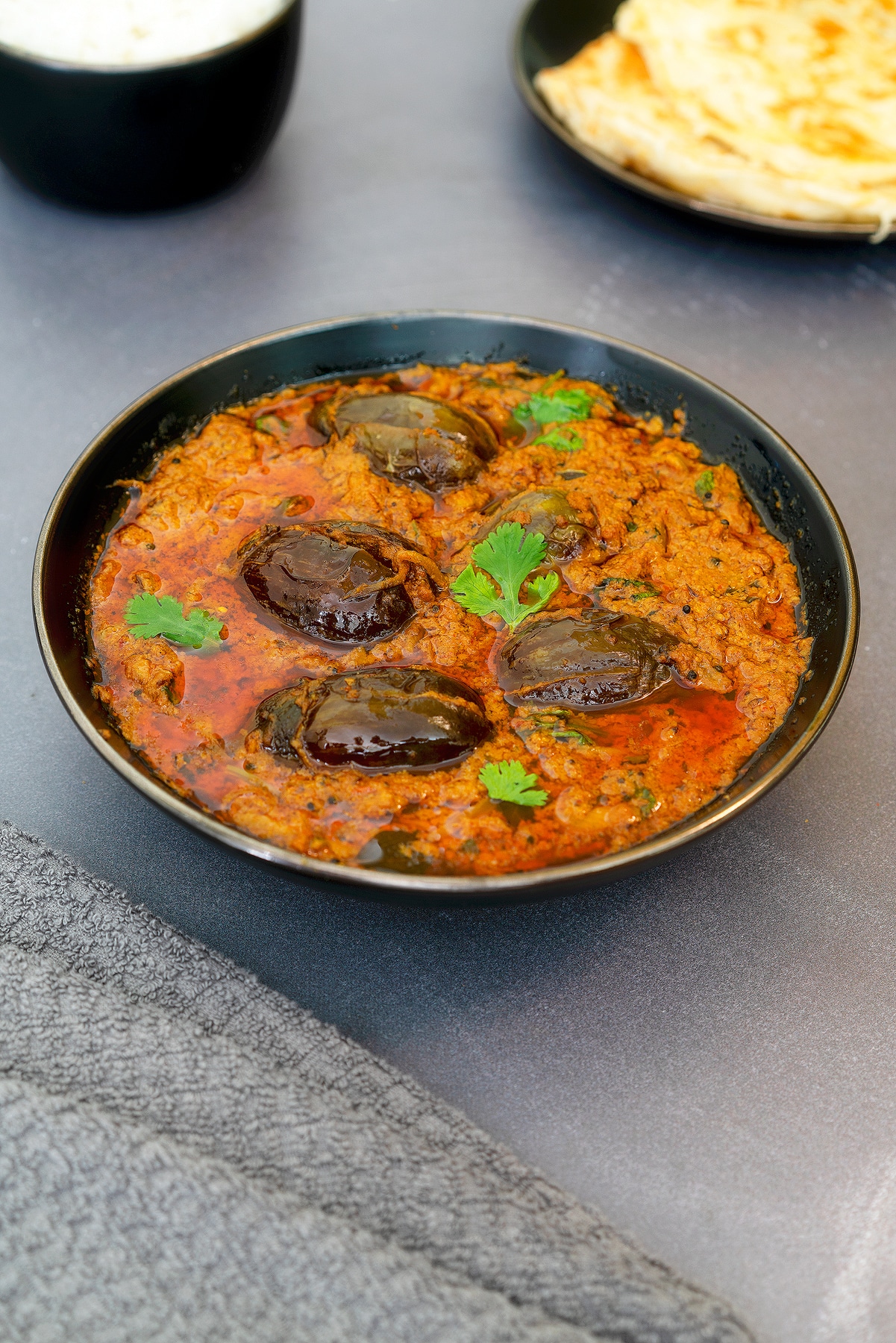 Jump to:
While Gutti Vankaya Kura is widely enjoyed across South India, it is especially popular in Andhra Pradesh and Telangana. Here, the preparation methods may vary, but the distinctive taste and texture remain consistent. The process of making this curry might be a bit lengthy, but the flavors it delivers are well worth the effort.
In Andhra and Telangana, Gutti Vankaya Kura is a common feature in restaurant menus, often served as a side dish with chicken and mutton biryani. The dish's versatility is further highlighted by regional variations like Bagara Baingan, a Hyderabadi style brinjal curry. This diversity in recipes showcases the rich culinary heritage of the region.
How to make Gutti Vankaya Curry?
Discover the art of making Gutti Vankaya Kura with our concise, step-by-step recipe, featuring photos and videos below for each stage: Soaking Brinjal, Preparing Podi, Stuffing Brinjal, and the final curry preparation.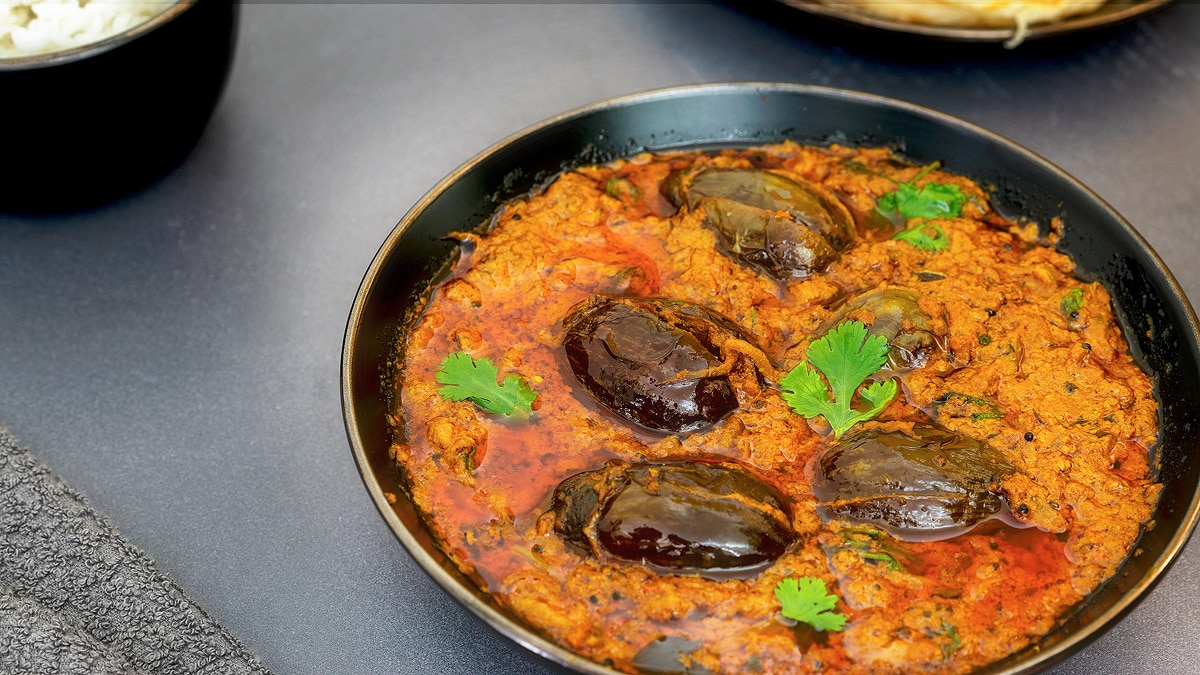 Explore More Indian Veg Curry Delights: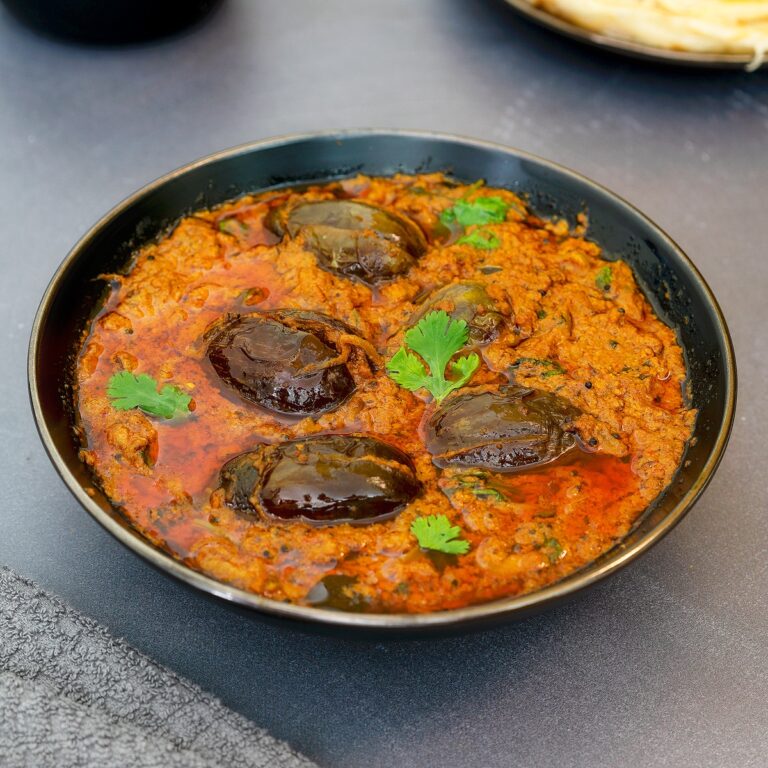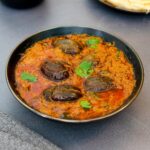 Gutti Vankaya Kura (Curry)
Gutti Vankaya Kura, an authentic Andhra delicacy, is a simple yet rich brinjal curry with a unique stuffing of peanut masala, simmered in an onion-tomato base. It's a vegan-friendly dish perfect alongside roti, parotta, chapati, rice, or biryani.
Subscribe
print (text-only)
email
pin
review
save
saved!
Ingredients
5

Brinjal

,

baby variety is preferred

¼

cup

Peanuts

7

Dry Red Chili

2

tsp

Coriander Seeds

1

tsp

Sesame Seeds

,

white

2

tsp

Cumin Seeds

,

1 tsp for masala + 1 tsp for seasoning

3

Cinnamon Stick

,

small

3

Cardamom

4

Cloves

¼

cup

Coconut

,

desiccated

1

cup

Water

,

hot

½

cup

Oil

1

tsp

Mustard Seeds

3

Green Chili

,

chopped

1

sprig

Curry Leaves

1

Onion

,

sliced

1

tbsp

Ginger Garlic Paste

½

tsp

Turmeric Powder

1

Tomato

,

chopped

Salt

,

as needed

1

cup

Water

¼

cup

Coriander Leaves
More on Unit Conversions »
Instructions
Preparing Brinjals for Stuffing
Gently make an X-shaped incision in each baby brinjal, being careful not to cut too deeply to avoid breaking them during stuffing or cooking.

Soak the brinjals in a mixture of 1 cup hot water and a pinch of salt for 15 minutes, then rinse and set aside for later use."
Making Peanut Masala/Podi
Heat a pan over medium heat and roast the peanuts until they become crisp.

Add dry red chili, coriander seeds, white sesame seeds, cumin seeds, cinnamon sticks, cardamom, cloves, and desiccated coconut to the pan. Toss the mixture until it becomes fragrant.

Once cooled, transfer the mixture to a blender and grind it into a coarse powder.
Stuffing the Brinjals
Gently fill each brinjal with the prepared masala powder, ensuring it's well-stuffed. Set them aside for later use in the recipe.
Cooking Gutti Vankaya Kura
Start by heating some oil in a pan over medium heat. Toss in mustard seeds, cumin seeds, green chili, and curry leaves, waiting for them to pop and release their aromas.

Stir in the onions and sauté until they soften.

Add a dash of ginger-garlic paste, a sprinkle of turmeric powder, and a pinch of salt. Give everything a good mix.

Now, put in the tomatoes and sauté them until they're nicely mushy.

Carefully place the stuffed brinjals in the pan, stirring them in gently.

If you have any leftover masala powder, now's the time to add it. Stir well to combine.

Pour in just enough water to cover and mix everything well.

Cover the pan and let it cook for about 10 to 15 minutes, allowing the flavors to meld.

Finally, uncover, scatter some fresh coriander leaves on top, and give it all one last stir.

There you have it - your Gutti Vankaya Kura is ready to delight your taste buds!
Serving
Enjoy your mouth-watering Gutti Vankaya Kura served alongside fluffy parottas, warm rotis, or steamed rice for a truly satisfying meal.
Chef's Notes and Tips
Here are some tips for making perfect Gutti Vankaya Kura:
Brinjal Selection: Choose small, tender brinjals for the best results, as they cook thoroughly and evenly.
Brinjal Variants: While baby brinjals are preferred, the dish can also be made with regular brinjals.
Masala Variation: You can substitute peanuts with Chana dal for a nut-free version of the masala. For a tangy flavor, add a small amount of tamarind pulp and jaggery powder.
Stuffing Technique: When stuffing the brinjal with the powder, avoid cutting the brinjals too deeply to prevent them from breaking.
Heat Management: Fry peanuts and spices on medium heat and ensure they reach the right consistency for a nice aroma. Avoid burning as it can spoil the flavor of the dish.
Oil Usage: Adjust the amount of oil based on personal preference and health considerations. Peanuts add natural oil to the gravy, so you can reduce the added oil if desired.
No Onion and Tomato Variant: There are versions of Gutti Vankaya Kura made without onion and tomato, as well as without onions and garlic. These variations offer different flavors and are common in different regions.
Nutrition Info
Serving:
1
serving
|
Calories:
687
kcal
|
Carbohydrates:
62
g
|
Protein:
13
g
|
Fat:
49
g
|
Saturated Fat:
6
g
|
Polyunsaturated Fat:
14
g
|
Monounsaturated Fat:
27
g
|
Trans Fat:
0.1
g
|
Sodium:
187
mg
|
Potassium:
2120
mg
|
Fiber:
31
g
|
Sugar:
32
g
|
Vitamin A:
661
IU
|
Vitamin C:
46
mg
|
Calcium:
180
mg
|
Iron:
5
mg
Disclaimer: We're not nutrition experts. Nutritional info is estimated and should be used as a guide. For precise details, consult a professional.
For an extensive selection of flavorful and healthful Indian curry recipes, explore our complete collection. From traditional classics to innovative twists, there's a curry to suit every palate and dietary preference.
Serving Suggestions
This Gutti Vankaya Kura tastes great with chapati, roti, white rice, and basmati rice. And it tastes rich and delicious when paired with most biryani dishes.