Fried rice is a classic dish that is loved around the world for its simplicity and versatility. It is a perfect way to use up leftovers and make a delicious and satisfying meal. In this post, we will be showcasing a variety of different fried rice recipes that are usually prepared with leftover white rice, basmati rice, brown rice or jasmine rice and are sure to please your taste buds.
We will start with the classic Fried Rice recipe, a simple and delicious dish made with rice, vegetables and some seasonings. This recipe can be easily customized to your liking by adding your favorite protein such as chicken, shrimp or tofu. Chicken Fried Rice is another popular recipe that is perfect for a hearty and satisfying meal. It is made with cooked chicken, vegetables, and spices, and is perfect for using up leftover cooked chicken.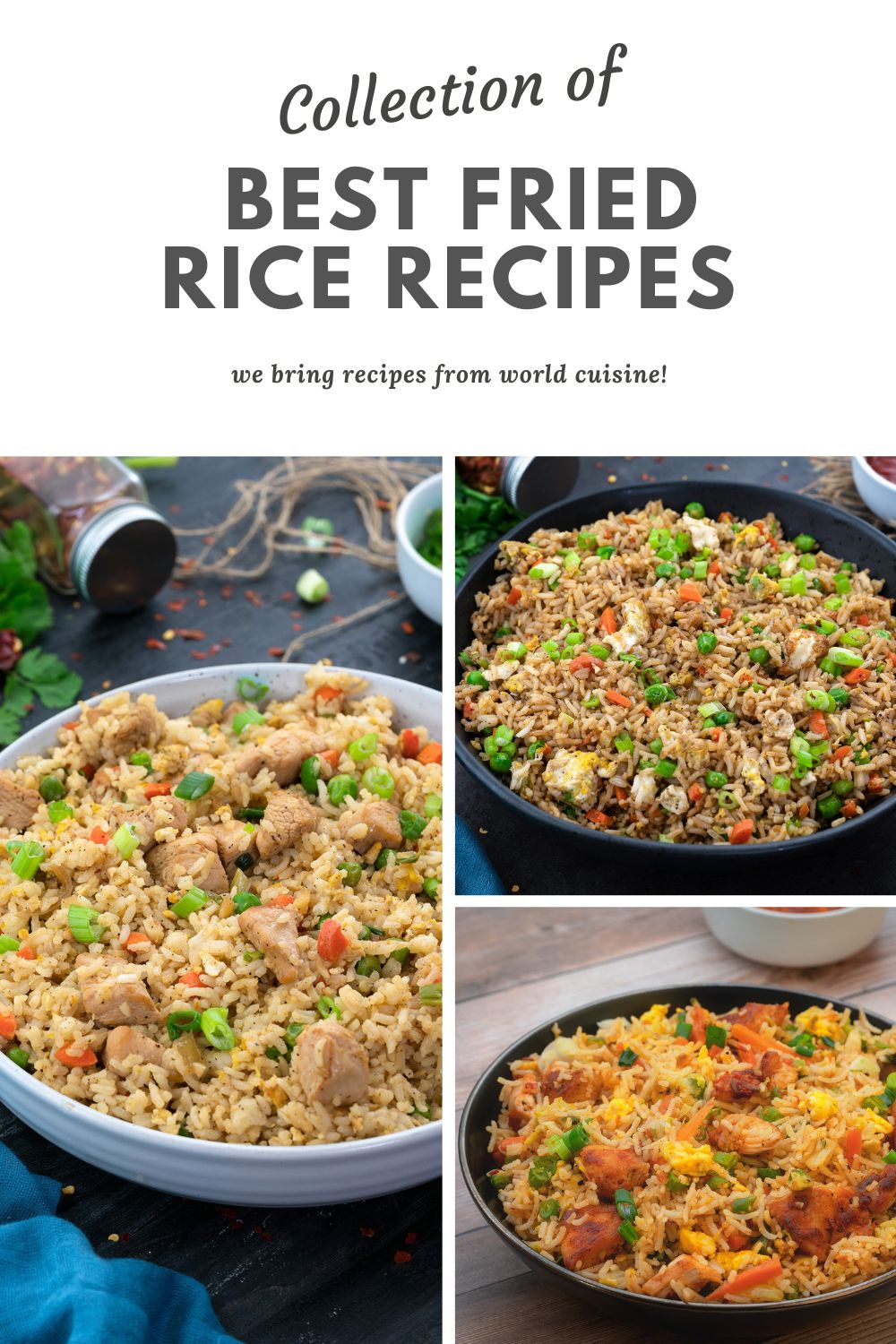 Jump to:
For those who love spicy food, we have the Schezwan Fried Rice, a popular Chinese dish made with schezwan sauce, vegetables, and protein of your choice. Another Asian classic is the Egg Fried Rice, a simple yet delicious dish that is made with eggs, rice and some seasonings. Vegetable Fried Rice is a great option for vegetarians, it is made with mixed vegetables and spices, it's a healthy and delicious meal.
Nasi Goreng (Indonesian Fried Rice) which is a popular dish in Indonesia and Southeast Asia. It is made with rice, vegetables, and protein such as chicken or shrimp, and is flavored with sweet soy sauce and spices. Lastly, Shrimp Fried Rice is a delicious and easy to make dish that is perfect for seafood lovers. It is made with cooked shrimp, rice and vegetables, and is a great way to enjoy the flavors of the ocean.
So, whether you are a fan of classic fried rice or are looking to try something new, this post has something for everyone. These recipes are easy to make, delicious and perfect for any meal of the day. Happy cooking!
You could also find different collections of recipes below and more at recipe collections.