Pudina rice or Mint Pulao is a tasty, flavorful, vegetarian one-pot Indian main course meal. This rice dish is prepared with simple ingredients like rice, mint leaves, ginger, garlic, and Indian spices. The pudina or mint paste used in this recipe gives a unique aroma and flavor to this dish. Pudina rice can be perfect for lunch and dinner, tiffin box, or party meals with raita.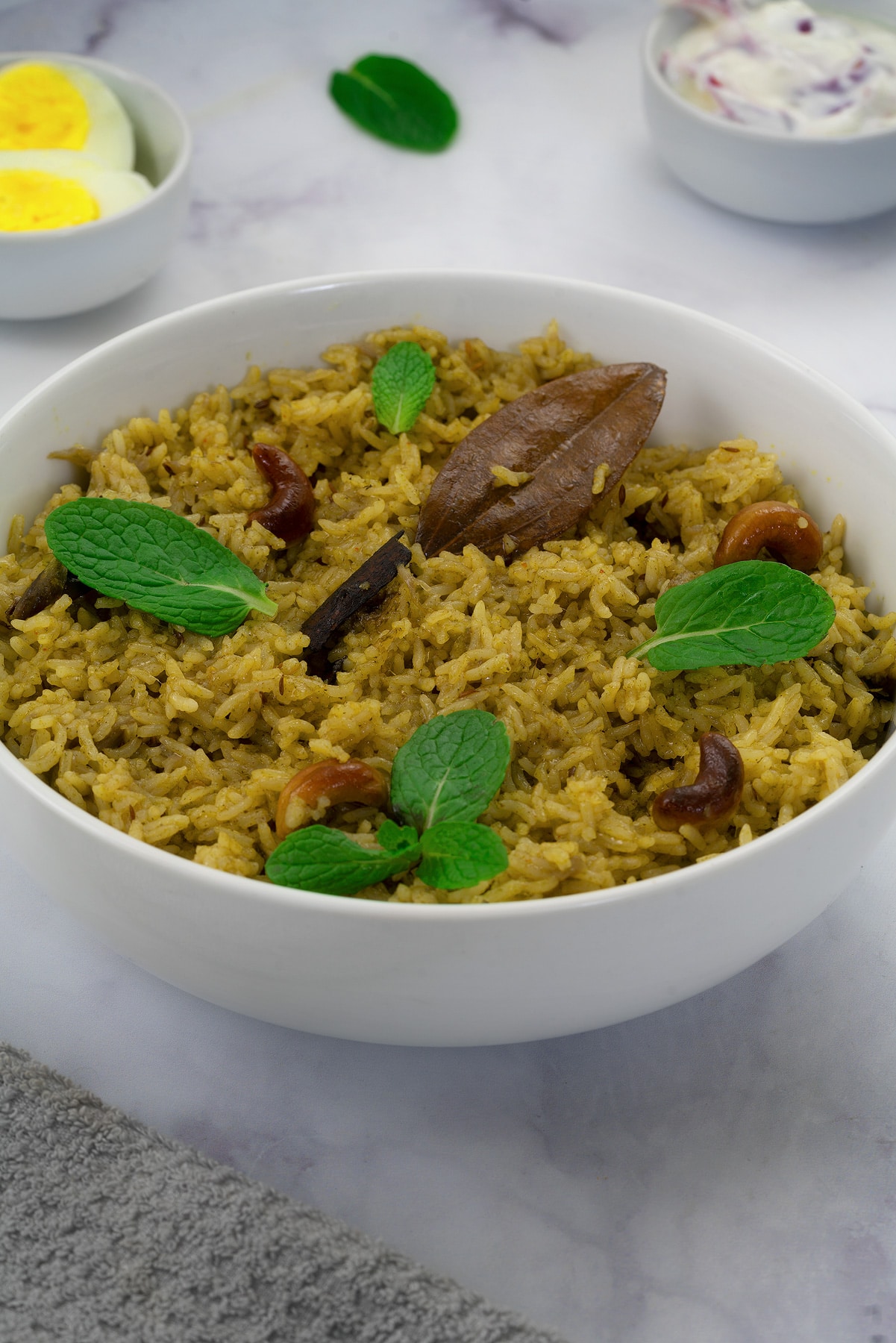 Jump to:
What is Pudina Rice?
Pudina rice or mint pulao is an easy, aromatic, and wholesome Indian vegetarian main course meal. This mint rice recipe is prepared with freshly ground mint leaves that are cooked together with rice, Indian spices, and masalas. Especially, the mint paste is the main ingredient that gives nice green color, aroma, and taste to this particular dish.
This mint/pudina rice is one of the popular and common dishes in the South Indian states of Tamilnadu, Karnataka, Kerala, and Telugu speaking states of Andhra and Telangana. In Tamilnadu, people call it pudina sadam while in other regional languages it is also commonly known as pudina/mint rice or pulao.
While there is a variety of rice recipes popular across South India, this mint/pudina rice is unique for its color, aroma, and taste. Moreover, we need only under 30 minutes to make this mint pulao either in an instant pot or in a rice/pressure cooker. On the whole, it makes a delicious meal with simple raita, and of course, it tastes great with any non-veg or Veg Curries.
How to make Pudina Rice?
The recipe I have shared here is the basic South Indian style pudina rice prepared in a rice/pressure cooker. And the quantity serves to 3 people. And in the sections below let us see how to prepare/make this pudina rice recipe in detail with step-by-step instructions.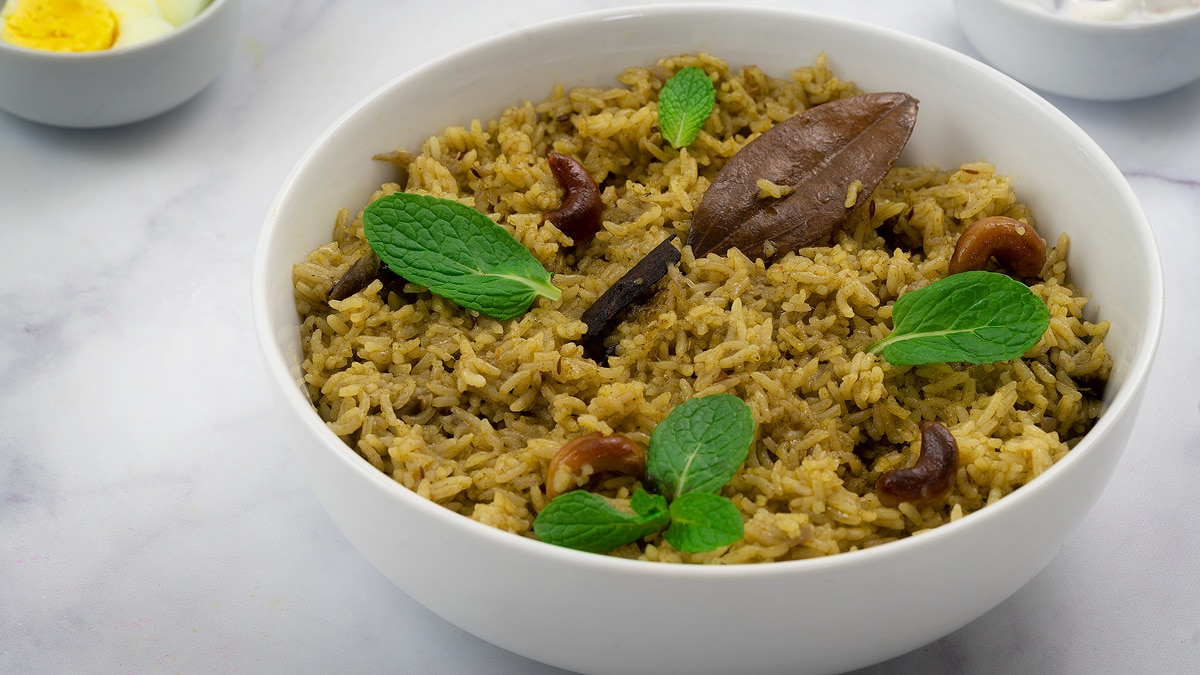 To give a high-level idea, the following are the steps involved in making this mint/pudina rice or pulao.
Preparation of mint/pudina paste
Preparation of mint rice in cooker
Steps to prepare Pudina paste
To make the mint/pudina paste, first I have added ginger, garlic, pudina leaves, and water in a blender. Then I have ground everything into a fine paste and reserved it for later use.
Steps to prepare Pudina Rice
Next in a rice/pressure cooker with medium heat, I added all the Indian whole spices, green chili, cashew nuts and sautéed until the nuts turned golden in color. Then I have sautéed the onions until they turned soft. Once it became soft, I have sautéed the chili powder, salt, and mint paste until they start to leave oil from its sides. Then I mixed in the sona masoori rice and then added water and gave a good mix.
Following that, I have closed the pressure cooker with its lid and allowed it to cook for three whistles. I allowed the pressure to release naturally before opening the lid and then fluffed them gently. Finally, I served this delicious pudina/mint rice with simple curd raita.
Pudina Rice in Instant Pot
Pudina rice/ pulao in an instant pot is absolutely a time saver and you can prepare it in under 20 minutes. To do that, sauté all the Indian spices and cashews in sauté mode until the nuts turn golden in color. Then sauté the onions until it turns soft. After that, mix in the spices and mint paste similar to the rice cooker mint rice version. Finally, add water and deglaze the bottom to avoid burning the dish. Now secure the lid and set the mode to pressure cooking and cook for 5 minutes in high pressure.
Once the Instant pot beeps, click the cancel button and allow it to release the pressure naturally for 10 minutes. That's it, now the instant pot pudina/mint rice is ready for us to enjoy.
This South Indian Pudina/mint rice delivers an aromatic and flavorful meal whether it is prepared in a rice cooker or instant pot. And I hope you will try and enjoy this dish with your family and loved ones.
Variations
Pudina rice/mint pulao recipe is one of the keeper dishes that have a lot of variations. You can replicate this pudina rice in tons of ways with the basic ingredients that are available at home. For an instance, we can make this pudina/mint rice in plain or by mix and matching other ingredients to make it more flavorful.
The recipe shared in this post is about simple plain pudina/mint pulao that even beginners can make at home. But, I have listed some of the variations of the pudina rice recipe below that you can try and enjoy if you want to taste different flavors of this dish.
1. Pudina Rice with Vegetables
Pudina rice with vegetables is one of the easiest ways to make the meal more nutrition-rich with your favorite veggies. And it makes a perfect one-pot wholesome meal whether you are preparing for a lunch box or a regular day/weeknight meal. To do that, just add the veggies of your choice, once after the mint paste leaves oil and the rest of the process remains the same as mentioned in the recipe card below.
2. Pudina Rice with Cooked Rice
Many of us have a lot of questions about what to do with leftover/cooked rice. And this pudina/mint rice recipe makes a perfect rescue in such situations. All we need to do is, just sauté all the ingredients until it leaves oil and finally stir in the cooked or leftover rice. We could also add some nuts like cashews and peanuts while seasoning to give some crunchiness to the dish.
3. Pudina/Mint Rice with Coconut Milk
Pudina rice with coconut milk makes the dish more rich and flavorful. To prepare this variation of this dish, simply replace one part of water with coconut milk for the rice to cook and follow the rest of the process as it is.
4. Tomato Pudina Rice/Pulao
Tomato Pudina rice/pulao is also one of the simple forms of this dish. This version is similar to the Biryani Rice, the only difference is we don't add pudina paste into it. To make tomato pudina rice, just add some tomatoes while sauteing the masala, and the remaining recipe is the same as the plain mint rice/pulao.
5. Mint Coriander Rice
We can prepare this mint rice/pulao with coriander leaves as well. This version is not only flavorful but also makes your meal healthy. Yes, a combination of mint and coriander leaves is a good source of immune-boosting antioxidants. So, why not add some when we are looking for a tasty healthy meal. To prepare this version of the dish, just blend the coriander leaves while making the pudina paste and the rest of the process remains the same as in the recipe instructions below.
6. Pudina Peas Pulao
Pudina peas pulao variation is similar to the Matar Pulao that I have already shared in my blog. In this version, we just need to add green peas while sautéing the masalas which results in a delicious vegan-friendly one-pot meal.
Apart from this, we can also make this pudina rice with aloo/potato, and cauliflower/Gobi for other variations. We could also use chicken in the recipe to make mint biryani/pulao for a nonveg version of it.
Storage Suggestion
This mint/pudina pulao stays good for up to 2 days in the refrigerator in a closed container. Even though I always prefer to consume it fresh, it can also be frozen in the freezer for up to a week in an airtight container or zip lock bags. And to make the best use of it, defrost and reheat only the portion of the mint rice that you want to enjoy.
Serving Suggestion
Pudina/mint pulao recipe is one of the simple meals and tastes delicious with some of the veg curries. To have a non-veg platter, this mint rice tastes great with some of the non veg curries and raita that I have in my blog.
Related Recipes
You could also find similar recipes below and more at Rice and Veg Recipes
To make your life easy, I have also created a collection of Biryani Recipes and Indian Vegetarian Lunch Recipes in one place for both vegetarian and non-vegetarian lovers and I believe it will help you to plan your meal at home. Take a peek!
Pudina rice recipe video
I have also shared the video of this pudina/mint pulao recipe below and I believe that will help you to make this dish easily at home. You could also find this recipe in story format for a quick reference.
📖 Recipe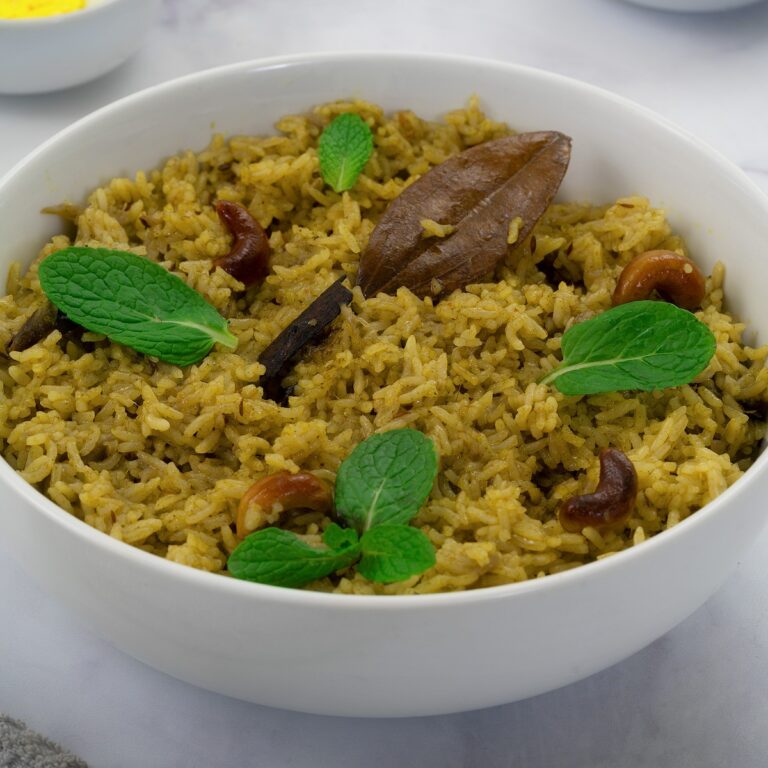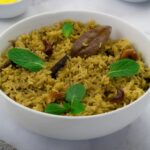 Pudina Rice (Mint Pulao)
Pudina rice or Mint pulao is a wholesome one-pot Indian meal. This rice dish is usually prepared with fresh mint leaves, ginger, garlic, Indian spices, and masalas. And it is a perfect vegan-friendly dish that can be served for lunch, dinner, and as a lunch box meal. This Pudina/mint rice tastes great with side dishes like vegetable korma, chicken Chettinad, egg curries, and similar other dishes.
Subscribe
print (text-only)
email
pin
review
save
saved!
Ingredients
2

Bay Leaves

3

Cinnamon Stick

,

small

5

Cardamom

3

Cloves

1

tsp

Cumin Seeds

4

Green Chili

,

slited

12

Cashew Nuts

6

Garlic Cloves

½

inch

Ginger

½

cup

Mint Leaves

Salt

,

as needed

1

tsp

Chili Powder

1

cup

Rice

,

washed

1 ½

cup

Water

,

additional ½ cup paste

¼

cup

Oil
More on Unit Conversions »
Instructions
To Prepare Mint/Pudina Paste
In a blender, add ginger, garlic, mint leaves, and water

Grind everything into a fine paste and reserve it for later use
To Prepare Pudina Rice/Mint Pulao
In a rice/pressure cooker with medium heat, pour oil and add bay leaves, cinnamon stick, cardamom, cloves, cumin seeds, green chili, cashew nuts and saute until the cashews turn golden in color

Add the onions and saute until it turns soft

Now add chili powder, salt, mint paste and saute until it leaves oil

Add the rice and give a nice mix

Pour water and give a final stir

Close the lid of the rice/pressure cooker with its regulator on and allow it to cook for three whistles

Open the lid once the pressure releases and give a gentle stir and now the pudina/ mint rice is ready for you to taste and enjoy
To Serve
Serve this delicious pudina rice/pulao with curd raita, veg, or non-veg sides of your choice
Notes
The mint/pudina paste used in this recipe gives a unique green color, aroma, and taste to this dish. And I suggest grinding rather than adding the pudina leaves directly to the rice to achieve great taste and flavor
Even though I have used sona masoori to make this dish, you could also use basmati, seeraga samba, and other parboiled rice varieties
I have added cashews to this mint rice while seasoning, and you can also add peanuts for extra crunchiness
This mint/pudina pulao is a vegan-friendly dish but you could also season it with ghee to enhance the flavor and taste of the dish
I have used a rice cooker to make this pudina rice and it can also be done in an Instant pot to speed up the process
This pudina/mint rice can be served with raita, veg kurma, chicken curry or dry and similar other dishes
Nutrition
Serving:
1
serving
|
Calories:
479
kcal
|
Carbohydrates:
64
g
|
Protein:
7
g
|
Fat:
22
g
|
Saturated Fat:
2
g
|
Polyunsaturated Fat:
6
g
|
Monounsaturated Fat:
14
g
|
Trans Fat:
0.1
g
|
Sodium:
227
mg
|
Potassium:
262
mg
|
Fiber:
7
g
|
Sugar:
3
g
|
Vitamin A:
540
IU
|
Vitamin C:
12
mg
|
Calcium:
110
mg
|
Iron:
3
mg
FAQ
What is pudina rice?
Pudina rice or pulao is an aromatic and flavorful South Indian dish made with fresh mint leaves, ginger, garlic, Indian spices, and masalas. It is one of the common quick meals prepared in most south Indian households and restaurants. And it can be served as a lunch, dinner, tiffin box, or party meal.
What rice is best for Pudina rice?
Pudina rice delivers the best taste and flavor with most of the Indian cooking rice. It can be basmati, seeraga samba, sona masoori, or parboiled rice.
Can I make this pudina rice in a pan?
Yes, you can make the pudina rice in a pan, just that the rice cook a little longer when compared to the rice cooker and instant pot. To prepare the dish in a pan just follow the instruction in the recipe card above. The only difference is to close the lid once the rice cook to 70% and switch the heat to low to cook the remaining rice.
Is Pudina pulao is vegan-friendly dish?
Yes, Pudina/mint pulao shared here in this post is a vegan-friendly dish. But just so you know, not all the mint/pudina rice is vegan-based as some of them include ghee and curd.
What side dish can be served with Pudina rice?
Pudina rice tastes great on its own and it tastes heavenly when served with Pepper chicken, Chettinad chicken, egg ghee roast, and similar other dishes.
I really hope you enjoyed the recipe that I have shared here and I would love to hear from you on how it turned out for you. Please let me know.
If you have any other questions, feel free to post them in the comment section below and I will try to get back to you as soon as possible.

Happy Cooking!