Get your morning off to a delicious start with our easy Breakfast Casserole! Full of eggs, bread, veggies, and your choice of meat, all melted together with cheese, it's a sure crowd-pleaser. Perfect with a side of muffins or potatoes and your favorite drink, it's a complete meal in one pot.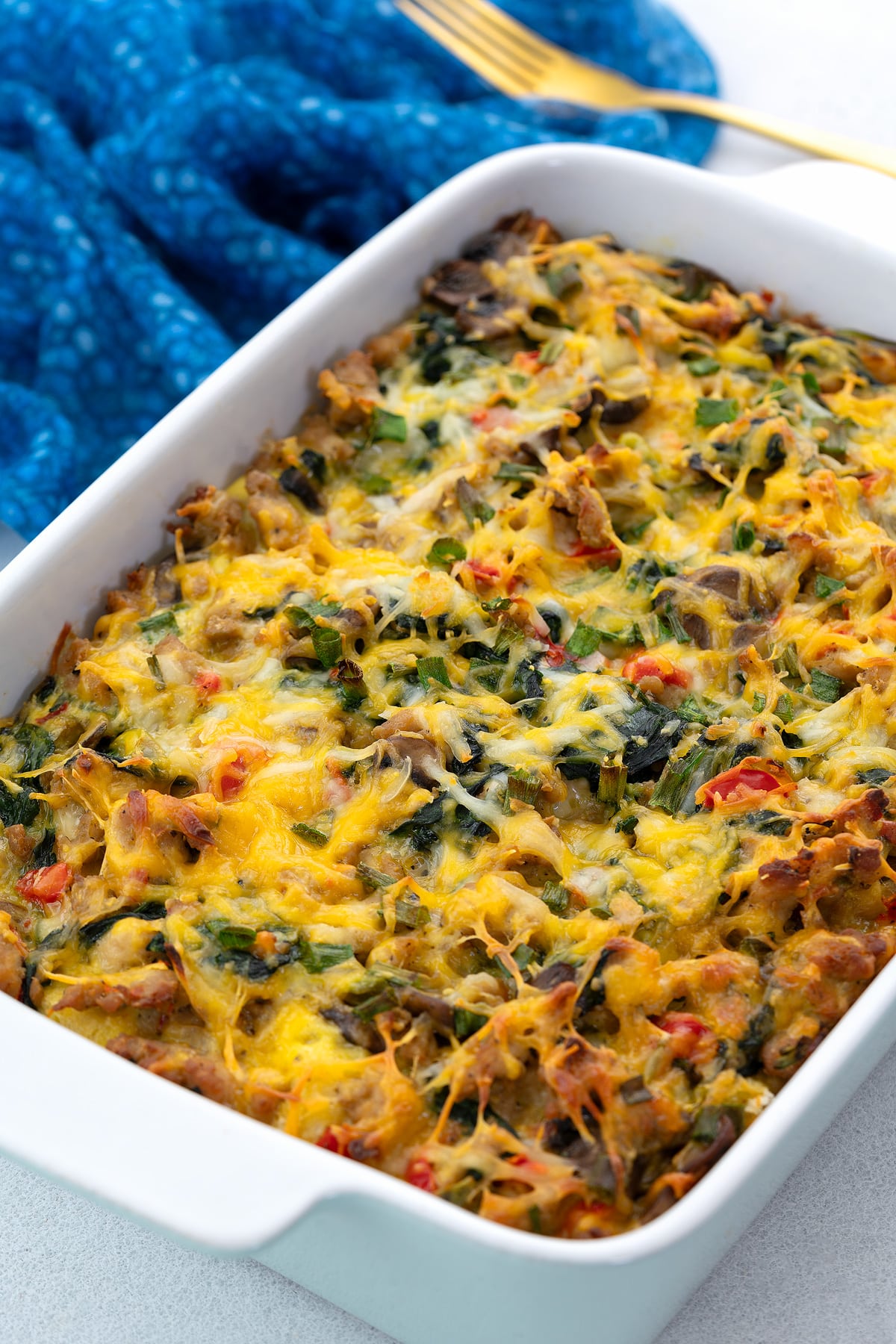 Jump to:
Make it ahead to ease those busy mornings, and enjoy a warm, satisfying breakfast with your family. Plus, it's versatile enough for brunch, lunch, or dinner. Give your regular breakfast a break and indulge in this comforting, make-ahead casserole any day of the week. It's simple, delicious, and ready when you are, making mealtime a breeze.
Explore More Breakfast Favorites:
Ingredients and Substitutions Overview
For your Breakfast Casserole, gather veggies, herbs, seasonings, and toppings from any local store. Let's dive into the details.
Breakfast Casserole Essentials: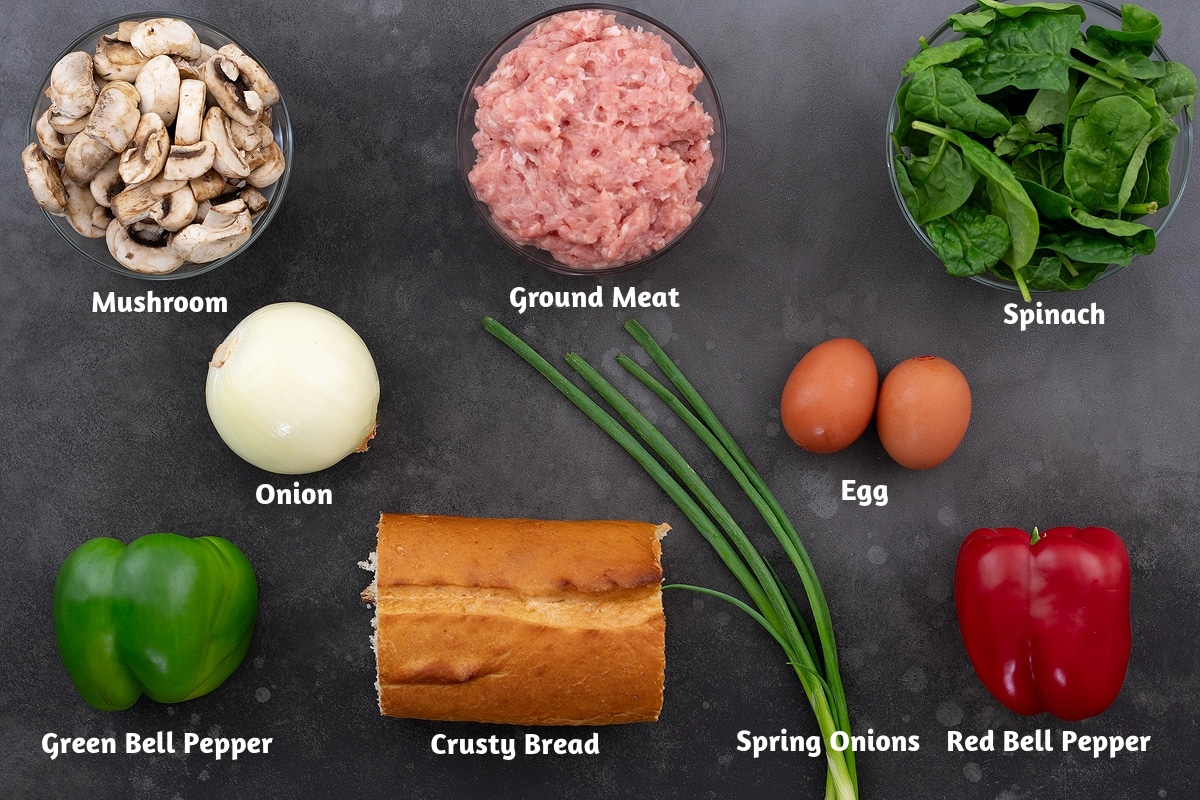 Eggs: The heart of your casserole, they bring everything together with their rich, savory goodness.
Your Meat of Choice: Go for ground beef, pork, turkey, or chicken sausage to add some satisfying heft to the dish.
Bread or Potatoes: Torn crusty bread gives it a tender chew, or cubed potatoes for a rustic twist — either way, they soak up the egg mixture beautifully.
Veggies & A Sprinkle of Herbs: Brighten it up with a mix of bell peppers, mushrooms, onions, or spinach, and then throw in a handful of fresh herbs like chives or parsley for that garden-fresh zing.
Seasoning and Topping: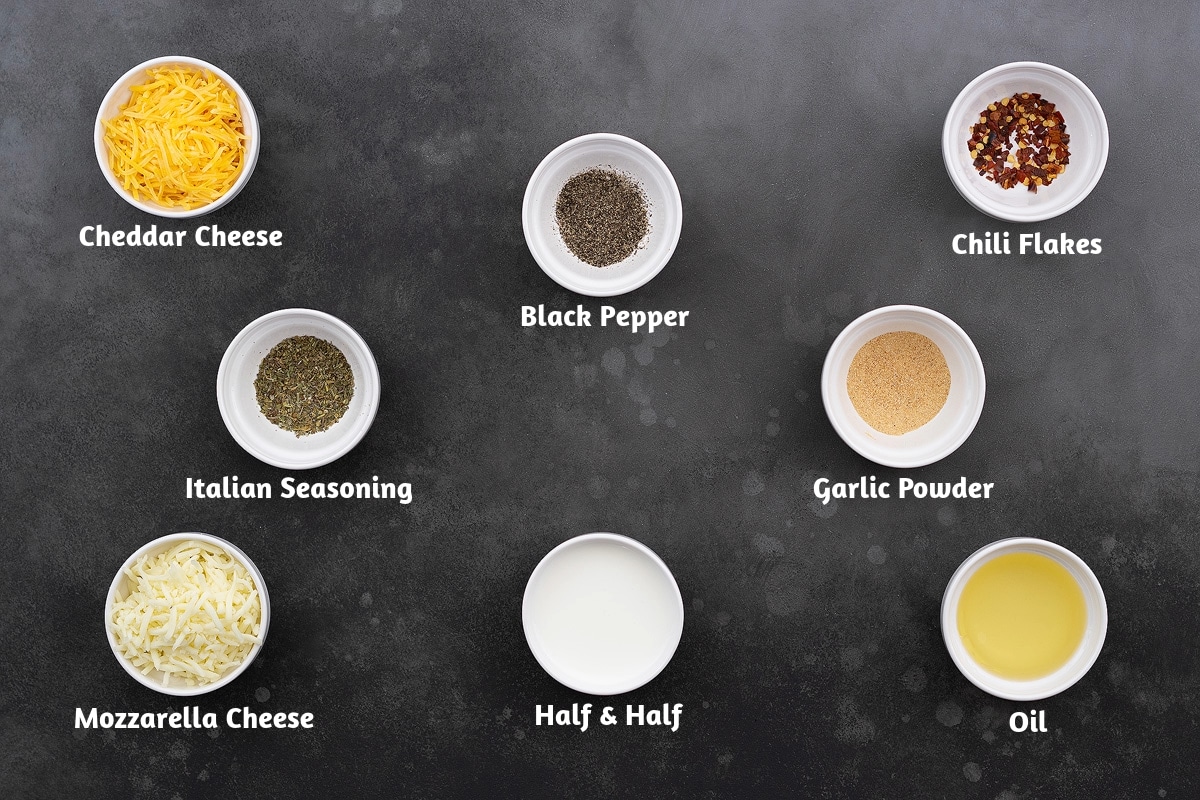 Seasonings: Use a mix of garlic powder, black pepper, chili flakes, and Italian seasoning to enhance the casserole's flavor.
Half & Half: This enriches the egg mixture with a creamy texture. Substitute with whole milk if needed.
Cheeses: Mix in cheddar and mozzarella for a creamy texture and rich flavor, adjusting the types to your preference.
Olive Oil: Start by sautéing the vegetables in olive oil for a subtle flavor base.
How to Make Breakfast Casserole at Home?
Dive into the cozy comfort of homemade casserole with our step-by-step visual journey. From blending the rich, flavorful mixture to the final golden bake, we've captured the essence of creating this classic dish.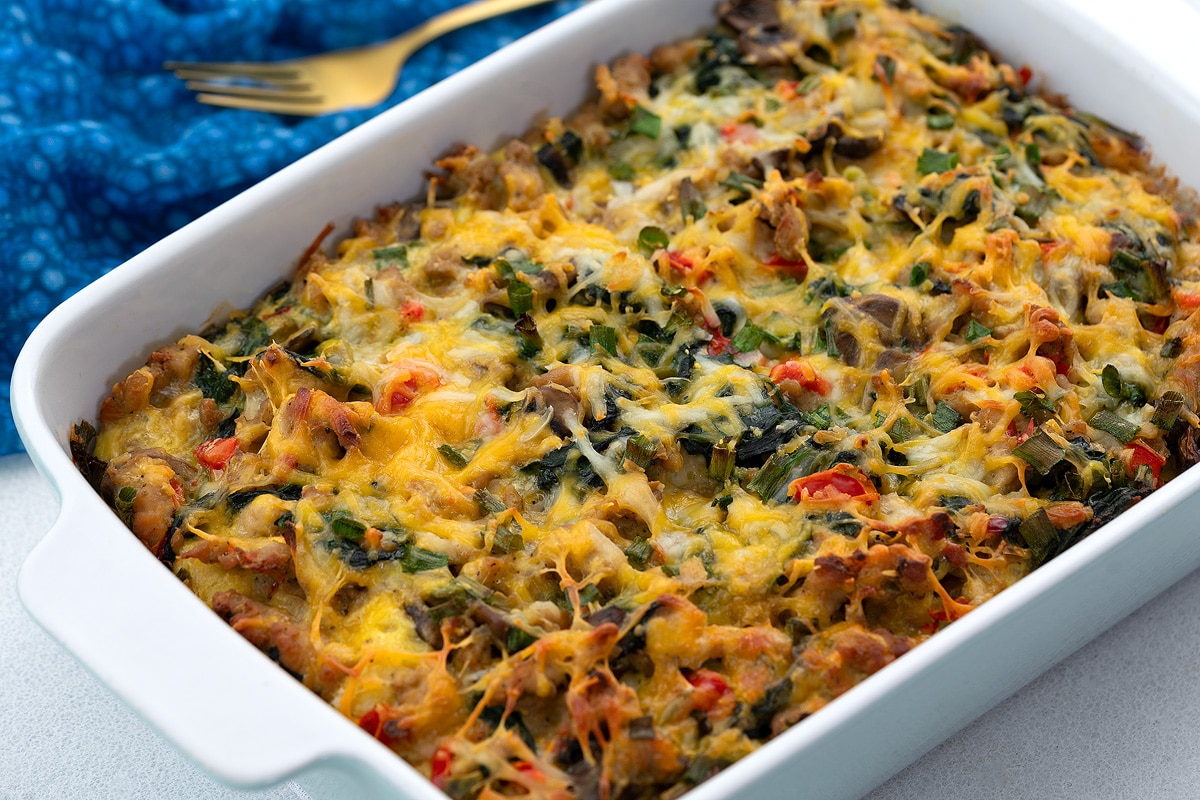 Discover More Casserole Delights: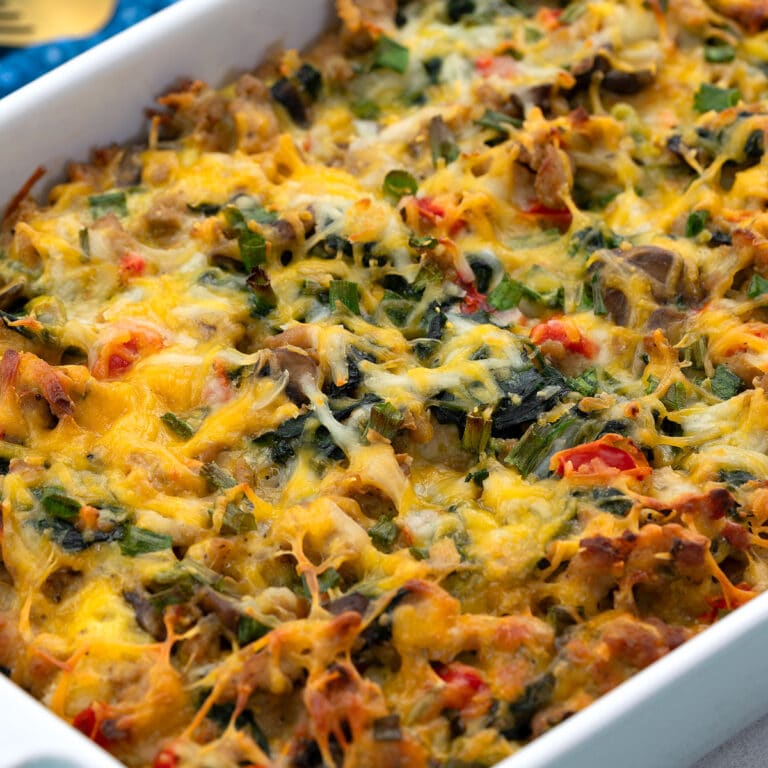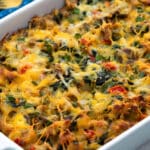 Breakfast Casserole
Enjoy a delicious Breakfast Casserole, a perfect blend of fluffy eggs, tender veggies, and meat, all in a cheesy embrace. Pair it with muffins or potatoes and coffee or juice for a complete meal. Plus, it's make-ahead friendly for those hectic mornings!
Subscribe
print (text-only)
email
pin
review
save
saved!
Ingredients
Main Ingredients
2

lb

Ground Meat

,

chicken, beef, turkey, or pork

10

Eggs

3

cups

Bread

,

stale bread preferred

2

cups

Mushroom

,

sliced

3

cups

Spinach

,

tightly packed

¼

cup

Green Bell Pepper

¼

cup

Red Bell Pepper

1

Onion

,

sliced

½

cup

Half & Half
Other Ingredients
½

tsp

Italian Seasoning

1

tsp

Black Pepper Powder

,

½ tsp for egg mixture + ½ tsp casserole mixture

½

tsp

Chili Flakes

Salt

,

to taste

1

tsp

Garlic Powder

3

tsp

Olive Oil

3

tbsp

Cheddar Cheese

,

+ more for topping

3

tbsp

Mozzarella Cheese

,

+ more for topping

Spring Onion

,

for topping
More on Unit Conversions »
Instructions
To Prepare Casserole Mixture
In a pan over medium heat, add oil, onions, and bell peppers. Sauté until they turn soft

Add mushrooms and sauté until they become tender

Next, add the ground meat of your choice and sauté until it turns white and is no longer pink

Season the meat and veggie mixture with garlic powder, black pepper, chili flakes, and salt to taste

Add the spinach and sauté until it wilts. Remove the mixture from the heat and let it cool down

In a bowl, crack open the eggs and pour in half & half milk. Season with salt and black pepper. Whisk until everything is well combined

Add the prepared veggie meat mixture and cheeses to the egg mixture

Mix everything well. Your casserole mixture is now ready to assemble
To Assemble and Bake
In an oil-greased baking dish, arrange the bottom layer with cubed crusty bread, spreading them evenly. Alternatively, you can use diced potatoes, leftover breakfast potatoes, or hash brown potatoes. This helps absorb excess moisture from the liquids

Pour the casserole mixture all over the bread and spread it evenly

Top it with cheddar, mozzarella cheese, and spring onions

Cover the baking dish with aluminum foil and refrigerate the casserole mix for 30 minutes and overnight. This step helps the casserole set properly. Preheat the oven to 375°F (190°C). Bake the casserole mixture uncovered for about 50-60 minutes, or until a toothpick inserted comes out clean

Once done, remove the Breakfast Casserole from the oven and allow it to cool for at least 10 minutes. Your delicious breakfast casserole is now ready to enjoy
Chef's Notes and Tips
Preparation Basics:
Use Fresh Ingredients: Whenever possible, use fresh and high-quality ingredients. Fresh vegetables, meats, and eggs will enhance the overall taste of your casserole.
Balance Flavors: Ensure a balance of flavors in your casserole mixture. The combination of ingredients should offer a blend of savory, salty, and sometimes a touch of spiciness if desired.
Season Thoughtfully: Be generous with your seasoning. Use a variety of herbs and spices to add depth and flavor. Consider fresh herbs like spring onions, parsley, or chives for a burst of freshness.
Prepare Veggies Properly: Make sure you sauté your vegetables adequately to remove excess moisture. This helps prevent a watery casserole.
Texture and Layering:
Choose the Right Bread: If using bread as a base, select a crusty or slightly stale bread for better texture. It should be able to absorb the liquids without becoming overly soggy.
Cheese Selection: Select cheeses that complement the overall flavor profile. Common choices include cheddar, mozzarella, or parmesan. The cheese should melt well and provide a rich, creamy texture.
Layer Ingredients: Layer your casserole thoughtfully. Start with the bread or potato base, add the casserole mixture, then top with cheese and any other toppings. This creates a well-structured casserole.
Cooking and Serving:
Refrigerate Before Baking: Allowing the casserole to sit in the refrigerator before baking helps it set properly and allows flavors to meld.
Baking Time and Temperature: Follow the recommended baking time and temperature closely. This ensures that the casserole is cooked through without being overcooked or undercooked.
Test for Doneness: Use the toothpick or knife test to check for doneness. It should come out clean when the casserole is fully cooked.
Rest Before Serving: Let the casserole rest for a few minutes after baking. This allows the ingredients to settle and makes it easier to slice and serve.
Convenience Tip:
Make Ahead: For a hassle-free morning, prepare your Breakfast Casserole the night before. Simply cover the assembled dish with aluminum foil and refrigerate. Overnight, the flavors will deepen, and the texture will set, giving you a tastier casserole with zero morning prep time.
Nutrition Info
Serving:
1
serving
|
Calories:
485
kcal
|
Carbohydrates:
30
g
|
Protein:
29
g
|
Fat:
27
g
|
Saturated Fat:
10
g
|
Polyunsaturated Fat:
2
g
|
Monounsaturated Fat:
11
g
|
Trans Fat:
1
g
|
Cholesterol:
236
mg
|
Sodium:
192
mg
|
Potassium:
499
mg
|
Fiber:
2
g
|
Sugar:
1
g
|
Vitamin A:
1319
IU
|
Vitamin C:
12
mg
|
Calcium:
116
mg
|
Iron:
3
mg
Disclaimer: We're not nutrition experts. Nutritional info is estimated and should be used as a guide. For precise details, consult a professional.
Storage Suggestions
These Breakfast Casserole can remain fresh for up to 4-5 days when stored in an airtight container in the refrigerator. When you are ready to enjoy them, simply microwave them until they are warmed through.
Serving Suggestions
A Breakfast Casserole is a versatile dish that pairs well with various sides and accompaniments. Here are some ideas for what you can do with it.
Fresh Fruit Salad: A refreshing fruit salad with a mix of seasonal fruits adds a bright, sweet contrast to this savory dish
Yogurt: A side of yogurt with honey and granola is a great choice for a creamy and slightly sweet accompaniment
Sliced Avocado: Avocado slices can add a creamy, healthy element to your breakfast
Toast or Croissants: Toasted bread or buttery croissants can be served on the side to create a more substantial breakfast
Salsa: A fresh tomato salsa or pico de gallo can add a zesty kick to your casserole
Sausages or Bacon: For a heartier breakfast, serve with cooked sausages or crispy bacon
Hash Browns or Breakfast Potatoes: More potatoes on the side, such as hash browns or breakfast potatoes, complement the casserole nicely
Muffins or Pastries: Consider serving some muffins, pastries, or scones for a sweet touch alongside the casserole
Coffee and Juice: Don't forget the beverages! A freshly brewed coffee or a glass of orange juice can complete the meal