Rava Idli, also known as Suji Ki Idli, is a delightful South Indian breakfast dish that's soft, fluffy, and incredibly quick to make. Unlike traditional rice and urad dal idli, Rava idli doesn't require grinding or fermentation. With just 30 minutes of your time, you can enjoy this delicious meal for breakfast or dinner.
Originating from Karnataka, this dish is made with semolina (Rava or Sooji in Hindi), mixed with yogurt and a leavening agent, then steamed to perfection in idli molds, resulting in soft and fluffy cakes called Idli.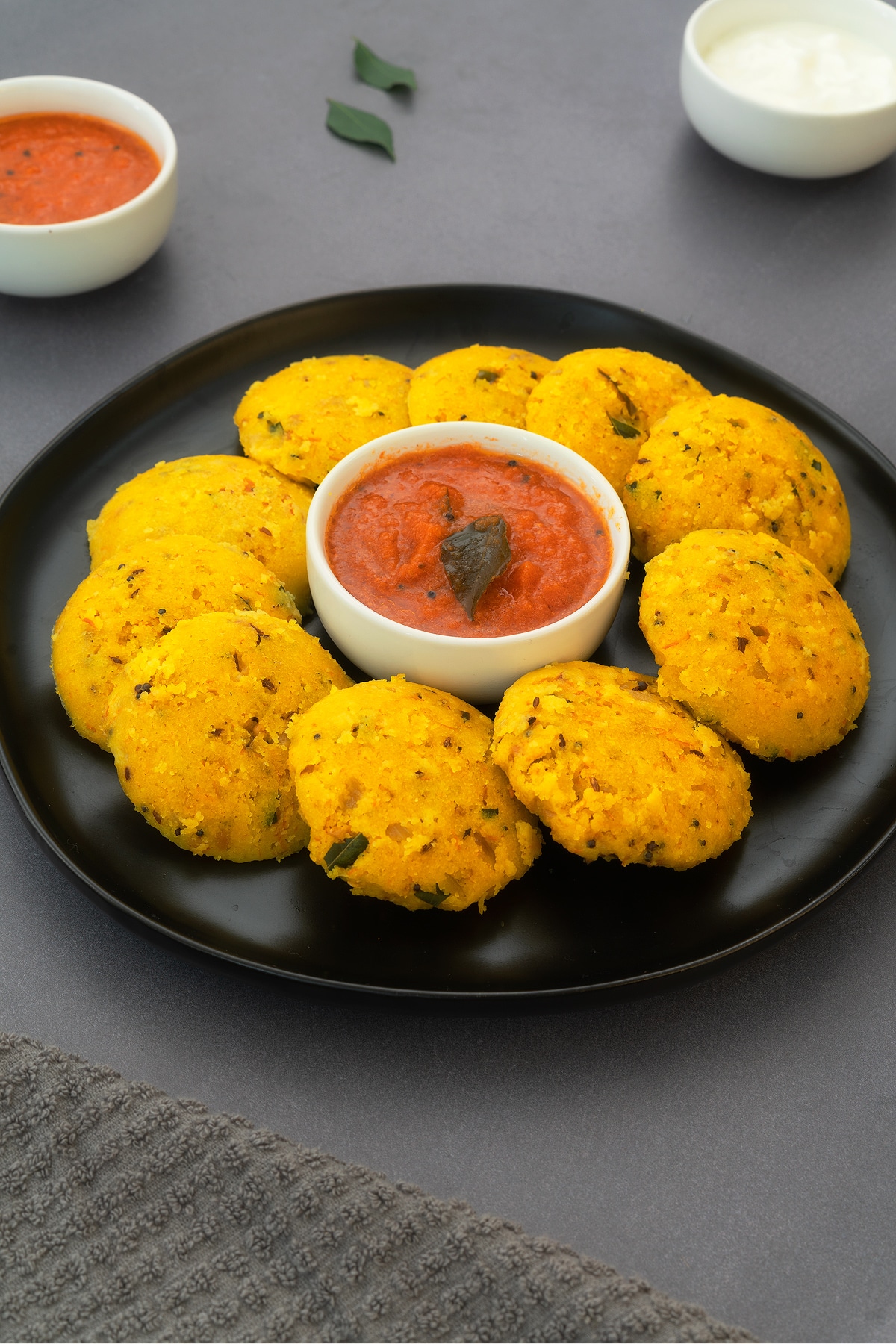 Jump to:
Interestingly, MTR, a renowned restaurant from Karnataka, introduced Rava Idli during World War II when there was a rice shortage. They cleverly substituted Rava for rice, creating these instant Rava idlis, which became a hit across India.
It's not only quick but also gluten-free and easy to digest, making it a healthy choice. The yogurt used in the recipe provides probiotics, aiding in digestion, and makes it a wholesome option for those looking to manage their weight.
Dive into More Breakfast Favorites!
How to make Rava Idli?
Get ready to embark on a culinary journey with Rava Idli! Follow these step-by-step images and watch the video below to create a delectable Rava Idli masterpiece in your own kitchen.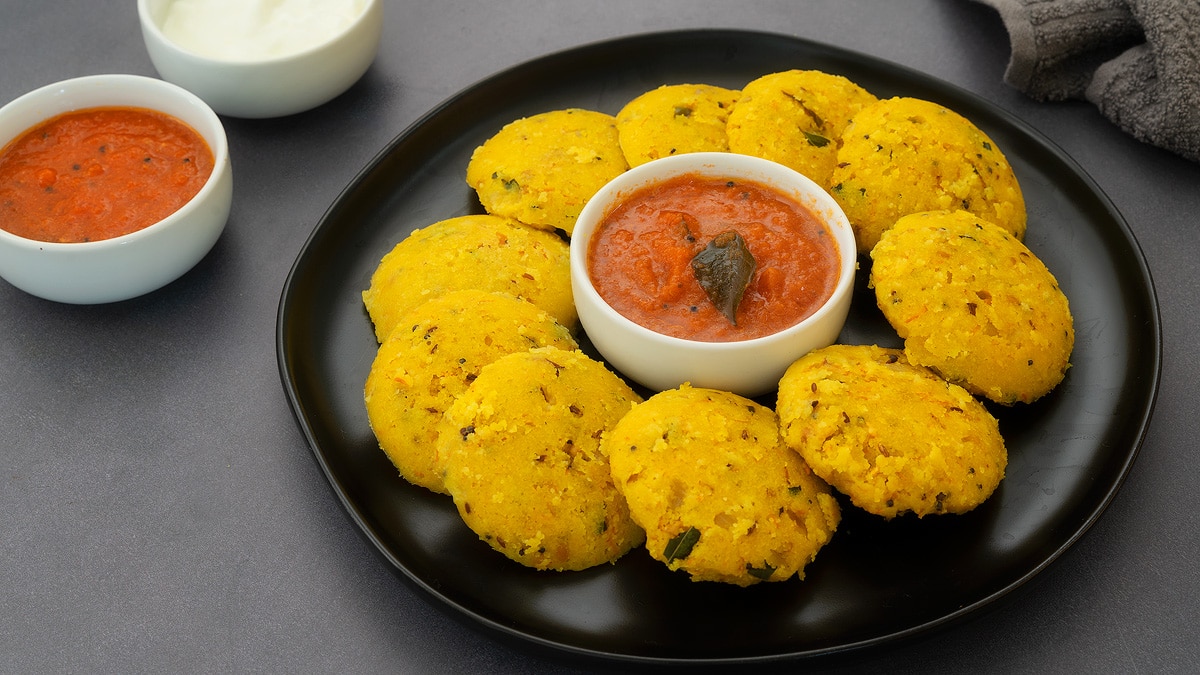 Explore More Rava-Centric Creations!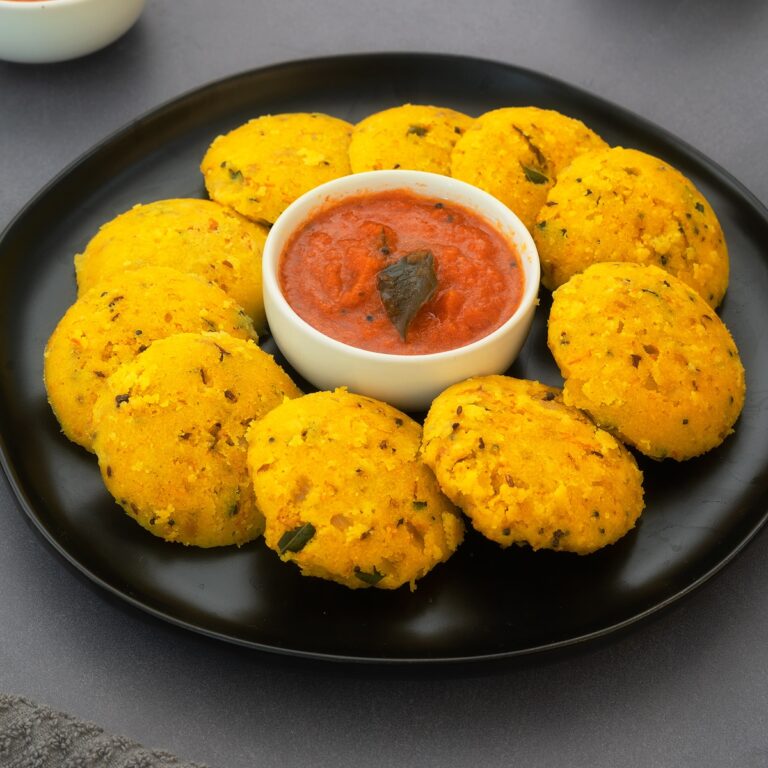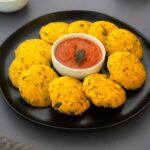 Rava Idli (Suji Ki Idli)
Discover the traditional delight of Rava Idli, a South Indian savory sensation. Made from seasoned Rava, yogurt, and leavening agents, it's steamed to perfection. Enjoy it for breakfast or dinner, solo or with coconut, tomato, or coriander chutney. South Indian cuisine at its best!
Subscribe
print (text-only)
email
pin
review
save
saved!
Ingredients
1

cup

Rava

¼

cup

Onion

,

chopped

¼

cup

Oil

1

tsp

Mustard Seeds

1

tsp

Urad Dal

½

tsp

Cumin Seeds

½

tsp

Turmeric Powder

1

sprig

Curry Leaves

,

chopped

3

Green Chili

,

chopped

1

tbsp

Ginger

,

chopped

¼

cup

Carrot

,

shredded

¾

cup

Curd

½

tsp

Baking Soda

Salt

,

as needed

1½

cup

Water
More on Unit Conversions »
Instructions
To Prepare Rava Idli Batter
Heat oil in a pan, add mustard seeds, urad dal, cumin seeds, curry leaves, green chili, and ginger. Sauté until fragrant.

Incorporate onions, cook until soft, then add carrots, turmeric powder, and salt. Sauté for 2-3 minutes.

Roast Rava in the mixture for 5-7 minutes until aromatic.

Transfer the roasted Rava to a glass bowl and let it cool.

Add curd, thoroughly mix to remove lumps, cover, and let it rest for 10 minutes.

After resting, add ½ cup of water and mix to form a thick batter.

Finally, add baking soda and mix thoroughly.
To Steam Rava Idli
Grease the idli mold with oil and pour in the Rava idli batter.

Fill an idli pot with water and place the mold filled with batter inside.

Cover the pot with a lid and steam for 7 to 10 minutes.

Remove the idli mold from heat, let it rest for 5 minutes, and then use a spoon to gently remove the Rava idlis. Now, they are ready for you to savor and enjoy!
To Serve
Serve the delightful Instant Rava Idli with a side of tomato chutney, coconut chutney, or simply enjoy it on its own.
Chef's Notes and Tips
Tips for Perfect Texture:
Optimal Rava Preparation: To prevent your idli from becoming mushy or sticky, consider roasting the Rava. Alternatively, you can expedite the process by using pre-roasted Rava available in Indian grocery stores.
Fermentation Booster: Traditional recipes use Eno or baking soda for fermentation, resulting in moist and fluffy idlis. However, for a healthier option, skip these and let the Rava soak in yogurt for an extra 15 minutes during resting.
Batter Consistency: Ensure the Rava idli batter is thick to help it hold its shape. Use the right amount of water to achieve the desired consistency.
Immediate Steaming: Steam the idli right after adding soda or Eno salt to maintain their soft and fluffy texture. Delaying the steaming process can result in less desirable idlis.
Enhancing Flavor and Variations:
Add Veggies: Boost the nutritional value by adding vegetables like peas, beans, corn, or beetroots. Not only does this make the dish healthier, but it also adds extra flavor and color.
Alternative Flours: Experiment with alternative flours like oats, quinoa, or finger millet flour in place of Rava to create unique variations of Rava idli.
Vegan-Friendly: If you follow a vegan diet, simply replace regular yogurt with a plant-based yogurt to enjoy a vegan-friendly version of this delightful dish.
Optional Turmeric: Turmeric powder can give your idli a yellow hue, but it's entirely optional. Feel free to skip it if you prefer the traditional white color.
Nutrition Info
Serving:
1
idli
|
Calories:
128
kcal
|
Carbohydrates:
3
g
|
Protein:
7
g
|
Fat:
10
g
|
Saturated Fat:
1
g
|
Polyunsaturated Fat:
2
g
|
Monounsaturated Fat:
4
g
|
Trans Fat:
0.02
g
|
Cholesterol:
12
mg
|
Sodium:
289
mg
|
Potassium:
26
mg
|
Fiber:
1
g
|
Sugar:
1
g
|
Vitamin A:
544
IU
|
Vitamin C:
6
mg
|
Calcium:
29
mg
|
Iron:
0.4
mg
Disclaimer: We're not nutrition experts. Nutritional info is estimated and should be used as a guide. For precise details, consult a professional.
Serving Suggetions
While Rava Idli is delightful on its own, you can elevate its flavors by pairing it with a variety of accompaniments. Try it with coconut chutney for a touch of sweetness, coriander chutney for freshness, tomato chutney for a tangy kick, or peanut chutney for some nutty goodness.
For a heartier meal, serve it alongside mixed vegetables and tiffin sambar, and don't forget to enjoy it with some crispy Medu Vada for a complete South Indian feast.
FAQ
Is Rava idli healthy?
Yes, Rava idli can be considered a healthy dish. It typically includes fresh ingredients like semolina, yogurt, spices, and herbs, which are generally easy to digest. Additionally, Rava idli is gluten-free, making it suitable for individuals with gluten sensitivities. However, the overall healthiness may depend on specific variations and ingredients used, so it's essential to choose wholesome components and practice moderation.
Can I make Rava idli without curd/Yogurt?
Absolutely, you can make Rava idli without yogurt/curd. Instead, you can replace it with an equal amount of water and add 3 tablespoons of lemon juice along with baking soda. This substitution will still result in soft and fluffy idlis while catering to dietary preferences or restrictions that exclude yogurt.
Can I make Rava idli without Eno or Baking soda?
Eno or baking soda plays a crucial role in the instant fermentation process, contributing to the soft and fluffy texture of Rava idli. However, you have the option to omit these leavening agents and instead, let the Rava soak in yogurt for an additional 15 minutes. This alternative method can yield comparable results in terms of texture and flavor.