Rava Dosa, also known as Suji Ka Dosa, is a quick and crispy South Indian breakfast or dinner dish. Unlike traditional dosas, it's an instant recipe that skips the soaking, grinding, and fermentation steps. Made with Rava (semolina), rice flour, and a blend of Indian spices and herbs, this dosa is both delicious and easy to prepare.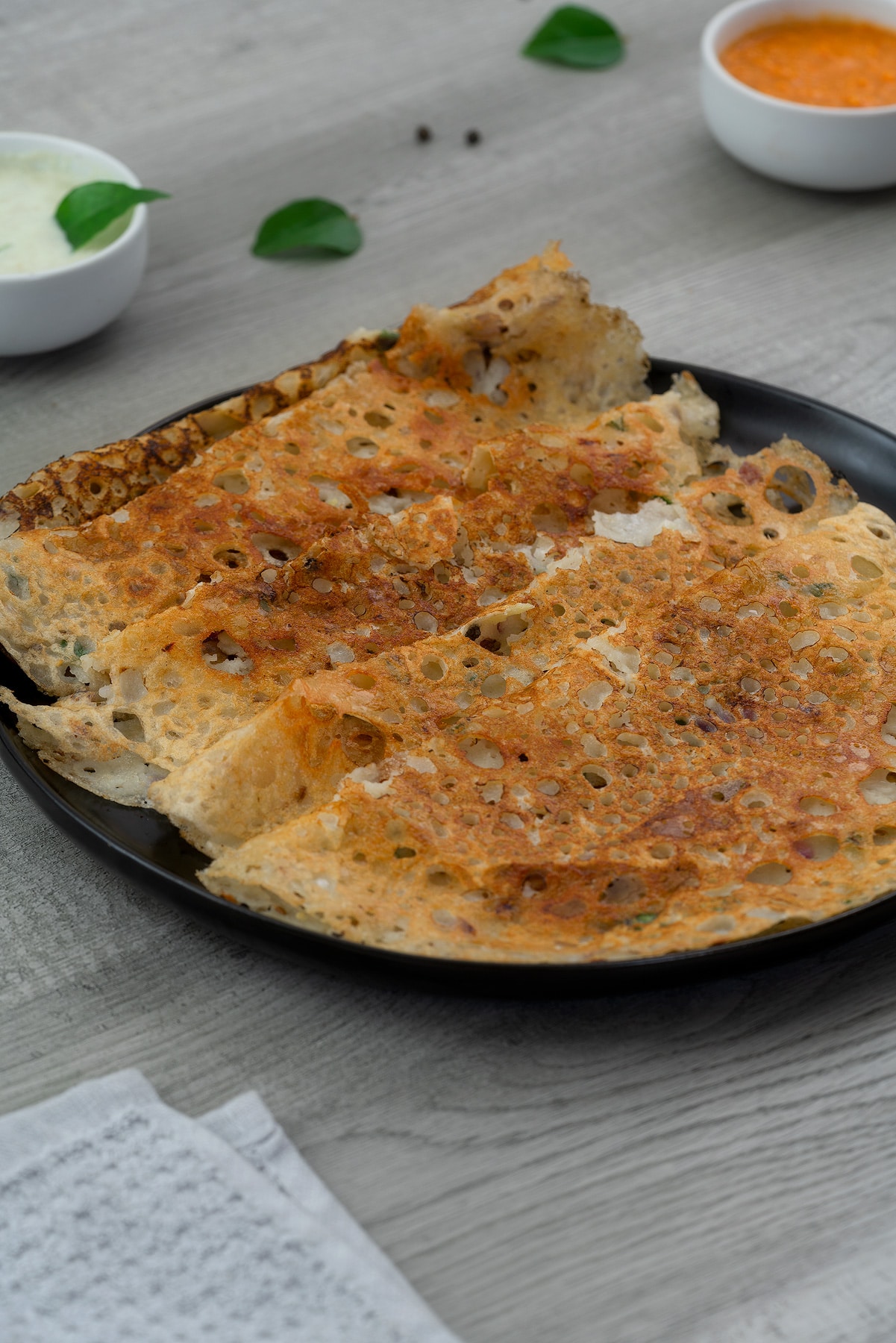 Jump to:
In just 30 minutes, you can enjoy a vegan-friendly meal that pairs perfectly with sides like tomato chutney, coconut chutney, and veg kurma. It's a popular choice in South Indian restaurants and households.
Explore Similar Breakfast Recipes:
How to make Rava Dosa?
Join us on a culinary journey as we show you how to create the perfect Rava Dosa, from preparing the batter to crafting crispy dosas. Follow our step-by-step recipe with photos and video for a delicious experience.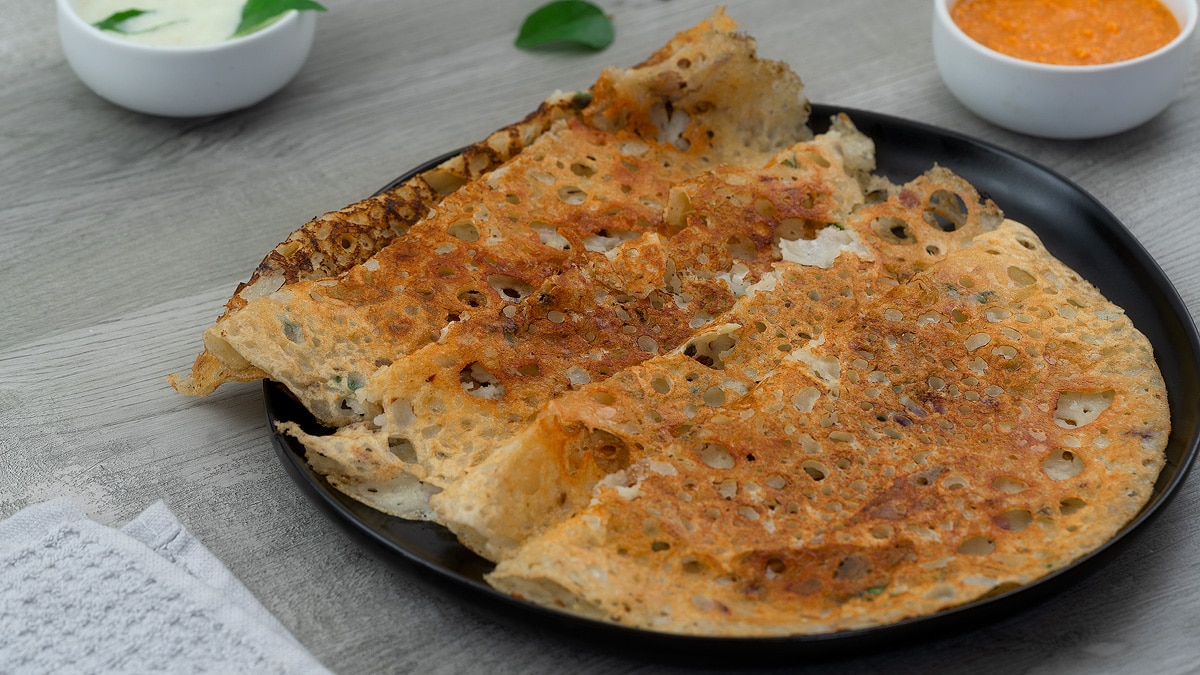 More Breakfast and Rava Based Recipes: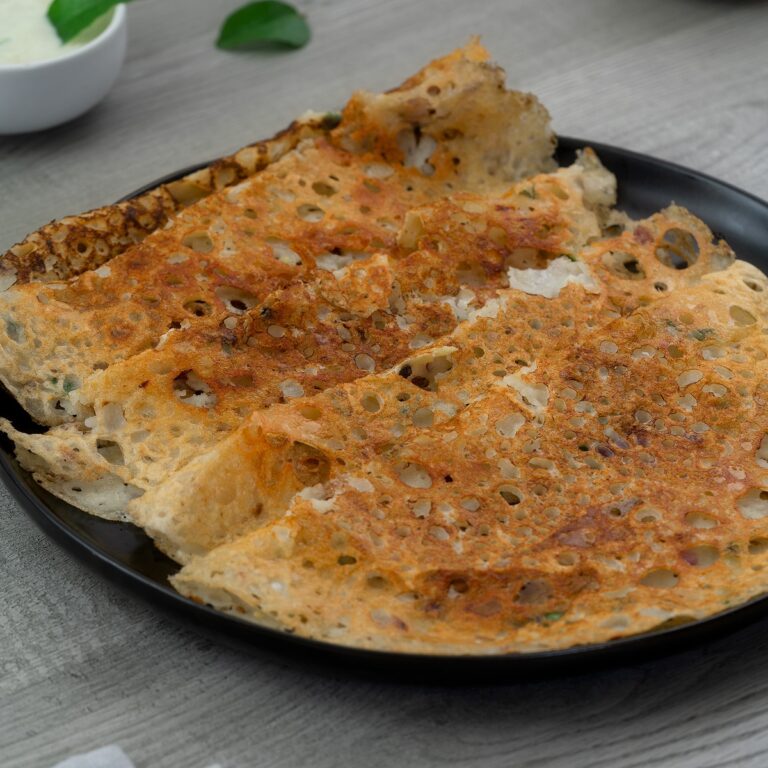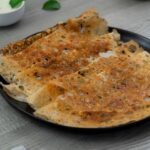 Rava Dosa (Suji Ka Dosa)
Rava or Suji Ka Dosa is a classic South Indian instant crepe made from semolina, maida, rice flour, onions, Indian spices, and herbs. It's a vegan-friendly dish typically served for breakfast or dinner, paired with tomato chutney, coconut chutney, and more.
Subscribe
print (text-only)
email
pin
review
save
saved!
Ingredients
1

cup

Rava

¾

cup

Rice Flour

¾

cup

All-Purpose Flour

¼

cup

Onion

,

chopped

1

tsp

Cumin Seeds

1

tsp

Peppercorn

1

tsp

Ginger

,

chopped

3

Green Chili

,

chopped

1

sprig

Curry Leaves

,

chopped

1

tsp

Salt

½

tsp

Sugar

5

cups

Water

Oil

,

to drizzle
More on Unit Conversions »
Instructions
Preparing Rava Dosa Batter
In a bowl, combine Rava, rice flour, all-purpose flour, salt, sugar, onion, curry leaves, green chili, ginger, peppercorn, and cumin seeds. Mix thoroughly.

Add 4 cups of water and whisk the mixture until it's smooth without any lumps.

Cover the bowl with a lid and let it rest for 15 minutes.

After resting, you'll notice the batter has thickened slightly.

Now, add the remaining 1 cup of water and mix well. The Rava dosa batter should have a flowing consistency, which is essential for achieving a crisp dosa.
Preparing Rava Dosa
Begin by heating the iron dosa pan over high heat. Rub the pan with an onion slice for seasoning. Slowly pour the Rava dosa batter from the outer edges of the pan, gradually filling in the center.

Reduce the heat to medium and cook until the dosa becomes crisp and turns golden brown.

Remove the Rava dosa from the pan. It's now ready to be enjoyed.
Serving
Enjoy the delightful and crispy Rava dosa by pairing it with your preferred chutney, whether it's tomato, coconut, or any other favorite option.
Chef's Notes and Tips
Some Key Tips to Creating the Perfect Rava/Suji Dosa:
Batter Preparation and Techniques:
Consistency of Batter: Achieve the right thin and flowing consistency. Adjust with water if needed.
Mix Thoroughly: Ensure even distribution of ingredients by mixing the batter before making each dosa.
Pouring Technique: Start pouring the batter from the outer edges for a net-like, porous texture.
Cooking Process and Equipment:
Heat Management: Begin with a hot griddle, then reduce to medium heat for a crisp, golden brown dosa.
Single-Side Cooking: Usually, one side cooking is enough, but flip if necessary.
Maintaining Heat: Keep the griddle hot between dosas and adjust batter consistency if it thickens.
Seasoning the Griddle: Season the griddle or Tawa to prevent sticking.
Dedicated Dosa Pan: Use a separate pan for dosas to maintain flavor.
Choice of Cookware: Consider using a cast iron skillet or non-stick pan.
Nutrition Info
Serving:
1
serving
|
Calories:
154
kcal
|
Carbohydrates:
21
g
|
Protein:
8
g
|
Fat:
4
g
|
Saturated Fat:
1
g
|
Polyunsaturated Fat:
0.1
g
|
Monounsaturated Fat:
0.1
g
|
Cholesterol:
13
mg
|
Sodium:
521
mg
|
Potassium:
39
mg
|
Fiber:
1
g
|
Sugar:
1
g
|
Vitamin A:
14
IU
|
Vitamin C:
7
mg
|
Calcium:
13
mg
|
Iron:
1
mg
Disclaimer: We're not nutrition experts. Nutritional info is estimated and should be used as a guide. For precise details, consult a professional.
For an extensive collection of delectable and healthful Indian recipes, explore our full repertoire. From traditional classics to modern delights, we've got a recipe for every palate and dietary preference!
Storage and Serving Suggestions
Here are storage and serving suggestions for your Rava Dosa recipe:
Storage Tips:
Freshness is best when the Rava Dosa batter is made immediately.
If you have leftover batter, you can store it in the refrigerator for up to a day.
Before using the leftover batter, add some water since the ingredients tend to absorb water during resting.
Serving Recommendations:
These tips will help you make the most of your Rava Dosa, both in terms of storage and serving.
Rava Dosa Variations
From simplicity to health-conscious choices, these Rava Dosa variations offer diverse flavors to elevate your dining experience.
Simplified Version: If you prefer a simpler version, you can make plain Rava Dosa without onions and spices. It will have a milder flavor but is still delicious.
Masala Rava Dosa: For a more flavorful option, consider making Masala Rava Dosa. Add potato masala before folding the dosa to enhance the taste.
Healthy Variations: Try healthier variations like Ragi Rava Dosa by using ragi instead of rice flour. This is a great choice for those looking to enjoy a nutritious meal, especially for weight loss.
Wheat Flour Option: Replace all-purpose flour (maida) with wheat flour to create Gothuma (wheat) Rava Dosa. It's a healthier alternative with a different taste.
Incorporate Other Ingredients: Experiment with different ingredients like tomatoes and oats to create unique Rava Dosa variations. These options are not only simple but also nutritious, making them a perfect start to your day.
Traditional Flavors: These variations allow you to enjoy the traditional flavors of South Indian cuisine without compromising taste and flavor.
Feel free to explore these variations based on your preferences and dietary requirements. Enjoy your Rava Dosa in different ways to keep your meals interesting.
How to Season and Maintain Cast Iron Pan?
Here are some essential tips for seasoning and caring for your Cast Iron Dosa Pan or Cast Iron Skillet:
Seasoning Your Pan:
Heat the cast iron pan on high heat.
Drizzle some oil and wipe it with a kitchen cloth or tissue paper.
Reduce the heat to low and heat until it starts to smoke.
Rub the pan with onion slices after wiping the oil and then allow it to cool down completely.
Consider seasoning the griddle a day ahead if planning to make Rava Dosa the next day.
For a new cast iron pan, repeat this process 2 to 3 times until you see a thin glossy layer on the Tawa.
Seasoning the Tawa with oil makes it non-sticky and ensures crispy Rava/Suji Dosa every time.
Cleaning and Maintenance:
Avoid using harsh soap detergent to clean the pan.
Do not wash a hot iron Tawa in water immediately, as it can reduce its lifetime.
Wash the Tawa with water and salt once it has cooled down. You can also use mild soap along with salt.
After washing, wipe the iron Tawa with a dry kitchen cloth and heat it on the stove to make it dry.
Spread 1 tsp of oil all over the pan and switch off the heat.
These steps help maintain the freshness and non-stick quality of your cast iron pan for years.
By following these guidelines, you can ensure that your Cast Iron Dosa Pan or Skillet stays in excellent condition and continues to provide you with crispy Rava Dosa.
FAQ
How do I achieve a crispy Rava dosa?
Achieving crispy Rava dosa is all about precise ingredients and thin, flowing batter. Pour it on a piping hot Tawa, switch to low heat, and cook until golden brown, whether using iron or nonstick Tawa.
What's the key to making a nonsticky Rava dosa?
To make nonsticky Rava dosa, use a seasoned cast-iron Tawa or heavy-bottom non-stick pan. Rub with onion, add oil for seasoning. Refer to our seasoning guide for details on achieving non-sticky dosa.
Why does Rava dosa sometimes break?
Rava dosa can break if the batter is too thin or if ingredient proportions are inaccurate. Ensure the right batter consistency to prevent dosa breakage.
Can you make Rava dosa without using maida, and if so, what's the substitute?
Yes, you can make Rava dosa without using maida. Simply replace it with wheat flour for a similarly delicious result.