Upma is a soft, moist, and delicious South Indian breakfast dish. The upma recipe that I have shared here is with rava with step-by-step written and video instructions. It is one of the easiest Indian breakfasts that can be made in under 15 minutes. The temperings like mustard, dals, curry leaves and green chilies deliver an exotic flavor and taste to the dish. Rava upma is an easy and satisfying meal to start your busy morning. It can also be served as a light dinner meal and pairs well with sambar, tomato chutney, or coconut chutney.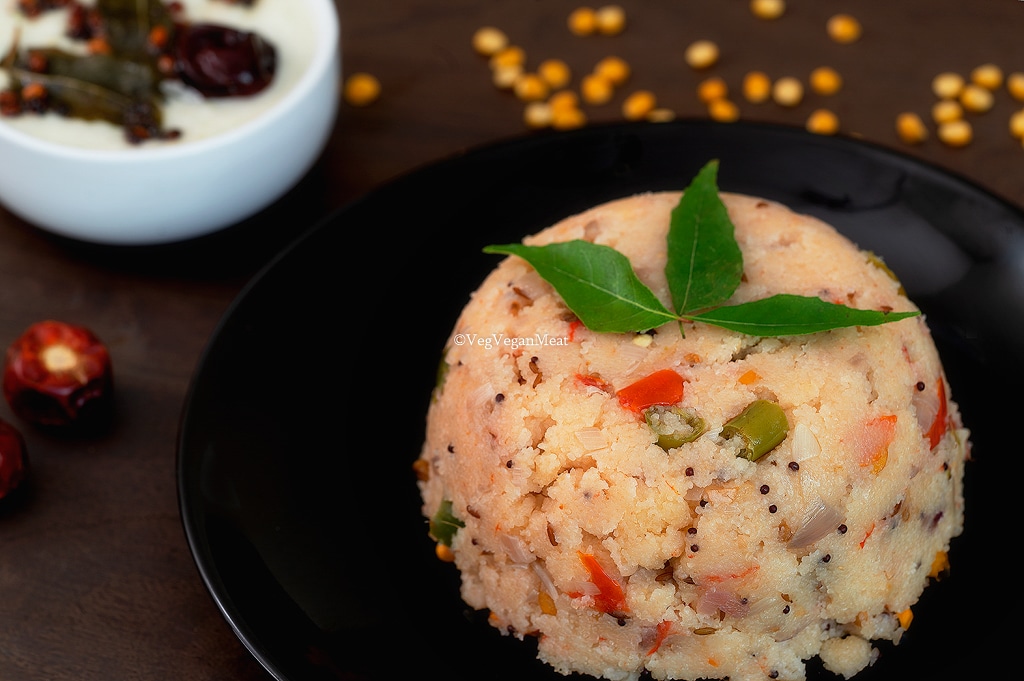 Jump to:
What is Upma?
Upma is one of the easiest and popular Indian breakfast dish especially in South India and Maharashtra. It is traditionally prepared with roasted rava or semolina which is usually simmered in tempered spicy boiling water. The term Rava or semolina is nothing but the cream of wheat. And it is also called Suji Ka Upma in Hindi.
Even though the traditional upma recipe calls for rava, we can also make this dish with vermicelli(semiya), oats, poha, rice rava, bread, and much more. Yes, they are easy to customize as well.
Not only this rava upma is easy to make but also makes a filling meal to gear up for the rest of the day. You can also add your favorite vegetables to make them even healthier. And to make it a perfect vegan-friendly upma replace the ghee with coconut oil to the recipe. Believe me, it tastes really flavorful and aromatic too.
Ingredients for Upma Recipe
Making rava is pretty simple and all we need for the recipe is basic ingredients that are mostly available in Indian grocery stores around.
Rava - I have used non-roasted Bombay rava and you can also use pre-roasted rava which cuts some roasting time while making this dish
Oil/Ghee - I have used both oil and ghee for this upma recipe, but to make a vegan version then you could feel free to skip ghee and replace it with coconut oil
Mustard Seeds, cumin seeds, fenugreek seeds, chana dal - These are basic Indian seasoning spices that give the authentic flavor to the rava upma
Green chili - I have used green chilies for the heat but you can also use dry red chilies for the same
Onions and tomatoes - Most upma recipe tastes great even without tomato. But to give an extra punch I have added tomato here
Water - Plays an important role to get a soft, fluffy, and moist upma
How to make Rava Upma?
The recipe that I have shared here is a traditional south Indian style rava upma which involves roasting and simmering. And the quantity yields to 3 people. So let us see how to make this traditional upma with easy step-by-step written and video instructions below.
To give an clear idea this upma recipe involves two steps.
Roasting of rava
Making of upma
Roasting of Rava
Roasting the rava gives a unique flavor and aroma to the dish. It also helps the upma to turn out fluffy and moist.
So to roast the rava, keep the pan in medium heat and add 1 cup of rava. Roast until it turns aromatic.
It is very important that we have to roast them without burning them. So make sure to stir them often. Once it is done, switch off the heat and reserve it for later use.
Making of Upma
To make upma, first sizzle the tempering ingredients in oil as mentioned in the recipe card below.
Then add the onions, ginger, green chilies and saute until the onion turns soft. After that add the tomatoes, salt, and saute until it turns mushy. At this stage, you can also add some beans, carrots, peas and stir fry for 2 to 3 minutes.
Once they are mushy, add water and allow it boil for to 3 minutes. You can adjust the salt at this stage if it's really required. The seasoned water should be salty which will taste perfect after rava is added.
Once you see water boiling, you can add the roasted rava now gradually. Make sure to add them slowly and stir them simultaneously as shown in the video instructions. This helps to avoid lumps when mixing. Be cautious at this stage as the mixture starts to bubble and spatter.
Now simmer the heat to low and add ghee or coconut oil. Now close the pan with a lid and let it stand for 2 minutes. After that time, open the lid and fluff gently. Now the soft and delicious upma is ready for you to taste and enjoy.
Tips
Best Rava for upma - There are varieties of rava in the market and finding a perfect one for an upma recipe might be a little tough especially when you are new to cooking. Typically traditional upma is prepared with fine quality rava either is non-roasted or pre-roasted.
Usually, I use non-roasted Bombay rava for my regular upma recipe and I roast it whenever I make a dish then and there as shown in the video.
But to cut down the roasting time, you could always feel free to use pre-roasted rava that you could find most Indian groceries. There is also another variety of suji called Bansi rava which is also used for the same upma recipe. But the only difference is these are not fine as above mentioned Bombay rava.
Roasting the rava plays an important role in achieving a fluffy and moist upma. Always make sure to roast the rava in medium heat until you smell a rich aroma. This helps the upma to avoid turning mushy or sticky.
Another important fact is oil and the tempering ingredients. Sizzling the mustard, fenugreek, chana dal, and curry leaves in a generous amount of oil not only makes this upma delicious but also delivers a moist and non-sticky upma. I have used oil and ghee for topping at the end but you can use coconut oil, sunflower oil, and similar others.
Adding the roasted rava gradually in batches will help to mix them evenly. And it is also important to add the rava in boiling water to enjoy a moist and fluffy upma.
Rava Water Proportion for Upma Recipe
The perfect rava water proportion for upma is 1: 2 or 2.5. If you would prefer to choose Bombay rava, then I would suggest 1: 2 that delivers nice moist and fluffy upma. On the other hand, if it is bansi then go for 1: 2.5.
How to make Instant Rava Upma Mix?
Even though making upma is traditionally simple, we can also save some time prparing the instant upma mix ahead. It also give a helping hand when you are really tired, busy or to cook in a jiffy.
To make the mix, here the only tweak is we are going to skip the onions and tomatoes(Since they cannot hold fresh for long days).
First, pour oil into a pan and add tempering ingredients like curry leaves, mustard, fenugreek, chana dal, green chili, and ginger. Allow them to sizzle and then add the rava. Roast the rava in medium heat until you smell the aroma.
At this stage, the tempering ingredients also would have turned crispy and crunchy. Switch off the heat and cool down completely. Store the mix in an air-tight container and it stays good for up to 2 to 3 weeks in the refrigerator. It also freezes well in the freezer for up to 3 months.
Always take the portion you want to make the upma and just add the mix to boiling water and whip up and enjoy.
Storage Suggestions
Storing roasted rava - you can always roast the rava bulk and store it in an air tighr container upto 2 months.
Storing the cooked rava upma - it stays good in the refrigerator upto 2 days. Always make sure to reheat only the portion you want to enjoy to retain the freshness of the dish.
Serving Suggestions
This rava upma tastes great on it own but you could aslo serve it with jaggery powder, sugar, coconut or tomato chutney, and sambar.
Please find similar recipes below. Visit breakfast recipes for more.
Looking for easy breakfast recipes to kick start your busy mornings? Then you could also check this collection of Indian Vegetarian Breakfast Recipes to enjoy with your family and loved ones.
Check out more recipes with Rava below:
Rava Upma recipe video
I have shared the video below with simple and easy instructions to make this Rava upma. And I believe it will help you to prepare and enjoy the dish at home. You could also find this recipe in story format for a quick reference.
📖 Recipe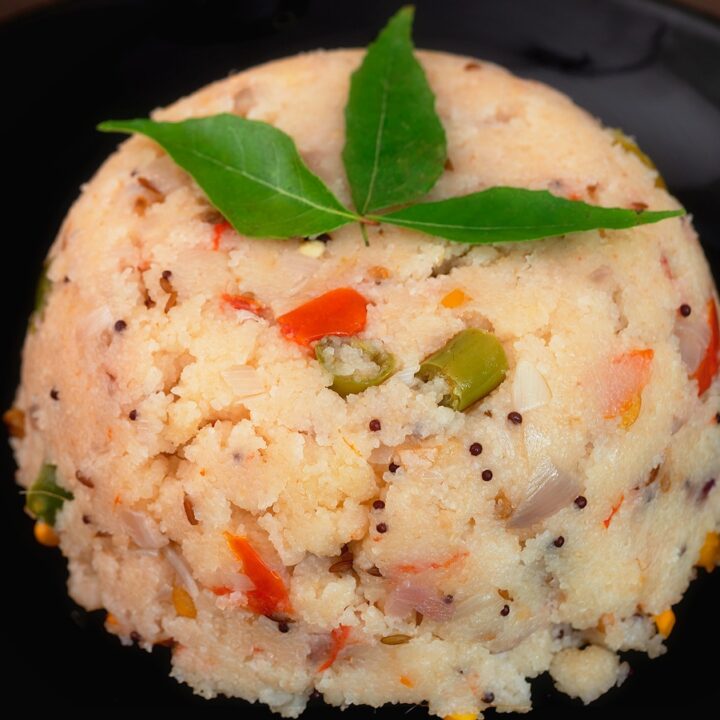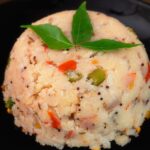 Upma Recipe (Rava Upma)
Rava upma is a flavorful, delicious, soft, and fluffy South Indian breakfast dish. The traditional upma recipe is prepared by roasting and simmering the rava in spicy tempering water. This dish can be served as breakfast or dinner with chutney, sambhar, and sugar.
Subscribe
print (text-only)
email
pin
review
save
saved!
Ingredients
1

cup

Rava

¼

cup

Onion

1

Tomato

,

chopped

2

tsp

Ginger

,

minced

4

Green chili

,

chopped

½

tsp

Mustard seeds

¾

tsp

Cumin seeds

¼

tsp

Fenugreek seeds

1

sprig

Curry leaves

1

tsp

Chana dhal

¼

cup

Oil

1

tbsp

Ghee

Salt

,

as needed

2

cups

Water
More on Unit Conversions »
Instructions
To Prepare Rava Upma
In a pan with low medium heat add Rava and dry roast until it turns aromatic and keep it aside for later use

In the same pan with medium heat add oil, mustard, cumin, fenugreek seeds, curry leaves and allow it to splutter

Add onion, ginger, green chili and saute until the onion turns soft

Add tomato, salt and saute until tomato turns mushy

Add water and allow it to boil

Add roasted Rava in batches by stir it continuously

Combine well without forming any lumps

Drizzle a spoon of ghee and mix well

Close the lid with pan and simmer the heat for 2 minutes

Open the lid and fluff the Rava upma
To Serve
Serve the delicious Rava upma with chutney or sambhar
Notes
Always roast the Rava in low medium heat this helps the Rava to roast evenly without burning
The key for softer and fluffier upma is to have a 1:2 or 2.5 proportion of Rava and water. 
Adding the Rava in batches makes it to cook evenly
Skip the ghee and replace it with oil for the vegan version of the dish
The recipe given here is a basic upma recipe with onions and tomatoes. But it can be also made extra healthy by adding vegetables, peanut and, cashew nuts which makes it's crunchy and nutty flavored
Rava upma can be stored in refrigerated for up to 2 days and up to months in the freezer
It can be served with chutney, sambhar, or sugar
Nutrition
Serving:
1
serving
|
Calories:
418
kcal
|
Carbohydrates:
9
g
|
Protein:
18
g
|
Fat:
35
g
|
Saturated Fat:
7
g
|
Polyunsaturated Fat:
6
g
|
Monounsaturated Fat:
13
g
|
Trans Fat:
0.1
g
|
Cholesterol:
52
mg
|
Sodium:
819
mg
|
Potassium:
137
mg
|
Fiber:
3
g
|
Sugar:
5
g
|
Vitamin A:
374
IU
|
Vitamin C:
27
mg
|
Calcium:
17
mg
|
Iron:
1
mg
FAQ
What is Rava upma?
This dish is an authentic South Indian breakfast dish that is made from Rava or semolina and it is widely prepared in Tamil Nadu, Kerala, Karnataka, and in Andhra. Basically, the recipe is made by simmering Rava in seasoned water with spices and herbs.

This dish has different names according to the place and languages spoke in southern India(upmaavu, upittu, or uppindi). And this is a popular basic breakfast in all the restaurants of South India and South Indian homes.
Why my rava upma is sticky?
Rava upma turns sticky if it is not roasted properly. And another important fact is adding too much water also makes upma sticky.
Why my upma is full of lumps?
If the rava is not mixed evenly then you may see the lumps. Adding the rava gradually in batches helps the rava to cook evenly resulting in a soft and fluffy upma.
Is upma healthy?
Yes. Upma made with wheat rava, bansi rava, make a healthy meal. But if you are planning the upma recipe with bombay rava then consume it in moderation as the variety is a refined one.
Enjoy the recipe and let us know your feedback in the comment section below !