Welcome to our collection of tasty and healthy vegetarian breakfast recipes from India! India is a country with a diverse culinary landscape, and there are many different types of breakfast dishes enjoyed across the region. In this collection, we have gathered a selection of recipes and Ideas that includes something for everyone.
First, let's start with the savory options. Semiya Upma, also known as vermicelli upma, is a delicious dish made with thin strands of semolina pasta, spices, and vegetables. Upma, or rava upma, is another savory option made with semolina and often served with coconut chutney and ghee. If you're in the mood for something crispy, you might enjoy Rava Dosa, and Rava Indli are made with semolina and is often served with a spicy chutney or sambar.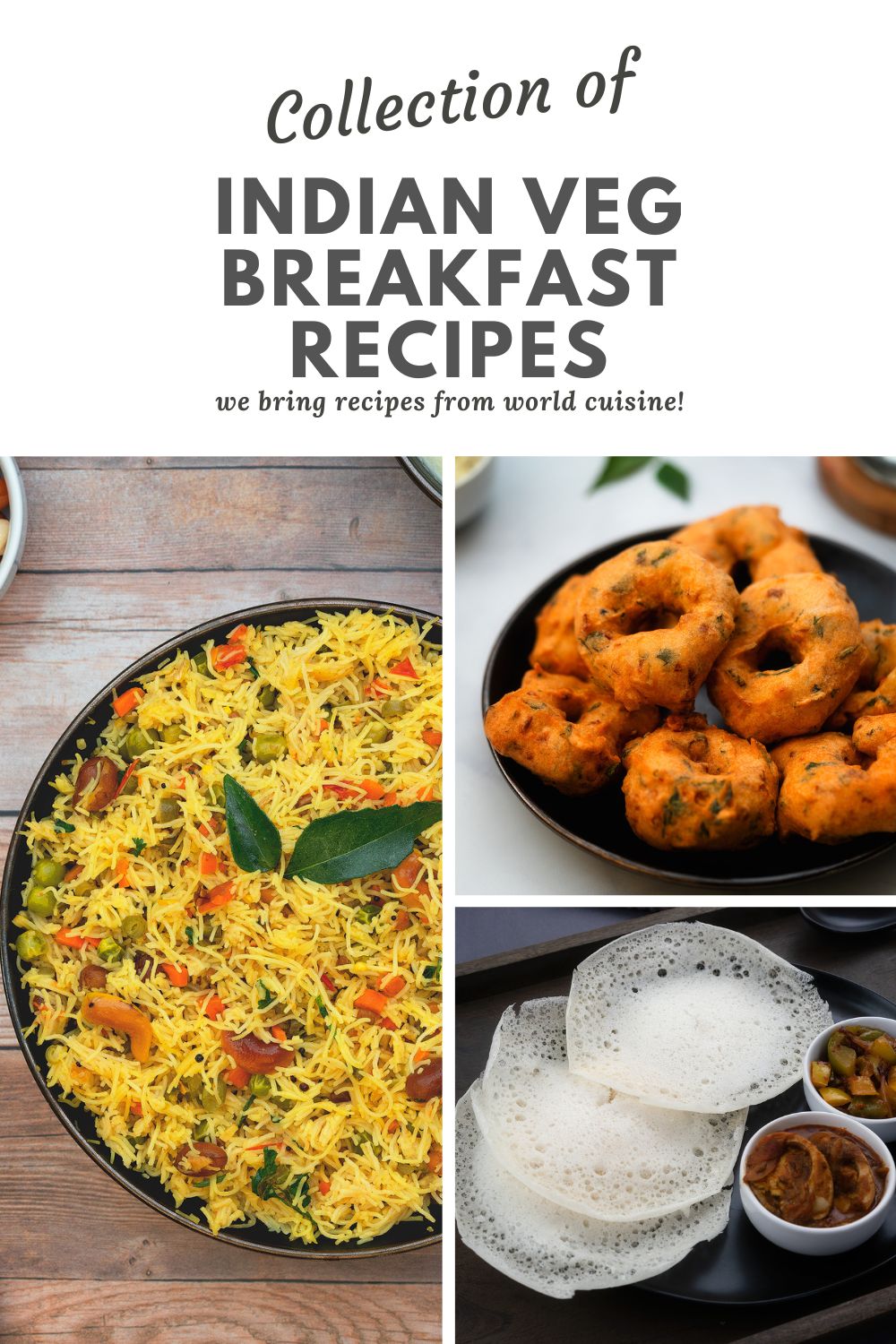 Jump to:
Roti, or chapati, is a type of flatbread that is a staple in many Indian homes and can be enjoyed with a variety of toppings. Maggi noodles with masala is a popular convenience food that can be easily prepared and customized with your favorite vegetables.
Next, we have a selection of sweet and fermented recipes. Appam is a type of fermented rice pancake that is popular in Kerala. Ragi Kanji is a porridge made with ragi, or finger millet, and is a nourishing and comforting breakfast option. Ragi Balls, or muddle, are another way to enjoy this nutritious grain and can be served with a variety of dips or chutneys.
Ven Pongal, also known as khara pongal, is a popular South Indian breakfast dish made with rice and lentils. It is typically seasoned with cumin, pepper, and ghee, and is often served with a side of coconut chutney and sambar. Medu Vada, on the other hand, is a type of savory fried snack that is popular throughout India. Both Ven Pongal and vada are delicious and satisfying options for a vegetarian breakfast and are sure to keep you fueled up and ready to tackle the day ahead.
Finally, we have a selection of accompaniments that are often served with Indian breakfast dishes. Tomato Chutney is a spicy and tangy condiment that pairs well with many savory dishes. Vegetable Korma is a creamy and flavorful curry made with a variety of vegetables. Sambar is a South Indian dish made with lentils and vegetables that is often served with idli, dosa, and other breakfast foods.
Chole is a spicy and flavorful chickpea curry that can be enjoyed on its own or as a topping for roti or other breads. Chickpea flour omelette is a protein-rich vegan alternative to traditional omelettes and can be served with a variety of vegetables and herbs.
We hope that this collection of vegetarian breakfast recipes from India inspires you to try something new and delicious in the morning!
You can also find different collection of recipes below and more at recipe collections.