Maggi Noodles is a quick and tasty Indian dish popular across the country. This masala noodles recipe is one of the easy instant dishes made with vegetables, eggs, chicken, paneer, and even without them. These maggie noodles are prepared with fresh vegetables, Maggi masala tastemaker, and coriander leaves in a pan on the stovetop. This dish an appetizing, and finger-licking and they can be perfect for breakfast, a quick after-school snack, or kid's lunch boxes.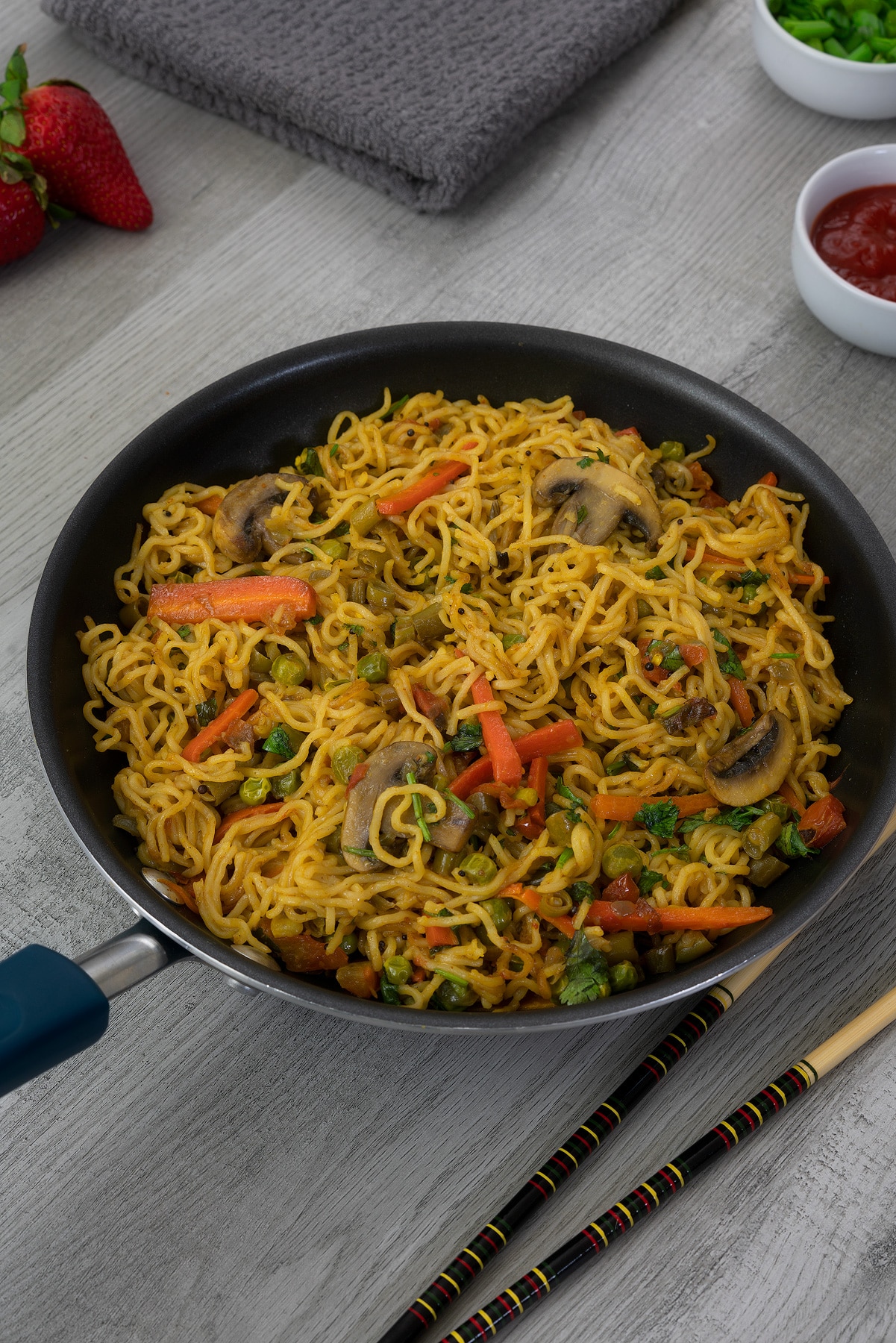 Jump to:
What is Maggi Noodles?
Maggi Noodles is a simple, and instant Indian breakfast or quick snack dish. These Maggi noodles are usually prepared with Indian seasonings, fresh vegetables, spices, and herbs which impart a unique taste and flavor to the dish.
Even though there are many noodle dishes popular across India, these Maggi masala noodles are famous for their instant cooking. And it is one of the common dishes one can find in street food stalls, restaurants, and households in India. Its simplicity and easy-to-make variations made this dish popular with most Indian families, and a great hit among kids.
While the instant masala Maggi noodles require only 2 minutes(according to the package instructions) to prepare the entire dish, it can also be made with a twist with different ingredients. And it may need a little extra minute according to the recipe list that we prefer. For instance, these masala noodles can be made with vegetables, eggs, chicken, paneer, or even with Chinese sauces where the process takes more time than the 2 minutes package claim.
Overall, these Maggi noodles are definitely a tasty quick snack or even a meal for sudden hunger pangs. And the best part is, you can modify the recipe according to your craving and the way you like. However, I would not recommend these noodles for breakfast or snacks on regular basis, and it should be fine to try once in a while to satisfy your cravings.
How to make Maggi Noodles?
The recipe I have shared here is a simple Indian-style Maggi noodle with vegetables and without eggs. And the quantity yields to three people. In this section let us see how to make/prepare this vegetable masala Maggi with easy step-by-step instructions below.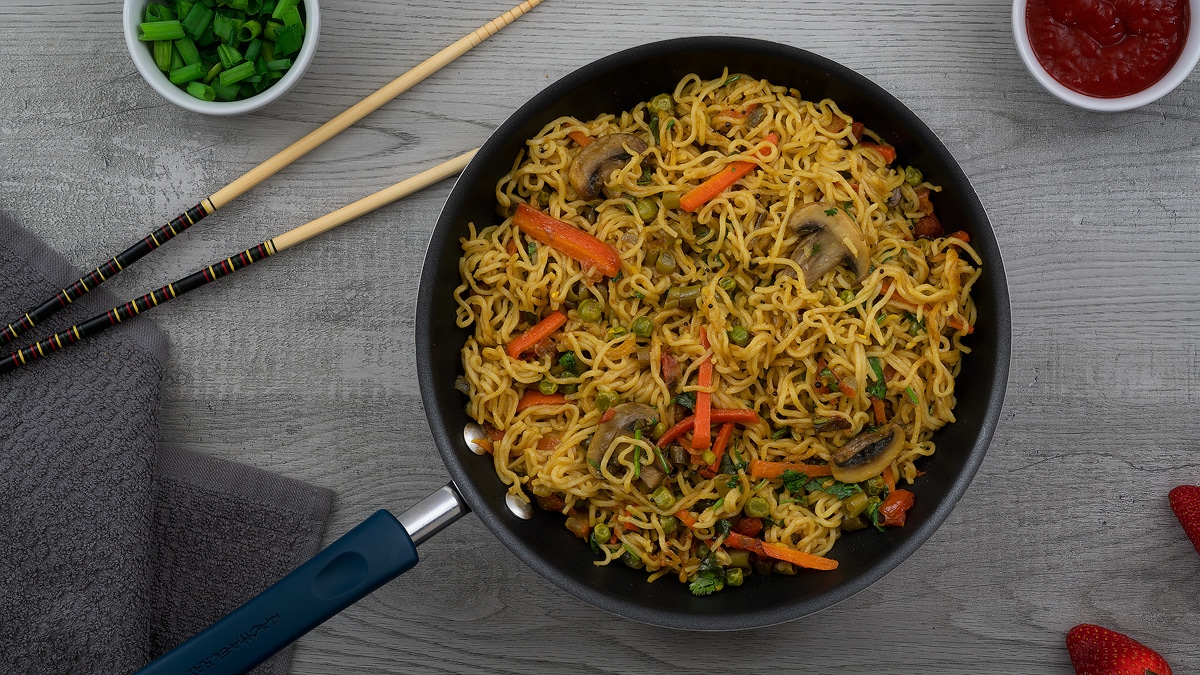 To prepare this vegetable masala Maggi, first I seasoned the mustard seeds and green chilies in oil. Then I sautéed the onions until they turned soft. Once they turned soft, I mixed in the tomatoes and allowed them to turn mushy.
Following that, I stirred in all the vegetables for 2 minutes or until they turned slightly soft. Then I added the Maggi tastemaker and gave a good mix. After mixing, I poured in the water and allowed it to boil for 1 minute. And then added the Maggi noodle cubes and gave a slight mix. And I did not add salt to this masala noodles recipe as the tastemaker by itself has a lot of sodium in it.
After giving a mix, I closed the pan with the lid and cooked for about 3 minutes in low heat. Once the time passed, I opened the lid and gave a quick mix. Finally, I garnished it with coriander leaves and served it warm with tomato ketchup.
Variations
Masala Maggi noodles are quick dishes that have a lot of variations. You can modify these Indian-style masala Maggi noodles in plenty of ways with the ingredients that are available at home. There is no one certain method when it comes to Maggi noodles. In other words, the process and ingredient list of the dish differs according to individual preferences and family needs.
For example, in the street-style version, people like to add cheese, coriander, and mint chutneys along with the tastemaker which gives a unique flavor and taste to these noodles. You could also find Maggi masala noodles in the form of momos, pizzas, noodles Manchurian, Pakoras, and whatnot! At the same time in the homestyle version, people like to add their favorite veggies and masalas to make their dish a bit healthy and nutritious.
You may also try this Maggi noodles recipe with paneer, eggs, and chicken to add protein to your noodles. This masala Maggi noodles recipe is not only limited to the Indian style but also the Chinese version. Yes, you could also add your favorite Chinese sauces while seasoning these noodles to enjoy a different flavor and taste.
Similarly, you could also make Maggi masala noodles soup with or without eggs, chicken, and vegetables. This Maggi noodles soup makes a perfect comforting food, especially when you crave hot and spicy foods. And of course, it also gets ready in a few minutes which you could relish with a bowl of Oven-Roasted Chicken or similar other dishes.
Storage Suggestions
This instant Vegetable masala noodle is best when consumed fresh and warm. As far as I know, instant dishes do not stay good and fresh for long hours, so personally, I don't recommend it to store in a refrigerator or freezer. And I suggest making it fresh and serving it warm immediately to your family and loved ones. But with the leftover Maggi noodles, you can feel free to make cutlets, stuffed Maggi omelets, spring rolls, and bread balls for a quick evening snack.
Serving Suggestions
These Maggi masala noodles with vegetables taste great on their own but you can also serve it with Veg and Non-Veg sides of your choice.
You could also find similar recipes below and more at street food, snack recipes, and noodle recipes.
Looking for different breakfast recipes to cook for your busy mornings? Then you could also check this collection of Indian Vegetarian Breakfast Recipes to enjoy with your family and loved ones.
Maggi Noodles Recipe video
I have also shared a detailed video of Maggie noodles recipe below and I believe that will help you to prepare/make tasty and quick Maggi masala noodles at home. For quick reference, you could also find this noodles recipe in a story in story format.
📖 Recipe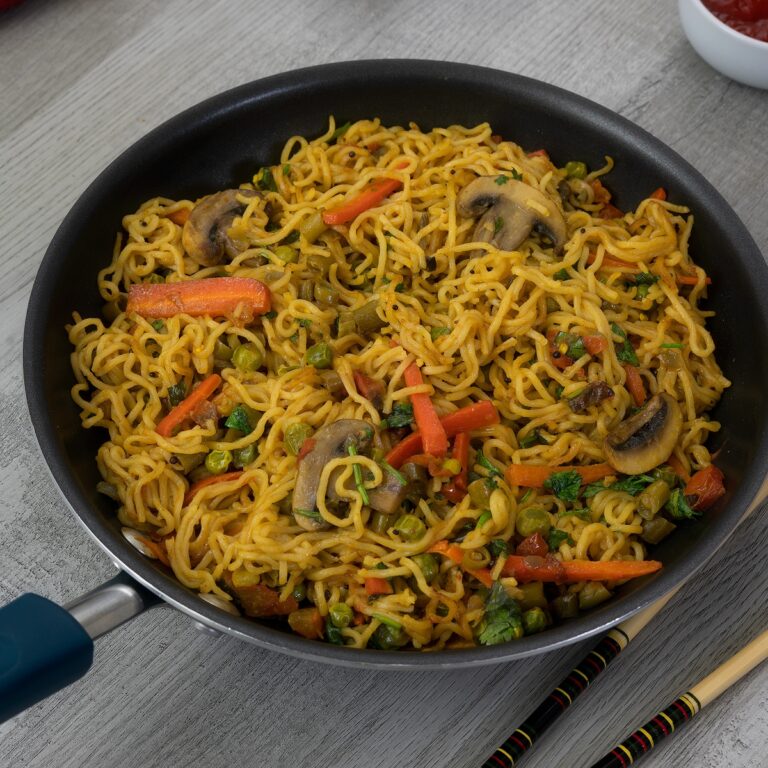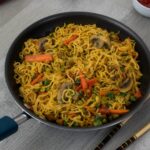 Maggi Noodles (Masala Noodles)
Maggi noodles is a popular Indian style dish made with fresh vegetables, Indian spices and herbs. This masala noodles is usually served as a quick snack, breakfast, kids lunch box and even for small parties. It tastes great with ketchup, chicken manchurian, chilli chicken, cauliflower fry and similar dishes.
Subscribe
print (text-only)
email
pin
review
save
saved!
Ingredients
¼

cup

Oil

1

tsp

Mustard Seeds

3

Green Chili

,

slited

¼

cup

Carrots

,

chopped

¼

cup

Mushroom

,

chopped

¼

cup

Green Beans

,

chopped

¼

cup

Peas

¼

cup

Onion

,

chopped

¼

cup

Tomato

,

chopped

3

piece

Maggi Noodle

3

pack

Tastemaker

2

cups

Water

Coriander Leaves

,

to garnish
More on Unit Conversions »
Instructions
To Prepare Vegetable Masala Maggi Noodles
In a pan with medium heat, pour oil and add mustard seeds. green chili and allow it to splutter

Add onions and saute until they turn soft

Now add tomatoes and saute until it turns mushy

Add the carrot, mushroom, green beans, peas, and stir fry for 2 to 3 minutes

Now add the Maggi tastemaker and give a nice mix

Add water and allow it to boil for 1 minute

Now add the noodle cubes and immerse them in the seasoned water

Give a gentle mix to break the noodle cubes for the noodles to cook evenly

Close the pan with the lid and cook for 3 minutes on low heat

Open the lid and mix the noodles gently

Finally, garnish with coriander leaves and the Vegetable masala Maggi noodles is ready for you to taste and enjoy
To Serve
Serve this delicious vegetable masala Maggi noodles with ketchup, veg or non-veg dry dishes
Notes
I have cooked the Maggi noodles and vegetables together in one pot here and you can also cook the noodles first and stir fry them later with the masala and veggies
In these masala vegetable noodles, I have used mushroom, carrots, peas, green beans, and you can also use other veggies like broccoli, sweet corn to make them healthier
I used oil to season these instant Maggi noodles but they can also be replaced with ghee or butter
This masala Maggi noodles with vegetables taste great with chicken Manchurian, chili chicken, chicken 65, cauliflower fry, and similar other dishes.
Nutrition
Serving:
1
serving
|
Calories:
209
kcal
|
Carbohydrates:
9
g
|
Protein:
2
g
|
Fat:
19
g
|
Saturated Fat:
1
g
|
Polyunsaturated Fat:
5
g
|
Monounsaturated Fat:
12
g
|
Trans Fat:
0.1
g
|
Sodium:
168
mg
|
Potassium:
165
mg
|
Fiber:
3
g
|
Sugar:
4
g
|
Vitamin A:
2042
IU
|
Vitamin C:
15
mg
|
Calcium:
22
mg
|
Iron:
0.5
mg
FAQ
What are Maggi noodles?
Maggi noodles are one of the instant quick snack or breakfast dishes popular in India and its neighboring countries. It is also one of the common street foods that one can find in food stalls, food joints, and common in households.
What variations can be made with Maggi noodles?
Maggi noodles are popular for their traditional noodles version, but you can also recreate them into momos, pizza, cutlets, pizza noodle bombs, noodle soup, Manchurian, and much more.
Are Maggi noodles healthy?
Maggi noodles are instant food with high sodium content similar to some Indo- Chinese foods and it is best to consume them in moderate quantity once in a while for a healthy life.
How long can we store masala Maggi noodles?
Maggi noodles are instant recipes which require only under 15 minutes to make, and it tastes fresh and flavorful when it is consumed immediately. So I recommend not to store it in a refrigerator or freezer to enjoy a fresh bowl of noodles.
What can be served along with Maggi noodles?
Vegetable Maggi masala tastes great on its own but it also tastes great with chili chicken, chicken 65, gobi fry, potato fries, and similar other dishes.
I really hope you enjoyed the recipe that I have shared here and I would love to hear from you on how it turned out for you. Please let me know.
If you have any other questions, feel free to post them in the comment section below and I will try to get back to you as soon as possible.
Happy Cooking!