Collection of easy and healthy Indian vegetarian lunch recipes/ideas that you want to try for your next meal. Always wonder what to cook for your lunch or dinner? Then this post covers a list of Indian vegetable starters, main course dishes like curries, side dishes, and one-pot meals. These Indian recipes are easy to make, flavorful, and can be perfect for your lunch box, party, get-together, or as a regular day meal.
You could also find different collection of recipes below and more at recipe collections.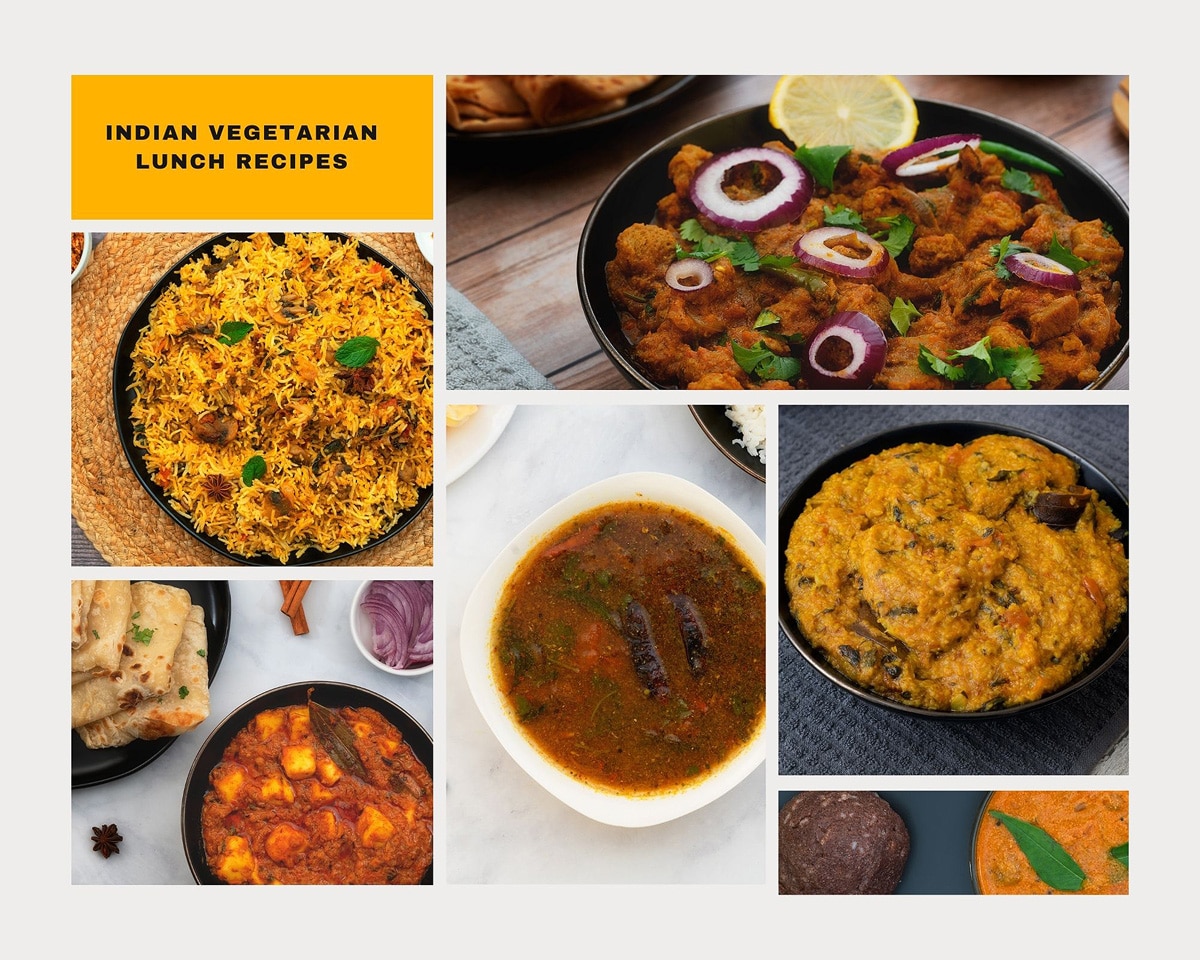 Jump to:
What is special about Indian vegetarian lunch?
Lunch hours are the most important part of our day and enjoying a healthy meal helps to restore our body for the rest of the day. Even though there are different vegetarian dishes across the world, Indian recipes are special for their flavor, aroma, and taste. Not only they are tasty but they are also healthy that we require for our body.
Indian vegetarian dishes ideally balance the combination of protein, fiber, fat, and sugar to boost our system. Especially dals, roti, vegetables, rice in your lunch meal make them healthier.
Overall, Indian vegetarian lunch recipes are the ultimate way to spruce up your taste buds. And the recipes are flavorful, aromatic, and extremely unique that makes you fall in love with them. Whether you are packing for your lunch box or hosting a party at your home, these Indian vegetarian recipes are the best to savor your loved ones and family.
So let's explore different Indian vegetarian lunch ideas/recipes that I hope will make your lunch hours enjoyable. And I will be updating the list whenever I make a new dish in this category. So stay tuned and get ready to enjoy these healthy and easy lip-smacking dishes with friends and family.

Are you looking for Indian recipes to kick start your day? then check out this collection of Vegetarian breakfast Recipes which might help you to make a variety of simple, healthy, easy instant recipes at home. You could also check out these Plant-based Indian Vegan Recipes if you follow strict vegan diet.