Pineapple smoothie is a healthy, delicious, and easy-to-make vegan-friendly tropical refreshment. It is prepared with pineapple, banana, coconut yogurt, coconut milk, maple syrup, and vanilla essence that makes the smoothie insanely unique and amazing. This Pineapple smoothie has a lot of health benefits that are much needed for a balanced diet and it can be a perfect treat for the bright summer days. And it can be an excellent refreshing drink for breakfast, lunch, or as a snack.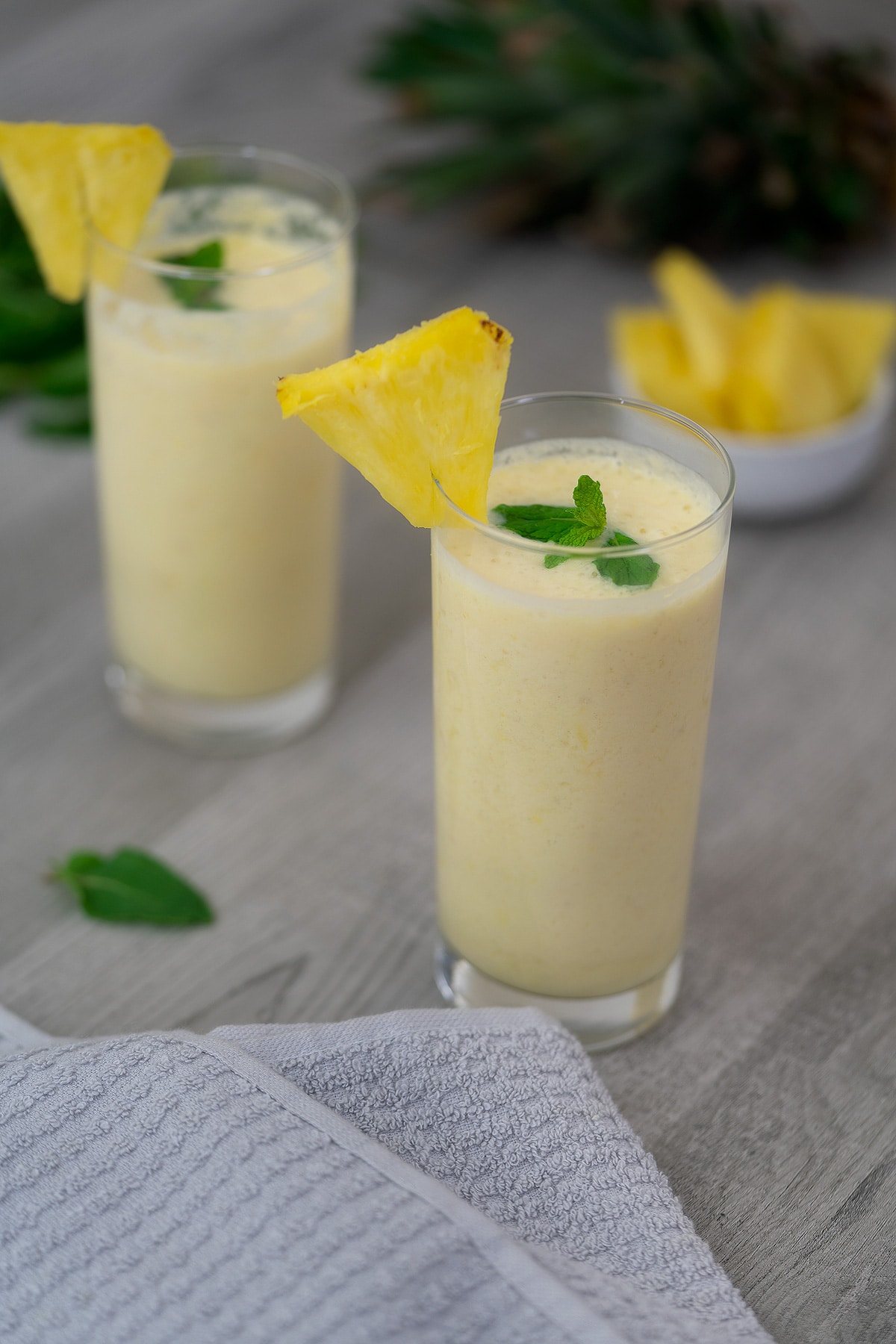 Jump to:
What is Pineapple smoothie?
Pineapple smoothie is a rich and creamy drink that one could easily make at home. It is one of the ultimate easy drinks that requires only a few minutes to prepare. This smoothie is not only quick and easy but also has a lot of health benefits. The pineapple smoothie recipe shared here is an absolute vegan-friendly version that is dairy-free, and nut-free. This healthy pineapple smoothie is also a filling drink that is good for weight loss and keeps you full for long hours.
You could also easily customize your favorite pineapple smoothie according to your preference. Yes! we can throw in our favorite veggies or fruits to make different variations. Or do you want to make your own Pina Colada(the recipe includes rum i.e only for adults)? yes, even you can prepare that too!
Overall, this vegan pineapple banana smoothie is one of the easiest drinks that can be done in under 5 minutes. All you need is the main pineapple and supporting ingredients to enjoy the tropical flavor in each sip! It is an amazing drink that you could serve for your breakfast, grab-and-go lunch, evening snacks, after a workout, or even before going to bed.
Ingredients
The ingredients required for this vegan pineapple banana smoothie are basic and should be easily available in food markets around. If not I have also got perfect substitutes for the same.
Pineapple Chunks - frozen pineapple chunks work best for this recipe which makes the drink smooth and creamy. You could also make this drink with fresh pineapple but make sure to add some ice cubes to get a similar result.
Banana - I have used frozen banana here, but you can also use a fresh banana that works perfectly well.
Coconut Yogurt - it gives a nice rich flavor and taste to the drink and it's dairy-free. You could also use other vegan yogurts like almond and cashew milk. But to make a non-vegan version, feel free to add greek yogurt or vanilla-flavored yogurt. Even you could also totally skip the yogurt if it's not really handy for you.
Coconut Milk - this diary free milk enhances the taste and flavor of the drink and you could also use almond, cashew, and soy milk as other vegan friendly alternates.
Vanilla Essence and Maple Syrup - Vanilla essence delivers a nice flavor and aroma to the drink. And if you are using vanilla-flavored yogurt then you can skip the essence in this recipe.
Maple syrup is a good alternative to any kind of refined sugar that slightly elevates the sweet flavor in the drink. Coconut sugar is also one of the best vegan-friendly sweeteners that can be a perfect substitute. You could also use honey if you are looking for a non-vegan substitute. You could also totally feel free to skip sweeteners in the recipe to make it more healthy.
How to make a Pineapple Smoothie?
The recipe I have shared here is a Pineapple smoothie that is vegan friendly and the quantity yields 3 large glass servings or 4 medium servings. So let us check out how to make this drink with detailed step-by-step instructions that I hope will make you prepare a deliciously creamy smoothie every time.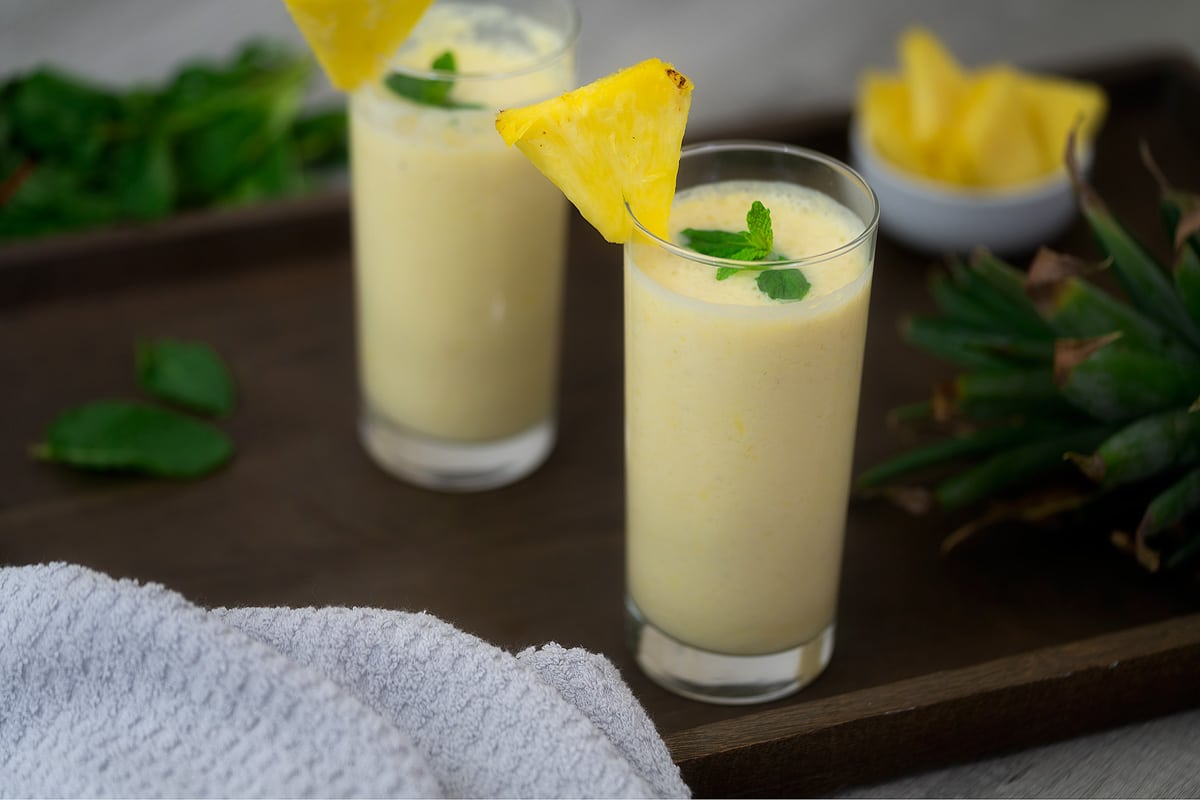 To make this drink, add the frozen pineapple chunks, banana, coconut cream, coconut milk, vanilla essence, and maple syrup in a blender. Close and start to process at medium speed for about 15 seconds. Now turn the speed to high and blend for 15 seconds or until the mixture turns nice smooth and velvety consistency. Feel free to add coconut milk to achieve the liquidy consistency and the quantity mentioned in the recipe card gives a thick smoothie that's not straw-friendly.
Finally, serve this pineapple banana smoothie chill for breakfast, lunch, outdoor party, or as an evening snack. And I believe you will try and enjoy this dish with your family and loved ones.
Variations
This simple pineapple coconut smoothie has plenty of variations. And each variation is really simple, unique and most are healthy that makes your meal or snack special. I have listed some of the variations that you can easily modify to the recipe that I have shared below in the recipe card.
Mix your favorite tropical fruits
Feel free to add veggies and greeny leaves for a healthy twist
Add in your preferred grains, protein powders to make it even healthier
Interesting health benefits of Pineapple
We know usually fruits are rich in fiber that is good for our body but do you know pineapple has a lot of interesting health benefits on its whole. Researchers and scientists say pineapples are low in calories but rich in vitamins and minerals. Especially they are rich in vitamin c that is important for growth and development that develops a strong immune system. It also helps to absorb iron from your daily food intake.
Pineapples are not only nutrition-rich fruit but also they are rich in antioxidants. The antioxidants in pineapple may benefit the body from recovering from inflammations. Pineapple has bromelain, a digestive enzyme that helps in easy digestion. And studies also say it may boost immunity, ease arthritis, and reduce the risk of cancer. Moreover, it tastes really sweet and delicious.
Tips
The frozen pineapples used in the recipe help the smoothie to blend smoothly and I suggest using the same to achieve the best results.
You could also use fresh-cut pineapples to make this drink but make sure to add a handful of ice cubes to get a smooth, frothy, and thick texture.
To freeze the pineapple, place the parchment paper in a cookie tray and place the cut pineapple pieces. Make sure the pineapple pieces do not touch each other. Now place the cookie tray and freeze the pineapple in the freezer for 1 day.
After a day, remove the frozen pineapple from the tray and store it in freezer-friendly bags, and store up to 7 to 8 months. And always make sure to store it in separate bags so that you can use the portion that you really want to use.
I have used coconut yogurt and coconut milk in the recipe that gives a delicious flavor to this pineapple smoothie. You could feel free to skip coconut yogurt if it's not really handy.
Why Pineapple Smoothie tastes bitter?
Even though some smoothies are prepared with milk, the bromelain enzyme in the fresh pineapple tends to change the drink too bitter.
So if you want to make your smoothie with fresh pineapple and milk, try adding the canned pineapples that have gone through the healing process.
Or you can slightly heat the pineapples before adding them to your smoothies which destroys the enzyme.
An important fact is that you may not feel the bitter taste immediately and it is based on the pineapple that is used as a high amount of bromelain in it.
Storage Suggestions
This healthy pineapple coconut smoothie tastes great when served fresh. But it also stays good for a day in the refrigerator in a closed container or a mason jar.
Serving Suggestions
This vegan pineapple smoothie tastes great on its own and it can be perfect for breakfast, lunch, or as an evening snack. And you could also serve this smoothie for an outdoor party along with Strawberry Chocolate Cake, Vanilla Cake, or Banana Cake as a sweet treat.
You could also similar fruit smoothie recipes below and more at smoothie recipes.
More Pineapple Drinks:
Looking for more Smoothie Recipes to enjoy as a quick treat for breakfast or as a snack? Then you might find the Collection of Smoothie Recipes at one place to quench your thirst. Take a peek!
Pineapple smoothie recipe video
I have also shared a detailed video of this pineapple banana smoothie that I hope will help you to make the rich and creamy drink at home. For a quick reference, you could also find this recipe in a story format.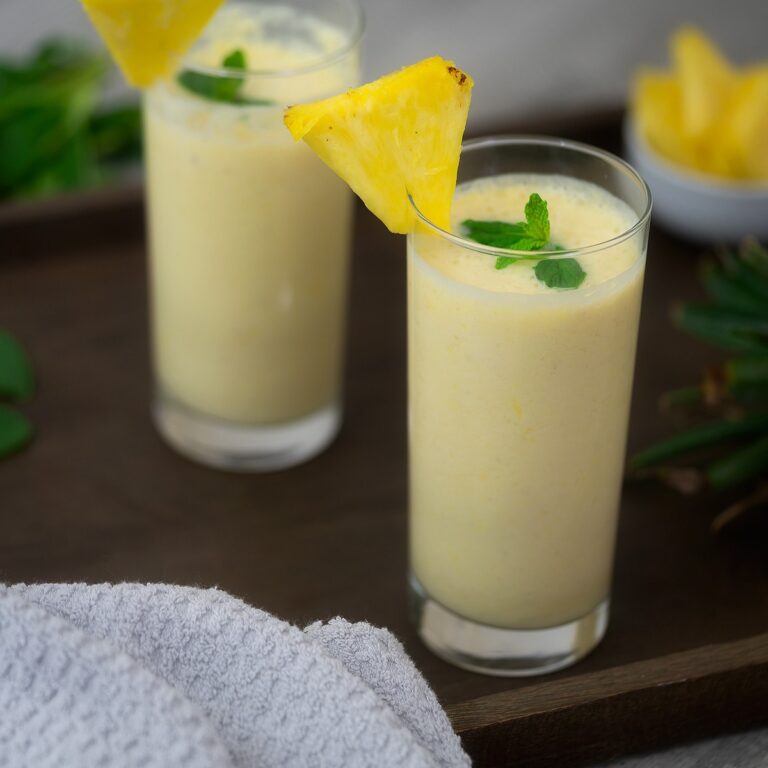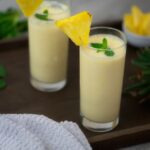 Pineapple Smoothie
The pineapple smoothie is a delicious and vegan-friendly tropical refreshment made with pineapples, banana, coconut yogurt, and coconut milk. It is a dairy-free and nut-free drink that has a lot of health benefits. It also helps in weight loss and it can be served for breakfast, lunch, evening snacks, or after a workout.
Subscribe
print (text-only)
email
pin
review
save
saved!
Ingredients
1½

cup

Pineapple Chunks

,

frozen

1

Ripe Banana

,

frozen

½

cup

Coconut Yogurt

,

or non-dairy yogurt

1

cup

Coconut Milk

,

or almond milk

3

tbsp

Maple Syrup

1

tsp

Vanilla Extract
More on Unit Conversions »
Instructions
To make Pineapple Smoothie
In a blender, add frozen pineapple, banana, coconut yogurt, coconut milk, and maple syrup

Cover the blender with its lid and process them at medium speed for about 30 seconds

The mixture turns smooth and frothy

Now the delicious pineapple smoothie is ready for us to taste and enjoy
To Serve
Serve this refreshing tropical pineapple smoothie chill for breakfast, lunch, after a workout, or even before bedtime
Chef's Notes and Tips
I have used frozen pineapples and banana here which helps to give a creamy, frothy, and smooth texture to the drink
This pineapple banana smoothie is made with coconut milk but you could also use other dairy-free milk
I have used coconut yogurt here and you can also use greek yogurt for nonvegan friendly version
This pineapple smoothie is a completely vegan recipe that can be enjoyed for breakfast, lunch, evening snacks, or after a workout
Nutrition Info
Serving:
1
cup
|
Calories:
350
kcal
|
Carbohydrates:
51
g
|
Protein:
4
g
|
Fat:
16
g
|
Saturated Fat:
14
g
|
Polyunsaturated Fat:
1
g
|
Cholesterol:
1
mg
|
Sodium:
36
mg
|
Fiber:
2
g
|
Sugar:
42
g
Disclaimer: We're not nutrition experts. Nutritional info is estimated and should be used as a guide. For precise details, consult a professional.
FAQ
What is a pineapple smoothie?
A tropical refreshing drink prepared with fresh or frozen pineapples, milk, and yogurt. There are also so many variations made with other fruits and veggies and dairy-free products. Pineapple smoothie is one of the healthy drinks served for breakfast, lunch, and as an evening snack.
Can I make this pineapple smoothie with milk?
Yes, a pineapple smoothie can be made with milk, but make sure to use canned pineapple that has undergone a heating process which helps the smoothie to stay fresh without turning bitter.
Bromelain, a digestive enzyme in the pineapples when mixed with milk gives a bitter taste that is not palatable. If canned pineapples are not handy, then feel free to slightly heat your pineapples and cool them down completely before adding them to your recipe.
Can I make this pineapple coconut smoothie with fresh pineapples?
Yes, you can make this smoothie with fresh pineapples, and make sure to add a handful of ice cubes to achieve a smooth and frothy drink.
I really hope you enjoyed the recipe that I have shared here and I would love to hear from you on how it turned out for you. Please let me know.
If you have any other questions, feel free to post them in the comment section below and I will try to get back to you as soon as possible.
Happy Cooking!