Vegetable soup, a simple and nourishing one-pot meal, is both delicious and easy to prepare. Packed with fresh vegetables and a hint of spices, this hearty soup is not only a treat for your taste buds but also a wholesome choice for health. It's especially beneficial as a home remedy for cold and congestion, and its low-carb profile makes it ideal for weight loss.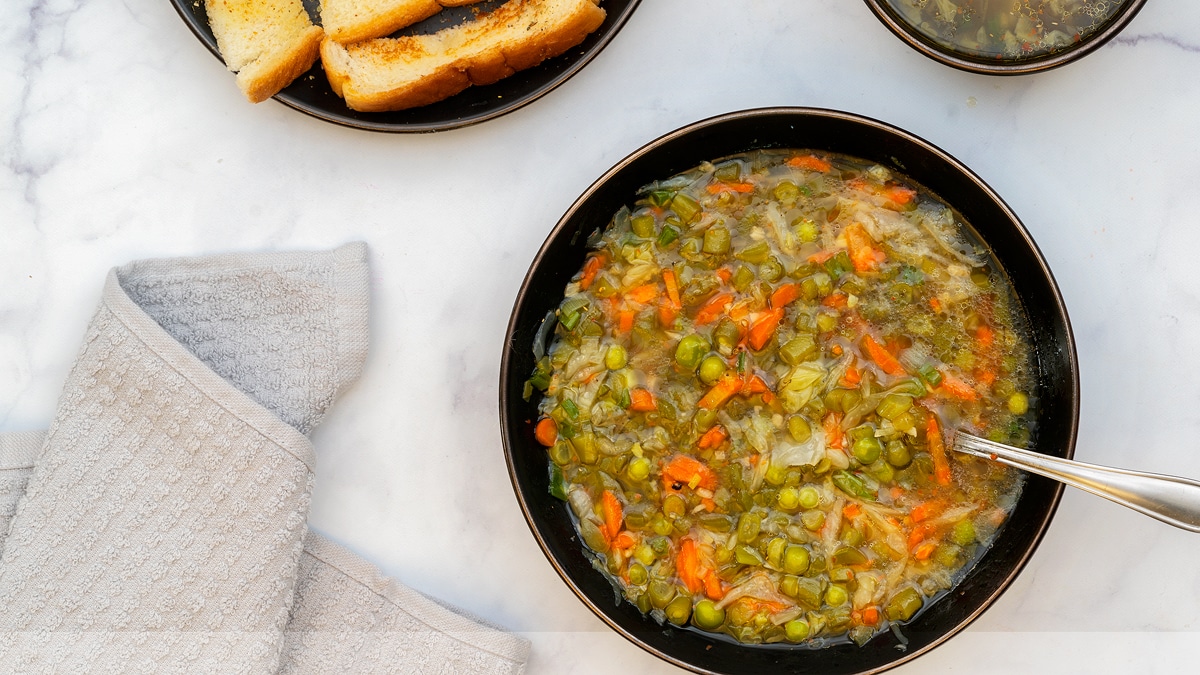 Jump to:
Ready in less than 30 minutes, this homemade soup is versatile, pairing perfectly with spicy starters, toasted bread, or enjoyed on its own for lunch or dinner. Suitable for vegans and vegetarians, this plant-based soup can be made with either fresh or frozen vegetables, offering a delectable and time-efficient option for any meal.
How to make Vegetable Soup?
Dive into the delightful world of homemade vegetable soup with our step-by-step recipe, complete with photos and video to guide you. Whether you're a seasoned chef or a beginner in the kitchen, these visual aids will make your cooking experience enjoyable and effortless. Now, let's get started on this nourishing and delicious journey!
Explore a Variety of Delectable Soup Recipes: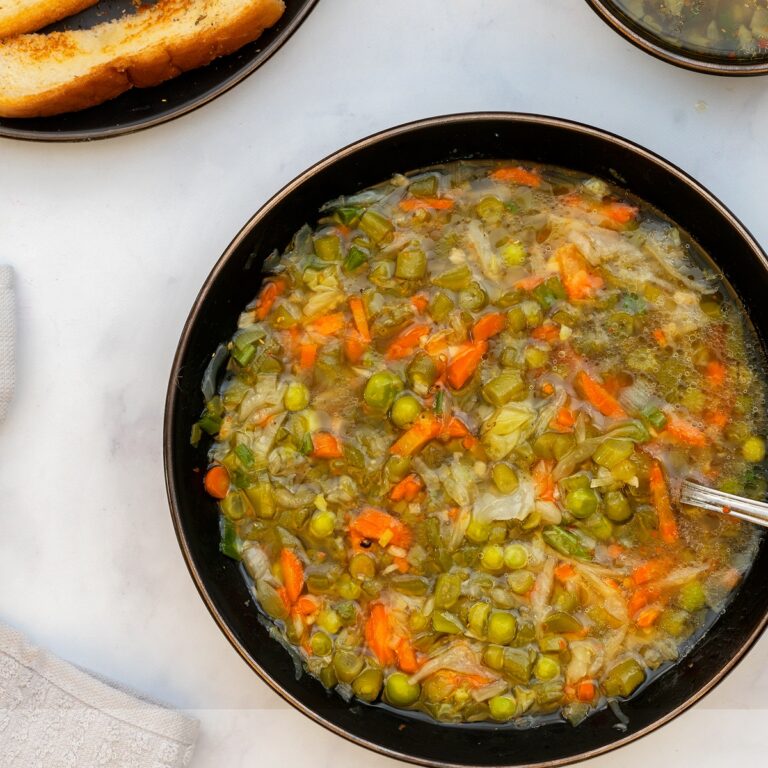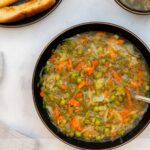 Vegetable Soup
Vegetable soup offers a nutritious, flavorful one-pot meal, ideal for winter. It serves as comforting food for colds and throat infections and is beneficial for weight loss. Plus, it's quick to prepare, ready in under 30 minutes.
Subscribe
print (text-only)
email
pin
review
save
saved!
Ingredients
¼

cup

Oil

1

tbsp

Garlic

,

chopped

½

cup

Spring Onion

,

chopped

¼

cup

Beans

,

chopped

¼

cup

Carrot

,

chopped

¼

cup

Green Peas

¼

cup

Green Bell Pepper

,

chopped

¼

cup

Cabbage

,

sliced

1

tsp

Pepper Powder

1

tsp

Chili Flakes

Salt

,

as needed

3

cup

Water

1

tsp

Cornstarch
More on Unit Conversions »
Instructions
To Prepare Vegetable Soup
Begin by heating oil in a pan on medium heat. Add the chopped garlic and ¼ cup of spring onions, sautéing them until they become fragrant.

Toss in the chopped beans, carrots, and green peas, frying them together for about 2 minutes.

Next, add the cabbage and green bell pepper to the pan, along with a pinch of salt. Give them a quick sauté for a minute.

Now, pour in some water and give everything a good stir.

Cover the pan with a lid and let the mixture boil for 5 minutes.

After 5 minutes, remove the lid and gently pour in the cornflour slurry (made by mixing 1 tsp of cornflour in water until smooth, ensuring there are no lumps).

Stir the soup and let it continue to boil until it starts to thicken up a bit.

Finally, season your soup with pepper powder, chili flakes, and sprinkle in the remaining spring onions, giving it one last mix.

Your healthy vegetable soup is now ready to be served and savored!
To Serve
Enjoy this delectable Vegetable Soup alongside spicy chicken starters, your favorite side dish, or simply relish it on its own.
Chef's Notes and Tips
Tips for Enhancing Your Vegetable Soup:
Use a Variety of Fresh Vegetables: Enhance your vegetable soup with a mix of fresh vegetables like beans, carrots, peas, cabbage, and green bell pepper. For added depth, mushrooms, broccoli, and sweet corn are excellent choices.
Experiment with Thickening Agents and Proteins: Customize the texture of your soup using cornflour slurry or oats powder as thickening agents. Adding grilled shredded chicken or other meats can introduce a new flavor profile and additional protein.
Ideal for Health and Comfort: This soup is not only delicious but also serves as a comforting remedy during winter, aiding in relieving colds and throat infections. It's also suitable for weight loss due to its nutritious, low-calorie content.
Tips for Variations in Vegetable Soup:
Chinese-Inspired: For a Chinese twist, stir-fry the vegetables and add soy and chili sauces.
Indian Style: Add a burst of flavor with Indian spices like bay leaf, cumin, pepper, and cinnamon, along with onions and garlic.
Italian Influence: Infuse Italian seasonings and include a variety of vegetables and legumes like broccoli, sweet corn, mushrooms, beans, and chickpeas. Adding grilled chicken pieces can further enrich the soup.
Nutrition Info
Serving:
1
serving
|
Calories:
224
kcal
|
Carbohydrates:
9
g
|
Protein:
4
g
|
Fat:
20
g
|
Saturated Fat:
2
g
|
Polyunsaturated Fat:
6
g
|
Monounsaturated Fat:
12
g
|
Trans Fat:
0.1
g
|
Sodium:
70
mg
|
Potassium:
252
mg
|
Fiber:
3
g
|
Sugar:
3
g
|
Vitamin A:
2569
IU
|
Vitamin C:
22
mg
|
Calcium:
52
mg
|
Iron:
1
mg
Disclaimer: We're not nutrition experts. Nutritional info is estimated and should be used as a guide. For precise details, consult a professional.
Discover our curated selection of comforting soup recipes, embodying the true spirit of comfort food. Savor the deep flavors and hearty textures of these warm, soothing dishes, perfect for any occasion.
Serving Suggestions
Enjoy this simple and nutritious vegetable soup as a quick and satisfying meal. Pair it with toasted garlic bread or spice it up with starters like Chicken 65, Chicken Manchurian or Gobi 65, Chilli Chicken for a delightful dining experience.