Vegetable soup is a healthy, tasty, and easy one-pot filling meal. This Soup is prepared with fresh veggies and minimal spices that make a hearty and flavor-packed soup. This delicious nutrition filled soup serves as a folk remedy for cold, cough, and congestion and it can also be consumed for weight loss. And it takes under 30 minutes to make this comforting healthy homemade vegetable soup. This soup pairs best with any spicy starters, toasted bread, or just as it is for lunch and dinner.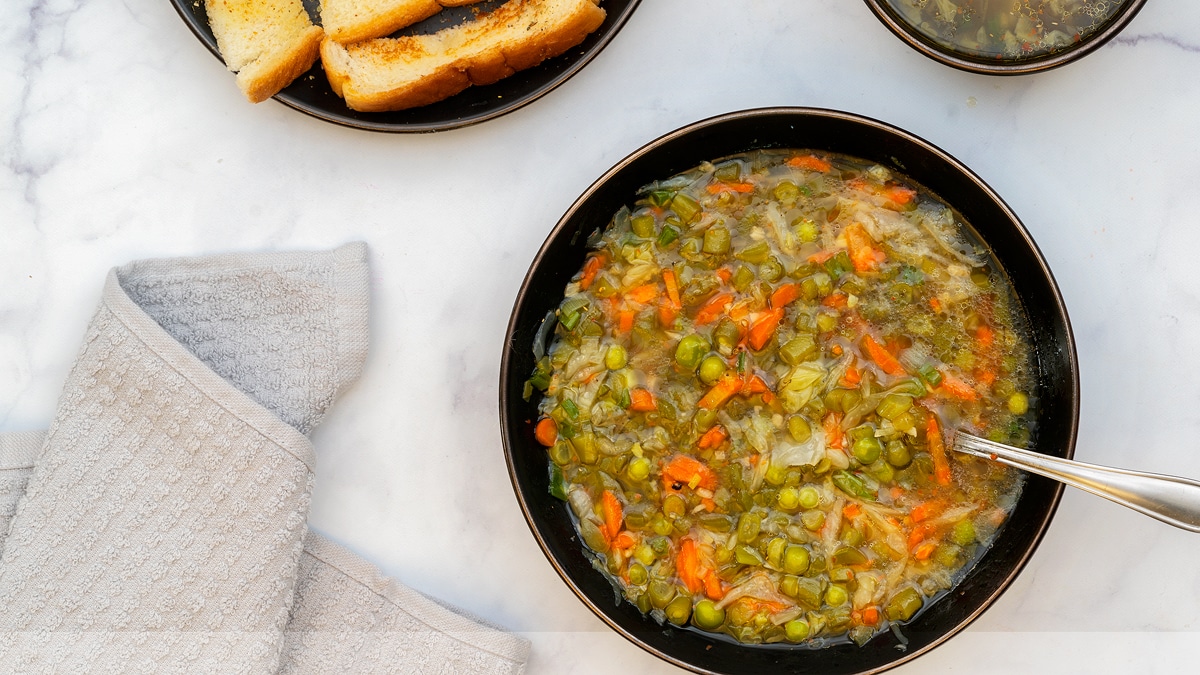 Jump to:
What is best about Vegetable Soup?
Vegetable soup is one of the delicious food which is not only healthy but also an easy and time-saving dish. This vegetable soup can be made with either freshly cut vegetables or frozen veggies of your choice. This dish is also a perfect vegan and vegetarian-friendly dish that is made with only plant-based ingredients. This nutrition-packed comforting vegetable soup is good for weight loss since it has fewer carbs.
Variations
Vegetable soup is one of the common and popular healthy meal that has a lot of variations. Usually, in the Chinese version, the vegetables are stir-fried and soy, chili, and other sauces are used to enhance their flavors. They also add chicken, beef, and other meat proteins in their soups as part of healthy options.
In the Indian version, people use Indian spices like bay leaf, cumin, pepper, and cinnamon to spruce the taste and flavor of the soup. To make it extra flavorful, people would also add small onions and garlic to the recipe. It is also believed that these ingredients act as a comforting food. And helps to cure cold, cough, and fever.
In some other parts of the world, people add fresh Italian seasonings for a more rich flavor. They also use broccoli, sweet corns, mushroom, squash, beans, chickpea, and grilled chicken pieces for more variations.
About this Vegetable Soup
The recipe I have shared here is the simple and easy homemade vegetable soup. The vegetables I have used here are easily available in all seasons which should be handy for everyone to try and enjoy this recipe. Initially, I stir-fried the minced garlic, chopped spring onions, green beans, carrots, peas, capsicum, cabbage until they are half cooked. Then boiled them in water for about 5 to 7 minutes.
I have used the cornflour slurry to slightly thicken the soup. But you could also replace it with oats powder as an alternative. Finally, I have seasoned them with pepper powder, chili flakes, and spring onions to give extra punch to the soup. If you really need a hot spicy soup, feel free to adjust the quantity of the pepper and chili flakes.
This simple homemade soup does not require any fancy ingredients or store brought sauces. So I believe this is one of the good sources of healthy meal options to include in your meal especially for kids who are picky eaters.
Since this recipe does not contain any high carb ingredients, it can be a good option for weight watchers to include in their meal plan. Though I have only added vegetables as the main ingredients, you could always try your own variations with meat and poultry as well. Those variations taste fantastic too.
This healthy and comforting vegetable soup is a perfect easy to go dish that makes a wonderful meal for any busy day. Serve this delicious homemade vegetable soup with toasted garlic bread or with any spicy starters like Chicken 65, Chicken Manchurian or Gobi 65, Chilli Chicken.
You could also find similar recipes below and more at Soup Recipes.
To make your life easy, I have also created a collection of Indo-Chinese Recipes in one place and I believe it will help you to plan and enjoy your meal at home. Take a peek!
Vegetable Soup recipe video
I have also shared the video instructions for this vegetable soup recipe below and I believe this helps you to prepare the dish at home. You could also find this recipe in story format for a quick reference.
📖 Recipe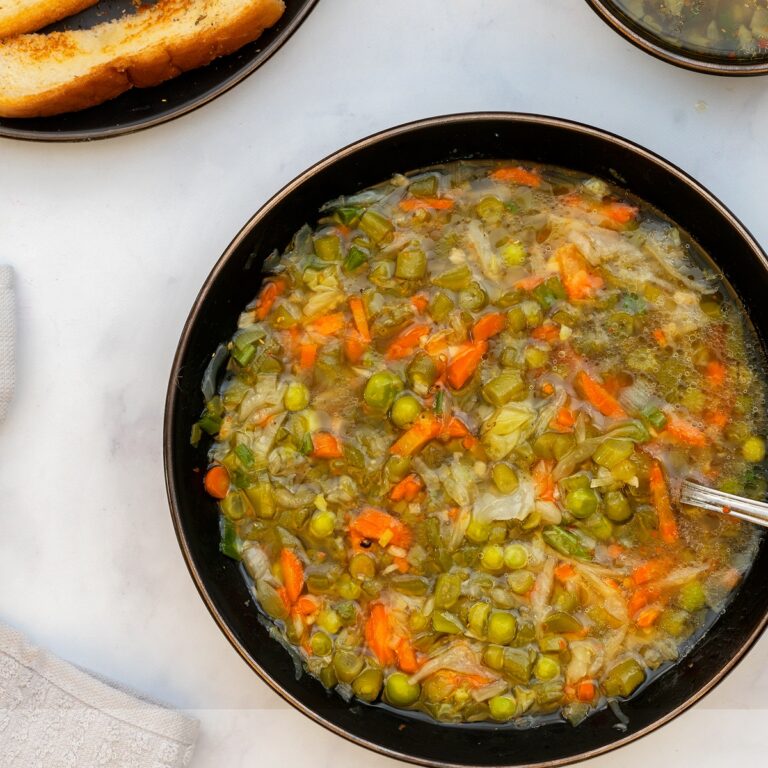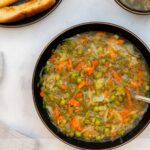 Vegetable Soup
Vegetable soup is a healthy one-pot wholesome meal filled with full of nutrition and flavor. This vegetable soup is great for winter and acts as comfort food for cold and throat infection. This can also be consumed for weight loss. The best part is it can be prepared in under 30 minutes.
Subscribe
print (text-only)
email
pin
review
save
saved!
Ingredients
¼

cup

Oil

1

tbsp

Garlic

,

chopped

½

cup

Spring Onion

,

chopped

¼

cup

Beans

,

chopped

¼

cup

Carrot

,

chopped

¼

cup

Green Peas

¼

cup

Green Bell Pepper

,

chopped

¼

cup

Cabbage

,

sliced

1

tsp

Pepper Powder

1

tsp

Chili Flakes

Salt

,

as needed

3

cup

Water

1

tsp

Cornstarch
More on Unit Conversions »
Instructions
To Prepare Vegetable Soup
In a pan with medium heat, pour oil and add chopped garlic and ¼ cup of spring onions. Saute until it turns aromatic

Add chopped beans, carrot, and green peas and stir fry them for 2 minutes

Add cabbage, green bell pepper, and salt and saute then from 1 minute

Now add water and give a quick mix

Close the pan with a lid and allow it to boil for 5 minutes

Open the lid and add the cornflour slurry (prepare it by adding 1 tsp of cornflour and dilute with water without lumps) to the mixture

Mix and allow it to boil until the liquid turns slightly thick

Add pepper powder, chili flakes, and remaining spring onions and give a final mix

Now the healthy vegetable soup is ready for you to serve and enjoy
To Serve
Serve this delicious Vegetable Soup with spicy chicken starters or with any side dish of your choice or as it is

Notes
The key to getting tasty veg soup is from using freshly mixed vegetables. I have used beans, carrots, peas, cabbage, and green bell pepper. You could also add mushroom, broccoli, and sweet corns that goes well for this recipe
I have used cornflour slurry as the thickening agent, but you could also replace it with oats powder
You could also add grilled shredded chicken to the soup for a different taste and flavor
This vegetable soup is great for winter and acts as comfort food for cold and throat infection. This can also be consumed for weight loss
Nutrition
Serving:
1
serving
|
Calories:
224
kcal
|
Carbohydrates:
9
g
|
Protein:
4
g
|
Fat:
20
g
|
Saturated Fat:
2
g
|
Polyunsaturated Fat:
6
g
|
Monounsaturated Fat:
12
g
|
Trans Fat:
0.1
g
|
Sodium:
70
mg
|
Potassium:
252
mg
|
Fiber:
3
g
|
Sugar:
3
g
|
Vitamin A:
2569
IU
|
Vitamin C:
22
mg
|
Calcium:
52
mg
|
Iron:
1
mg
FAQ
What is vegetable soup?
Vegetable soup is a healthy and easy one-pot filling meal made with fresh vegetables and minimal spices. The vegetables are simmered in water and seasoned with garlic, pepper, and chili flakes.
What are the best vegetables to put in the soup?
Vegetables like green beans, potatoes, carrots, broccoli, peas, capsicum, zucchini, squash give the best taste and flavor to the soup recipe.
Is vegetable soup healthy?
Yes, vegetable soup is rich in nutrition and low in carbohydrates, it is a healthy meal option to include in our meal plan.
What can I add to vegetable soup to make it taste different?
Adding Italian herbs like thyme, rosemary, and Indian spices like bay leaf, cumin gives delicious flavors to any soup dish.
I really hope you enjoyed the recipe that I have shared here and I would love to hear from you on how it turned out for you. Please let me know.
If you have any other questions, feel free to post them in the comment section below and I will try to get back to you as soon as possible.

Happy Cooking!