Indian vegan recipes are flavorful, aromatic, and filled with full of taste. From savory breakfast to delicious lunch and dinner meals the plant-based Indian recipes have endless variations. So I have created a list of tasty and flavorful Indian vegan recipes to easily try and enjoy at home. This collection covers most of the restaurant, street, and home-style foods that one should never miss. These recipes can be best for a regular day craving, lunch box, or a food party. And this list of recipes will give clear step-by-step written instructions with video, and pictures.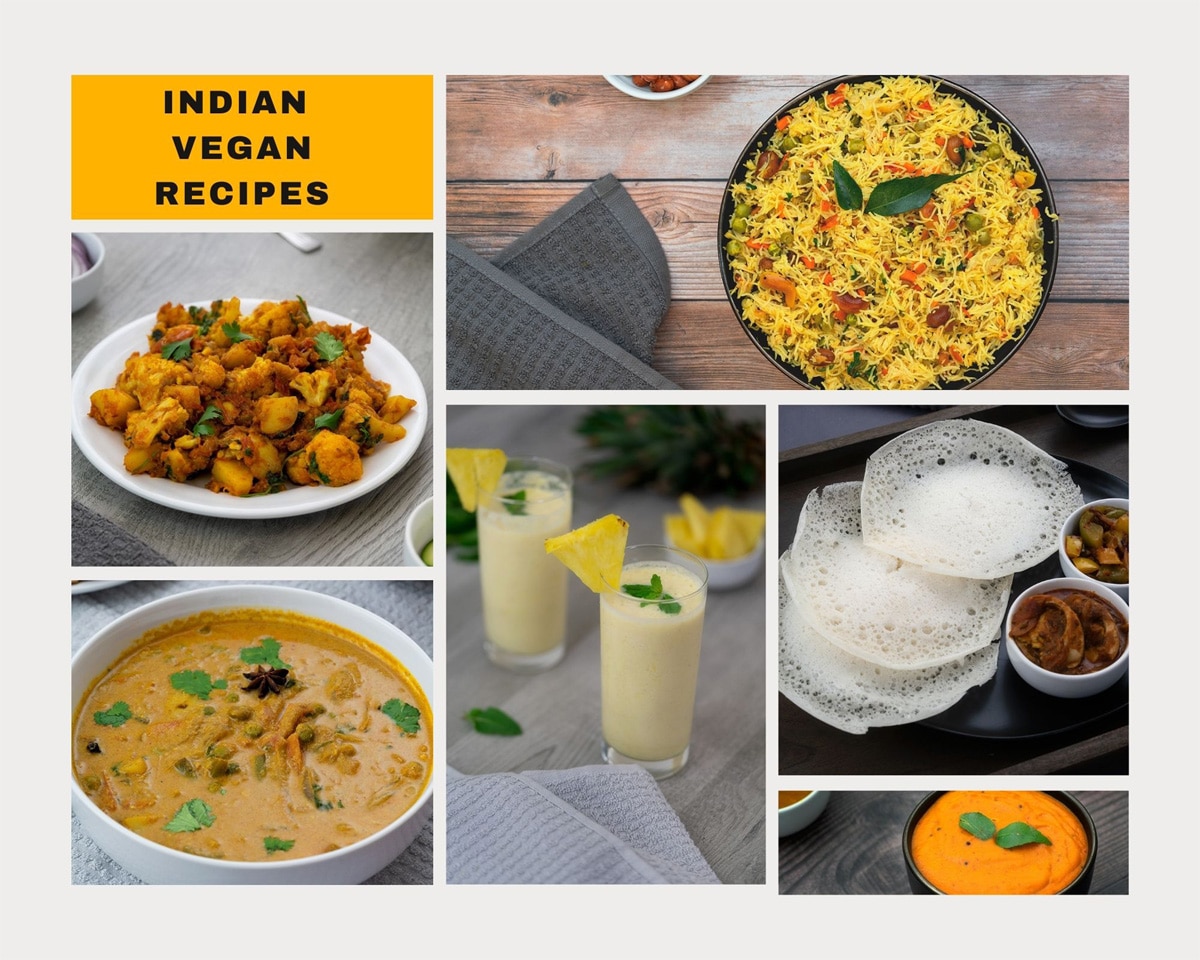 Jump to:
What is a Vegan diet?
Vegan diet is foods that are free from all animal products that include meat, seafood, eggs, dairy, and honey. People choose to switch to vegan diets based on so many reasons. They usually start from environmental concern to aspire to promote good health as well. The term vegan is derived from the first two and last two letters of vegetarian.
Types of Vegan diets
There are various diet category in veganism. Some of them are,
Dietary vegan- It is a category where people choose to eat plant-based ingredients. They prefer to avoid animal products in foods but continue to use them in other products like regular day accessories.

Whole food vegan- prefer to choose wholesome foods like grains, fruits, nuts, and seeds

Raw food vegan- Savour only raw foods or cooked in low-temperature

Junk food vegan- people who prefer junk foods like fries, alternate meats, and desserts

Low fat, raw food vegan- prefer to choose low-fat foods and mostly consume fruits and they are also called fruitarians.
What is best about Indian Vegan recipes?
India is a diverse country and so as the food habits of people. The country has plenty of vegetarian-vegan recipes from North to South and East to West that are traditional, healthy, and easy to make. Whether it is a simple dal or a full platter meal, these recipes are hearty and comforting.
Usually, North Indian Style vegetarian recipes have a lot of creams, ghee, yogurt in their recipes but they can be easily modified to vegan recipes with plant-based ingredients.
At the same time, there are endless recipes in the South Indian region where most of the vegetarian dishes are purely vegan. Even though there are many variations, each recipe has its own uniqueness and authenticity. And each recipe is definitely worth trying at home.
Are all Indian vegetarian recipes Vegan?
No, most of the Indian vegetarian dishes have milk, cream, ghee, butter, curd/yogurt in their recipe list. A vegan diet is all about food prepared with purely plant-based ingredients. In other words, it should be dairy-free, meat-free, and any other by-products of animals. So it is best to check the ingredient list before trying a new recipe or enjoying an Indian vegetarian dish in a restaurant.
How can I modify Indian veg recipes to vegan?
There are tons of substitutes available in the market for dairy-free and meat-free options. The typical Indian ghee, butter, curd, and other ingredients can be substituted with some of the following ingredients.
Milk, heavy cream - substitute with soy milk, almond milk, coconut milk, cashew milk, oats milk, hazelnut milk. If you want to try nut-free milk then coconut milk is the best alternates. Especially for Indian curries and sides it really enhances the taste and flavor of the dish.
Ghee and butter - Coconut oil is one of the best alternates and has a unique flavor and aroma that elevates the taste and flavor of most Indian dishes. You could also substitute with other vegan butter that is easily available in the market.
Curd/Yogurt - Coconut milk yogurt, almond, cashew, and oat milk yogurts are some of the best substitutes for vegan-friendly Indian dishes.
What are the best vegetables to mock like meat?
Certain vegetables taste similar to fish, meat when it is cooked perfectly with Indian masalas and spices. Some of them are,
Brinjal or Indian Eggplant - this vegetable tastes similar to seafood when seasoned with fenugreek seeds, onion, tomatoes, and Indian masala
Mushrooms/Kalan - Gives the perfect flavor of any non-veg dishes when stirred with Indian masalas, and herbs. I have also inserted one pot mushroom biryani in the vegetarian lunch recipes collection that delivers an irresistible flavor, taste, and aroma. But I have added ghee and yogurt in that particular recipe which can be easily substituted with coconut oil and coconut cream respectively.
Tender Jack fruit - This vegetable is an ultimate keeper when you really crave spicy chicken dishes. We can mimic most Indian chicken curries with this tender jackfruit and it will make you lick your bowl. I have also got vegan shredded chicken on this list for you to try and enjoy.
Cauliflower- Whether it is a curry or deep-fried snack this veggie delivers a super delicious dish that you will try over and over again.
Protein-rich foods for a Vegan diet
It is important to add protein-rich foods to a vegan diet when you are away from dairy and animal products especially ghee, meat, yogurt, and eggs. Scientists and researchers say protein-rich foods are much needed for the following health reasons.
To maintain and develop strong immunity
For healthier hair, nails, and skin
Growth and development of body
To repair cells and regenerate new ones
Helps the red blood cells to oxygenate throughout the body
Some of the protein-rich foods to add to your vegan diet are,
Dals or lentils
Legumes
Oats
Quinoa
Peanuts
Almonds
Spinach
Brussel sprouts
Broccoli
Potatoes
Sweet Potatoes
Asparagus
Chia seeds
Soy milk
An important fact is that most protein-rich foods will also create high gastric problems. In Indian cuisine, people would like to add ginger garlic paste which decreases the gas in them. So if you like the flavor feel free to add it to your foods.
What you can expect from this post?
Collection of popular Indian vegan recipes that are,
Healthy, easy, and instant breakfast dishes to fuel up your day
One-pot meals for busy days
Wholesome foods that is much needed for our body
Popular restaurant-style recipes to satisfy the cravings
Streetstyle dishes that are pure vegan
Rich and aromatic Indian curries to enjoy with the Main course meals
Soups, snacks, and starters to make your meal extra special
So let's check this collection, to plan and prepare delicious vegan dishes for your next meal or party. And I would be updating this list, whenever I make a new vegan-friendly dish. So stay tuned and get ready to try and enjoy these lip-smacking dishes.

You could also find the collections of Indian Vegetarian Breakfast Recipes and Indian Vegetarian Lunch Recipes for more options if you have no strict vegan preferences.